Huge swathes of rainforest cover almost two-thirds of Peru. The Amazon Rainforest is the world's largest tropical rainforest and can be visited either with a luxury Amazon cruise accessed from Iquitos i the north, or basing yourrself in a jungle lodge in Tambopata reserve, accessed from Puerto Maldonado in the south of the country.
Luxury Amazon Cruises & Lodges: How to Choose
If you're a luxury seeker looking for five-star service and comforts, we recommend you opt for a luxury Amazon cruise. If you're looking for more of an adventure and wildlife-spotting is the main motivation for traveling to the Amazon, we recommend the more remote lodges of Tambopata Research Centre and Refugio Amazonas where the compromise on traditional comforts is compensated by the authenticiy of the experience. Looking for a genuine taste of the Amazon without travelling as far or conceding too much comfort, then Inkaterra's two lodges – Inkaterra Reserva Amazonica and Inkaterra Hacienda Concepcion – strike the perfect balance.
Luxury Amazon Cruises
The best luxury Amazon cruises are run by Delfin Amazon Cruises and Aqua Expeditions: Delfin I, Delfin II, Delfin III and the Aqua Expedition's Aria Amazon. Luxury amazon cruises all depart from Iquitos, a short domestic flight from the captial, Lima. They have fixed departures, but can also be privately chartered for groups and special occasions. These luxury cruises explore the pristine Pacaya Samiria National Reserve.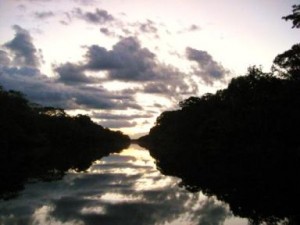 I was lucky enough to experience Delfin's top-notch service and jungle experience first-hand on the maiden voyage of Delfin I back in April 2009. It takes every aspect of river cruising to new heights, from its 280-thread Peruvian cotton sheets, to the finish of its 14 large air-conditioned guest suites and the delicious scope of the gourmet cuisine.
Whilst blending in with the awe-inspiring surroundings, the lakes and lagoons of El Bosque de los Espejos, what really sets these cruises apart is their location. Home to thousands of animal and plant species, but 75% covered in water during the rainy season, boat is the only way to explore this wildlife paradise. It's a place where the extraordinary becomes almost common place as you meander up the Amazon's mighty tributary, the Ucayali.
In just a few days we encountered monk saki, capuchin and squirrel monkeys, at least 12 sloths, yellow and blue macaws, trogons, kingfishers, white caiman and to cap it all the rare and magical pink dolphins which are only found in the Amazon. For a vacation rich in relaxation, scenery, wildlife and gourmet cuisine and comforts, these luxury Amazon cruises are impossible to beat.
Luxury Amazon Lodges
If you would rather have your feet on solid ground, a lodge-based vacation is likely more suited to you. Wildlife is abundant and the guiding superb in the different ecosystem of Tambopata in South-eastern Peru from where Ricky, a member of our Aracari team, recently returned. Here the accommodation is part of the landscape with no air-conditioning.
The most remote lodge is Tambopata Research Centre which upgraded its comfort standards with luxury flourishes in 2017 – though still don't expect walls to your bedroom: this is an unrivalled experience for nature lovers looking for a real jungle experience with certain added comforts. Its remote jungle setting is the true luxury, and it means you combine a stay here with a night at Refugio Amazonas, a four hour journey by road an boat from Puerto Malonado airport. An alternative option is Posada Amazonas.
The most luxurious lodges by conventional terms (rooms, service, decor, electricity) are the Inkaterra Lodges Reserva Amazonica and Hacienda Concepcion. They are also the easiest to get to, being located only aroud 45 minutes by boat from Puerto Maldonado. Wildlife watching is better at the more remote Tambopata Research Centre and Refugio Amazonas, but the Inkaterra properties have greater comfort (and more affordable than the five-star luxury cruises).
---
Interested in traveling to the Amazon or looking for advice on choosing between the best luxury amazon cruises and lodges? Contact us today to speak to an expert travel planner for first-hand advice.