While a visit to the iconic Inca citadel Machu Picchu is a must-see highlight of most visitors' trip to Peru, how you experience it, and how you get there is completely up to you, with lots of options to choose from. Remember that sometimes the journey is half the adventure! Here we share information on the best Machu Picchu hiking tours, including the Classic Inca trail and hikes within the citadel itself.
Machu Picchu Hiking Tours
If you enjoy hiking and trekking and taking in the stunning mountain scenery, there are many options to consider, whether you'd like a small taste of adventure or a full blown multi-day trekking odyssey taking you to the 'lost city of the Incas'.
The Classic Inca Trail to Machu Picchu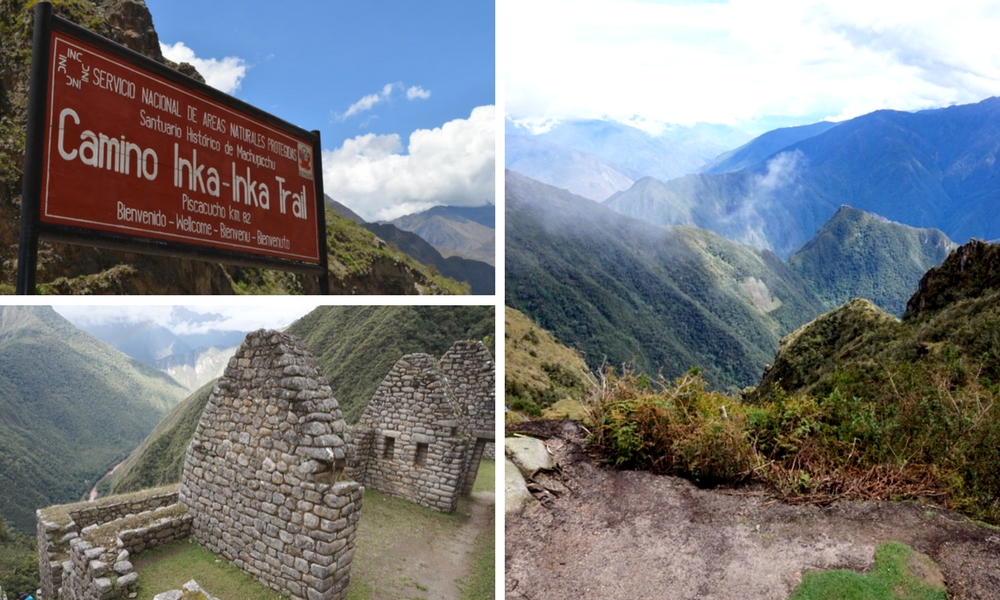 The most famous trek in South America, and deserving the hype with three major ruins that can only be reached on foot along the way. On the classic Inca Trail you traverse arid puna grassland to cloud forest with orchids and hummingbirds to high-altitude mountain passes with spectacular views down the valleys. The finale and highlight is waking up before dawn on day 4, walking through the Sun Gate and looking down at Machu Picchu in the early morning light. The big appeal of the Inca Trail is that it's the ONLY trek where you arrive directly to Machu Picchu, on foot from the trail. Read Danielle's blog – 6 Unexpected Highlights of the Inca Trail.
The 4 day / 3 night trek can only be done with an authorised trekking provider, and the trail is tightly regulated with limited permits, so contact us to secure your spot early.
One Day Inca Trail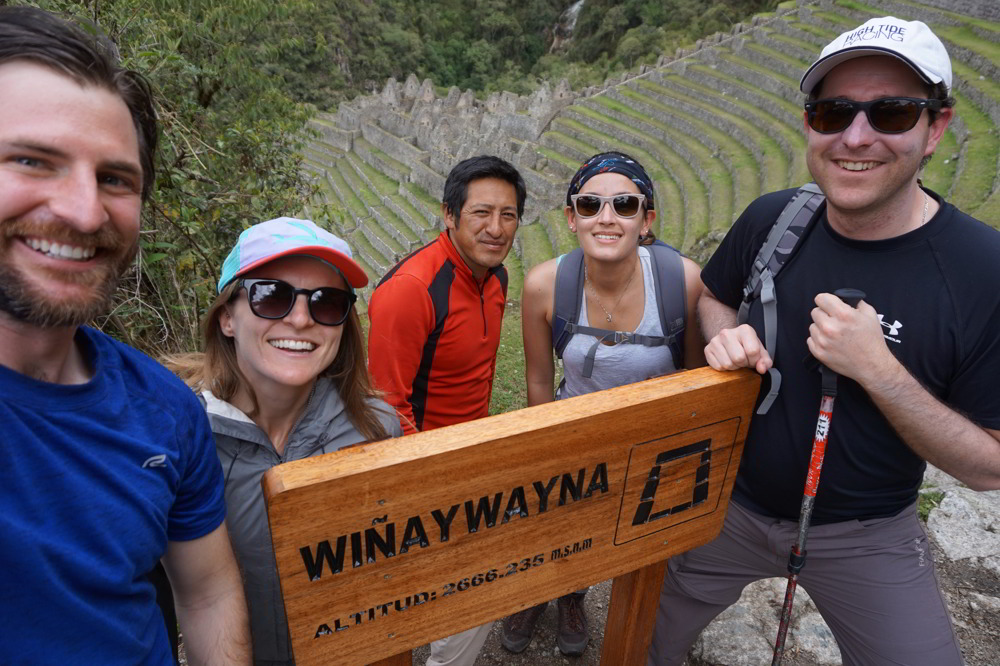 If you don't want to camp, or you're short of time and can't commit to a multi-day camping trek, you can still get a taste of the Inca Trail, arriving to Machu Picchu on foot with the One Day Inca Trail experience, covering a total of 12km (7.5 miles), over 6-7 hours. Most of the trek is uphill, along the narrow Inca Trail which passes many precipices. On the way you visit Wiñay Wayna, a remarkable archaeological site that can only be accessed on foot. You'll then continue on to Machu Picchu with enough time to explore the site.
Other than the famous Inca Trail, there are other Machu Picchu hiking tours that end at the iconic site. Here's our favorite:
Salkantay Trek to Machu Picchu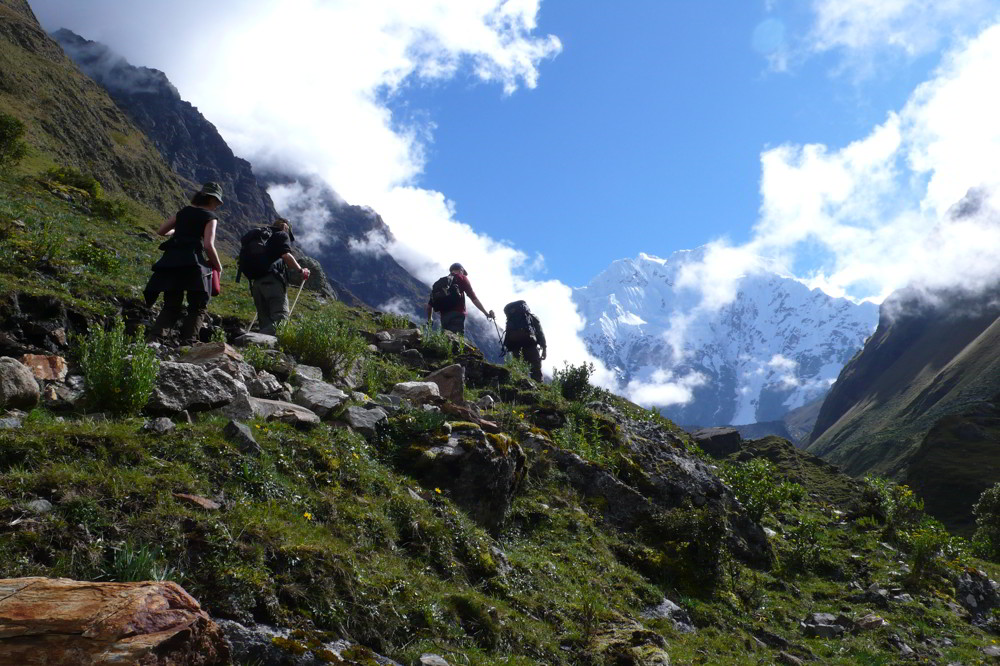 A perfect alternative to the Inca Trail, the Salkantay Trek to Machu Picchu offers an exhilarating experience for adventurers looking for more privacy and authenticity, with a total of 58 km on this 4 day, 3 night camping trek. While the Inca Trail features ruins along the way, with Salkantay, the incredible mountain scenery steals the show, where snow-capped mountains collide with lush tropical rain forests.
A challenging but rewarding trek, it was named one of the 25 Best Treks in the World by National Geographic Adventure Travel. The Sankantay journey offers exquisite views from high mountain passes and and a journey through high-altitude jungle on your way to the 'back entrance' of Machu Picchu. You finish the hike at Machu Picchu Pueblo (Aguas Calientes) and then get the bus up to the site entrance.
And, if you're interested in a multi-day trek, but don't want to sleep in a tent, we also offer a fabulous Lodge to Lodge Salkantay Trek to Machu Picchu, spending each night in a comfortable mountain lodge.
Hiking at Machu Picchu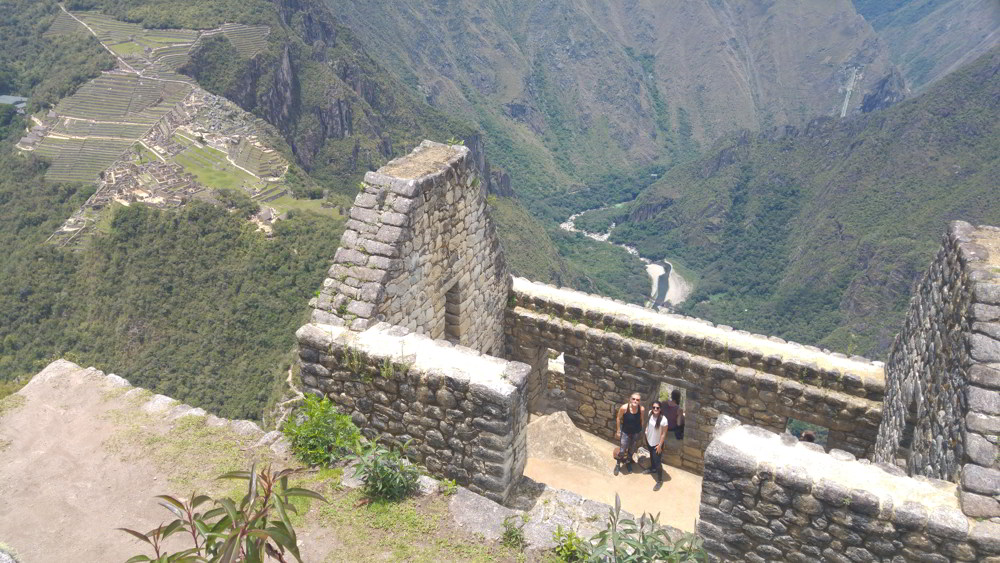 The hiking adventures do not end once you arrive at Machu Picchu. Once at the site, there are several hikes available, for varying abilities and levels of fitness, offering unique perspectives and vantage points of the ancient citadel:
Hike to the Inca Bridge: This is a nice, 40-minute round-trip walk. It starts from the site itself and takes you on a narrow Inca road amidst lush vegetation to a stone Inca bridge. Grade: Easy
Hike to Inti Punku or "Sun Gate": Inti Punku is the original Gateway into Machu Picchu when approaching the site along the the Inca Trail. Inti Punku is the first point in the Inca Trail where the ruins of Machu Picchu are visible. The views of the site and surrounding landscape are superb. The approximate total time for this excursion is 2 ½ hours (1 ¼ hours there, and 1 ¼ hours return). Grade: Moderate
Hike up to Huayna Picchu*: Huayna Picchu is the mountain behind Machu Picchu. This hike is strenuous and is only recommended for people who are not scared of heights and who have a good fitness level as a fair amount of climbing is required. There are fabulous views of Machu Picchu from the top. You may want to extend your visit and go to the Moon Temple as well, which is close to Huayna Picchu. This will add an extra hour total to this excursion. The approximate total time for this excursion is 2 ½ hours, or 3 ½ hours if you visit the Moon Temple. Grade: Rigorous
Hike up to Machu Picchu Mountain* – The hike starts at the site itself. It is strenuous and steep and takes you up to 3,050m (10,007 ft). The approximate total time for this excursion is 3-4 hours. Grade: Rigorous
*The hikes to Huayna Picchu and Machu Picchu mountain must be booked well in advance, as there are daily limits to the number of people allowed to enter due to their popularity.
In addition to these Machu Picchu hiking tours, Aracari offer a full range of hikes and treks in the Sacred Valley, around Cusco and other parts of Peru including the Cordillera Blanca – the highest tropical mountain range and a mecca for outdoor enthusiasts.
Getting to Machu Picchu
And remember if hiking isn't for you, most people arrive to Machu Picchu by train. There are a range of services, from comfortable and affordable to a grand arrival in luxury and style, aboard the Belmond Hiram Bingham luxury train service.
Book Machu Picchu Hiking Tours with Aracari Travel
If you'd like to incorporarte one or more of these Machu Picchu hiking tours into a tailormade trip to Peru with Aracari, contact us or email travel@aracari.com