Known as the 'Machu Picchu of the North', Kuelap is the largest ancient stone structure in South America. Here we provide our roundup of the best Kuelap hotels to base yourself at to visit these impressive ruins.
Best Kuelap Hotels hand-picked by Aracari 
Accommodation is concentrated in the charming town of Chachapoyas, which offers three-star or B&B level options. Alternatively you can stay in the small town of Cocachimba, right by Gocta Waterfall, which is home to a couple of properties with spectacular views of the falls. These options can all be easily reach by road in 4-5hrs from Jaen airport, which has daily direct flights from Lima. Kuelap is an easy full day trip from all these options.
The low footfall in this region means there are not many hotels of a high standard. Luckily, there are a few hidden gems that we've scouted out and personally tried and tested! Below are Aracari's top handpicked Kuelap hotels for a visit to the archaeological site and the wider Chachapoyas region
---
Read Aracari's Peru's Best Kept Secret Kuelap and Chachapoyas itinerary and contact us today to start planning your adventure!
---
Gocta Natura – immerse yourself in the cloud forest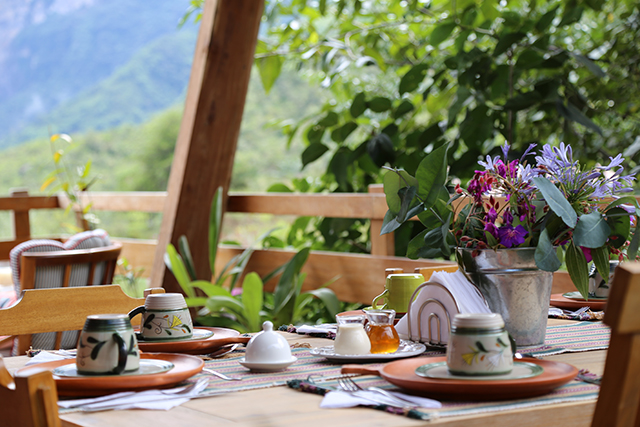 This place is our top pick of Kuelap hotels. Offering eco-friendly boutique accommodation, the five individual cabins are built with privacy and comfort in mind, and tastefully decorated with beautiful touches. Located on the outskirts of the village of Cocachimba, the Kuelap complex is a 2-hour drive away, making it the perfect base for a day trip. The other main attraction is Gocta waterfall, which you can hike to directly from Gocta Natura then rest weary feet in the hotel pool after your walk. Delicious home-cooked meals are served communally on the deck of the main cabin; this is also the owner's home, creating a true home-away-from-home feel. Wifi is being implemented in 2017, but this is a place to come to and switch off to enjoy the wonderful natural setting of the Lodge.
Highlights: Waking up in your cabin to a view of Gocta waterfall from your private terrace and relaxing by the fireplace with a glass of wine at the end of the day as your dinner cooks.
Contact us now to book Gocta Natura as part of your private, guided tour to Kuelap.
Gocta Andes Lodge – relax by the pool after a day hiking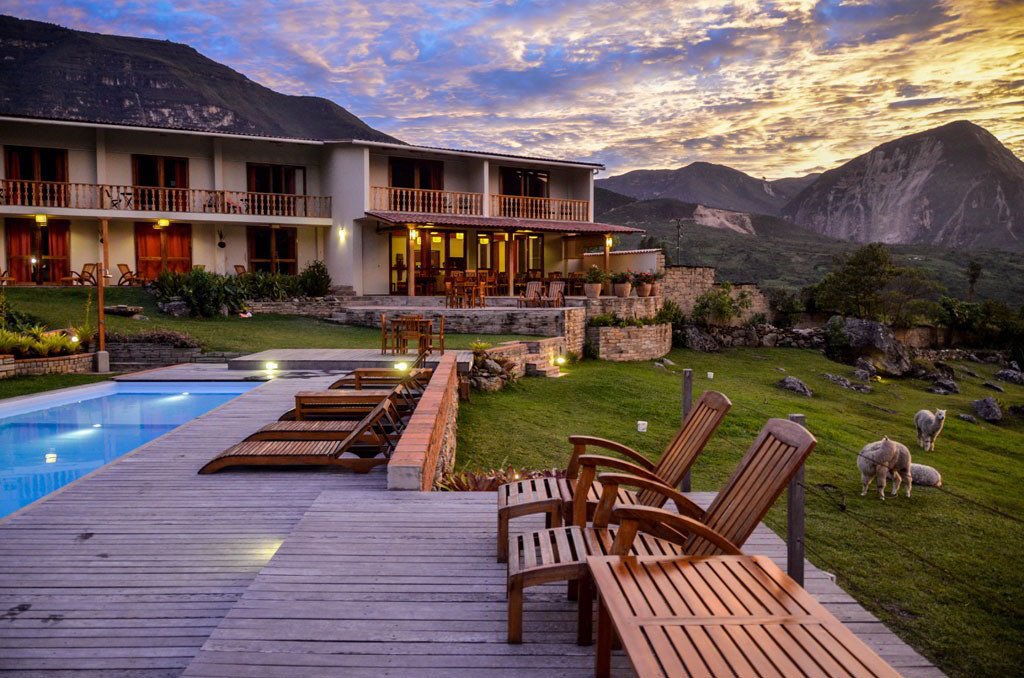 Also in Cocachimba village, this modest hotel offers comfortable lodgings that are practical and functional. All rooms offer stunning views of Gocta waterfall from either a balcony or private terrace. The onsite restaurant offers hearty Peruvian cooking to satisfy your taste buds after a day out exploring with indoor and al fresco tables. The property is in the village proper, but it's still relatively sleepy and laid back.
Highlight: The outdoor swimming pool and deck with a fantastic view of Gocta waterfall – the perfect spot for relaxing and soaking up the atmosphere in the evening.
Contact us now to book Gocta Lodge as part of your private, guided tour to Kuelap.
Kentitambo – get to know some quick-winged neighbors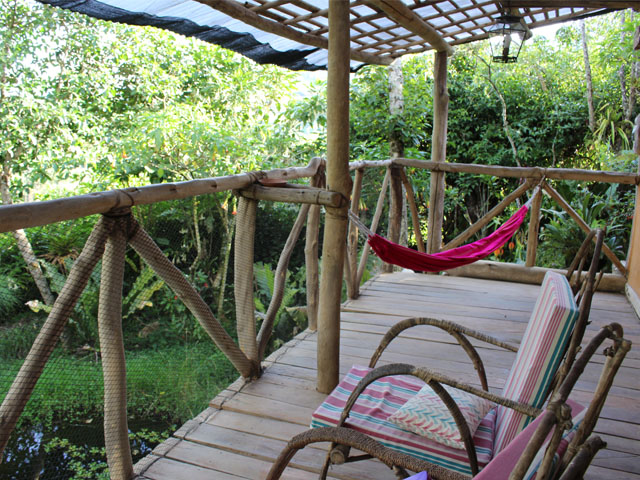 Another favorite of Aracari's – this beautiful B&B is owned by archaeologist and co-director of the Leymebamba Museum, Adriana van Hagen. The location is perfect for exploring the archaeological sites in and around Leymemamba. The museum is situated right next door, which houses over 200 Chachapoya mummies recovered from a cliff-top tomb at Laguna de los Cóndores. There are two cabins made out of ecologically-sourced timber (one double, one split floor with two separate rooms), as well as additional rooms in the owner's house for larger groups. You feel immersed in the beautiful natural surroundings with hammocks, gardens and terraces. Expect excellent home-cooked fare to keep you full.
Highlight: Explore the many species of hummingbirds (including some beautiful rare ones) that visit the property in their droves, attracted by the fragrant flowers and bird feeders.
Contact us now to book Kentitambo as part of your private, guided tour to Kuelap.
Casona Monsante – urban comfort in Chachapoyas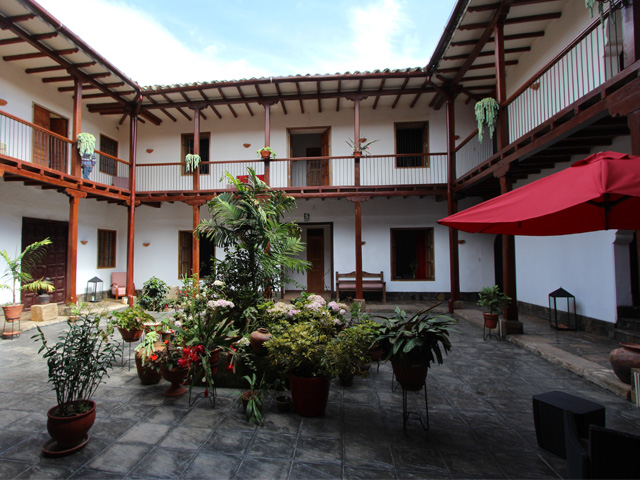 In the town of Chachapoyas, which shares its name with the wider region, Aracari has handpicked a selection of hotels for our guests. While we prefer the style of the properties by Gocta falls, if a stay in Chachapoyas town suits your itinerary, Casona Monsante offers comfortable lodging on the main pedestrian street. With spacious rooms refurbished in 2016/2017, a central courtyard and orchid grove, it's a good base to explore the area.
Other Chachapoyas options
As part of our trip we also inspected two other hotel options in the town of Chachapoyas – La Casona de Chachapoyas and Las Xalcas, which are both decent alternatives for a stay in the town.
Why Visit Kuelap and Chachapoyas?
The fortified citadel is located in Chachapoyas, a beautiful remote area in Peru's northern cloud forest. Still considered an off-the-beaten track location, few visitors venture to this part of Peru, which is part of the appeal – the chance to explore the archaeological site with only a handful of other visitors, trek to pristine waterfalls in the cloud forest and marvel at the cliff top tombs left behind by the mysterious pre-Inca Chachapoya people.
Aracari specialises in luxury, tailormade travel to Peru. We offer multi-day itineraries to Chachapoyas and Peru including hotel accommodation and guided excursions. Read our 5-day Peru's Best Kept Secret itinerary, or to start planning your adventure to Peru now, contact us or email travel@aracari.com