Peru is a country of diverse landscapes ranging from the jagged peaked Andes mountains, to the densely forested Amazon jungle. Though the distinct regions can be explored by practically any mode of transportation, one of our preferred methods is on horseback. That's why we have rounded up the best horse riding in Peru, any of which can be included on a tailormade journey by Aracari. Forget your vehicle, and hop on the back of a gorgeous steed who can take you to panoramic vistas and traditional local villages.
The Best Horse Riding in Peru
Rein Supreme in the Sacred Valley
2 Hour Horseback Ride – Ideal for Beginner Riders (or 7 Hour Ride for Experienced Riders)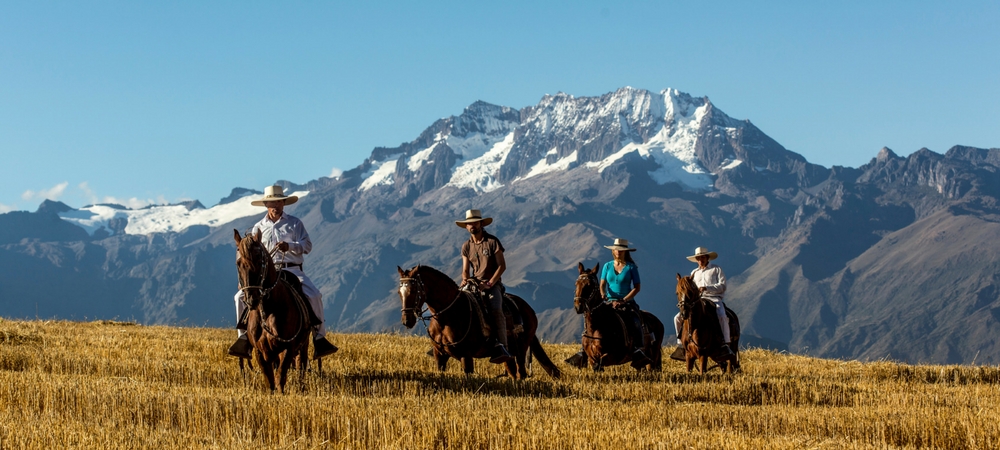 Head outdoors for a horseback ride through the scenic Sacred Valley. The shorter 2 hour ride starts at Hacienda Huayoccari, a traditional hacienda that is owned and operated by the prestigious Lambarri family. From here you will ride across the Vilcanota River to the quaint town of Urquillos and then head into the rural and picturesque town of Huicho. Though some paved roads are unavoidable, the majority of the excursion will be on rural dirt roads with views of adobe homes, farms and the impressive Urubamba mountain range. This is a great ride for beginners as the famed Peruvian paso horse has a smooth trot that keeps you steady and secure on their back.
Alternatively, experienced riders can opt to enjoy a longer ride through the Sacred Valley starting at Sol y Luna hotel. You'll ride through Rumichaca Baja, a community where you can observe the daily life of the villagers, pass alongside corn fields, and the Urubamba river. From there continue to Media Luna gorge, a local famers' settlement and irrigation reservoirs, through Chajwar, and ascend to the Pumahuanca gorge, a protected zone with beautiful native flora. Enjoy a box lunch en route. Afterwards, descend towards Torrechayoq and the site of Chichubamba. You'll pass through more Andean villages – Larespampa and Palcaraqui, as you relax and feel at one with nature on what is sure to be one of the top highlights of the Sacred Valley from your trip. For interested riders, a shorter 3 hour horse ride from Sol y Luna is also offered.
Trot the Salkantay Lodge to Lodge Horseback Ride
7 day, 6 night horseback ride – Only Recommended for Experiences Riders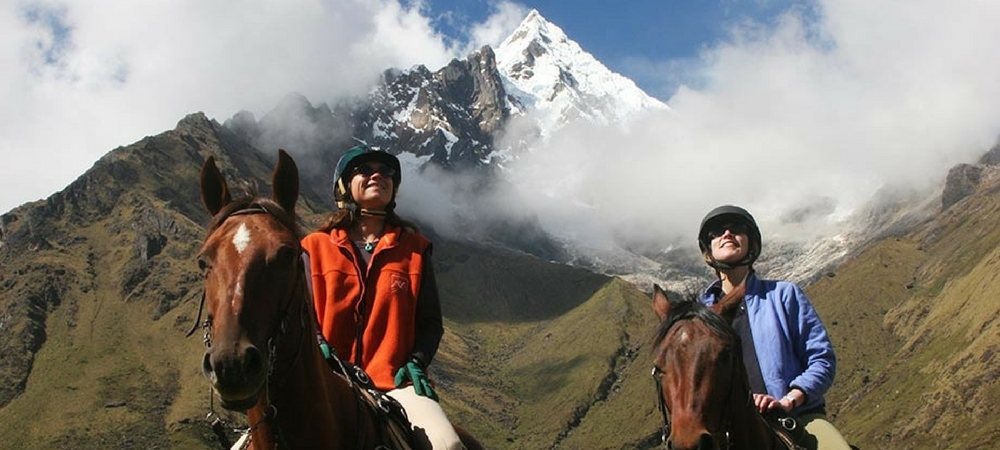 This exciting multi-day expedition takes horseback riders on an ancient trail called the Salkantay Route. Traverse the pristine and sacred lands of the Incas through 15 unique ecosystems and over a mountain pass of 4,572 mt (5,000ft) en route to the legendary Machu Picchu ruins. Prior horseback riding experience is recommended. Unique to this ride are the luxurious, well-appointed mountain lodges along the way, which provide a welcoming resting place after a day in the beautiful outdoors. Each of the lodges is designed to help integrate you into the natural Andean landscapes and make conscious efforts to minimize their impact on the surrounding ecosystems.
Canter in the Colca Canyon
3.5 Hour Horseback Ride – Ideal for Beginner Riders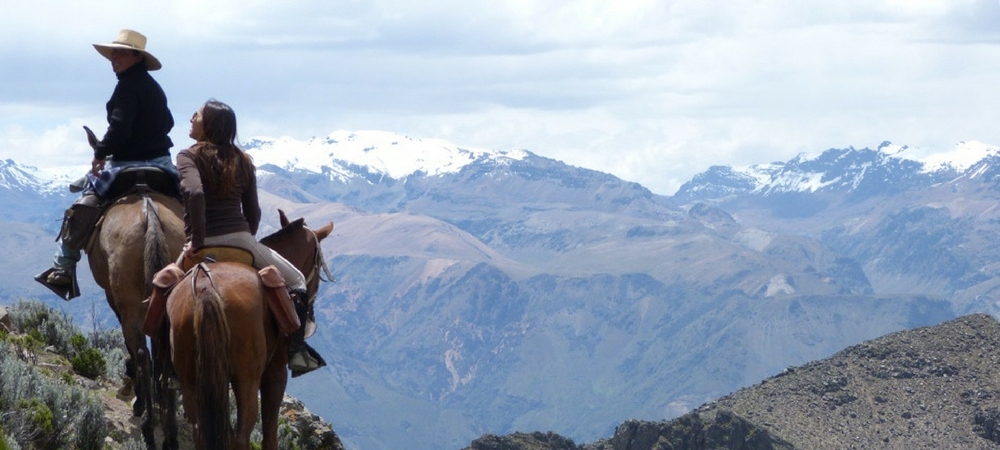 Discover the incredible mountainous landscapes of the Colca Valley (3,650m/11,975ft) and visit historical sites ranging from Inca to Colonial times all on horseback. After learning horse handling and riding techniques from your expert equestrian guide, or Chalan, you will set out on your journey towards the Coporaque Village en route to the Belvedere of Occolli, a lookout point that boasts spectacular views of ancient Inca terraces. The path will take you to the Yuraq Qaqa graves, also referred to as Aya Wari or "House of the Dead," where you will observe the burial rituals of the ancient Colca cultures in which bones and skulls are still visible. Then you'll pass back through the main square of Coporaque, visiting the Colonial temple of Santiago de Apostol, built in 1569 on your way. From there, you'll journey back to your hotel and bid farewell to your horse and Chalan.
A Full Day Ride to Achoma in the Colca Canyon
5.5 Hour Horseback Ride – Better for Experienced Riders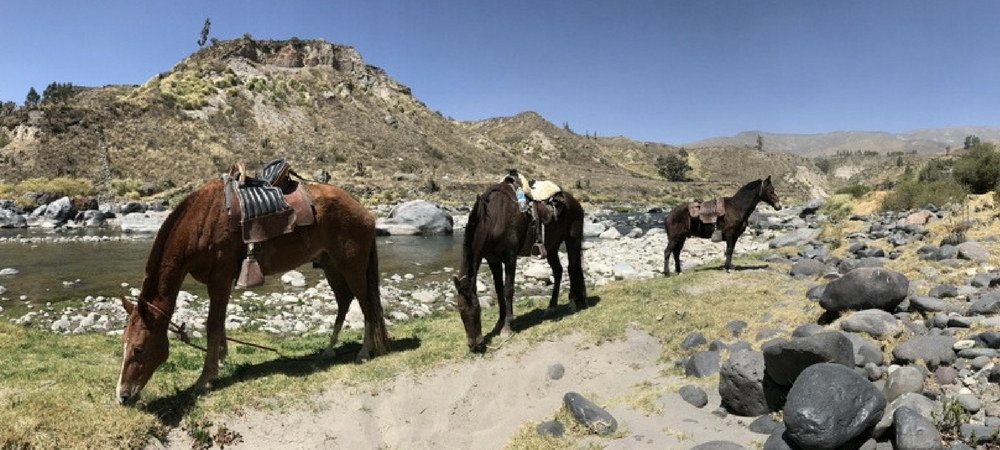 Another ride through the incredible Colca Valley, the full-day Achoma horseback ride is better suited for experienced riders. To start your day, you will trot into the stunning valley towards the agricultural town of Achoma passing through streams, rocky paths, and terraced fields.You will ascend to Achoma lookout, a relatively unvisited view point that you will likely have all to yourself. Tie up your horses and walk about 10 minutes through an Incan ceremony site before reaching the panoramic view of the Colca Valley. Hop back on your horse and enjoy the contrasts of the natural and modern worlds in as you safely cross the main vehicular road and proceed on to cross the gently flowing river. Stop for a break and box lunch at the river before finishing your ride over a small mountain pass and scross the historic bridge, Puente Cervantes.
Hikes in the Colca Canyon such as Madrigal Chimpa Fortress and the Canocota Canyon can be adapted into horseback rides as well. And for experienced riders, Aracari can arrange multi-day horseback rides through the region.
A Taste of Riding Near Lima
A Short Ride & Peruvian Paso Horse Show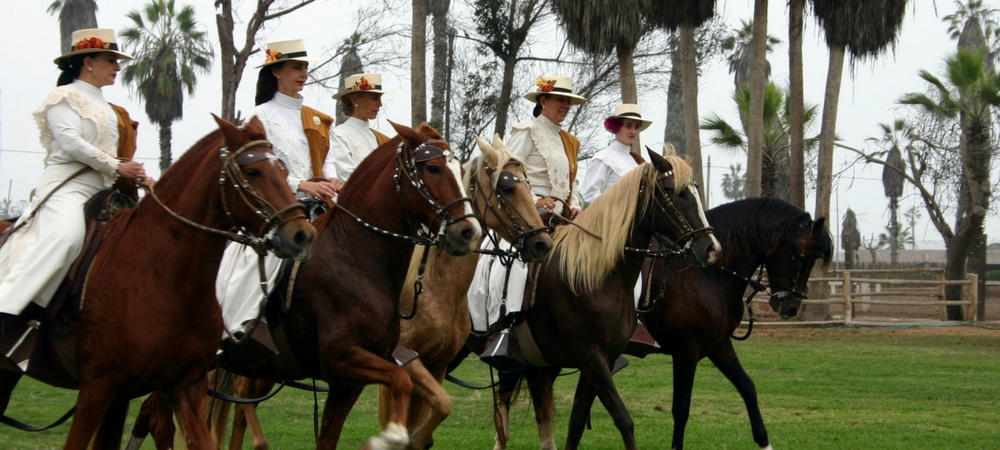 Those who want just a taste of horseback riding in Peru can head to a traditional hacienda south of Lima, Hacienda Santa Rosa. Located in villa nearby the Pacific Ocean, the hacienda is a tastefully decorated mansion built in Republican style and the private home of the distinguished Navarro Reategui family who hosts visits. The extensive and exquisitely landscaped grounds contain a ranch where the family has engaged in the breeding and dressage of Paso Fino horses for many years. Guests who would like to try out riding, can enjoy a quick walk around the grounds before hopping off the horse to see a traditional Peruvian Paso horse show and have lunch. This is a great way to try riding, without having to spend to much time on horseback.
Walk & Ride Through Forest Near Chachapoyas
2-3 Hour Tour – Ideal for Beginner Riders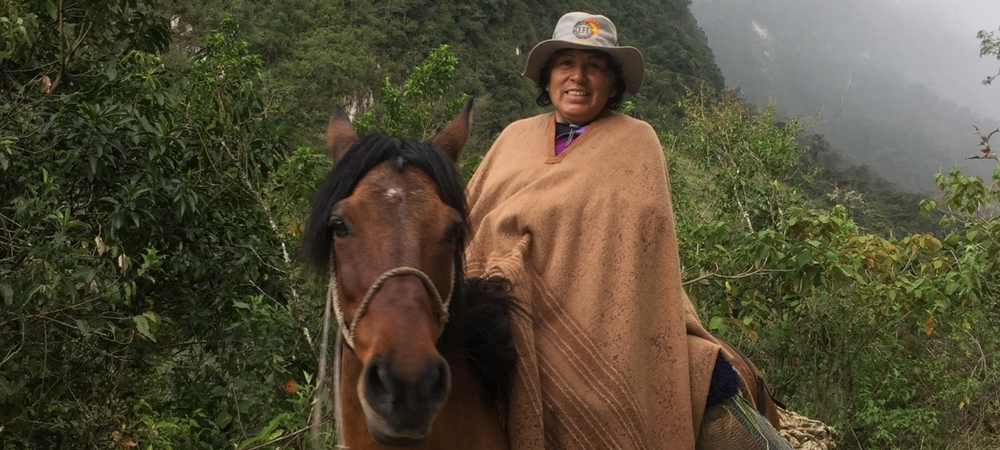 Close to Leymebamba and Chachapoyas, this experience will take you into the Pilcopata Forest – a 40 hectare community reserve and nesting area for condors that Aracari's founder, Marisol Mosquera, purchased with a friend as a conservation effort. Start the ride by meeting your guide and horses at Kentitambo B&B, nestled in the vast cloud forest of Chachapoyas. Once you are safely saddled up, you will begin a peaceful half an hour ride to Pilcopata, a beautiful part of the forest. You can then explore the forest with your guide on foot. The paths make for nice light walking with plenty of places to bird watch on the way. If you're lucky you may see quetzals, toucans, and condors. Enjoy a packed lunch before saddling up again and heading back to Kentitambo.
Why Horse Riding in Peru is Unique
The Famed Peruvian Paso Horse
A particularly special piece of horse riding in Peru is the opportunity to trot across magnificent landscapes on the back of the world-renowned Peruvian paso horse. This saddle breed has a distinguished, four-beat lateral gait called the paso llano and provides a stable and smooth ride that is sure to satisfy new riders and experienced horsemen alike. The horse is such an important and unique part of Peruvian society that it was declared Cultural Patrimony by the National Institute of Culture.
Have we peaked your interest with the best horse riding in Peru? Contact us to start planning a tailormade trip.