Planning your honeymoon: the ultimate vacation and most memorable trip of a lifetime. It's time to dream big as you embark on your first trip as a married couple.
Finally you deserve to live it up, treat yourselves, and relax after all the stress and excitement of planning a wedding. So choosing a destination – especially if you're planning to splurge more than usual – takes longer than the average 'where should we go this year?' conversation.
For many people, the Galapagos is already one of their top bucket list destinations. It's a once-in-a-lifetime adventure, and choosing a luxury Galapagos honeymoon is the perfect excuse to see one of the world's must-see destinations in style. I've just returned from my own honeymoon in the Galapagos, and couldn't recommend it more. With stunning landscapes brimming with wildlife, it's the perfect couple's destination – just ask these guys below!
Indulge in Luxury on your Galapagos Honeymoon 
Your honeymoon is the perfect time to treat yourselves to a bit of luxury. The good news is that the Galapagos offers many options for a luxury honeymoon, whether you opt to kick-back and cruise in style, or settle in to a top-notch luxury lodge. Here are a few of Aracari's handpicked favorites for a luxury Galapagos honeymoon.
Top Luxury Galapagos Cruises
One of the best ways to see the Galapagos islands is aboard a naturalist cruise, as I did, meaning you can cover a lot of ground (and ocean) by moving at night, seeing many of the islands and landing spots far away from civilisation. My new husband and I chose a 6 day / 5 night cruise on the Galapagos Sea Star Journey, a great first class choice – read my review here.
A standout Aracari recommendation is the luxury mega-catamaran Ocean Spray, boasting impeccable service, an inviting sun deck with a jacuzzi and spacious cabins with private balconies for that romantic bottle of bubbly as the sun sets (not all cruises have balconies).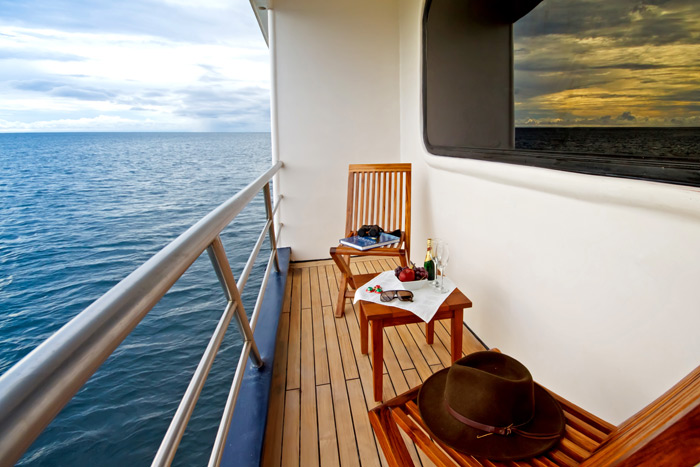 Another great option for a luxury Galapagos cruise is the Origin. One of the newest luxury yachts in the Galapagos, it offers state-of-the-art facilities including on board Wi-Fi, Apple TV, and your own personal espresso machine. Check out the video below for a taste of what you can expect on board:
Aracari specialises in luxury trips to the Galapagos – check out our full list of recommended luxury Galapagos cruises.
Top Luxury Galapagos Lodges
Luxury in the Galapagos isn't limited to cruising, thanks to a handful of land-based options that deliver style and comfort.
For the ultimate five-star luxury Galapagos Honeymoon, look no further than Pikaia Lodge. The 14-room luxury eco-lodge is in the middle of a tortoise reserve offering a tranquil and isolated retreat. The stunning rooms have floor to ceiling glass windows offering sweeping views of the national park, islands and volcanic cones. The onsite Sumaq spa and heated infinity pool will ensure you're relaxed and pampered, and the fine dining restaurant offers indulgent culinary delights.
The advantage of a land-based honeymoon is you get more privacy and flexibility in what you do, but you won't cover as much ground. Having said that, Pikaia Lodge also offers day trips on their two private yachts so you still get to see other nearby sites!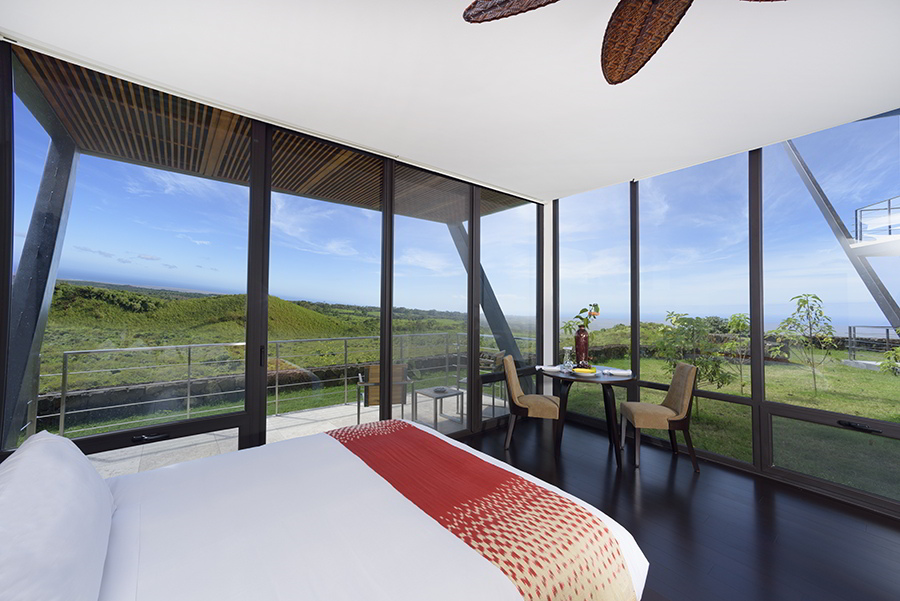 Other land-based options include Galapagos Safari Lodge, an eco-luxury tented camp that emulates the African safari tradition, and Scalesia Galapagos Lodge, also with tented accommodation, and designed to connect you with nature and immerse yourself in the peace and tranquillity that only the Galapagos can offer.
Luxury Galapagos Honeymoon Adventure Activities
A honeymoon is about making memories to last a lifetime and the Galapagos is in no short supply. If you're an active couple, you can scuba dive in the place that Forbes names as one of the 10 Must-Dive Destinations for 2017. With 20 percent of the marine life found no where else on earth, it's a special experience for any scuba-loving couples. All of Aracari's recommended hotels can arrange diving excursions, and true under-water-addicts can consider a live-aboard dive cruise, such as the Galapagos Sky. We enjoyed a day of diving at Mosquera and Daphne, two dive sites to the north of Baltra island, where we saw three species of sharks, and explored an underwater cave – unforgettable!
For shallower adventure, just grab your mask and snorkel. Throughout the archipelago there are hundreds of snorkelling sites with an array of marine life. You'll have friendly sea lions swimming in circles around you, and inquisitive Pacific green turtles slowly gliding past. You're almost guaranteed to spot sharks – with many species attracted to the nutrient-rich waters.
There's also much to explore on dry land, including lots of hikes and walks, conservation centres and more. On Isabela island you can hike to Sierra Negra volcano and peer into the impressive crater. On Santa Cruz, wander around the Charles Darwin Research Centre, learning about evolution and conservation and have your camera ready at the fish market where hungry sea lions gather for lunch!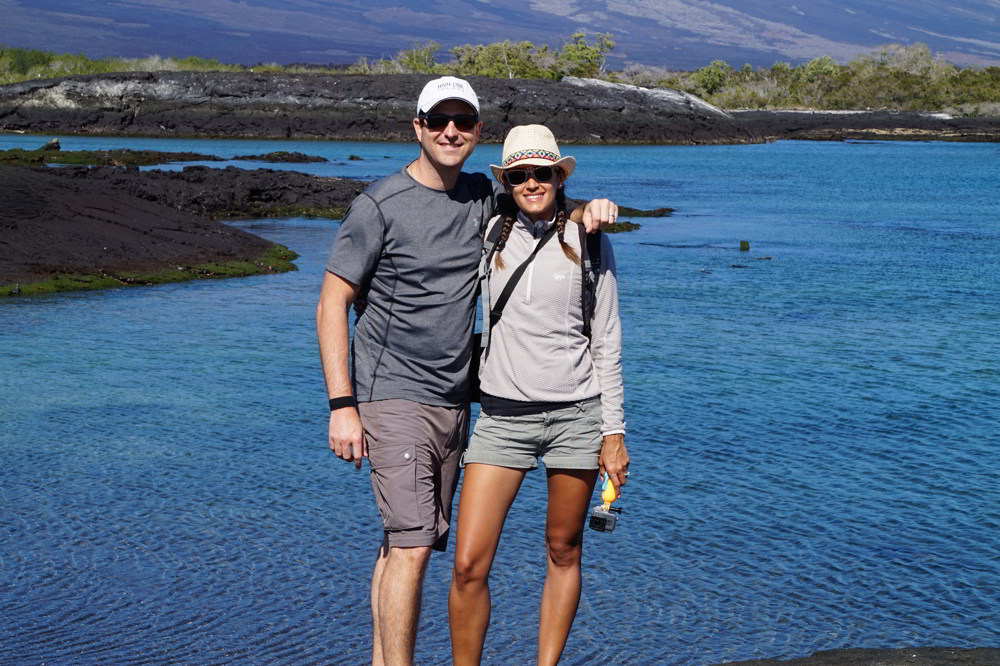 Romance and Relaxation on your Luxury Galapagos Honeymoon
Of course, the best part of a honeymoon is the time to unwind and relax together, with a touch of romance. Below are just a few examples of special moments you can look forward to on a luxury Galapagos honeymoon.
While it's not your typical tropical beach destination, the Galapagos does offer some beautiful beaches, though you may have to share them with some inquisitive creatures! Arguably the best beach in the archipelago is at Puerto Villamil, on Isabela island offering a long stretch of white sand, fringed by palm trees. There are small beach bars offering the famous 'coco locos' – fresh coconuts spiked with the local spirit – caña.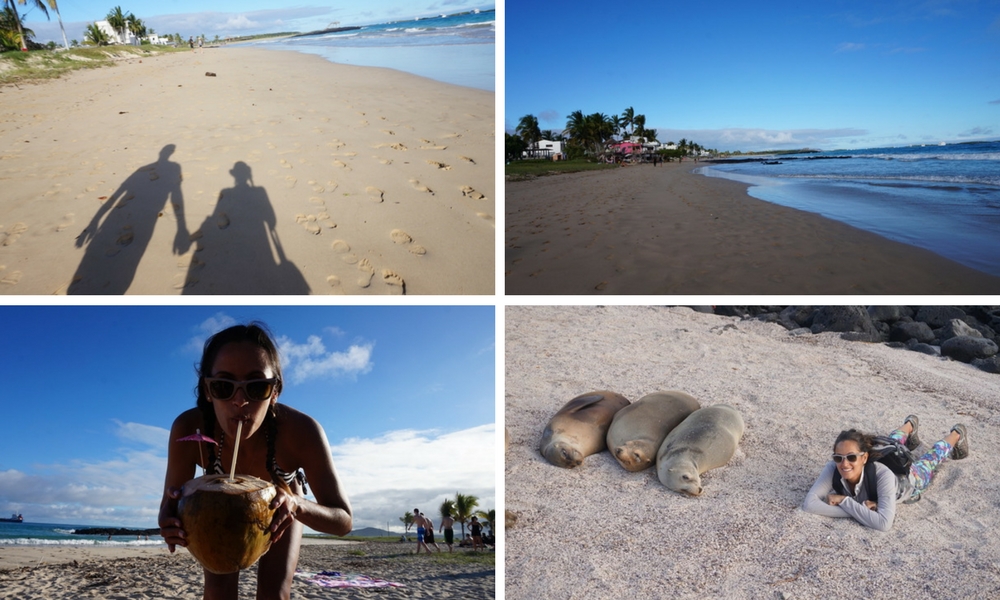 The channel between Isabela and Fernandina islands is known as breeding ground for whales and dolphins. Imagine standing at the bow of your cruise at sunset with a cocktail in hand, on the lookout for whale spouts. Beautiful, romantic and unforgettable.
And whether you're cruising through uninhabited parts of the archipelago or staying in one of our tops picks of luxury Galapagos hotels, the remoteness and lack of light pollution means you can enjoy some of the most beautiful star-gazing, with the full majesty of the night sky on display.
With Aracari arranging your luxury Galapagos honeymoon, we'll ensure some special romantic touches. While most cruises offer shared-dining, we can arrange a romantic al fresco dinner for two on the top deck, or surprise your new husband or wife with a bottle of bubbly. We're all about the attention to detail, and will ensure your trip is special, personal and unforgettable.
Want to know more? To discuss a luxury Galapagos honeymoon, contact us or email travel@aracari.com. Our expert travel team are ready to discuss your travel style and preferences and put together a tailormade and unforgetable honeymoon trip for you and your partner.