Host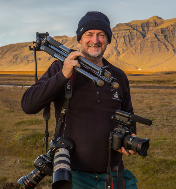 Max Milligan
Professional photographer
Max Milligan has been a professional photographer for more than thirty years. He is renowned for his painterly eye and the fact that he uses no filters, flash nor photoshop manipulation in his work, preferring 'straight' photography under natural and available light.
His background was in film making with the BBC and National Geographic Video in the 1980's when he worked on cultural and wildlife documentaries in the Inca Region of Peru.
Since 1999 he has had seven books published and his title 'Realm of the Incas' appeared in The Times Top Ten Travel Books of the Year in 2001 and was Conde Nast Traveller's Book of the Month. His book 'Ghana: A Portrait' with Kofi Annan, has been a bestseller for 12 years.
Milligan's pictures hang in private and corporate collections around the World including the prestigious Deutsche Bank collection in London, Royal Sun Alliance and The Chelsea and Westminster Hospital. His exhibitions include Kensington Palace, City Hall London, The Mall Galleries and The European Parliament.
Milligan lectures regularly to institutions like The Royal Geographical Society and MENSA as well as giving acclaimed photography seminars and workshops.
Highlights
Experience the famous Machu Picchu; the Lost City of the Incas.
Explore beautiful Cusco, a UNESCO World Heritage city filled with stunning colonial streets and Inca ruins.
Benefit from travel and learning in a unique setting and a small group environment.
Improve your photography skills while exploring little visited sites of the Sacred Valley and Cusco with an insider.
Photograph some of the most dramatic landscapes in the Andes, from huge snow-capped peaks to plunging valleys and bright blue lakes.
Come close to, learn about, and photograph the real people of rural Peru in their daily lives.
Participate in Intimate evening lectures and one-on-one edit and critique Sessions with Max.
This small-group eight-day Cusco and Sacred Valley Photography Workshop with photographer Max Milligan –who has lived in this area for over two decades– will give participants the opportunity of exploring the Inca realm with an insider while improving their photography skills.  The Albergue de Ollantaytambo, with its comfortable facilities, stylish decor and delicious food prepared with ingredients from its organic farm,  and the intimate Tocuyeros Boutique Hotel, located in San Blas, Cusco's artist neighbourhood,  are the perfect bases for this experience.   This workshop will be covering all kinds of photographic subjects – from capturing a hummingbird at 1250th-of-a-second to minutes-long exposures by moon or starlight.  Max will cover landscape, wildlife, portrait, interiors, cultural events and abstractions and also have modules on how to put together a photographic article for magazines and social media and describe how he created his seven bestselling books.
Complete beginners to advanced professionals will benefit from his teaching as each participant can choose the level and subject matter of their daily projects. Max will go through your portfolios and shots taken during the course, giving tips on improvements as well as highlighting the best elements of your work. One-on-one sessions will be combined with daily group viewings of specific personal assignments given each day to accentuate what particular skill you choose to improve. You will also have the opportunity of visiting Machu Picchu and learn from Max how to maximise the impact of your shots in this mesmerizing site.
Daily Summary
8 Days / 7 Nights
Day 1
Sacred Valley
Arrival in Cuzco and transfer to the Sacred Valley. Afternoon walk around the ancient Inca town of Ollantaytambo. Overnight at El Albergue.
Day 2
Sacred Valley
Visit Maras saltpans and Moray terraces. Lunch at the private estate of Hacienda Huayoccari. Overnight at El Albergue.
Day 3
Sacred Valley
Visit to the little know Inca Fortress of Pumamarca and local communities at Patacancha. Optional walk back to Ollantaytambo. Overnight at El Albergue.
Day 4
Sacred Valley
Full day visit to the glacial snowline at Abra Malaga Pass with views down to the Amazon region below. Overnight at El Albergue.
Day 5
Sacred Valley-Machu Picchu-Cusco
Day trip by train to Machu Picchu. Tour of the citadel. Returning to Cusco in the evening by train. Overnight at Tocuyeros Boutique.
Day 6
Cusco
Appreciate Cusco's cobbled-street charm with a tour of the city's key sites. Overnight at Tocuyeros Boutique.
Day 7
Cusco
Choice of exploring Cuzco by yourselves or a tour by bus of the region to the south including Huarcapay bird sanctuary lake and Andahuaylillas church. Overnight at Tocuyeros Boutique.
Day 8
Cusco
Fly Cusco - Lima. International Departure.
Day 1

Sacred Valley

View on map

Arrival Cusco

Fly to Cusco where you will be welcomed by our representative and immediately transferred to the Sacred Valley. The valley is located at a lower elevation than Cusco, enjoys a mild climate and offers you a chance to acclimatize to the region in a less physically demanding environment.

Upon arrival to the hotel, meet the group and enjoy lunch together as Max explains your daily routine and a little about local history, geography and culture.

This afternoon you will enjoy a walk around the ancient Inca town of Ollantaytambo and also explore El Albergue's farm, distillery and coffee grinding; where many of the ingredients, including potatoes, corn, quinoa, and an assortment of vegetables are naturally grown and showcased in the hotel's restaurant.

In the evening dine at the hotel's restaurant.

Overnight at El Albergue.

Accommodation

Day 2

Sacred Valley

View on map

Maras and Moray

Today you will visit Maras and Moray, must-see highlights of the Sacred Valley. Maras is the site of unusual salt pans, consisting of a huge number of photogenic watered terraces that collect salt which have been in use since pre-Colombian times. Near Maras lie the most enigmatic Inca terraces at the site of Moray. This unique site, probably used for agricultural experimentation, consists of several enormous terraced circular depressions.

Afterwards visit Hacienda Huayoccari for a three-course lunch in this traditional hacienda, owned and lived-in by one of the oldest land-owning families in Cusco. Here you can browse their private collection of folk art and ancient artifacts.

Travelling via the lesser known far side of the Urubamba River  we will see plenty of things to photograph along the way including small rural villages off the beaten track. These first two days are not physically exerting as you will be acclimatizing to the altitude.

Each evening we will have a presentation from each of you of your favorite shots of the day. There will be one-on-one sessions to make sure you are learning what you need and capturing the pictures you desire.

In the evening dine at the hotel's restaurant.

Overnight at El Albergue.

Accommodation

Day 3

Sacred Valley

View on map

Inca Fortress of Pumamarca and local communities at Patacancha

A visit to a little know Inca Fortress of Pumamarca in the valley above Ollantaytambo and local communities at Patacancha. The residents wear traditional dress of red ponchos and are renowned for their weaving skills. We will visit a lovely Inca site and optional walk down hill back to Ollantaytambo. The archaeological compound is a sensational sight to behold and is of great historical significance for the Incas during the Spanish Conquest. It was here that one of the greatest battles of the Conquest was fought and one of the few where the Incas defeated the Spaniards along Inca trails with amazing steps, fountains and terracing.

In the evening dine at the hotel's restaurant.

Overnight at El Albergue.

Accommodation

Day 4

Sacred Valley

View on map

Visit Abra Malaga Pass and Inca and pre Inca sites

A drive up to the glacial snowline at Abra Malaga Pass with views down to the Amazon region below. Various Inca and pre Inca sites en route and birdlife in the elfin forest just below the treeline.

As with every day - sunrise and sunset walks around and outside the town are available before breakfast and dinner depending on weather and fatigue.

In the evening dine at the hotel's restaurant.

Overnight at El Albergue.

Accommodation

Day 5

Sacred Valley / Machu Picchu / Cusco

View on map

Visit Machu Picchu

This morning take the scenic The 360° train to Machu Picchu, one of the world's most important archaelogical sites. The journey from Ollantaytambo is approximately 1.5 hours. Upon your arrival to Aguas Calientes you will then board a bus to the ruins. The main destination on many travellers' lists, the 'lost city of the Incas' is a man-made marvel that has become a symbol for the ingenuity and prosperity of one of the most expansive empires in Latin American history.

Following your visit, take the bus back to the town of Aguas Calientes and board your train to Ollantaytanbo. Transfer to your hotel in Cusco.

Enjoy dinner at Pachapapa restaurant and try local food in a rustic environment in the traditional San Blas neighborhood.

Overnight at Tocuyeros Boutique.

Accommodation

Day 6

Cusco

View on map

Visit Cusco

Since its narrow alleyways were originally designed by the Incas as a city for walking, start your exploration of Cusco on foot. Begin at the Plaza de Armas, the Main Square, which is marked by the exquisite Spanish Colonial architecture and ornamentation imposed by Spanish colonists to exert religious and political influence. Underneath it all, however, you can clearly see remnants of Inca Cusco in the solid stonework. Visit Koricancha, the most sumptuous "Sun Temple" in the Inca Empire, and the breathtaking Cathedral, a repository for Cusco's colonial art, as well as many other important archaeological relics and artifacts. You will also stop by the colourful San Pedro market and pass through the charming neighborhood of San Blas. Next, visit Sacsayhuaman, an Inca citadel atop a hill, on the outskirts of the city. Not only are the imposing terraces of masterful stonework a sight to behold, but the vistas overlooking the sienna rooftops of Cusco provide a whole new perspective to the city you traversed.

Following the visit, from atop an Inca wall, enjoy panoramic views of Cusco during a private BBQ with your own dedicated cook. Sample a variety of local meats – including alpaca – accompanied by fresh, leafy salads from the on-site vegetable garden for hearty, home-cooking at its best.

Tonight dinner will be served at Calle de Medio enjoying unparalleled views of the main square.

Overnight at Tocuyeros Boutique.

Accommodation

Day 7

Cusco

View on map

Visit Cusco or the Cusco Valley

Choice of exploring Cuzco by yourself or a tour by bus of the region to the south including Huarcapay bird Sanctuary Lake, one of the most vital wetlands in the Cusco Valley. This beautiful lake has an outstanding number of almost 60 resident birds species as well as being a very important resting grounds for migratory birds. Continue to the beautiful San Pedro de Andahuaylillas Church, commonly referred to as the "Sistine Chapel of America." Built at the beginning of the 17th century, the interior of the temple is decorated with murals created by Luis de Riaño, representing the path to glory and the path to hell. Another highlight here includes the church's original organ, which has been restored and remains fully functional.

Farewell dinner at Cicciolina. Cuzco's 10 year award winning restaurant.

Overnight at Tocuyeros Boutique.

Accommodation

Day 8

Cusco

View on map

Departure from Cusco

At the proper time, transfer to Cusco airport for your departure flight.

Price per person in double accommodation - US$4,590

Also available for solo travelers willing to share a room, if a roommate is found
Minimum 6 - Maximum 12 participants

Price per person in single accommodation - US$6,140

Due to the small size of the accommodations featured in this trip, we can only assign up to 2 rooms for single accommodation

What's Included?

Accommodation at hotels as mentioned in the program.
Meals where indicated: 7 breakfasts, 7 lunches and 7 dinners
Trip accompanied by Max Milligan, Photography Specialist
Local English speaking guides throughout
Entrance tickets to locations specified
Transfers to and from the airport as mentioned in the program
A customized detailed itinerary which includes historical information about the places you will visit, tips for the traveler, maps of the places you will visit, and a comprehensive reading list.

What's not Included?

Domestic/international flights
Alcoholic beverages, unless indicated
Tips
Travel Insurance
Visas
Neither personal expenses nor any other service not specified in the itinerary.

Minimum 6 - Maximum 12 participants

Machu Picchu and Sacred Valley photography workshop

A master workshop with photographer Max Milligan
0