Host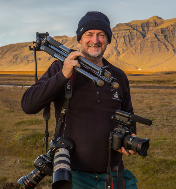 Max Milligan
Professional photographer
Max Milligan has been a professional photographer for more than thirty years. He is renowned for his painterly eye and the fact that he uses no filters, flash nor photoshop manipulation in his work, preferring 'straight' photography under natural and available light.
His background was in film making with the BBC and National Geographic Video in the 1980's when he worked on cultural and wildlife documentaries in the Inca Region of Peru.
Since 1999 he has had seven books published and his title 'Realm of the Incas' appeared in The Times Top Ten Travel Books of the Year in 2001 and was Conde Nast Traveller's Book of the Month. His book 'Ghana: A Portrait' with Kofi Annan, has been a bestseller for 12 years.
Milligan's pictures hang in private and corporate collections around the World including the prestigious Deutsche Bank collection in London, Royal Sun Alliance and The Chelsea and Westminster Hospital. His exhibitions include Kensington Palace, City Hall London, The Mall Galleries and The European Parliament.
Milligan lectures regularly to institutions like The Royal Geographical Society and MENSA as well as giving acclaimed photography seminars and workshops.
Highlights
Stay in one of transparent domes of the world's most unique hotels, the one-of-a-kind, recently opened Kachi Lodge on the Uyuni Salt flats.
Observe and photograph flamingoes, llamas and vicunas with the backdrop of colorful volcanos and lagoons.
Marvel at the mesmerizing white expanse of the Salt flats of Uyuni, a photographer's paradise.
Discover the sublime beauty of Bolivia's Southwest Altiplano, it's surreal rock formations, deserts, colored lagoons, geysers and volcanos
Enjoy intimate evening lectures and one-on-one edit and critique sessions with photographer Max Milligan.
This small group photography workshop-expedition will take place in the one of the most isolated and photogenic locations on Earth.  It is a deep exploration that will immerse you in one of the most remote corners on the planet where few image-makers have ventured, while staying at one of the coolest hotels in the world, Kachi Lodge. Recently inaugurated Kachi Lodge is a 6- igloo-dome hotel nestled right on the Uyuni salt flats next to Tunupa Volcano (5321 m). This remote and unique property offers comfortable accommodation, magnificent views day and night from its transparent domes, and delicious food, bringing high level comfort to Uyuni for the first time.
After a 3 night stay at Kachi Lodge, the group will embark in a 3 day 4×4 expedition towards the Atacama Desert, crossing some of the most awe inspiring landscapes on earth.
There is no way of describing the beauty of these vast expanses. Glaciers of green grass flow from the most barren of lands, strings of dormant volcanoes robed in endless color adorn the horizon, lakes of red flourish as thousands of flamingos paint the water with brushes of pink, endless meadows of llamas come alive and mirrors of magnificence reflect the vastness of the sky and the unique rock formations of what is also known as the Dali Desert. This is a timeless land where the sounds of ancient flutes and the whispers of Quechua reveal secrets of beauty.
During this seven-day Uyuni Salt Flats Photography Workshop-expedition with Max Milligan you will cover most kinds of photographic subjects – from the geysers' fumes at 1250th-of-a-second,  to minutes-long exposures by moon or starlight.  Max will cover landscape, wildlife, portrait, interiors,  and abstractions and also have modules on how to put together a photographic article for magazines and social media and describe how he created his seven bestselling books.
Complete beginners to advanced professionals will benefit from his teaching as each participant can choose the level and subject matter of their daily projects. Max will go through your portfolios and shots taken during the course, giving tips on improvements as well as highlighting the best elements of your work. One on one sessions will be combined with daily group viewings of specific personal assignments given each day to accentuate what particular skill you choose to improve.
Daily Summary
7 Days / 6 Nights
Day 1
Uyuni
Arrival in Uyuni and transfer to your lodge in the Salar. After lunch, explore the largest salt flat on Earth. Overnight at Kachi Lodge.
Day 2
Uyuni
There are many options to make the best out of your experience on the Salar: hike to the nearby "island", visit a charming village or just borrow one of the mountain bikes available at the lodge. Overnight at Kachi Lodge.
Day 3
Uyuni
Today you have access to a range of activities including: visit the archeological site, hike to the lower lip a volcano and visit to the quinoa fields. Evening stargazing. Overnight at Kachi Lodge.
Day 4
Uyuni-Villamar
Enjoy surreal and photogenic landscapes including the Valley of the Rocks and the Valley of Catal. Overnight at Mallku Cueva.
Day 5
Eduardo Avaroa National Reserve
Visit Laguna Colorada, Sol de Mañana geysers, pass through Dali's Desert and finally make your way to Laguna Verde. Overnight at Tayka del Desierto
Day 6
Small lagoons-Uyuni
Head North to Salar de Uyuni. En route visit the small lagoons of this area, including Cañapa, Hedionda, Charcota and Honda lagoons. Overnight at Luna Salada
Day 7
Uyuni
Transfer to Uyuni airport for your departure flight.
Day 1

Uyuni

View on map

Arrival Uyuni

Fly to Uyuni. Arrive in the surreal and magical world of Uyuni. You will be escorted across the epic salt flats to your luxurious glamping home.

Upon arrival to the hotel, meet the group and enjoy lunch together as Maxwell explains your daily routine and a little about local history, geography and culture.

After lunch, explore the largest salt flat on Earth. Covering 12,000 square kilometers (4,633 square miles) of Bolivian Altiplano, the vast salt flats are an awe-inspiring natural phenomenon and highly photogenic at any time of year.

Dinner and overnight at Kachi Lodge.

Accommodation

Day 2

Uyuni

View on map

Uyuni the salt flats

Choose your own adventure! There are many options to make the best out of your experience on the Salar: hike to the nearby "island" covered with giant cacti and offering amazing views on the Salar, visit to the charming village of Coquesa and its fascinating mummies or just borrow one of the mountain bikes available at the lodge and experience the expansiveness of the Salar with your camera.

Lunch, dinner and overnight at Kachi Lodge.

Accommodation

Day 3

Uyuni

View on map

Visit archeological sites

Wake up and enjoy a leisurely breakfast. Today you have access to a range of activities including: visit the archeological site of Alcaya - an old pre-Colombian city near Salinas- , hike to the lower lip of Tunupa volcano crater, visit to the quinoa fields and walk to encounter llama farms. This evening take a front row seat to some of the best star gazing on Earth (telescopes provided).

Lunch, dinner and overnight at Kachi Lodge.

Accommodation

Day 4

Cochabamba

View on map

Valley of the Rocks and the Valley of Catal

Head south towards the town of San Cristobal, a colonial town that is now the world's largest source of silver. Enjoy the surreal and photogenic landscapes including the Valley of the Rocks and the Valley of Catal. Great photo opportunities for nature photographers, as well as those just looking to capture the beauty of Bolivia.

Dinner and overnight at Mallku Cueva.

Accommodation

Day 5

Eduardo Avaroa National Reserve

View on map

Lagoons, geysers and the desert

Continue south towards the Eduardo Avaroa Reserve, stop at the Laguna Colorada which displays various hues of red, depending on the light conditions. Continue to the Sol de Mañana geysers, pass through Dali's Desert and finally make your way to Laguna Verde, which looks like a liquid emerald, varying between shades of turquoise and green.

Dinner and overnight at Tayka del Desierto.

Accommodation

Day 6

Villamar

View on map

Lagoons and wildlife

Wake up early to enjoy the sunrise over the desert. After breakfast, head North to Salar de Uyuni. En route visit the small lagoons of this area, including Cañapa, Hedionda, Charcota and Honda lagoons; each lagoon is exceptional in its own way and they are all home to extraordinary wildlife such as pink flamingos, vicuñas and vizcachas.

Overnight at Luna Salada

Accommodation

Day 7

Uyuni

View on map

Departure

At the proper time, transfer to Uyuni airport for your departure flight.

Early Bird Special - US$6,995

If you book before November 29, you can be eligible for a special rate of $ 6,995.00 in double accommodation, or $9,980.00 in single accommodation. Only 4 spaces are available at this special rate. We can further only assign up to 2 rooms for single accommodation.
Minimum 6 - Maximum 12 participants

Price per person in double accommodation - US$7,900

Also available for solo travelers willing to share a room, if another guest is also willing to share
Minimum 6 - Maximum 12 participants

Price per person in single accommodation - US$10,880

Due to the small size of the accommodations featured in this trip, we can only assign up to 2 rooms for single accommodation

What's Included?

Accommodation at hotels as mentioned in the program.
Meals where indicated: 6 breakfasts, 6 lunches and 6 dinners.
Trip accompanied and tuition offered by Max Milligan, professional Photographer.
Local English speaking guides throughout.
Entrance tickets to locations specified.
All transfers to and from the airport as mentioned in the program.
A customized detailed itinerary which includes historical information about the places you will visit, tips for the traveler, maps of the places you will visit, and a comprehensive reading list.

What's not Included?

Flights La Paz-Uyuni-La Paz (Approximate cost $250 return)
Alcoholic beverages, unless indicated.
Tips.
Travel Insurance.
Visas.
Neither personal expenses nor any other service not specified in the itinerary.

Minimum 6 - Maximum 12 participants

Uyuni salt flats photography workshop at Kachi Lodge

A master workshop with photographer Max Milligan
0