Viajes de lujo en Perú, Bolivia y Galápagos
Viajes Hechos a Medida
Durante 20 años, Aracari se ha especializado en el diseño de viajes lujosos y sostenibles a Perú, Bolivia y Galápagos.
Desde el principio he estado enfocada en ofrecer experiencias privilegiadas en Perú recurriendo a mi red personal de guías especializados. Esto permite que mi equipo, conformado por los mejores especialistas locales, y yo podamos confeccionar las mejores experiencias de viaje de lujo en Perú, las mismas que no pueden ser encontradas en otro lugar. Desde visitas con acceso exclusivo, guiadas por académicos líderes en su rubro – los mismos que son exclusivos de Aracari – hasta disfrutar de iniciativas de turismo rural comunitario – como parte de nuestra iniciativa de viajes de bajo impacto a Perú-, sabemos cómo diseñar viajes auténticos y hechos a medida.
Conde Nast Travel and Travel+Leisure reconocen nuestro trabajo en viajes de lujo en Perú y Bolivia. Estos medios, junto con otros medios de similar relevancia, se refieren a nosotros con frecuencia como especialistas en viajes de lujo a Machu Picchu.
Siendo una agencia de viajes en Perú, compartimos nuestro conocimiento privilegiado con usted sobre Perú viaje culinario, Perú viaje de aventura, los mejores hoteles de lujo en Perú, viajes de lujo a Machu Picchu y más. En Bolivia somos expertos en la planificación de viajes de lujo al Salar de Uyuni y mostrarle destinos fuera de lo común. Todas nuestras recomendaciones son probadas previamente con el objetivo de ser capaces de dar consejos veraces y actualizados de la mano con los mejores guías expertos en Perú, Bolivia y Galápagos.
¡Esperamos poder recibirlos y darles una cordial bienvenida!
Nuevo en Stories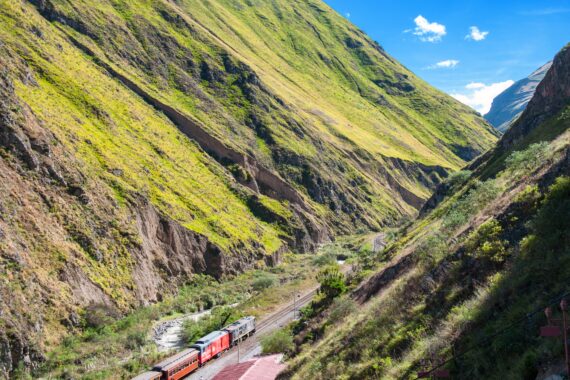 The glory of train travel is alive and well in Peru. Here, it's a fantastic mode of transportation for getting up close ...
Read more




Recibe la Newsletter de Aracari
Para estar al día de todas las novedades