The Cordillera Blanca is the highest tropical mountain range in the world and a haven for trekkers and climbers.
Full of high peaks, turquoise glacial lagoons and snow-capped mountains, the Cordillera Blanca offers awe-inspiring vistas and incredible hiking routes.
Trails are include full-day hikes, such as the popular route to Laguna 69, or multi-day camping hikes, the most popular being the Santa Cruz trek. Those intrigued by the idea of hiking in the Andes will truly be enamored with Huascarán National Park, a UNESCO biosphere reserve situated in the northern Huaraz region of Peru.  The Cordillera Blanca enjoys a longer season than other climbing hotspots such as the Himalayas. It is considered by many experts to be equally or even more beautiful than the Annapurna in the Himalayas.
Recommended For
Adventurers
Mountaineers & Hikers
Nature Lovers
Things to do
Take a day trek to the stunning turqouise glacier lake, Laguna 69
Camp and hike the region's most popular multi-day trek, Santa Cruz
Leave the hiking boots behind and explore the pre-Inca site of Chavin de Huantar
Sample journeys to Cordillera Blanca
We work hand-in-hand with you to craft a truly tailor-made Cordillera Blanca travel experience
Trekking in the Cordillera Blanca
Trekking in the Cordillera Blanca and the nearby Huayhuash range is quite different from similar endeavors in the Cusco area. While you will encounter local villages and farmers, especially along some treks such as the Huayhuash circuit, or archaeology in the Olleros – Chavín Route, here the emphasis is on the breathtaking mountain scenery. There are over 50 peaks that exceed 5,000 meters (15,000 feet) and you are spectacularly close to these giant mountains from the first day of any trek.
Day treks
Laguna 69
One of the best known treks in the area takes you to Laguna 69, affectionately known as the jewel in the Cordillera crown, accessible as either a day trek, two day trek with a night of camping or as part of a longer multi-day adventure. For regular hikers who are fully acclimatised to the altitude, it's a relatively easy ascent. For non-hikers, the final climb with its short, steep ascent, can be challenging. Once at the top you're rewarded with the spectacular view of the glacier-fed turquoise lake, framed by rocky cliffs and a beautiful wispy waterfall. Read more about Laguna 69 in Danielle's blog from her 2 day hike.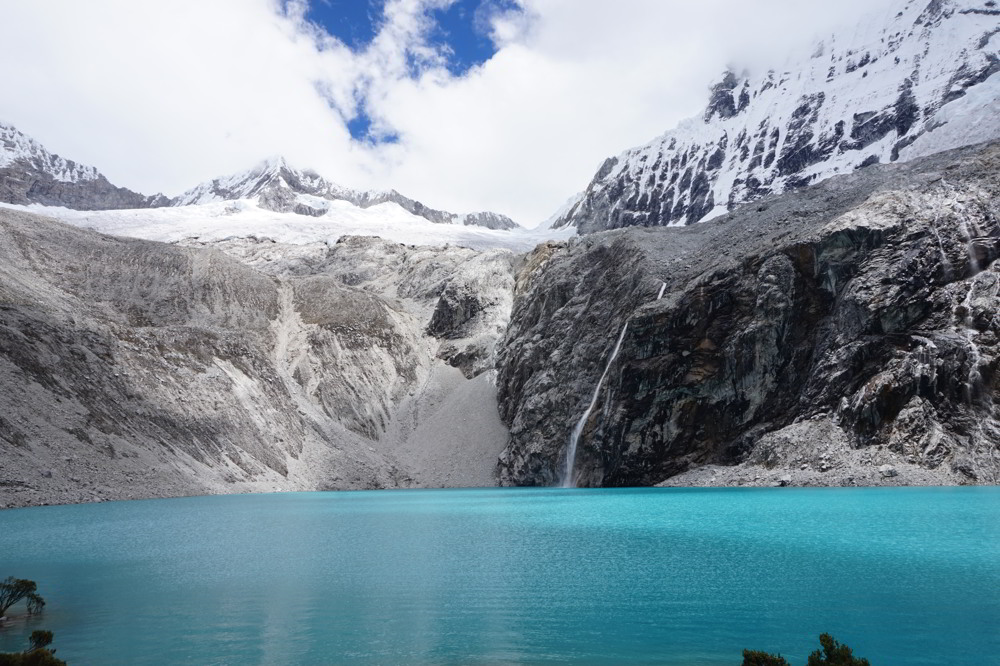 Ice of Huandoy
This is a stunning day hike, following narrow trails alongside a mountain stream that winds around the Lake and ruins of Keshua, taking you to the lowest ice in the Cordillera Blanca – Ice of Huandoy. This is where the Inca's harvested cones for generations, and the people still do today. Admire the 700m cliff with its plummeting waterfall and the vast ice fields right in front of you.
There are 722 individual glaciers in the Cordillera Blanca, many of which are accessible. Contact us for other exciting ice adventures to include in your tailormade itinerary to Peru.
Multi-Day Lodge Treks
A great way to enjoy the Cordillera Blanca is to be based at Llanganuco Mountain Lodge, enjoying exciting day treks each day, and then returning to the comforts of the lodge each night. Our suggested 5-day trekking itinerary showcases some of the best day-treks in the region, but can be shortened or lengthened based on how much time you have and your interests:
Day 1: Arrival. Short hike to the Lake & Ruins of Keushu
Day 2: Full day hike to the Llanganuco Lakes
Day 3: Full day hike to the Gorge of Rajurur and Huandoy Ice Fields
Day 4: Full day hike to Laguna 69
Day 5: Relax at the lodge and departure
Multi-day Camping treks
Once acclimatised by spending a few days at altitude and enjoying the day hikes, there are several multi-day trekking options, with camping each night to take on. We recommenced the Santa Cruz trek – a fantastic 4 day / 3 night adventure through the Cordillera Blanca, discovering snow-capped mountains, turquoise lakes and fertile valleys filled with flowers along the way. For more details of the journey, read Marisol's blog. It's an easy to moderate trek, great for families, and can be shorted to more intensive 3 day itinerary, or made easier by hiring donkeys to lessen the amount of walking.
Day 1: Santa Cruz Valley, camp at Llamacoral
Day 2: Arhuaycocha Valley, camp at Taullipampa
Day 3: Punta Union pass, camp at Cachinapampa
Day 4: Vaqueria, return to Huaraz or onward journey
Cultural excursions
If you're not a fan of walking, or looking for alternative cultural activities, there are many stunning highlights of the region  that are accessible by vehicle.
Llanganuco Lakes
Another scenic lagoon, that's a must-see for most visitors. Located on the way to the day-trek starting point for Laguna 69, these lakes are fully accessible via vehicle, so perfect for day-trippers and non-hikers. Llanganuco is the collective name for two connected lakes – Warmicocha or female lake and Orcococha or male lake, which are fed by thawing glaciar ice from the surrounding peaks. Small row boats can be rented to take you out onto the lake or you can follow the shoreline path to the second, Orcococha lake, offering stunning views in between the totora and queñuales trees and a great location to spot wild ducks in between the reeds.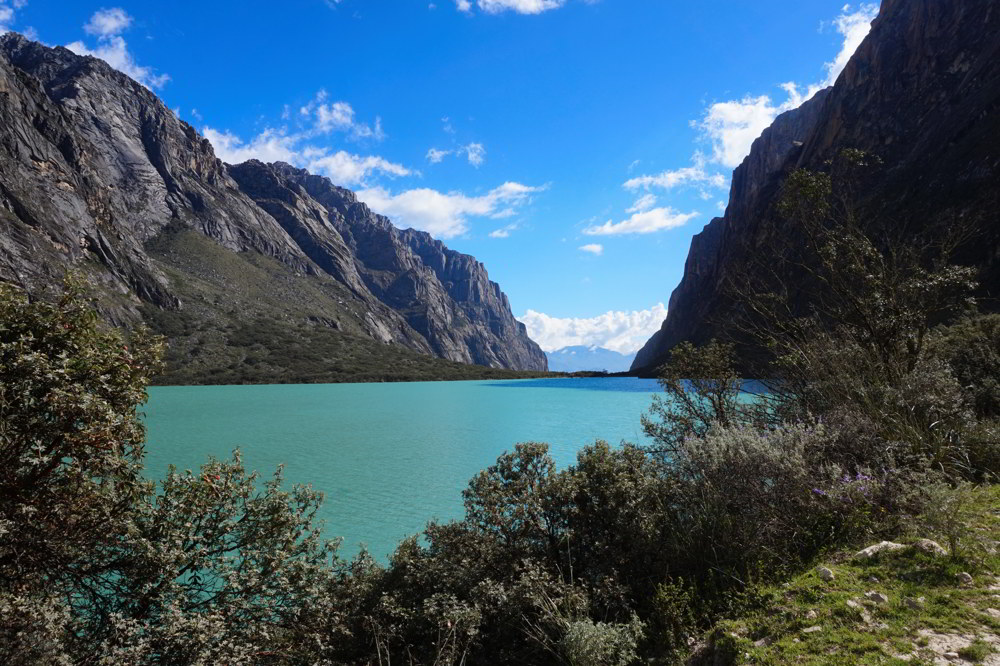 Chavin de Huantar
This UNESCO World Heritage Site contains artifacts and ruins from the Chavin people – a pre-Inca civilization and the structures here are dated to approximately 1200BC. The complex includes temples, plazas and a network of underground corridors, some of which visitors can explore. Located near to the town of Chavin, it's a three hour drive from Huaraz through the scenic mountains, and easily done as a day trip.
Don Bosco Artisans
A visit to this workshop offers insight into the work of local master craftsmen who produce stunning carved furniture, wood and stone sculptures and stained glass, many of which are commissioned by churches around the world. Started by a parish priest, it is now a thriving community initiative that trains young people and supports them in becoming self-employed artisans. The shop showcases many beautiful artisinal products, and any purchases supports the non-profit organisation that continues to train young people from nearby villages.
Mountain biking
There are many ways to enjoy the Cordillera Blanca, including on two wheels. For experienced bikers there are exhilarating single-track routes through the mountains, giving you stunning scenery combined with adrenaline pumping descents, along with gentler but equally scenic routes. We can organise day trips or multi-day excursions with camping, mule trains and a full support team.
How to get to the Cordillera Blanca
From Lima there is a flight each morning operated by LC Peru, which takes less than an hour. Overland the journey from Lima is about eight hours. From Huaraz city or the airport, a 2 hour overland transfer can be expected to one of our preferred lodges or straight to the start of a trekking route.
When to go
During the drier seasons, from May to October is ideal. Travel from November to March can include heavy downpours, with road blockages and conditions that are not pleasant for trekking and enjoying the outdoors.
Highly recommended accommodations in Cordillera Blanca
The city of Huaraz is the gateway to the Cordillera Blanca and has the most accommodation options – these tend to be relatively budget and mostly all geared to hikers. Aracari recommends properties outside of Huaraz, where you can enjoy the fresh mountain air and better views in a natural setting. Llanganuco Lodge, Lazy Dog Inn and Churup Mountain Lodge are all great options. Those looking to visit the Cordillera Blanca with further comfort – or perhaps looking to focus on fewer hiking excursions, will want to consider Cuesta Serena.
Other destinations in Peru