Every January 6, Peruvians celebrate Bajada Reyes to conmemorate the arrival of the Three Wise Men to the Nativity and the gifts they brought to the newborn baby Jesus from the East shortly after his birth.
When Francisco Pizarro founded Lima, he baptized it with the name "City of Kings" because its founding coincided with the day the Three Wise Men set out for Bethlehem, which he viewed as similar to the way he and his crew of conquistadors set out for the colonial capital. In present-day Lima, the holiday is usually celebrated with family and friends. But the highlight is at the Plaza de Armas, when three policemen from the Lima police department dress up like the Three Wise Men and ride horses to a Nativity scene located either at the side of the Plaza or in the balcony of the Palacio Municipal. The tradition has been going on for about 25 years, and at the end of the day, there is a small celebration in the Plaza as the Nativity scene is packed away. In the legend, the kings brought gifts like sweets, clothing, and coal, but now the "gifts" are mainly financial.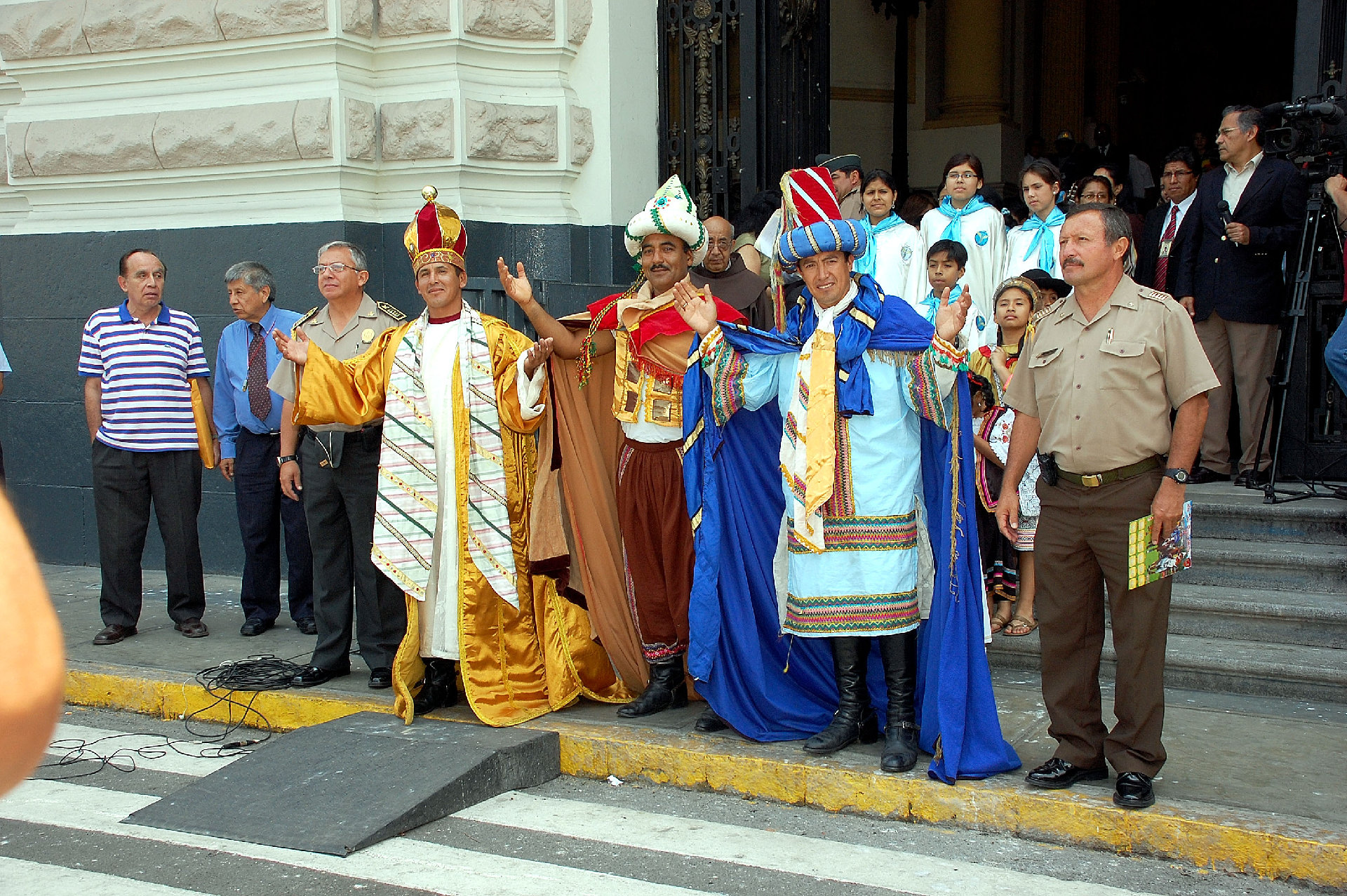 The celebration of Bajada de Reyes is more spectacular in Ollantaytambo in the Sacred Valley. The traditional folk festival includes not only the people from the town of Ollantaytambo, but also the people in the surrounding highlands and the Patacancha Valley (and, of course, curious tourists passing through). The official procession begins as two effigies of town's children are given to the Baby Jesus of Maracocha, a serious affair that is liven up with music and traditional dancing. The festivities are filled with delicious frutillada, a delightful fruity drink, and huallata, an Ollantaytamban folk dance that is meant to resemble the mating ritual of the Andean goose. There is also a traditional running of the bulls through the neighborhood of San Isidro, with the red ponchos of the villagers take the place of the traditional taunting capes. The celebration usually begins on January 5, when the villagers from surrounding areas begin their descent into the hub of the festivities, and runs until January 8, when the party concludes with a farewell in the doors of the chapel of the child Samachina. The four-day affair is a spectacle of religious and folkloric traditions.
Bajada de Reyes is a beautiful traditional extravaganza…and it's not the only one in Peru! For more information on other holidays, festivals, and events, check out Aracari's Festival Calendar.