Scalesia Galapagos Lodge offers a new concept of lodging in the Galapagos Islands, designed to connect you with nature and immerse yourself in the peace and tranquillity that only the Galapagos can offer.
Scalesia Galapagos Lodge Accommodation
Accommodation at Scalesia Galapagos is offered in 16 beautiful tents, all 53 sq m (570 sq ft), including a spacious bedroom, bathroom and large private terrace. These are configured with either a king sized bed, or two twin beds.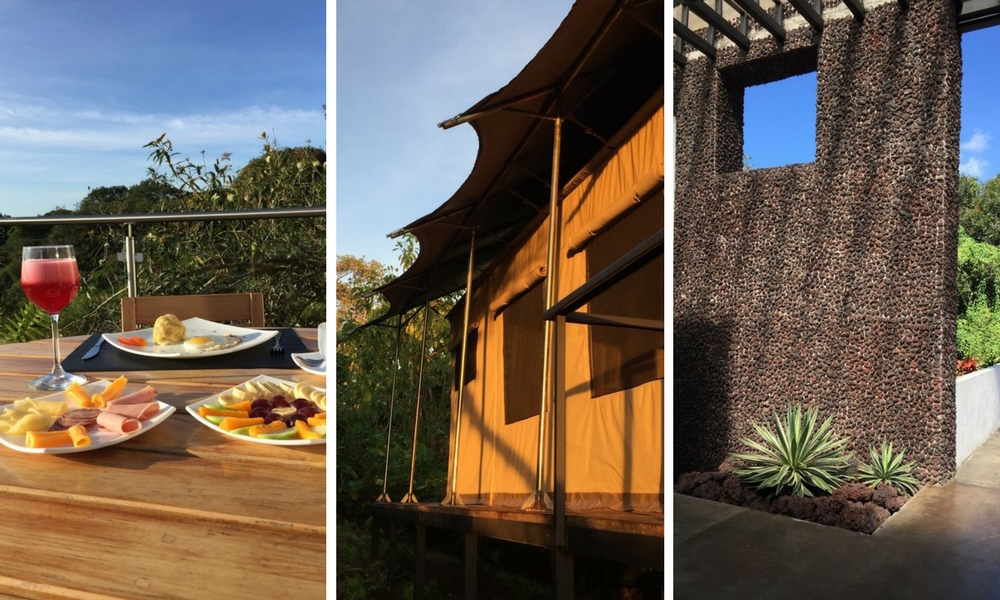 Scalesia Galapagos Lodge – Location & Transport
The most pristine of the three inhabited islands, Isabela is home to six large volcanoes. In terms of wildlife, Isabela has a concentration of most of the species found in the Galapagos, including blue footed boobies, pelicans, penguins, flamingos, herons, ducks, finches, tropical birds, sea turtles, sea lions, marine iguanas, manta rays, sharks and much more. Galapagos tortoises as well as land iguanas roam free in the Sierra Negra Volcano. Sally light-foot crabs, hawks, owls, dolphins and wales are also often spotted.
The Lodge is located in the highlands of Isabela Island, about 20 minutes from the town of Puerto Villamil. Nestled in the centre of 16 hectacres (40 acres) of property in the middle of a beautiful natural forest, the lodge boasts a spectacular view of the coast of Isabela Island and out towards the Pacific Ocean.
To get here, you first need to fly from mainland Ecuador (Quito or Guayaquil) to Baltra airport, located to the north of Santa Cruz Island. From here you can either transfer (bus + car) to Puerto Ayora to board a speed boat (public or chartered)  for the 2 and a half hour boat ride to Puerto Villamil, on Isabelle Island. Alternatively, you can take a small inter-island flight on a local airline from Baltra to Puertyo Villamil, a 30 minute flight.
Aracari specialises in luxury, tailormade travel to Peru, Bolivia and the Galapagos. If you ready to plan your trip, contact us, or email travel@aracari.com