Luxury Travel Galapagos
Named after the shape of giant tortoise shells, the Galapágos Islands are a treasure trove of unique marine and animal life. A luxury travel Galapagos vacation to this remarkable archipelago – a total of 35 volcanic islands off the coast of Ecuador – is a truly unforgettable, once-in-a-lifetime experience.
It is believed that the Galapagos islands were never connected to the continent, hence the animals that live here have evolved in their own unique way over many hundreds of thousands of years. Charles Darwin observed this during his five-week trip here in 1835 — a trip which changed the way we view the world forever after inspiring his theory of evolution.
The Galapagos Islands: Luxury Cruises and Land-Based Visits
The islands are a UNESCO World Heritage site and can be visited either by taking a luxury Galapagos cruise, or by basing yourself in a top luxury lodge and exploring nearby islands as day trips, or by combining both a Galapagos cruise as well as hotel or lodge accommodation. The right option for you depends on a number of factors including your travel style and the activities you are specifically looking to do (e.g. diving). Contact us to learn about these options and which is right for you with our expert travel planners and for more information on traveling to the Galapagos check out our FAQ page.
Luxury Galapagos Cruises
Arguably the best and most considerate way to explore the Islands is by boat. At Aracari we offer a handpicked selection of Luxury Galapagos Cruises, which range both in the comfort level they offer as well as the size and style of the vessel. We personally visit and inspect all the cruises we recommend to ensure you can enjoy the best boats for the best value.
Suggested Luxury Galapagos Cruises:
Xploration (Athala) – luxury 8 cabin catamaran, including sun deck with jacuzzi ; 5N or 7N cruise
Xperience (Eclipse) – medium sized yacht with 26 cabins, library, jacuzzi; 7N or 5N cruise
Evolution – luxury medium sized yacht with 16 cabins; 7N cruise
Grace  – historic 8 cabin yacht originally built in 1928; 7N cruise
Integrity – exclusive luxury 9 cabin yacht with excellent service; 7N cruise
La Pinta – 24 cabin yacht, with glass-bottom boat for excursions; 3N, 4N or 7N cruise
Ocean Spray – spacious 9 cabin catamaran; 3N, 4N, 5N or 7N cruise
Galapagos Sky – the best option for divers
Most cruises are "Naturalist" cruises, in that they are aimed at the generalist traveler eager to learn about wildlife in the Galapagos. In all the luxury cruises handpicked and inspected by Aracari, guides are excellent: they are all biologists and experts in the ecology of the region with excellent language skills. The ratio of guides to travelers varies slightly from boat to boat, generally at around 16:1. Each cruise operates fixed departure schedules, rotating their routes. These set itineraries are approved in advance by the Galapagos Park Authority, as this is a protected area with a fragile ecology. Greater flexibility on routes can be arranged with private charter arrangements, which Aracari organizes.
Galapagos Diving Cruises
There are also diving cruises aimed at experienced divers that visit Darwin and Wolf, two islands at the far North of the archipelago where the most varied underwater wildlife is found. The Galapagos Sky cruise is the best option. The Galapagos is one of the richest marine reserves in the world, covering 133,000 square kilometres (100,000 square miles). Three, key oceanic currents combine with the islands' volcanic geology to create a nutrient-rich environment that is full of life. These luxury travel galapagos diving itineraries also involve some naturalist visits but are mainly geared at divers. 'Occasional diving' itineraries, which we also offer, mean that the balance between diving and naturalist visits is equally split.
Family Galapagos Cruises
Special 'family departures' are available in the larger boats, where small children have a special guide and activities geared to their age groups, which will keep them (and their parents) happy.
The Best Luxury Galapagos Accommodation
If you prefer a land-based experience, we can recommend the best accommodation options based on our personal experience and insider knowledge. Contact us for a tailormade proposal and quotation.
What wildlife is there to see on different islands?
What special wildlife activity takes places throughout the year?
Some islands are better known for avian life, while others for tortoises, iguanas, sea lions or other. Here's a summary of some of the most iconic species on main islands – though this list is not exhaustive!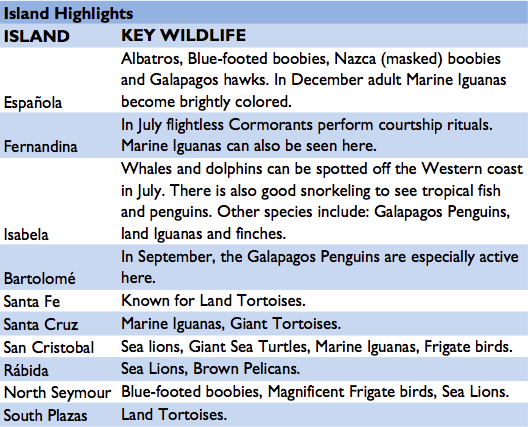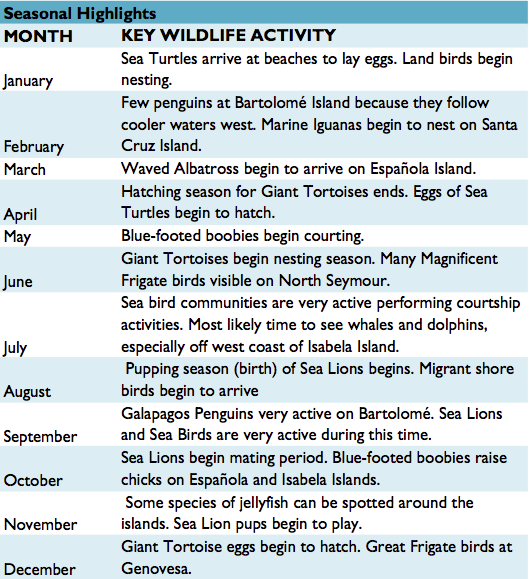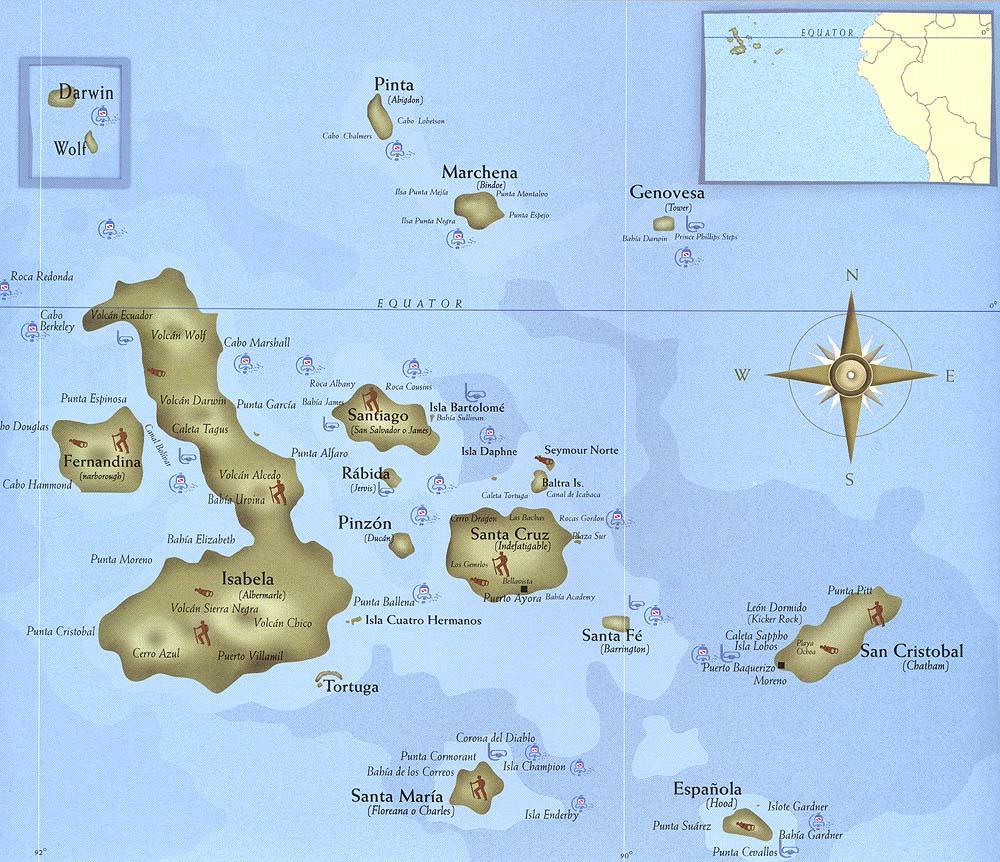 Galapagos Travel Tips
---
Read all of our luxury travel Galapagos FAQs
---
How long do I need for a cruise? 
Luxury Galapagos cruise options are of different durations, with many cruises offering eight-day departures. Some cruises do offer shorter options for those with less time – five, four and even three-day itineraries are all possible. However, due to the distances involved to get to the Galapagos – flying from Ecuador's mainland – we advise against taking the shorter cruises. The longer the cruise, the more variety of iconic wildlife you will be able to see.
How do I get to the Galapagos Islands?
The Galapagos Islands are located some 1,000 kilometres (600 miles) off the Pacific coast of Ecuador. Flights from the mainland can be taken from either Guayaquil or Quito airport and they take approximately 4 hours. There are two airports in the Galapagos on different islands: Baltra and San Cristobal. From here you are collected and transferred to your luxury Galapagos cruise or hotel.
Some luxury Galapagos cruises may start in one airport on the Galapagos and leave from the other, depending on the route. We will recommend the exact flights required to fit your chosen cruise or accommodation option.
When Is the best time of year to visit the Galapagos Islands?
The Galapagos Islands are a year round destination, with both weather and animal activity factors to consider when visiting. Weather-wise the islands have a subtropical climate regulated by the cold Humboldt current and the warm El Niño current. December through May is the warmest time of year, with highs in the upper 80°s F (31° C). The sea is at its warmest and is usually calmer at this time of year. The drier garua season lasts from June through November. Garua is a mist that forms in the highlands of the islands. There is plenty of sunshine during the day, but it is less intense, with cloudier skies. Air temperature is lower, with highs in the upper 70°s F or mid-80°s F (25-31° C). The water temperature is at its coolest, about 68° F (20° C).
Contact us now for expert travel advice and a quotation for luxury travel Galapagos vacations.
Featured Hotels
Recommended For
Experiences to Consider