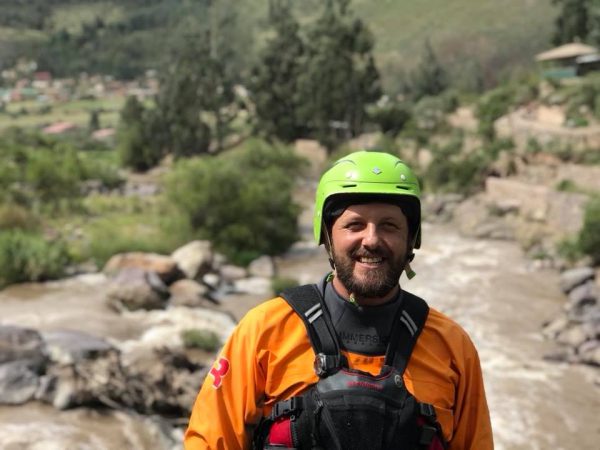 Joaquin Randall's is a sustainable tourism entrepreneur based in Ollantaytambo, near Machu Picchu, Peru. Peruvian born of American parents, Joaquin is one of the owners and manager of the most legendary hotel establishment in the Cusco Area: El Albergue Ollantaytambo , which was founded by his parents, Robert Randall and Wendy Weeks, in the nineteen seventies. This month we had the pleasure of hosting an online conversation with Joaquin, where we discussed his approach to making tourism more sustainable. Here are some of our reflections on what we discussed…
The role of economic development
"One of my sustainability objectives is economic development," states Joaquin. The Albergue de Wendy Weeks only has 15 rooms, but during the high season, it employs between 100 and 120 people, making it the second-largest employer in Ollantaytambo.
Joaquin tells us that by employing local people, he wants to give them incomes, training, and skills so that "they can one day start their businesses". Spoken by a hotelier, these words might seem paradoxical, but on reflection, it is a reminder that people are also part of the natural world. Sustainable development cannot be untied from our economy.
The importance of a diverse economy.
"Many destinations in Peru are overdependent on tourism," Joaquin tells us. He highlights to us how his colleagues at El Albergue would have had no work during the pandemic, were he not been able to involve them in the companies secondary ventures. 
Almost entirely in Ollantaytambo, El Albergue has developed an organic farm, craft distillery, coffee roastery, two coffee shops, and a restaurant – that do not rely entirely on tourism for trade.
The takeaway from his remarks is that money from tourism in Peru needs to be re-invested in other sectors of the economy to secure and sustain local communities.
Promoting local production and consumption
Nowadays, travelers are increasingly conscious of minimizing their impact when they travel. Yet, they also want to seek out and enjoy authentic, not manufactured, experiences. So when visiting destinations like Peru, how can travelers achieve both …
In conversation, Joaquin explains how opening a coffee roastery allowed him to supply his hotel, restaurant, two coffee shops, and other local businesses with 100% single-origin coffee beans, purchased from local farmers.
Similarly, when Joaquin could not find a local supply of organic produce for his restaurant, he opened an organic farm. Many local businesses, including his hotel and restaurant, now enjoy food that has traveled fewer miles and been grown without harmful pesticides and fertilizers. The farm has also created more jobs in the local community.
Joaquin believes in developing self-sustaining communities that have the means to produce and consume goods locally. Based on experiences like Joaquin's', it is easy to see how low-impact, authentic tourism is achieved where there is significant local production and consumption. On reflection, this reaffirms Aracari's belief in working with partners who depend on their local communities.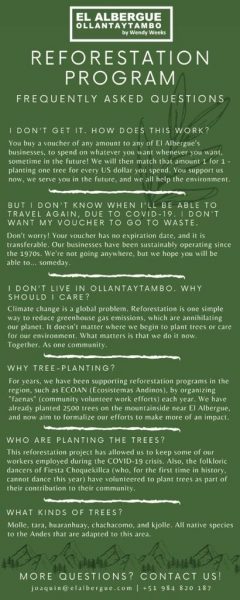 Empowering local communities
"Human habitation over the last 7,000 years has destroyed much the original forest land in the Sacred Valley," Joaquin tells us. Local people have continuously burned the mountainsides and felled trees for building and commerce, which historically has supported these communities. However, without planting more trees in their place, this is unsustainable and damaging to the environment. Joaquin's latest mission is to plant 50,000 trees each year on the baron mountainsides of the Sacred Valley – using native and wild seeds he has collected from across the region.
Once a year Joaquin invites all his staff to participate in his reforestation project on the outskirts of Cusco. The remainder of the year, he relies on community groups, like the local dance troop, to help him continue planting the trees. Already, this work has helped to
reduce flooding, improve agricultural irrigation, and brought back wildlife to the area – including deer that had not been seen for many years. In partnership with community organizations, reforestation experts – such as ECOAN – and other participating businesses this project is an optimistic way to contribute to the economy and environment during the pandemic.
The local community is already seeing the benefits of their work, which is important if the project is to continue. Currently, El Albergue is financing the project, but is in the process of partnering with many other companies that will collaborate to make this project possible. However, thanks to years of a creating diverse range of businesses, he has developed an innovative scheme where patrons of his hotel, restaurant, coffee shop, and other local businesses can help fund the reforestation of Cusco's mountainsides. The scheme works whereby a donation is made to the project, for every dollar spent in these local businesses. Due to the lockdown, Joaquin is asking visitors to El Albergue Ollantaytambo to buy gift vouchers, that support the project, and they can also redeem against the cost of staying in the hotel. A 100-dollar voucher is equal to 100 trees planted in your name. It is an inspiring final example of how tourism can operate more sustainably and give back to the destinations they promote.
We at Aracari were inspired to talk with Joaquin about his projects and through his reforestation project will be planting 10 trees on the mountainsides of Cusco for every traveler that arranges their trip to Peru with Aracari Travel. To find out more please contact:  travel@aracari.com