Hotel Rio Sagrado in Peru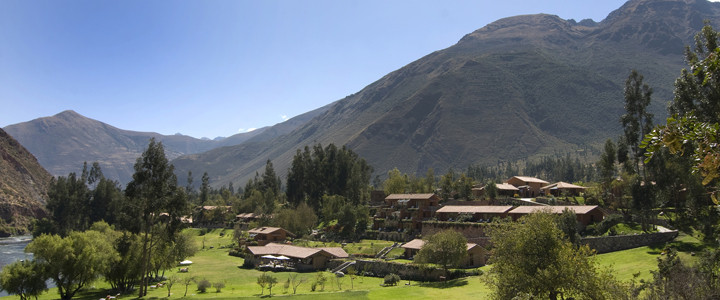 Location: Urubamba Valley
Having recently had two of their properties voted amongst the best in the world by readers of Conde Nast Traveller, Orient Express should be feeling confident that their brand of hotels is the very best that Peru has to offer.  Eager to ensure that their Peru luxury hotels stay in touch with what Aracari values most highly, our Sales and Operations Manager Vicky recently inspected their only Sacred Valley hotel the Rio Sagrado, which opened in April 2009.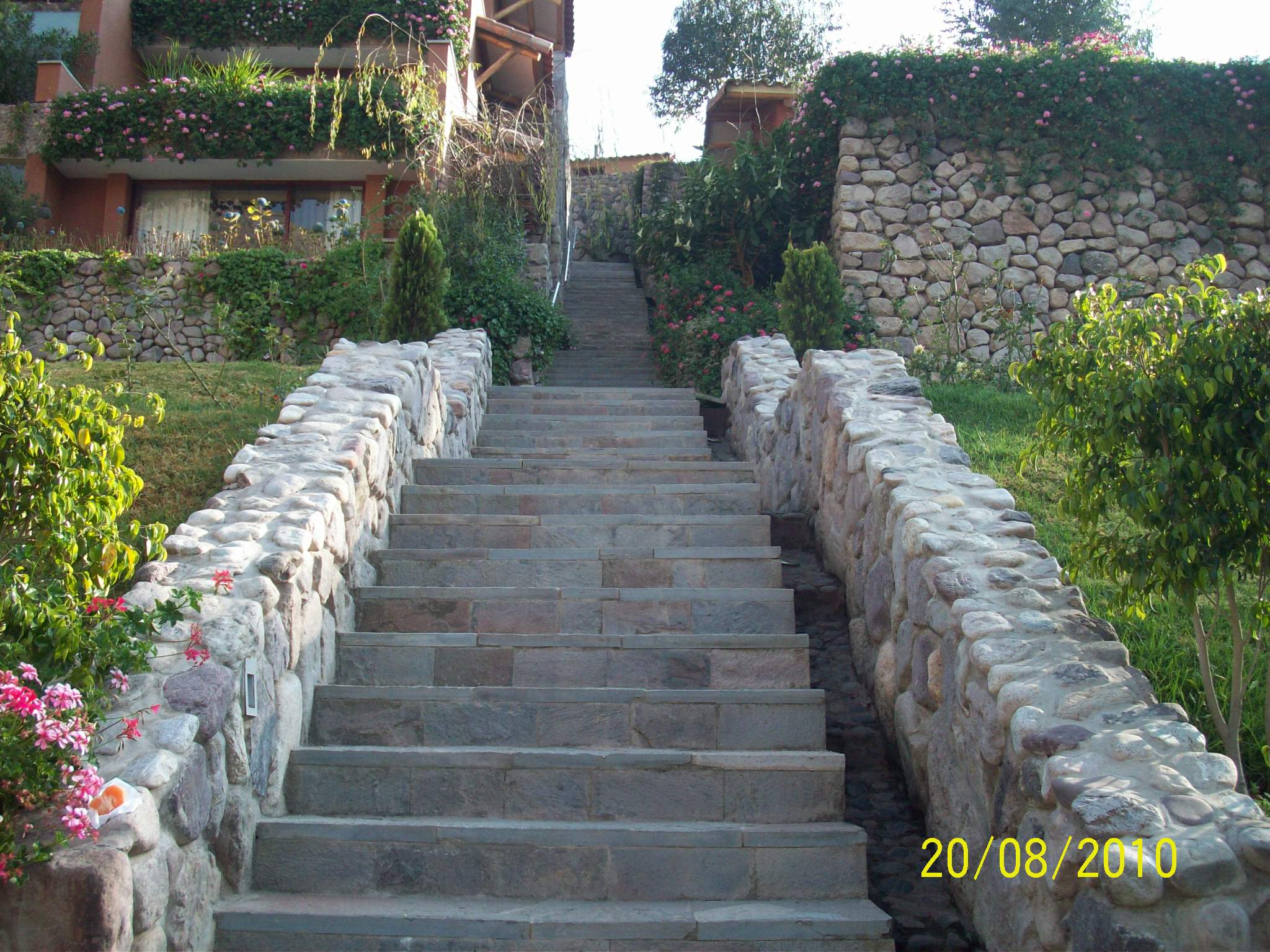 Travelling in August, Vicky was first struck by the Rio Sagrado's modern appearance, yet she was most impressed that while maintaining this swish and sophisticated attire, the hotel's minimalist design allows more natural aspects of the property and its surroundings to still take prominence over the hotel's ambience. There is a beautiful garden in the property, for instance, which complements the flowing water of the Vilcanota River to create a most peaceful ambience for guests.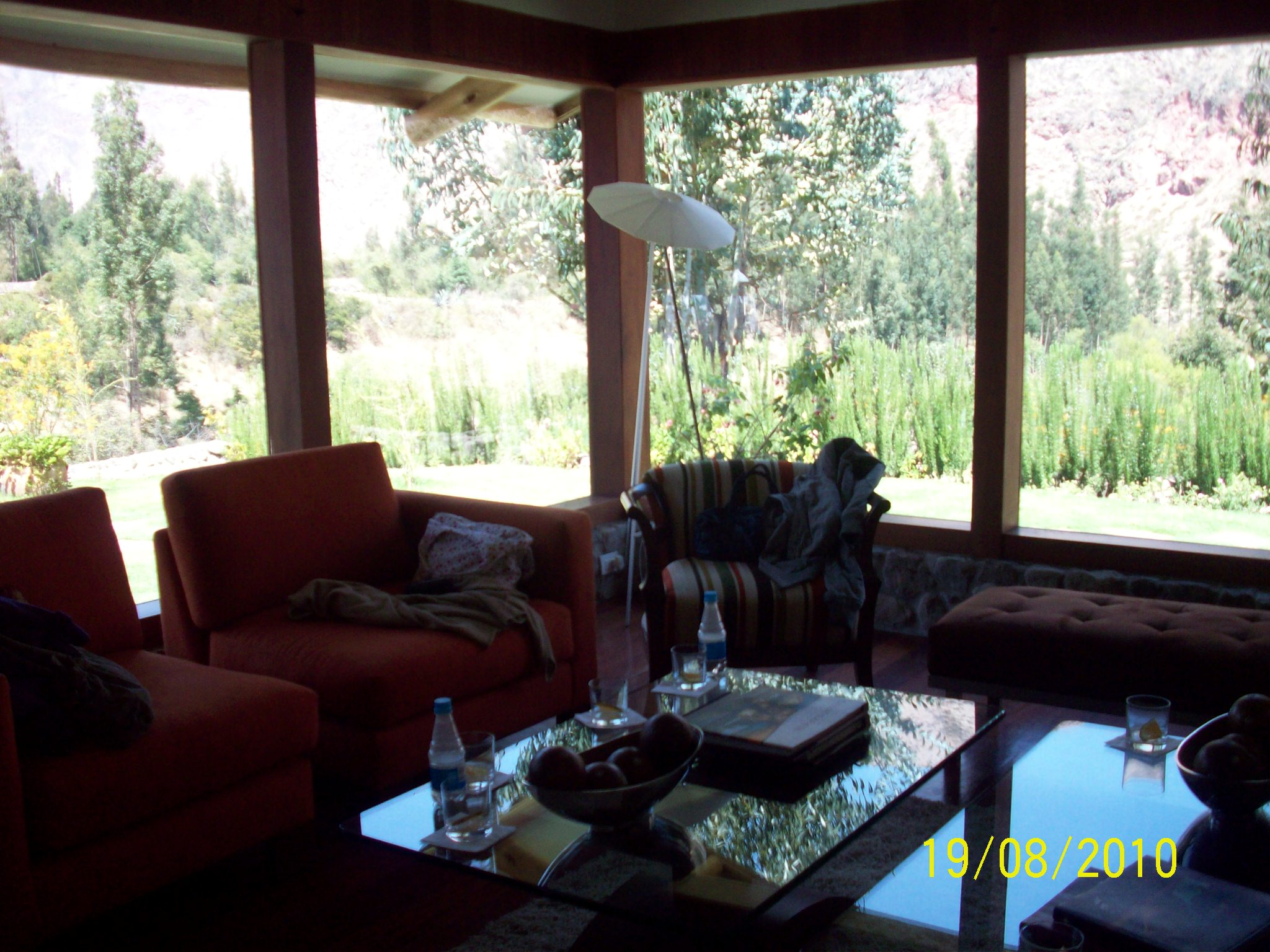 A convenient base for exploring the Sacred Valley, the Rio Sagrado is only a one and a half hour drive from Cusco and 15 minutes from the town of Ollantayambo which has an impressive set of ruins of its own, and where there is a train station to travel to Machu Picchu. In the next couple of years Orient Express hope to have a train station at Rio Sagrado that would mean that guests could travel straight from the hotel to Machu Picchu.
Rooms and Suites
Split between four blocks and every single one facing the river, Rio Sagrado's ten Deluxe rooms and eight Junior Suites are of a very high level of comfort.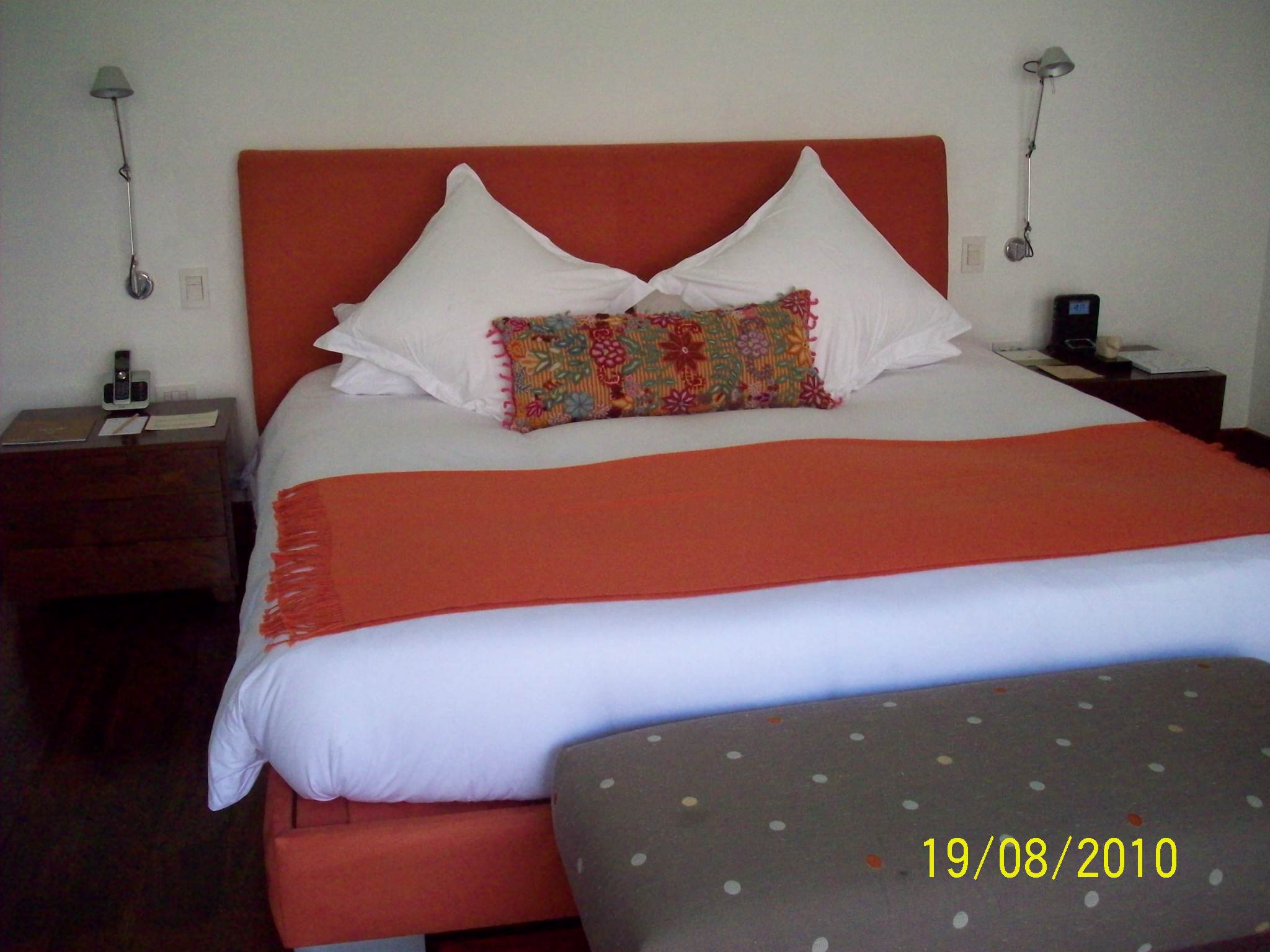 Overhead are large leather bound beams of wood, which together with stone walls and wooden floors keep the interior textures and décor feeling natural; this is helped by the fact that the windows are always facing towards nature, and the outdoor terraces which don natural rock and wild flower arrangements.
The beds are all so positioned in order that guests wake up with a view of the river; Peruvian pima cotton and feather pillows ensure that they are very comfortable. Heated wooden floors are also at hand to keep rooms warm at night.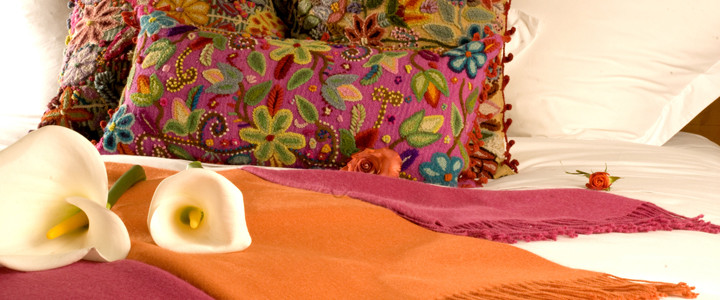 Most of the rooms are adorned with beautiful Andean tapestry-style fabrics of vibrant reds and using colorful flower patterns to continue the floral environment of the gardens. Some of the furniture does not yet meet this standard, but Orient Express is working bit by bit to implement room fittings and decorations of good taste in accordance with the standard of the chain.
The advantage of the Junior suites is their larger outdoor terraces and garden with a sitting area which are made private by a row of tall shrubbery on either side. Thankfully these do not obscure the view of the river and the surrounding hills.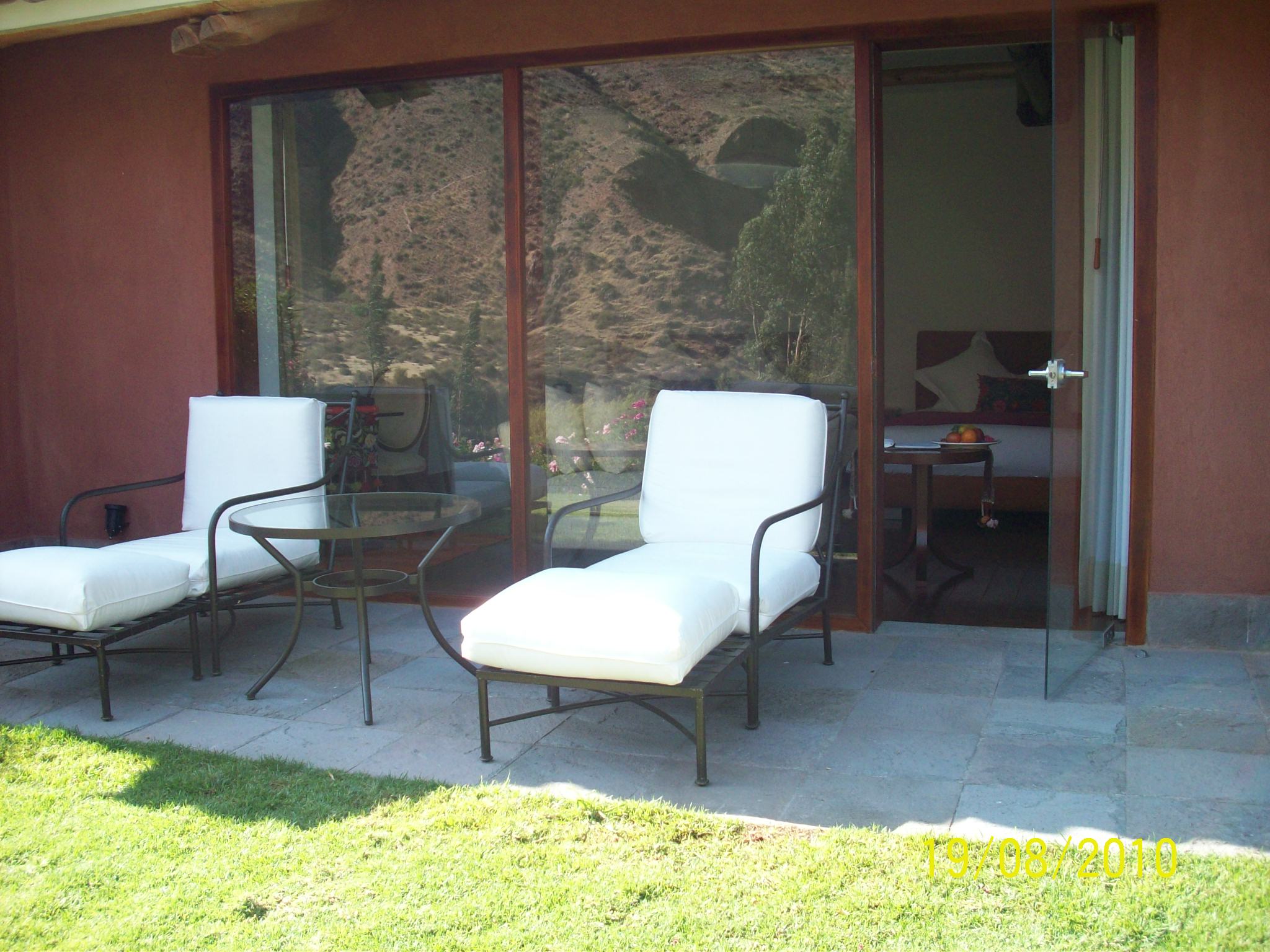 There are no televisions in any of the rooms, though this is rather an advantage given that the main draw of the property is the ability to relax in a natural and quiet environment.
The bathrooms are attractively decorated with simple geometric alienation and natural textures of marble and onyx complimented by the occasional plant and flower; the showers – Swiss showers – also have views towards the river. All of the toiletries are made from quinoa, native to the Andes, meaning that all of the replenishing properties of this plant can be enjoyed by simply applying Rio Sagrado's shampoo, conditioner, and soap or shower gel.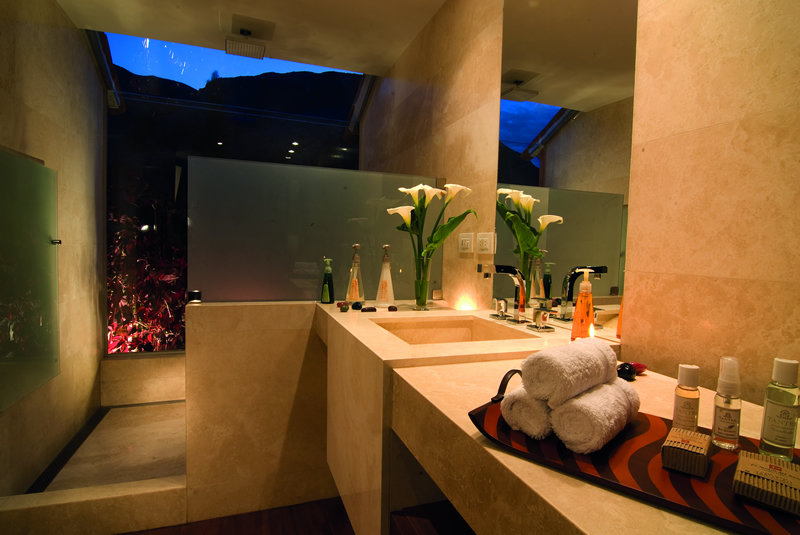 Private villas in Peru

The two villas, called Capulí and Orquídea after Andean flowers, are an extra step up from the suites for those in search of more flexibility. Both offer all of the same facilities as the suites and are decorated in the same naturally and traditionally influenced style.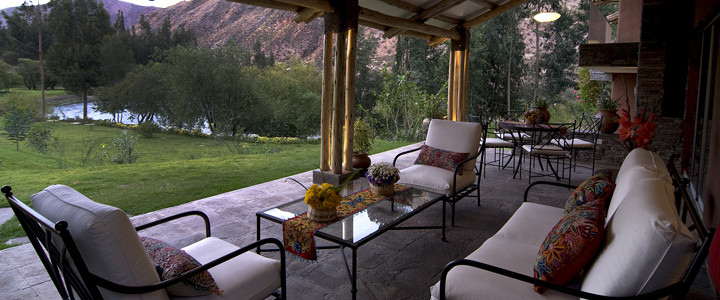 Contained within two two-storey buildings, they are ideal for families who need some space for the kids to run around, both having three bedrooms and ample riverside gardens full of wild flowers.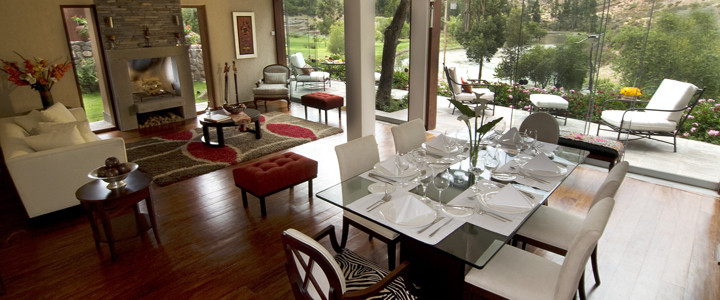 There are also fully-equipped kitchens and elegant dining rooms in each, and a living room complete with a toasty fireplace for nighttime, which can get somewhat chilly in the Andes.
The differences: Villa Orquidea has some extra leg room with a Studio style loft space and a spacious covered terrace including an exterior dining room. Also be aware, Capulí has 2 double rooms and 1 twin with 3 ½ bathrooms, while Orquídea has one double room and two twins with 3 bathrooms.
Families wanting to stay at the Rio Sagrado should note that children under 5 stay free if sharing bed with parents though their breakfast is not included. Also note that only one child allowed per room maximum
Facilities
Relaxation is the order of the day at the Rio Sagrado; there is not only a Spa to this end, but various outdoor spaces, in the garden and next to the river, where guests can lie back and soak in the atmosphere. Two hammocks located next to the river are conveniently at hand for this purpose also, and it is possible to have yoga classes which are a particularly enjoyable way of making the most of the peaceful environment.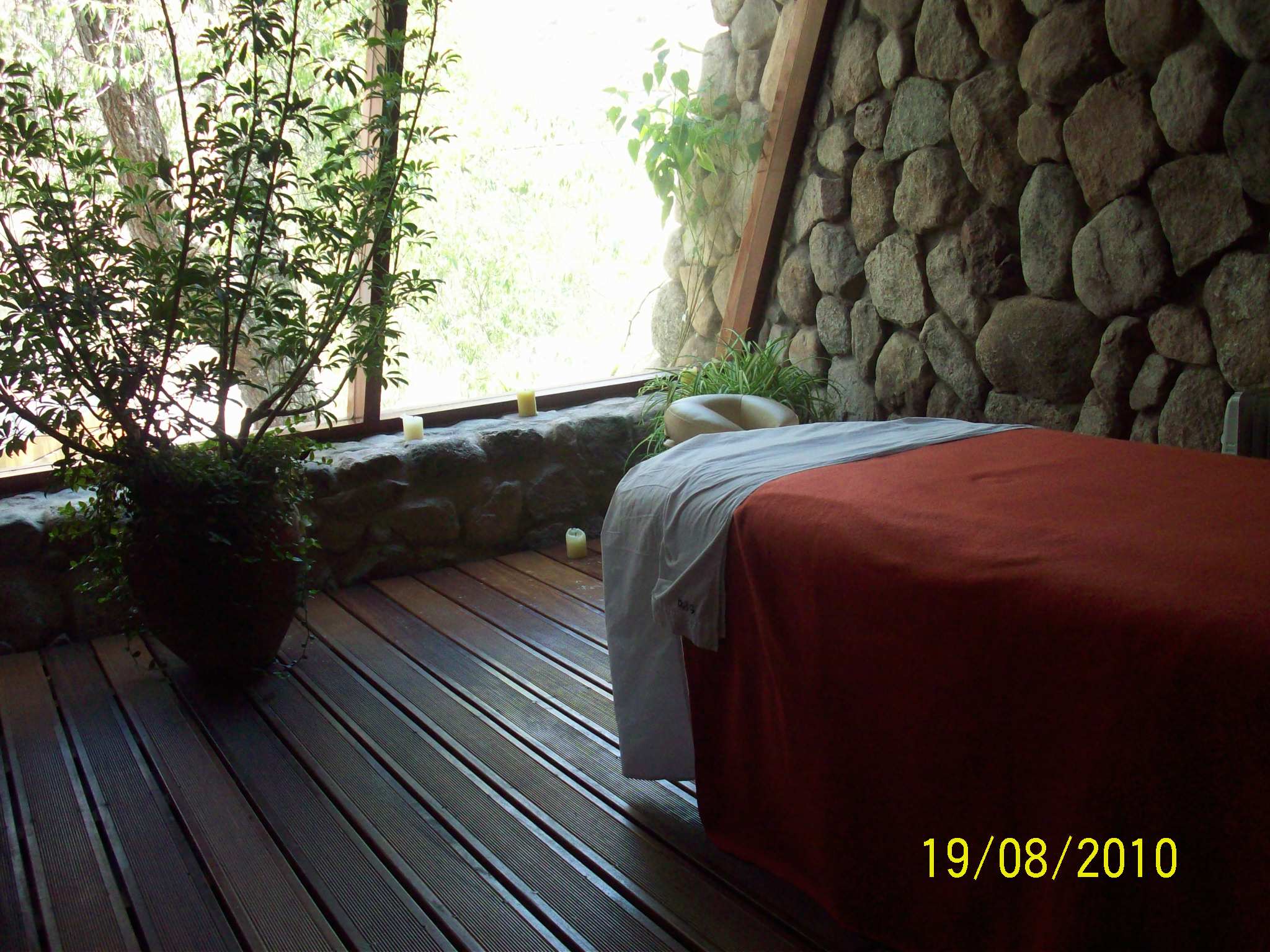 Spa Mayu Wilca itself has a lot to offer, with a whole host of treatments such as massages, reflexology or facial treatments alongside facilities including a Jacuzzi and a steam sauna.
Peruvian cuisine in Rio Sagrado

Making use of what must be the most local ingredients possible, El Huerto restaurant  takes its name from the onsite vegetable gardens, from where fruits, vegetables and spices are taken to be used in the restaurants range of Peruvian cuisine. El Huerto's bar has a very privileged location overlooking the river, the tranquil sound of running water is reason enough to keep the bottles flowing and order another round of delicious cocktails.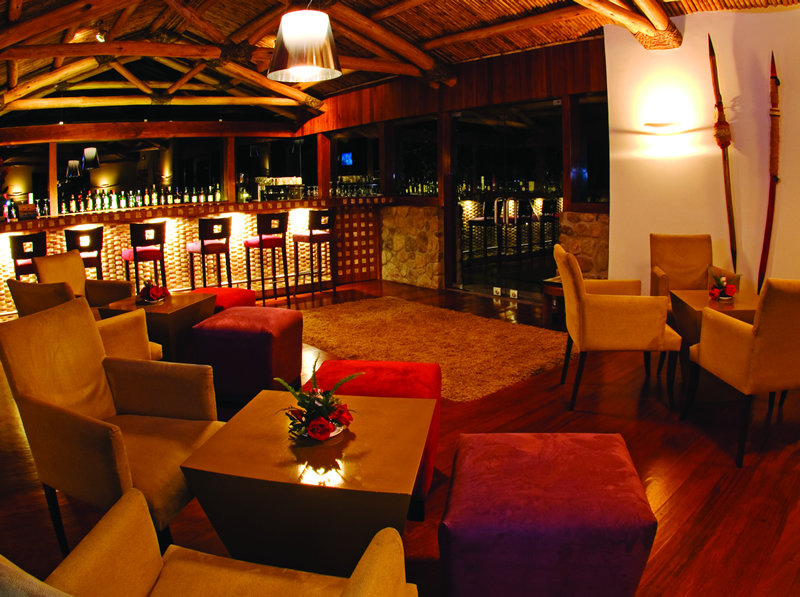 Perhaps the most fitting dining option, however, is the delightful picnic lunch that can be had in the gardens. Here, guests are served a banquet of niceries; mimosa or juices, sandwiches of various types (salmon, chicharron), a selection of different cheeses, ham and salami and a dessert. This can be enjoyed to the tune of a fruit juice or perhaps a champagne with orange. In the evenings there is dinner on the grill; guests can choose between beef, chicken or trout with salad or cream of potato and pumpkin soup.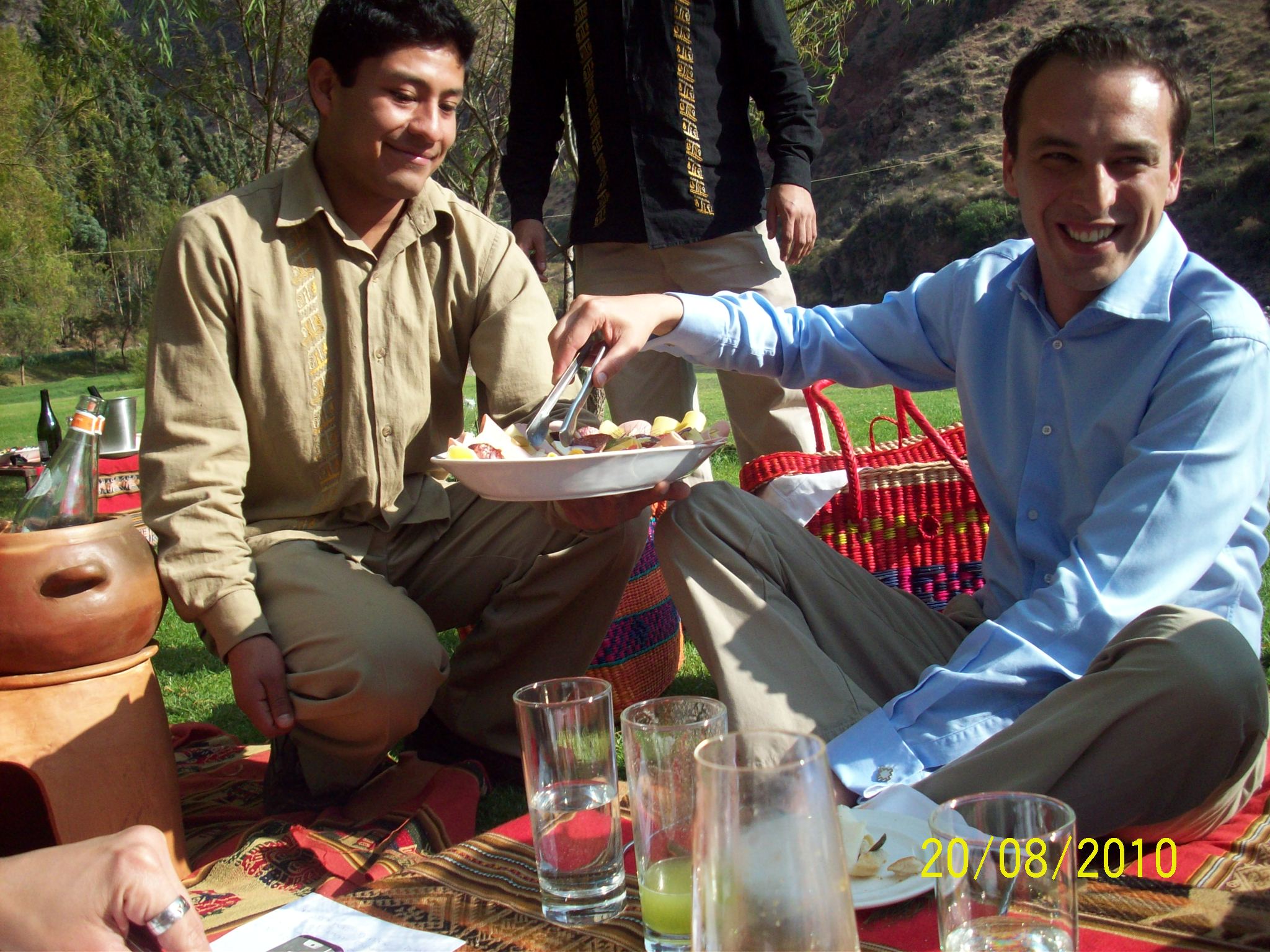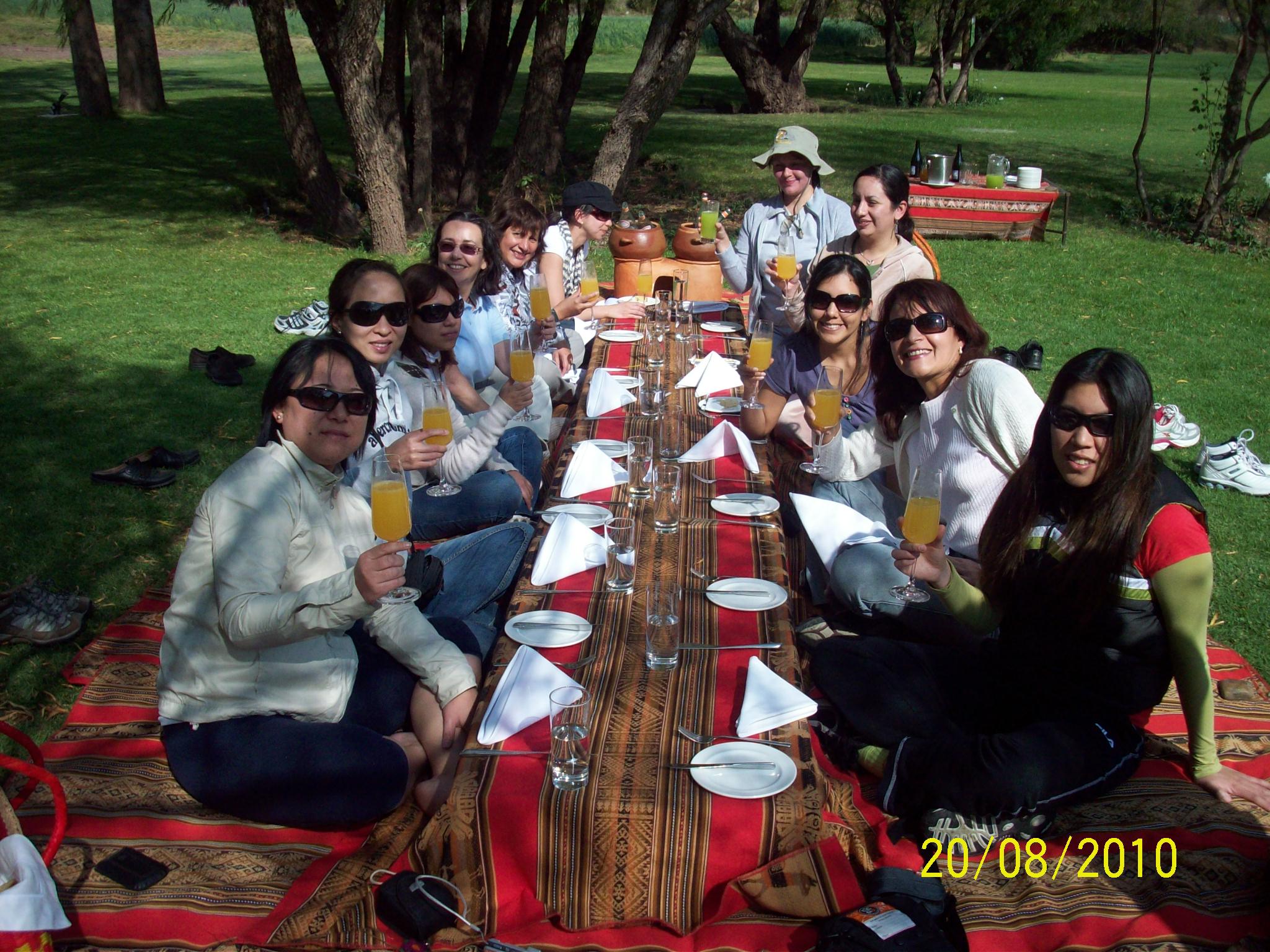 It should also be noted that on arrival, guests are not greeted with the Coca tea that can be typically expected in Cusco region hotels, but an equally powerful antidote for the effects of high altidude called muña. This native plant is mixed with orange juice and is quite a delicious welcome to the Rio Sagrado.
The Verdict
As would be expected, this Sacred Valley hotel lives up to the high standard of quality set by the world-renowned Orient Express brand; there are still a few areas for improvement but we are confident Orient Express have been heading in the right direction over the last year or so; they have made great effort to add extra touches of detail such as in the choice of furniture and decoration which we found to be very tasteful.
In short, modern and manufactured touches are kept subtle and discreet, while features such as the lush flower gardens and local textile decorations keep the hotel firmly grounded in the Sacred Valley.
We feel that those of our guests who are looking for something very modern and luxurious on their luxury Peru vacation, while staying in touch with the peaceful natural environment of Peru, will be thrilled, and we continue to recommend Rio Sagrado as one of the best luxury hotels in the Sacred Valley.
Another choice? Check out our luxury hotels in Peru list.