The Colca Valley is dotted with charming villages where the locals preserve the ethnic richness of their past more than any other region of Peru. Among the people there is deep rooted tradition and cultural pride that manifests in everything they do from their daily tasks to their unique clothing and hats. One of the best ways to understand the culture and immerse yourself into the everyday life of the people is to partake in community based tourism Colca. Aracari can arrange an experience with a local family in the village of Coporaque as a part of a tailormade trip Peru, so that you can authentically learn about the Colca Valley beyond typical tourist stops.
My Experience: Trying My Hand at Farming
On a recent trip to the Colca Canyon and Valley, I had the opportunity to participate in the community based tourism project: Pumachiri. My colleague Caroline and I would be spending the morning with a few members of a Collagua family who live in the small town of Coporaque. We arrived at their home and were immediately welcomed with open arms and invited in for a cup of mate de coca, a tea that helps when traveling at altitude. We sat down and chatted with our host, Sebastian, before his wife and a few other members of the family arrived.
Dressing Like a Local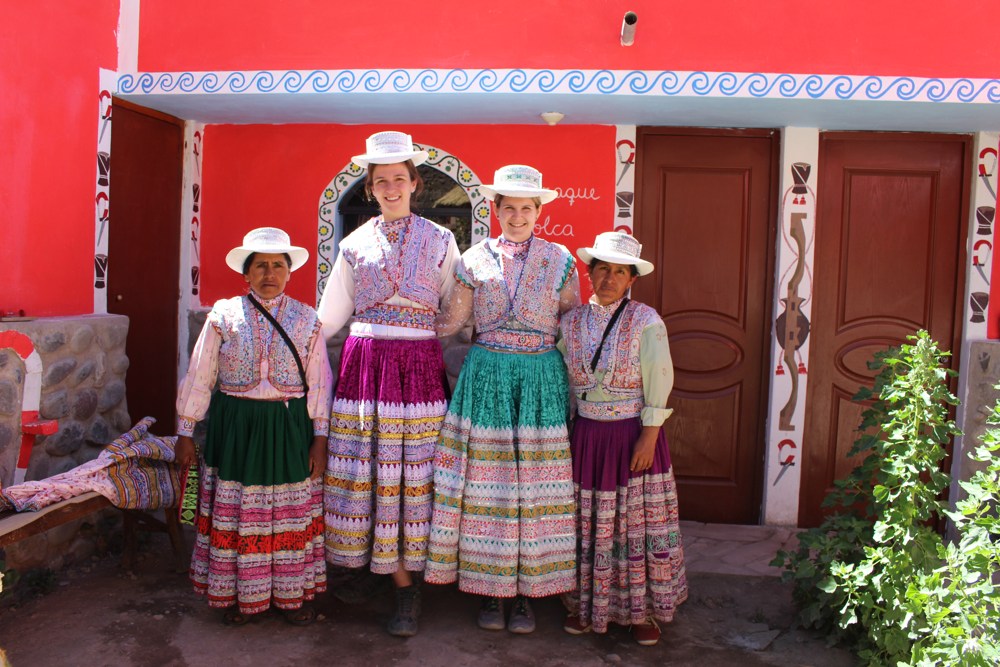 I was struck by the women's colorful clothing and decorative white hats. They explained to us that there are two pre-Inca ethnic tribes who inhabited the Colca Valley: the Collaguas and the Cabanas. To this day the two groups maintain traditions dating back past colonial times and are easily differentiated by their traditional clothes, particularly their hats. The Cabanas use embroidered felt hats, whereas the Collaguas wear bejeweled white straw hats. As a way to break the ice and the language barrier, the women offered to dress us in their clothes. Though we knew this is something they do for all visitors, playing dress up with our new friends felt quite authentic as they giggled at my height and hurried off to find their "tallest" daughter's clothes for me to try on.
Check out our Connecting with Peru itinerary for responsible travel inspiration! 
Working in the Fields
After changing back into our (now seemingly boring) clothes, we headed out to see what a typical morning is like in the nearby fields. Most of the rural families in the valley survive off the land. They produce crops for their families, trade with neighbors for other essentials, and travel to bigger cities to sell their products. Because we visited in October, the farming season was coming to an end so we were going to learn to milk the cows and make queso fresco, cheese, that a local woman sells to shop owners and visiting tour guides.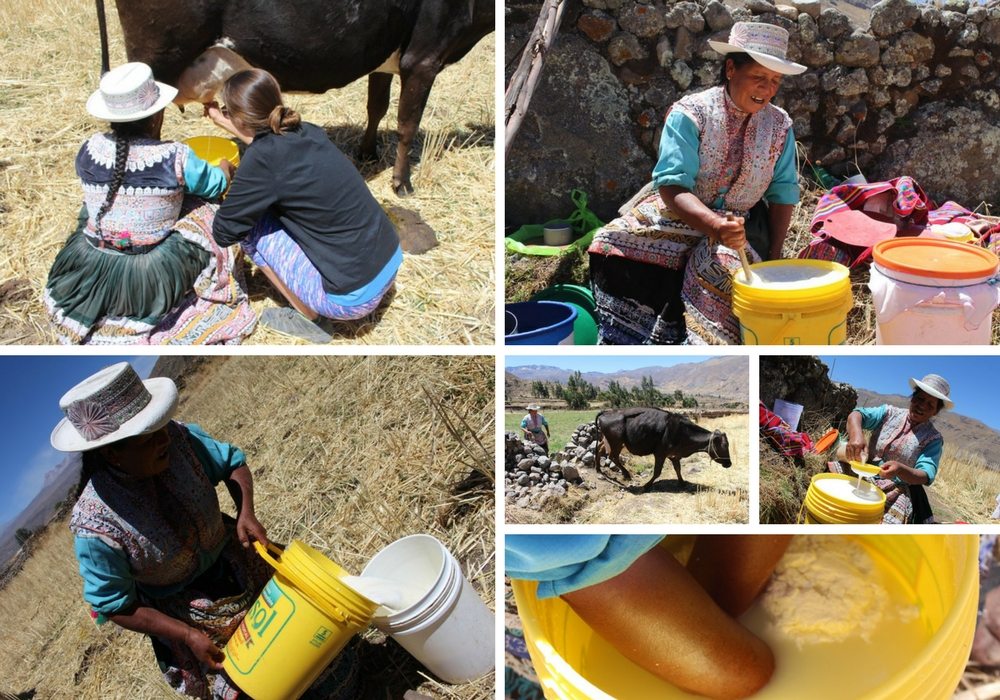 Sebastian walked us about 15 minutes to the field, along the way pointing out his children's school and telling stories about his life in Coporaque. When we arrived to the patch of land Sebastian introduced us to the farmer Bernadina, and I warmed to her immediately when I heard her calling the cows her hijas, or daughters. Bernadina spoke no English, and preferred her native indigenous language of Quechua over Spanish, but our guide was there to translate when necessary. She took us through the entire process of making queso fresco cheese, her livelihood.
It started with milking the cows. A truly hands on experience, it was fascinating to see how the animals responded to Bernadina's touch versus mine or Caroline's. She was able to extract significantly more milk than either of us, but we still gave it a go! She then filtered the milk and added a secret ingredient for hardening. After covering the bucked for about 15 minutes, the milk was beginning to change in consistency. Bernadina skillfully mixed and mashed the contents of the bucket and took out the final result. We taste tested the cheese, and marveled at how successfully she had made the queso fresco.
Responsible Travel
Bernadina sells each of her blocks of cheese for about 6 soles, less than $2 USD. At the end of the day it is enough for her to survive and support her family, but the experience shed perspective on the physical nature of her work and the reality of life in the Colca region. For this reason we encourage travelers to not only learn about the local culture, but to also support or participate in community based tourism initiatives. These projects create sustainable jobs in the communities, and open the eyes of visitors to the reality in different parts of the world. It is a win-win! If you're interested, read more about some of our other responsible travel Peru initiatives.
Community Based Tourism Colca: Alternative Seasonal Activities
Because this is an authentic experience where you participate in the everyday tasks of a local family, the activities offered vary based on time of year. Milking the cows and making queso fresco like we did is offered year round, but only in the mornings.
During wetter months from October – May you can visit Coporaque and help with farming and crop production. Whether that be planting, cultivating, or harvesting the land, you will get your hands dirty working in the fields and learning about the food you produce.
For travelers looking to extend their time participating in community based tourism Colca, the families of Coporaque also offer home-stays during the whole year. In their simple and humble homes you can spend one or two nights, and partake in more daily tasks such as helping with the cooking or accompanying the children to the local thermal baths.
No matter what time of year you visit, community based tourism Colca is a wonderful way to spend a bit of time in the valley, and can be easily incorporated into an itinerary exploring the area.
Contact us to get in touch with an expert travel planner and start organizing a luxury, tailormade trip to Peru.