As Aracari  has evolved, so has our brand. Last year in August, we launched our new brand with three pillars that define us:
Aracari Travel: Inspiring, Connecting, Celebrating
Aracari inspires memorable journeys.
Aracari creates experiences that are sophisticated, simple and conscious.
Aracari is the bridge that connects travelers with the spirit of magical places in Perú, Bolivia and Galapagos.
Aracari celebrates the roots and histories of these places making all dreams possible in an environment of respect for local cultures and the environment.
Inspiration, Celebration and Connection are the three words and pillars that  encapsulate the essence of what we are about. We invite you to visit our website www.aracari.com  which is now much more user friendly and visual.
Aracari's New Look
The flat logo design draws on the feathers used in the original Aracari bird logo from when the company was founded by Marisol Mosquera in 1996. A highly intelligent and sociable toucan found in Central and South America, the Aracari bird is friendly and affectionate, full of personality and loving toward everyone. Aracari proudly draws on these traits in taking care of discerning clients in the region throughout their hand-crafted journeys.
The new brand is also inspired by the religion and mythology of apus, the spirits of the mountains that protect local people living in the highlands. Aracari's unique travel experiences are the bridge that connect travelers with the spirit of these magical places. Aracari celebrates each destination's roots and history, crafting extraordinary experiences with the utmost respect for local cultures and the environment. Aracari holds the Positive Luxury Butterfly Mark in recognition of our responsible travel initiatives.
The colors selected for the new brand draw on Peru's magnificent diversity: Pacific blue air, Peruvian yellow and red peppers, corn juice, the ruins of Caral and garúa, the overcast drizzle typical in Peru's capital, Lima.
"It is not what you know but who you know", says Marisol Mosquera, Aracari's founder, who presents Aracari's new image in a concise new video. True travel wisdom comes from personal connections and Aracari offers an unparalleled network of specialists in art, history, archaeology, gastronomy and culture. At the forefront of experiential travel, Marisol has been recognized as both Condé Nast Top Travel Specialist to Peru and Bolivia and selected as the Travel + Leisure A-List specialist for Peru and Bolivia. Marisol and her locally-based team offer up-to-the-minute trusted travel advice based on their first-hand experience, delivering an uncompromised quality of service and honest recommendations.
As a part of our brand evolution, we have a new welcome package for our guests, which you are welcome to decide if you want us to share with them. All of the materials handed to clients have our logo but in a very subtle fashion, as you can see in the photos attached.
We want to take this opportunity as we welcome the new year, to introduce the new welcome package to you.
Please let your Aracari consultant know whether you would like us to include some or all of the items for your clients.
Looking forward to hearing from you,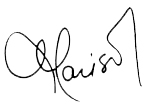 Marisol Mosquera
Founder
Aracari Travel Consulting