I'm going to start with a pretty bold statement: After over a decade living in South America, my recent 4 day / 3 night Aria Amazon cruise was one of my top 3 experiences in South America.  Yes, it was that good. Read on for details of my trip to the Amazon, and why I'd recommend this special experience as part of a tailormade trip to Peru with Aracari.
---
If you're interested in exploring Peru's amazing bio-diverse Amazon region on a luxury cruise organised by our expert travel planning team at Aracari, contact us now. Aracari specialises in luxury, tailormade trips to Peru, Bolivia and the Galapagos, and we're ready to help create the trip of a lifetime for you. 
---

Traveling to Iquitos for the Aria Amazon Cruise
Leaving from Lima, I took a short, direct flight to the Amazonian port city of Iquitos. The Aria staff met me at the airport and from then on, took care of every detail of my trip, leaving me to relax and enjoy the journey into the Amazon. After meeting up with fellow passengers we enjoyed a city tour of Iquitos, and a short skiff ride to visit a local community nearby – our first taste of what life in the Amazon is like for locals.
We then boarded the Aria in the evening, had a short briefing to acquaint ourselves with the vessel and details of our journey ahead, followed by the first of several spectacular dinners, which I'll mention in more detail further on.
Accommodation and facilities aboard the Aria Amazon Cruise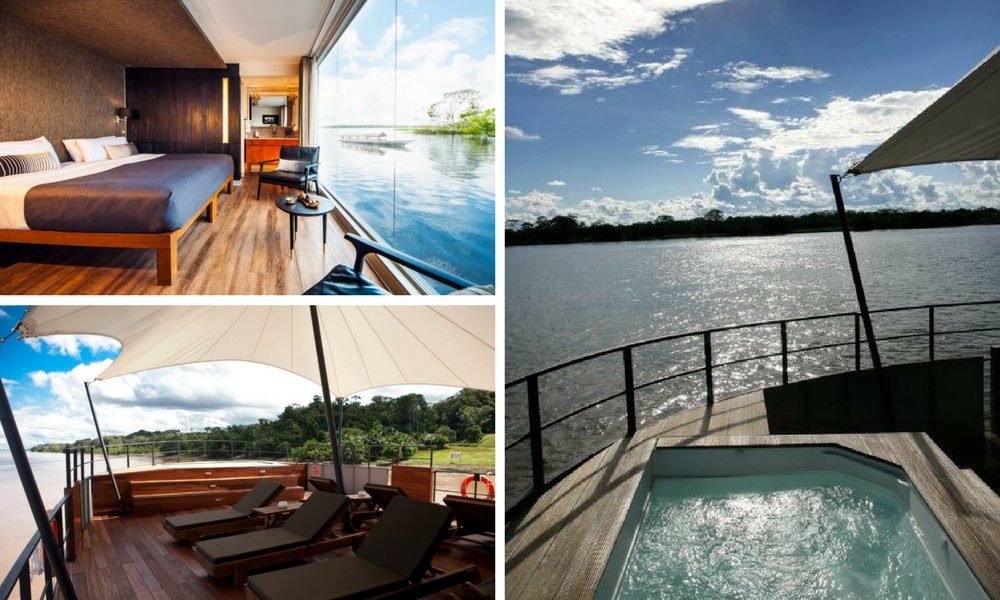 Arriving to my cabin, I was pleasantly surprised. You may be thinking that cabins aboard a river vessel would be small and basic. Not the case at all! The spectacular en-suite cabin with large floor-length panoramic windows offered a very comfortable king sized bed, seating area, luxurious finishings, and (importantly) a great shower.
Imagine putting a 5-star hotel, on a river vessel – that's what you can expect aboard the Aria. One morning I opened my curtains, lay on the luxurious bed, and watched a pod of about 12 river dolphins slowly swim past – it was mesmerising. For me, that epitomises the experience of bringing 5-star luxury right into the heart of the Amazon.
The rest of the boat is also beautifully presented. There is extensive indoor and outdoor lounge space for relaxing, with the upper outdoor deck featuring a Jacuzzi and comfy deck chairs. The Aria has a small space for exercising with a treadmill and massage room offering wonderful massages and other spa services from the internationally-trained therapist. There is an on-board gift shop, perfect for anything you'd forgotten to pack, and there's a doctor on board for any health concerns.
Gourmet Peruvian cuisine on the Aria Amazon cruise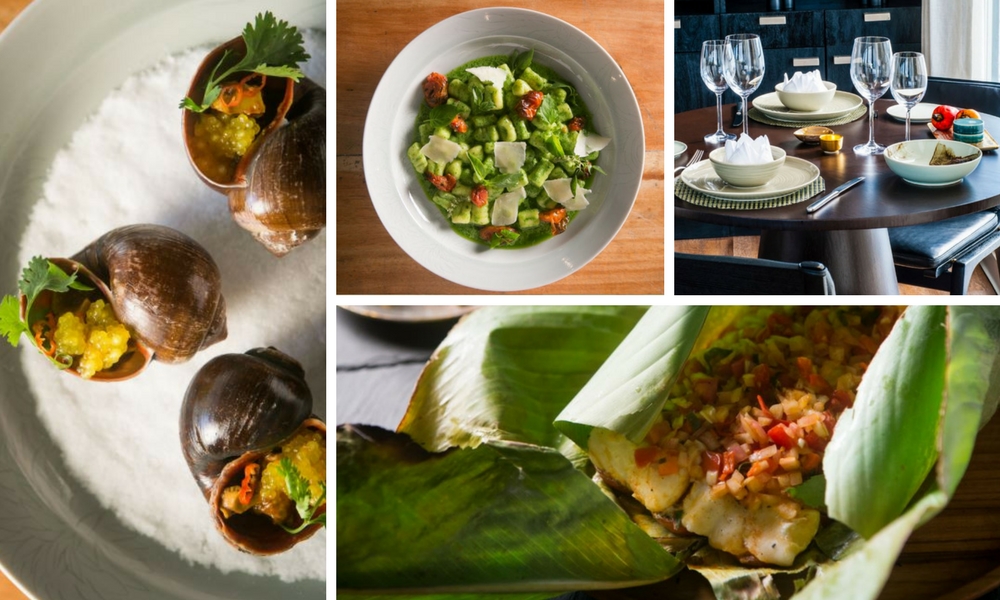 Palm heart soufflé, scallops served with wild almonds, plantain and yucca gnocchi, grilled Amazonian paiche, and escolar fish are just some of the regional delicacies that await you, created by Aqua Expeditions Amazon Executive Chef Pedro Miguel Schiffino. One of Peru's top chefs, Pedro has earned global acclaim for his innovative Amazon-influenced cuisine served at his Malabar and AmaZ restaurants in Lima, and his influence on the food on board the Aria is clear. At Aracari's we're big fans of Pedro's food – check out Danielle's blog about his private dining experience at Malabar.
The food far surpassed my expectations – with huge spreads for breakfast and lunch at the buffet stations, and a more formal dinner with five sumptuous courses, in the evenings. Wine and champagne were also included with meals.
Excursions into the jungle aboard the Aria Amazon cruise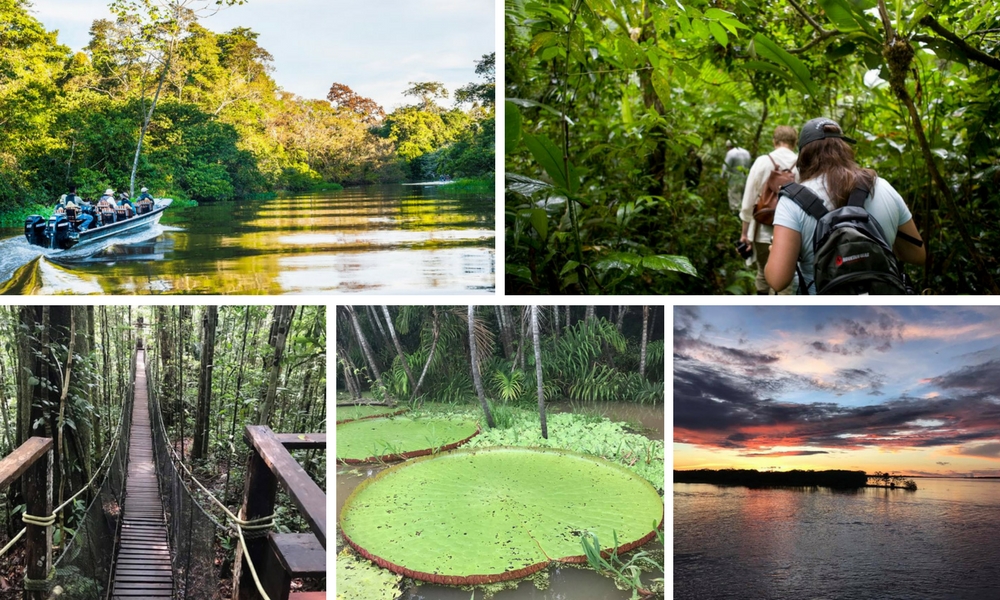 The itinerary for your trip is carefully put together to offer an immersive experience in the Amazon. Each day we ventured into the rainforest, to either explore on small skiffs or on foot. One of my favorite activities was the canopy walk, a suspended wooden bridge through the trees, where we had the opportunity to look down over the Amazon trees, and out at the never-ending expanse of green.
Another highlight was our exciting nighttime exploration in search of caiman. After the wildlife excursion, in the middle of the river, our skiffs were rafted together and we were offered a surprise pisco sour to toast to our adventure. Little touches like that are what make the 5-star service from Aqua Expeditions stand apart.
During the trip there were many encounters with wildlife, from the aforementioned caiman, to inquisitive monkeys, sleepy sloths, beautiful tiny poisonous frogs, tarantulas, pink river dolphins, and a huge boa constrictor that I got a photo with!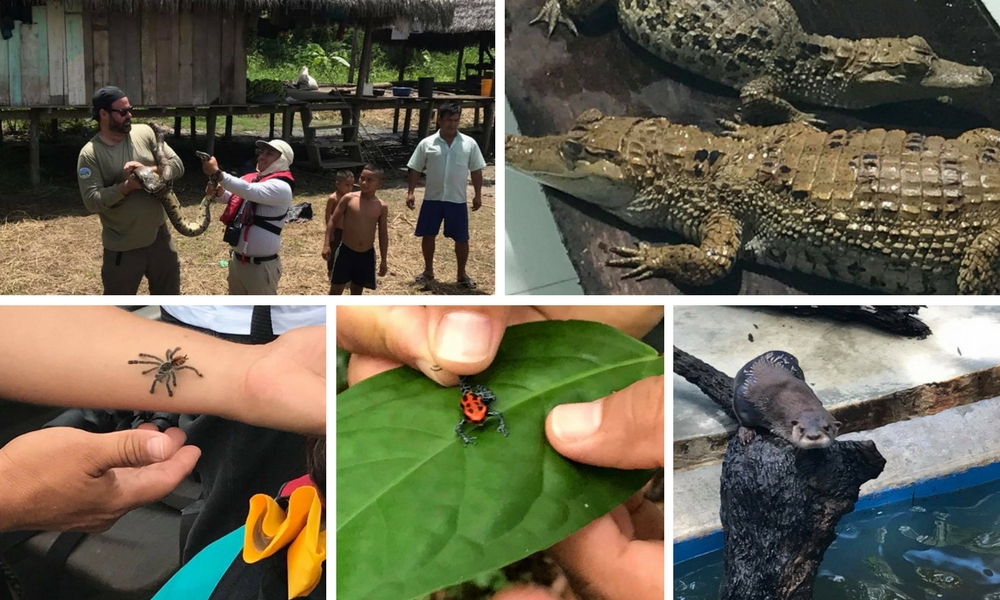 There are so many ways to discover the Amazon with Aria: kayaking, fishing, hiking, a bike ride and more. The option is there to be as active or sedentary as you like.
Life on board the Aria Amazon cruise
The itinerary provides a good balance of excursions and time to relax. Of course, if one day you'd rather relax on board with a book and a cocktail than head out on the planned excursion, the crew are happy to make you as comfortable as possible. They also organise cocktail making workshops and a culinary lesson for those interested in learning more about the incredible Amazonian larder that we were tasting each evening.
With a crew of 24 (including 4 guides) catering to a maximum of 32 guests, the service is impeccable and fully personalised, leaving you to relax and enjoy your journey through the Amazon. From the turndown service in the cabins, to providing cold towels to refresh ourselves after an excursion, every thoughtful touch enhanced our experience and enjoyment.
Guides were rotated, so throughout the trip you experience each guide once or twice, which is great as they all have their strengths and areas of specialist knowledge which complement each other.
There was one person on my cruise who fell in love with ceviche, so they happily prepared him ceviche for every lunch and dinner, as well as all the usual options, and even had a ceviche to go on the last day, which they kept in a cooler for the transfer so that he could enjoy it at the airport – that's personal 5-star service for you!
Ready to board your luxury Aria Amazon cruise? Aracari specialises in private, tailormade trips to Peru, Bolivia and the Galapagos. Contact us or email travel@aracari.com and our expert travel team can help you plan your unforgettable tailormade trip to Peru including a cruise on the Aria Amazon.