The Sacred Valley of the Incas, located just a one and a half hour drive from Cusco – the gateway to Machu Picchu – is a must-visit destination on a trip to Peru. Dotted with archaeological ruins, traditional rural villages and sweeping landscapes of rich, fertile land, the Sacred Valley is also home to an exquisite selection of some of Peru's finest hotels. Aracari shares our handpicked round-up of the best hotels in the Sacred Valley, selected based on our first-hand stays and 20 years of experience scouting out the stand-out properties.
The Best Hotels in the Sacred Valley
Sol y Luna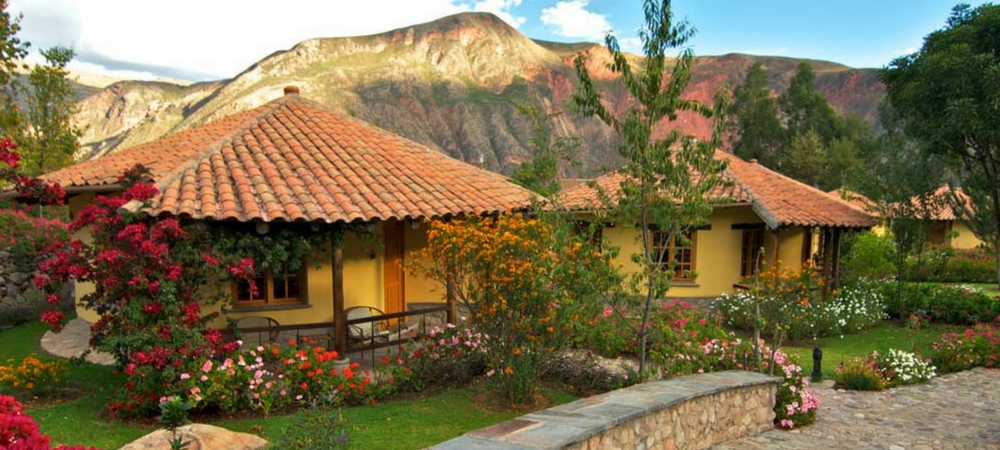 We adore this stunning, socially-responsible five-star hotel, one of the best hotels in all of Peru. Sol y Luna is set in spacious grounds with an outdoor swimming pool, dedicated spa, two top-notch restaurants and a wine cellar for private dining. There's even a horse-ranch, with riding trails offered in the surrounding countryside. The stand-out rooms are comprised of individual private villa bungalows, with supremely tasteful, artistic design that gives Sol y Luna a unique edge in the Sacred Valley style-stakes. Each 'casita' bungalow has ample amenities, though we recommend you upgrade to a deluxe casita which is almost double the size of the standard.
If luxurious comfort isn't enough – the hotel is a Relais & Chateaux property – sleep well knowing that Sol y Luna was set up to fund the non-profit Sol y Luna Association to sustainably fund education projects, including running its own school for children from the local community. A stay at Sol y Luna directly helps support these initiatives, and visits to the Association can be coordinated with the hotel.
Inkaterra Hacienda Urubamba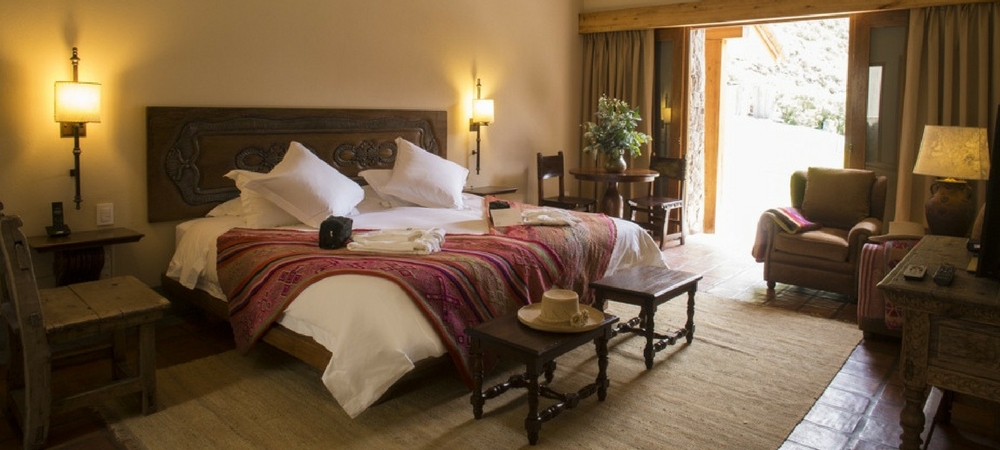 Colonial-inspired Inkaterra Hacienda Urubamba is comprised of a hacienda-style building with 16 rooms constructed around a central courtyard, along with an additional collection of 24 stand-alone Casitas. With floor to ceiling windows, the construction of this luxury hotel may be contemporary, but its architecture and interiors draw on the area's cultural history, combining local custom-made furniture with pre-Colombian textiles, giving the hotel a firm, authentic sense of place. Set in the shadows of towering mountains, the setting of this five-star hotel is a real draw, boasting impressive views out over the valley which can be soaked up from your villa's patio – and even includes its own farm from where the ingredients of many of the hacienda's delectable dishes are sourced.
Belmond Rio Sagrado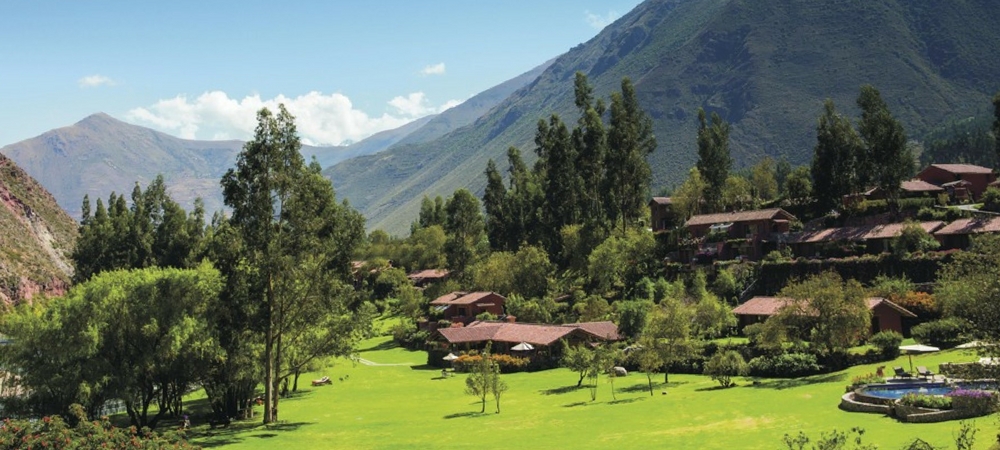 Nestled among rustling eucalyptus trees and alongside the mighty Urubamba River in the Sacred Valley, this luxury hotel from international chain Belmond delivers a polished blend of style, tradition, and sophistication to a level that sets the bar. Forged to embrace folk architectural design yet using high-end décor and functionality that pays the utmost attention to detail, Belmond Rio Sagrado's 22 luxury suites all incorporate the past with the present to great effect. The hotel hosts a range of other amenities that only increase its appeal – from an indoor / outdoor Jacuzzi in the exquisite spa, to an exclusive on-site train station to Machu Picchu, to memorable activities like feeding baby alpacas in the green gardens – the hotel is sure to please families and couples alike.
Explora Valle Sagrado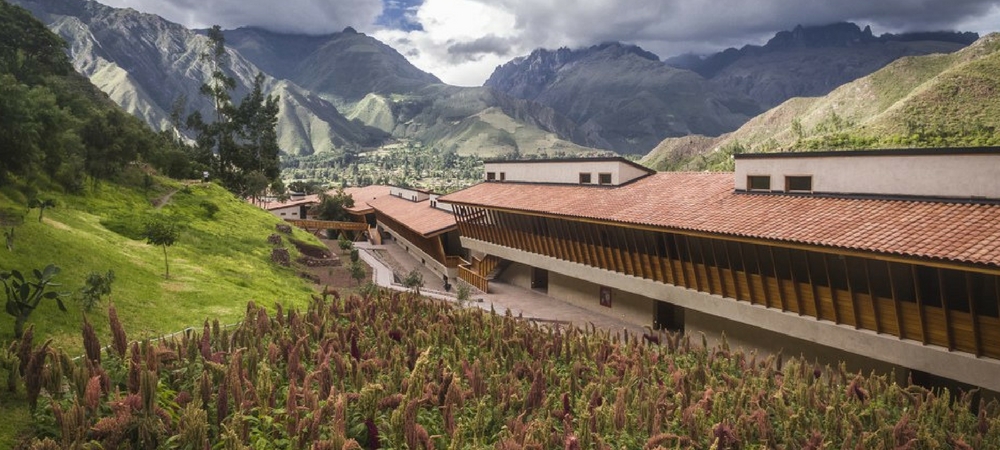 Housed within a corn plantation in the Sacred Valley is Explora Valle Sagrado, the only all-inclusive property in the Sacred Valley. Best for luxury-seeking travellers with a sense of adventure, bring your hiking boots to take advantage of the daily group excursions included in the rate, which strongly focus on treks (though biking and more conventional tours are also on the menu): in total there are over 20 ways to discover the Sacred Valley with Explora in half day or full day activities, in groups of no more than 8 people.
The 50 spacious rooms at the hotel are arranged in four bays designed to take full advantage of the beautiful surroundings with views of the cornfields and mountains. Gorgeous facilities include a spa, outdoor swimming pool, steam rooms and sauna, all set within the spacious hacienda-style property that you'll find tucked off the main tourist trail down a dirth path. Wi-Fi is available in communal areas only, deliberately designed to help encourage guests to interact as you sip on your (included) cocktails to comapre hiking notes.
Tambo del Inka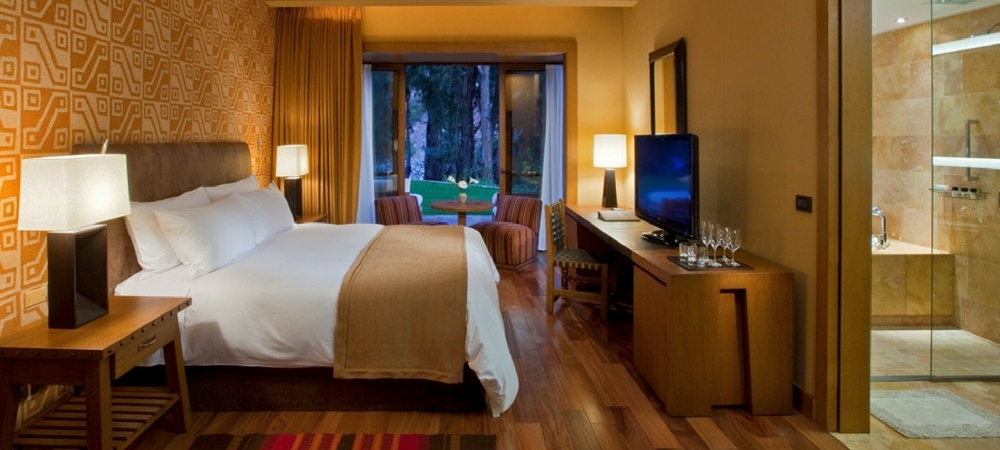 An addition to the Luxury Collection series, with sister properties including Palacio del Inka in Cusco, this 128 room resort is located in the heart of the Sacred Valley on the banks of the Urubamba River. The rooms at Luxury Collection Tambo del Inka have been decorated with a luxury aesthetic in a way that mimics Inca motifs. Floor to ceiling windows and a separate sofa and work area are included from entry-level rooms up. The rooms on the ground floor also have an outdoor patio with comfortable seating. There are ample amenities you would expect from a sizable hotel, including a heated swimming pool, a sauna, a steam bath, a fitness center, and a spa with private treatment rooms are included in the replete facilities upon which guests can indulge.
La Casona de Yucay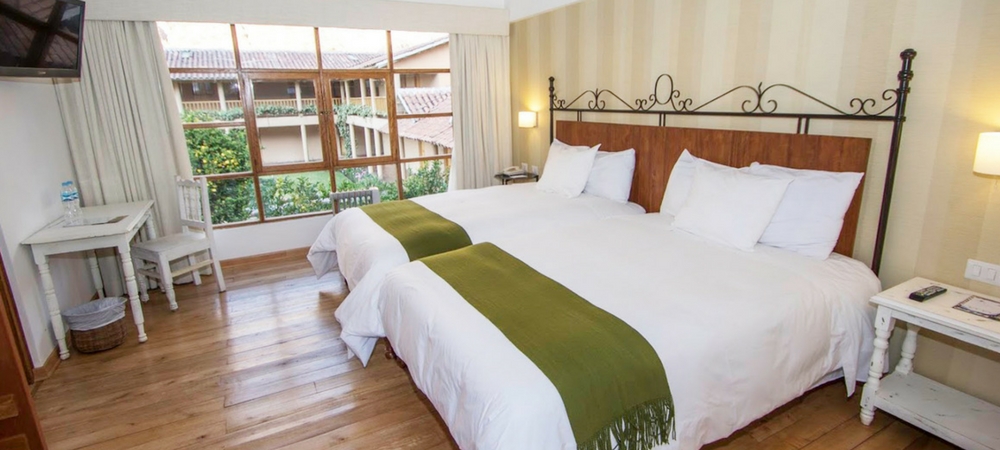 A more budget-friendly three star option in the Sacred Valley, this historic casona was built in 1810 and once offered refuge to Simon Bolivar, the most important leader of South America's independence movement. Fast forward to the twenty-first century, and the house has been converted into a beautiful historic hotel, surrounded by tranquil gardens and green space. The 56 comfortable rooms at La Casona de Yucay all offer garden views and are tastefully decorated with simple modern finishes. The on-site Tika restaurant serves up flavors of the Andes, using organic vegetables from the property's gardens.
El Albergue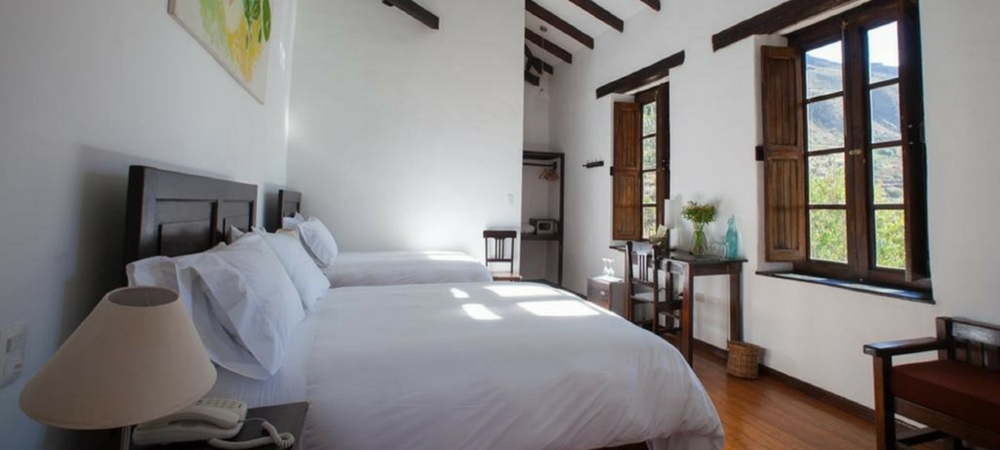 Another comfortable, simple alternative is the historic El Albergue hotel and restaurant in the Sacred Valley which offers guests a tranquil, cozy lodging with great views of the mountains, lovely gardens and fresh, organic meals from the on-site farm, which can be visited on daily tours. The rooms are decorated simply with a rustic charm and provide a comfortable and convenient stay for visitors to Ollantaytambo and those headed on the train to Machu Picchu, considering it is located right on the train station – the restaurant and lobby are accessed from the platform. The rooms are in different buildings, so we recommend opting for the plus, superior, or casita options as they are tucked further away from the train station and therefore quieter with nicer views.
Sacred Valley Private Villas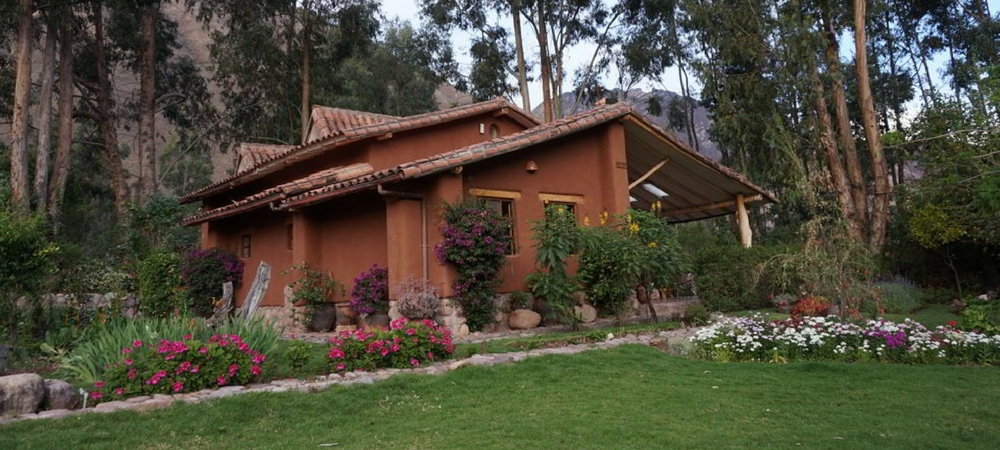 Located in a secluded hamlet near the village of Urubamba are 6 traditionally built adobe cottages, one of which is available for private rental. Set amidst beautiful manicured gardens it offers private space, peace and quiet in the countryside and are sure to appeal to couples, families and friends alike. The villa is beautifully and tastefully decorated with bright colored textiles, and the cottage comes with its own housekeeper/cook to make breakfast and dinner in the kitchen and ensure you are well looked after in your home-away-from-home. The Sacred Valley private villa sleeps up to 7 people in 3 bedrooms and a mezzanine open-plan space.
Why Visit the Sacred Valley
The stepping stone between Cusco and Machu Picchu, the Sacred Valley is an unmissable destination on a trip to Peru. The region holds a wealth of Inca history and ruins, adventure activities, cultural visits to rural communities and traditional weaving villages, not to mention the extremely photogenic landscapes. For more on why to visit, and how to get there, check out our article Highlights of the Sacred Valley.
Bespoke Travel Peru
The best hotels in the Sacred Valley can be booked as part of any tailormade luxury travel Peru itinerary with Aracari. For more information or to start planning your trip, contact us!