A highlight of southern Peru, the Colca Canyon creates a spectacularly dramatic landscape with bountiful adventure activities as well as opportunities for relaxation in nature. In the midst of colonial villages, the second deepest canyon in the world, and thousands of Inca terraces, are some beautiful luxury hotels to make your stay in this region comfortable and memorable. Below, Aracari has hand selected our top picks for the best luxury hotels Colca that can be arranged as a part of a private, tailormade trip to Peru.
The Best Luxury Hotels Colca: Aracari's Top Picks
Colca Lodge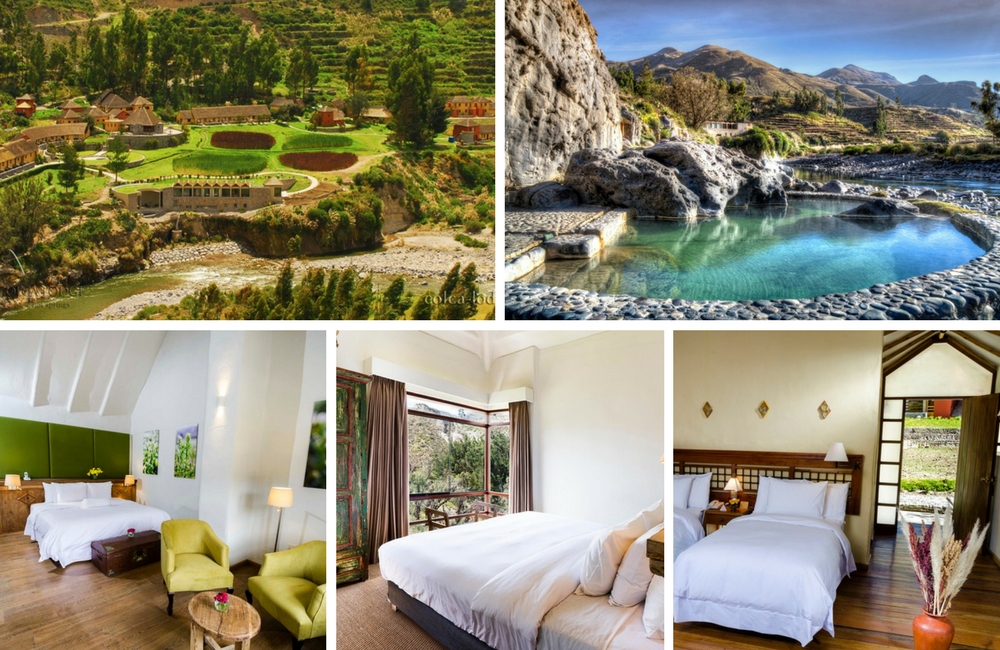 Right on the banks of the Colca River is Colca Lodge, a hotel with spectacular canyon views and natural hot springs. One of the best luxury hotels in Colca, Colca Lodge's setting is intimately natural and is the ideal base for exploring the wonders and landscapes of the region. The property draws on rustic, traditional-style architecture and natural materials, using stone, adobe, thatch and wood panels. The 45 rooms are cozy, and feel well integrated into the natural environment that surrounds them and Aracari can make sure you stay in the hotel's recently built rooms for a more comfortable experience. The highlight of the grounds are the four private, thermal baths of varying temperatures that are the perfect place to end a day of exploring the mountainous surroundings.
Belmond Las Casitas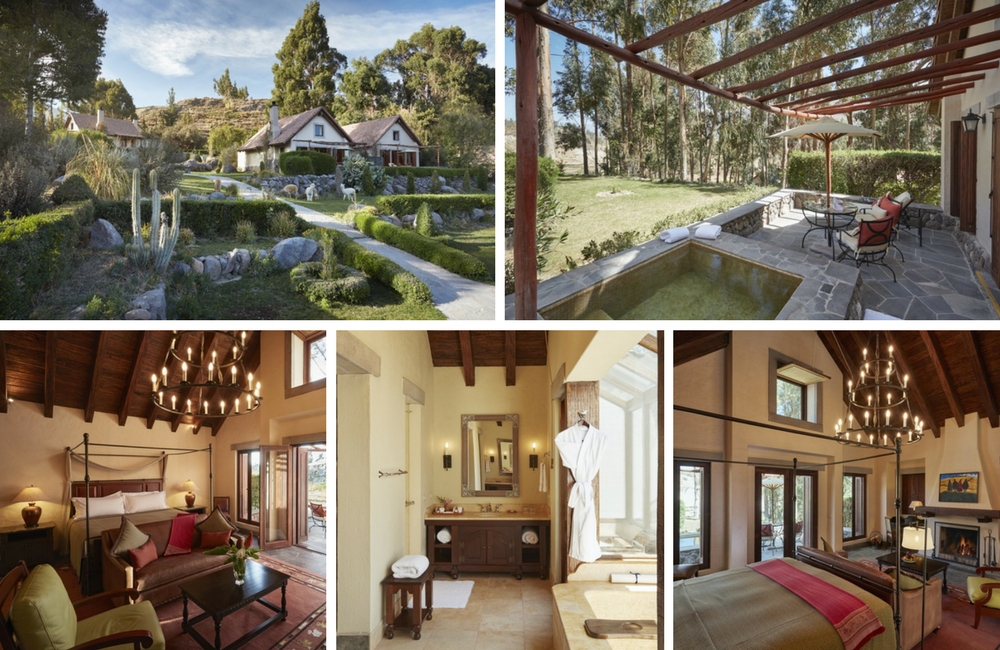 The most luxurious option in the Colca region, Belmond Las Casitas is a lush haven of 20 private, separate bungalows, or 'casitas' spread across a 59 acre property. The property is decorated with traditional touches, and equipped with every modern luxury including Wi-Fi and iPod docks in every room. The casitas are strategically built within the property to maintain privacy, and maximize the garden or valley views (which in our opinion aren't dramatically different). They have heated floors, a spacious sitting area, comfortable double or twin beds, and a private terrace with a heated 'plunge pool'. Guests are well taken care of at Belmond Las Casitas and when not exploring the surrounding valley, can partake in the hotel's activities such as fishing in the on-site pond, cooking classes, pisco sour making classes, and feeding baby alpacas.
Check out our highlights of southern Peru itinerary if you're interested in a trip to Colca.
El Refugio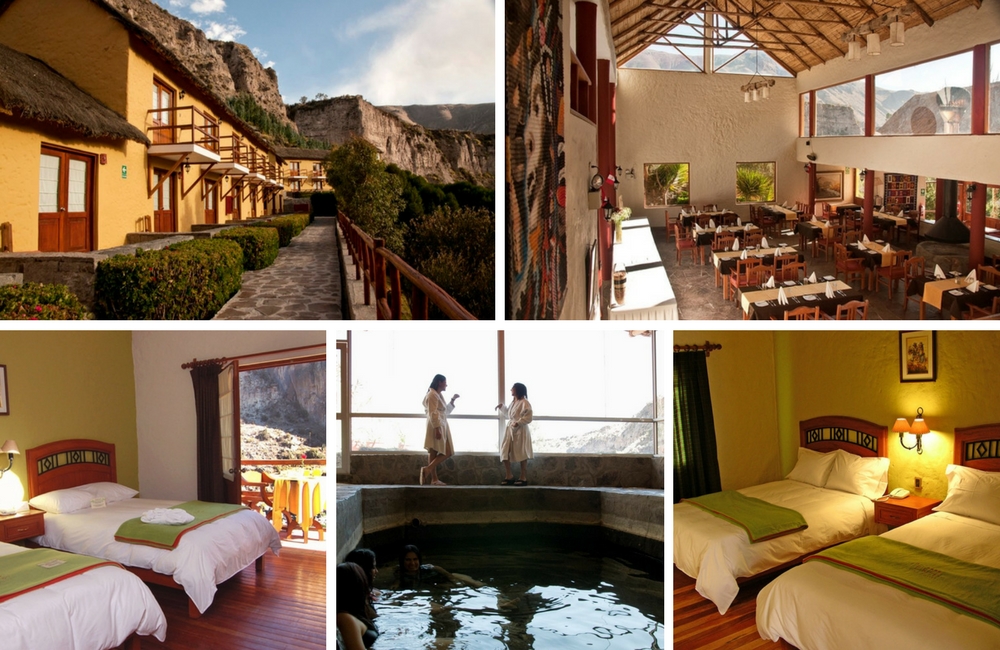 Nestled into the mountains and perched above the Colca River, El Refugio is a casual, rustic style hotel with a fantastic location. This 33 room hotel is great for nature lovers, as every room has a private terrace and view of the surrounding valley and mountains, and there is a covered private natural hot spring conveniently located on the property. This is a good option for stylish explorers who are on a budget.
Casa Andina Standard Colca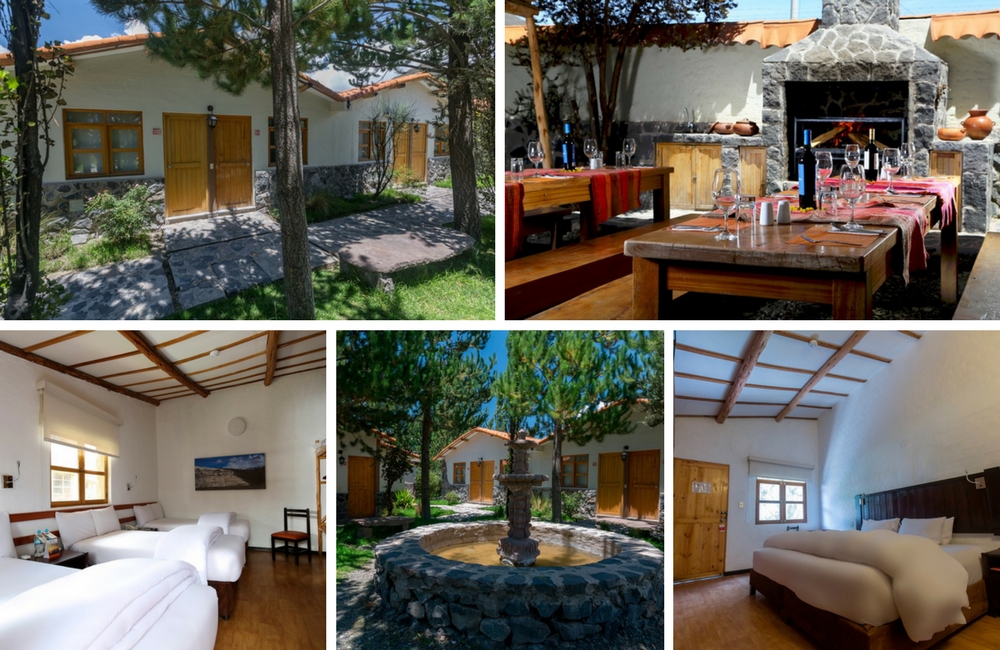 Located in the small town of Chivay, Casa Andina Standard Colca feels quaint with an old-world charm as the cottages are built in the style of a little village with gardens and patios all around. The 52 rooms are simple, but cozy with rustic décor, thatched roofs and tiled floors and offer heating lamps and blankets for chilly mountain nights. Though it doesn't offer the same intimate natural setting or luxury accommodation as Colca Lodge and Belmod Las Casitas, unique to this accommodation is its planetarium that presents shows in the evenings from April to December for visitors to enjoy the clear, night skies.
Visiting the Colca Canyon and Valley
The Colca Canyon and Valley is often visited in combination with Arequipa (4 hours away by car) and we recommend 3-4 days exploring this beautifully picturesque environment. The region is little visited in comparison to the other main destinations in Peru, like Cusco and Machu Picchu, and offers equally enticing highlights and activities which you can read more about here.
Contact us for details on a tailormade trip to the Colca Canyon and Valley including a stay at one of the best luxury hotels Colca.