Located only 45 minutes by motorboat from Puerto Maldonado, Inkaterra Reserva Amazonica Lodge offers the best accommodation facilities in the Manu and Tambopata region of Peru's South Eastern Rainforest. Comfortable accommodation and ease of access make this lodge the perfect choice for families with small children and visitors who prefer more creature comforts for an Amazon Rainforest experience in Peru.
Inkaterra Reserva Amazonca Lodge: Notes from the field
Having recently returned from a visit to the Reserva Amazonica in Tambopata (Peruvian Rainforest), here's my first-hand take on this wonderful jungle lodghe, boasting fantastic rooms and amenities; delicious food and very attentive and efficient service.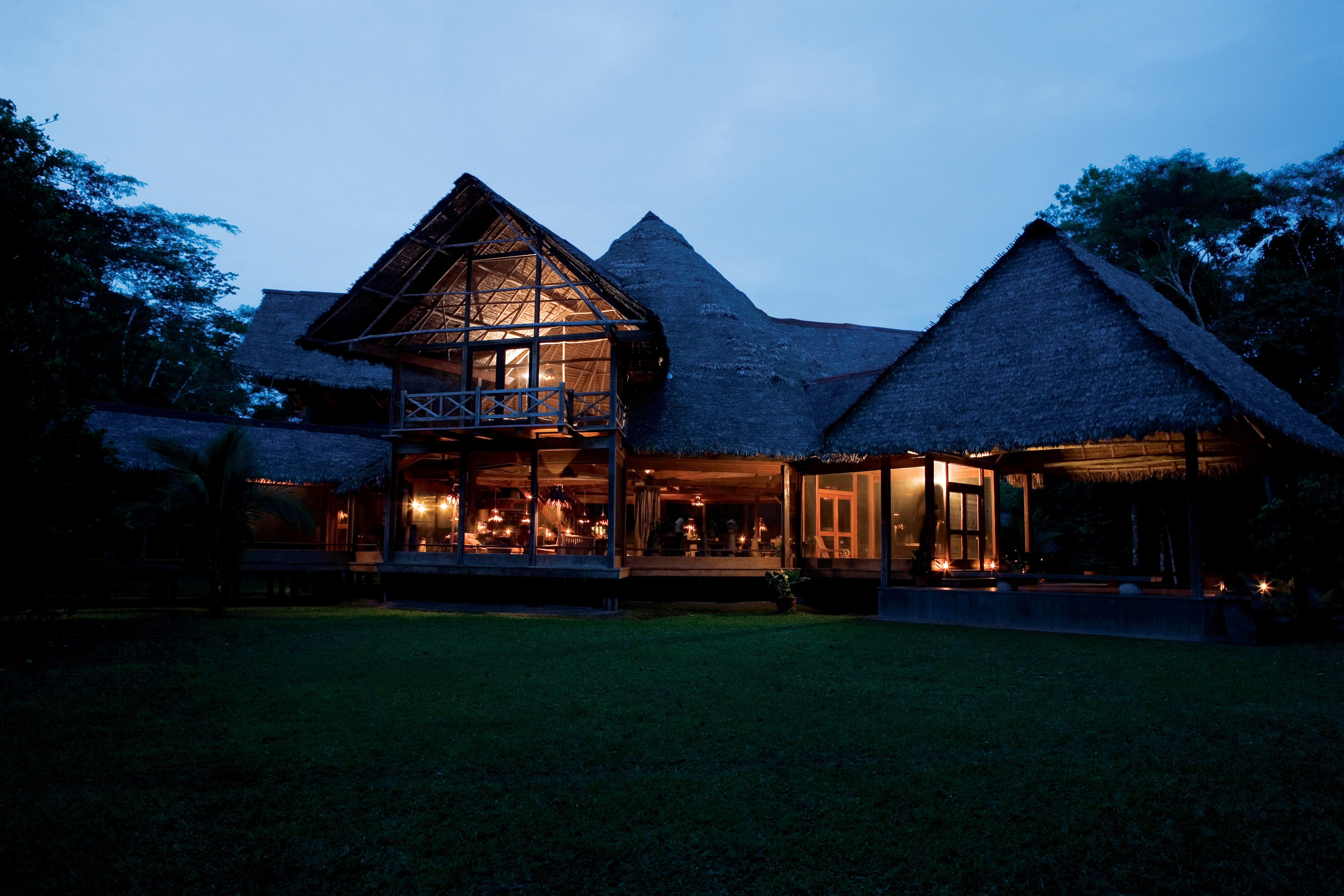 Getting to Inkaterra Reserva Amazonica Lodge
This lodge is aesthetically beautiful due to its jungle location. The sounds and the feel of the jungle are ever-present. But since it is only 45 minutes by dugout canoe from the city of Puerto Maldonado, the terrain around the lodge (which is a Private Reserve) is all secondary forest: very disturbed, very little wildlife to be seen. Full day excursions (available at an extra charge) can be taken, but none of them take you into the Tambopata Reserved Zone which is much further away.
Expert Guiding in Peru at Inkaterra Reserva Amazonica Lodge
In terms of care, I would rank it highly. In terms of knowledge – moderate, and in terms of delivery – weaker.
Who is Inkaterra Reserva Amazonica Lodge best suited to?
For a client who seeks an educational experience, including the full on experience of the rainforest and an explanation the ecosystem (the threats, the uniqueness of it, the intricate detail of the fascinating symbiotic relationship of living things in the rainforest) Reserva Amazonica would perhaps fall short. It is not that the guides aren't good. It is more about a "jungle in style" experience than fully educational one. Having said that, I think the excursions are well designed and the trails interesting. Despite the lodge's location being closer to town, there are still wildlife viewing opportunities which can be enjoyed in between good dining and relaxation from bungalow hammocks or spa treatments.
Alternative Jungle Experiences
Over the river, Inkaterra Hacienda Concepcion provides another quality alternative to Inkaterra Reserva Amazonica Lodge. A key difference is that Reserva Amazonica offers a la carte excusrions, while Hacienda Conecpcion does not.
If you're real motivation is to see wildlife and you're prepared to go without the creature comforts offered by Inkaterra Reserva Amazonica, then we highly recommend Refugio Amazonas. Deeper in the rainforest, there are more wildlife viewing opportunities that will particularly appeal to keen birders, such as seeing the clay licks.
Another alternative is Manu National Park, although accommodation is very basic here.