The natural wonders of Colca Canyon and Valley, are ideal to explore on foot or horseback. There is no better way to immerse yourself in the mountains and abundant flora and fauna of the region than deserting your vehicle for a day of fresh air. I was lucky enough to do just that, and spend a full day in the saddle on an unforgettable horseback ride in Colca to Achoma viewpoint. Aracari also offers a shorter, three hour horseriding experience in Colca that's also suitable for beginners.
Achoma Horseback Ride in Colca on Paso Horses
At around 9:30 our guide Thomas met us at our hotel, Belmond Las Casitas, with 5 horses in tow. We would be accompanied by his expert Chalans, equestrian guides, who seemed like horse whisperers as they seamlessly dressed the serene horses in gorgeous leather details. The horseriding guides can meet you also at Colca Lodge, if you're staying there, to start your trip.

The Peruvian Paso Horse
As they saddled up the Peruvian Paso horses, they explained how this world-renowned breed, declared Cultural Patrimony by the National Institute of Culture, has a distinguished, four-beat lateral gait called the paso llano and provides a stable and smooth ride perfect for new riders and experienced horsemen alike. I was pleased to hear this, having only ridden horses a few times on previous vacations, and listened attentively as they explained techniques and tips for handling the horse with the reins.
We then hopped on, and began trotting into the valley towards the agricultural town of Achoma. I was impressed to feel the truth in their words about the Peruvian Paso horse's gait, and felt very secure in my saddle. While we traversed rocky paths, streams, and terraced feilds, my horse kept me gracefully upright leaving me to simply enjoy the ride and the sweeping views.
---
Check out our Highlights of Southern Peru itinerary for itravel inspiration
---
The Achoma Lookout
After about an hour, we passed through the small town of Achoma. I felt like I was in an old western film, my horse click clacking down the cobble stone streets as we made our way to the hill that would lead us to Achoma lookout. We later arrived at our dismount spot, and tied up our horses so we could make our way out to the point. A 10 minute walk later, we were greeted by stunning, panoramic views of the Colca Valley.

A relatively unknown spot, we had the view point all to ourselves. During our snack break we took in the views, and listened to the guide explain the towns in sight, and the significance of the Achoma lookout. Located in a region rich in history, the exact spot where we sat was an ancient Inca ceremony site. The chalan pointed to the stone circles that indicated the importance of where we were, and I couldn't help but acknowledge that this was a pretty spectacular place to worship Pachamama, or mother earth.
Crossing Rivers and Roads
After our break, we continued on toward the town of Ichupampa, and I began to see the contrasts of the natural and modern worlds in the Colca Valley. We safely crossed the main vehicular road before weaving our way through farms and undeveloped mountain terrain. We then arrived at a river, where we stopped for a box lunch. Our horses also enjoyed  lunch, theirs consisting of surrounding plants and refreshing river water.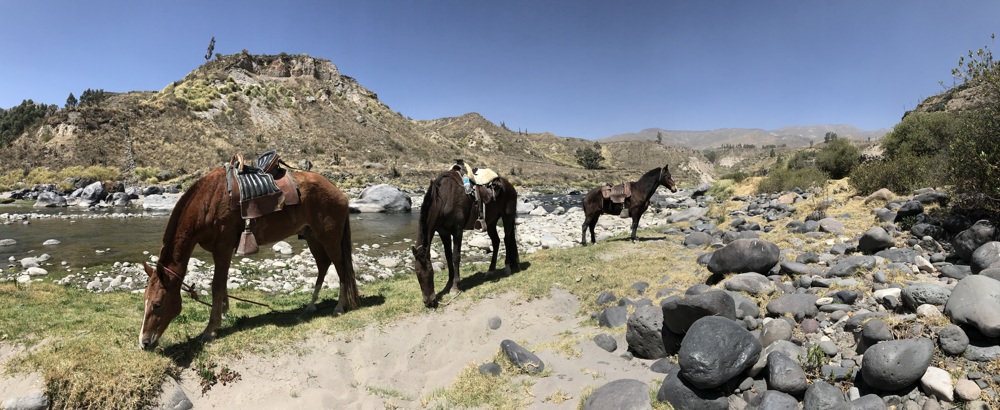 Hopping on our horses for the last time, we embarked on the highlight of the trip- crossing the river! The steeds splashed through the bank and cooled us off with a bit of kicked up water as they made their way to the other side. We then climbed over a small mountain pass to reach and cross the historic bridge, Puente Cervantes.
After about 5.5 hours, we arrived back at our hotel and said good by to our horses and expert guides. The ride was an excellent way to experience the beauty of Colca, but the next morning both Caroline and I woke up with sore backs. Though the Achoma full day ride is a beautiful option for experienced horsemen, we recommend the novice riders stick to our half day option. not because of difficulty level, but because those not used to riding will otherwise feel their muscles have had a very strong workout the following day!
Best time to Horseback Ride in Colca
A horseback ride in Colca is available year round, but clearer skies are prevelant in winter months from April-November. The scenery also changes based on the season.
December and January are green, but potentially rainy
February is multicolored as the flowers start to bloom, but is also potentially rainy
March and April are blooming and flowered, with only slight chances of rain
May-November is yellow and dry, but clear skies are almost garunteed
Where to Stay in the Colca Canyon & Valley
The Achoma horseback ride in Colca is a loop and can begin at either of Aracari's recommended hotels Colca Lodge or Belmond Las Casitas. Both situated in beautifully intimate natural settings, these luxury accommodations are a perfect home base for exploring the Colca Canyon & Valley.
Contact us for more information or to plan a tailormade trip to the Colca Canyon and Valley.