Earlier this year I packed my hiking boots and headed to the hills to stay at Explora's first property in Peru, Explora Valle Sagrado. Offering understated luxury for adventure-seekers, it puts the personality of a lodge inside the body of a sizable, 50-room hotel. Set within a 30-odd hectare plantation of giant corn and kiwicha, the setting in the shadow of imposing mountains is something spectacular.
Explora Valle Sagrado Review
The only all-inclusive property in the Sacred Valley, the reason to stay here over any other luxury hotel in the Sacred Valley (of which there are several) is for its wide range of carefully designed a la carte hiking and biking routes, included in the price. The Sacred Valley sees busy footfall thanks to camera-wielding tourists en-route to Machu Picchu, but the treks and bike ride I tested out proved perfectly crafted for crowd-avoidance, passing through quiet Andean villages, along back routes to commonly visited sites and to picture-perfect viewpoints.
---
Contact Aracari today for a tailormade trip to Peru including Explora Valle Sagrado
---
The Excursions: Explora Valle Sagrado Review
All the treks and biking excursions take either a half day or a full day. There are also excursions with less emphasis on hiking – but Explora's strength is hiking excursions. Visits to Machu Picchu are not included in the pricing, but can be added on and arranged by Aracari. To avoid any back-tracking and to maximize your time in the countryside, I highly recommend you choose from the full day treks rather than having to drive back to the hotel for lunch.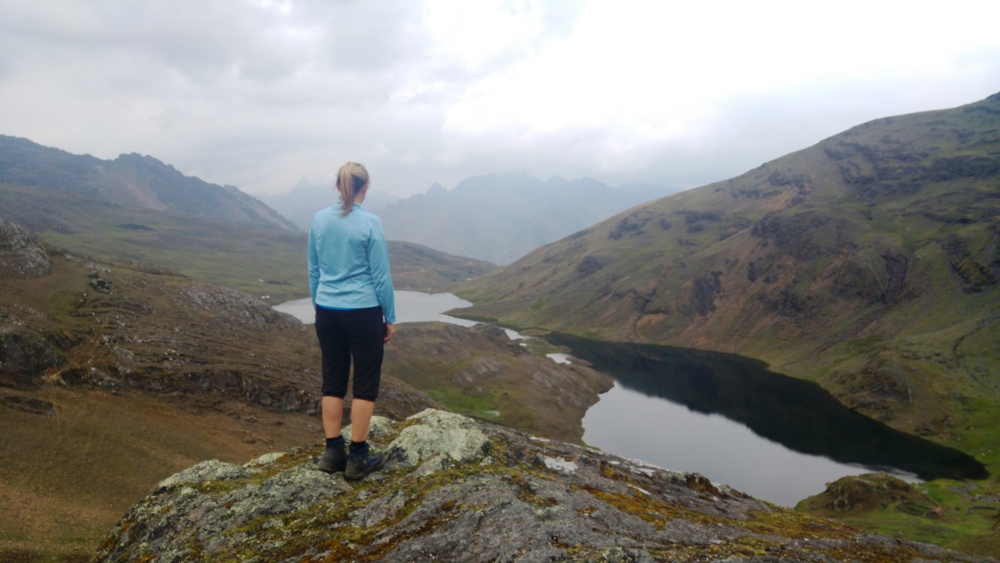 Gentle acclimatization routes close to the property allow you to build up to heights where the oxygen is noticeably thinner. I particularly enjoyed the 8.5km Cinco Lagunas (Five Lakes) ''medium'' (Explora's definition) full day trek. Reaching an altitude of 4,300m, I saw not a single other tourist the entire time. The only other human interaction, aside from chatting with the amiable guide, was giving a local family, kitted out brightly coloured traditional textiles, a ride in the van to our start point as they hitch-hiked, passing llama herders as we walked between deserted lakes, and being greeted by quechua-speaking weavers and their children selling their handcrafted wares at the trek's end point.
The Food: Explora Valle Sagrado Review
To fuel the trek, we carried our own packed lunch, with options of healthy pasta or quinoa salads and smoked trout sandwiches. My guide whipped out a stash of hot soup, prosciutto and homemade brownies, to balance out any energy being burned off! The trek was rounded off with a ready-waiting cool beer. Back at the hotel, restaurant dining offered a combination of international and Peruvian fare: think duck breast with pumpkin risotto or Alpaca tenderloin with quinoa. This is a firmly premium hiking experience.
The Accomodations: Explora Valle Sagrado Review
While Explora's emphasis is on authentic adventure over unnecessary ostentation, to rest weary feet modern rooms across the two room categories are decked with plush pillows and ginormous beds. Natural materials and wood are prominent through the rooms and property, with an aesthetic that is more Alpine than Andean. The entry-level category (Standard) is sufficiently spacious the upgrade to one of the six Suites is not necessary. There are no televisions or wifi in the bedrooms – a deliberate ploy to get you to switch off and encourage you to be sociable with other guests and the guide team. Nor is there a mini-bar, but drinks at the bar and restaurant are all included.
The spa and pool area was just opening when I visited. While I did wonder how anyone would find the time to sit and use the pool, the spa building is beautifully finished and well worth the additional short stroll through a field to reach it from the main hotel building.
Who Should Stay: Explora Valle Sagrado Review
Explora Valle Sagrado is a fantastic option for travellers looking to focus their stay on hiking and well suited to families or groups of friends who would benefit from the flexibility to choose activities with differing difficulty levels, whether this means gentle routes or more serious challenges.
When to Visit: Explora Valle Sagrado Review
Explora and the Sacred Valley can be visited year-round, though it's worth keeping in mind trekking is (usually) more fun in the dry. Rainy season falls between December to march, with January and February typically the wettest months.  If you forget to pack appropriately, there's an on-site Patagonia store.
Other Options in the Sacred Valley
Travellers looking to mix and match their adventure activities to include the likes of ziplining, stand-up paddle-boarding, rafting, horse-riding and kayaking, or to focus more on archaeological and cultural tours, would best enjoy private, tailormade itineraries, basing themselves at other top properties in the Sacred Valley such as Sol y Luna, Inkaterra Hacienda Urubamba, Tambo del Inka and Belmond Rio Sagrago. Nonetheless, Explora Valle Sagrado exceeded my expectations as a keen hiker and perfectly demonstrates that the Sacred Valley is a destination in its own right.
Contact travel@aracari.com if you're interested in staying at Explora Valle Sagrado on a tailormade trip to Peru.