Standing at the top of ancient walls overlooking the cloud forest below, you really get a sense of the mysticism of Chachapoyas, and why the ancient pre-Inca people who built this incredible feat of engineering were known as the 'people of the clouds'. Kuelap Peru is simply a spectacular archaeological site in an equally inspiring setting and a highlight of any visit to Chachapoyas.
Kuelap Peru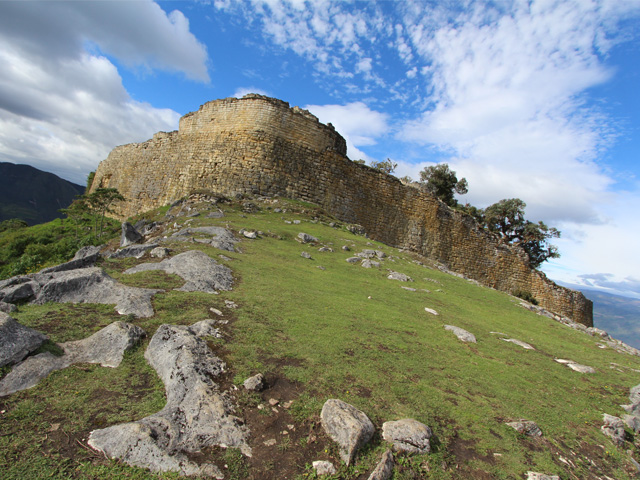 The Machu Picchu of the North
Known as the 'Machu Picchu of the north', parallels can be drawn between Kuelap's jaw-dropping setting with that of Machu Picchu. It is generally regarded as the second most impressive ruin complex in Peru, after Machu Picchu. But the parallels are otherwise relatively limited, historically-speaking, with Kuelap built well before the Incas ever made their mark. Kuelap is more than capable of impressing on its own merits: The largest ancient stone structure in the South America, it took about 40 million cubic feet of stone to build – three times more than the Great Pyramid of Egypt!
Imposing walls and views
Built by the people of Chachapoyas in the 6th century AD, the most noteworthy feature is the sheer size of its granite walls, rising in places up to 18 metres (60 feet) in height. With narrow entrances, ceremonial buildings, high walls and rock reliefs, these are more breath-taking given their setting, perched on a high mountain ridge at 3,000m above sea level. Overlooking the Utcubamba Valley, it's a formidable and imposing sight to behold.The impressive fortress enclosure is also covered in lush vegetation and boasts a variety of native orchids.
For a great bird's eye perspective of the site, check out BBC Travel Show's drone video of Kuelap.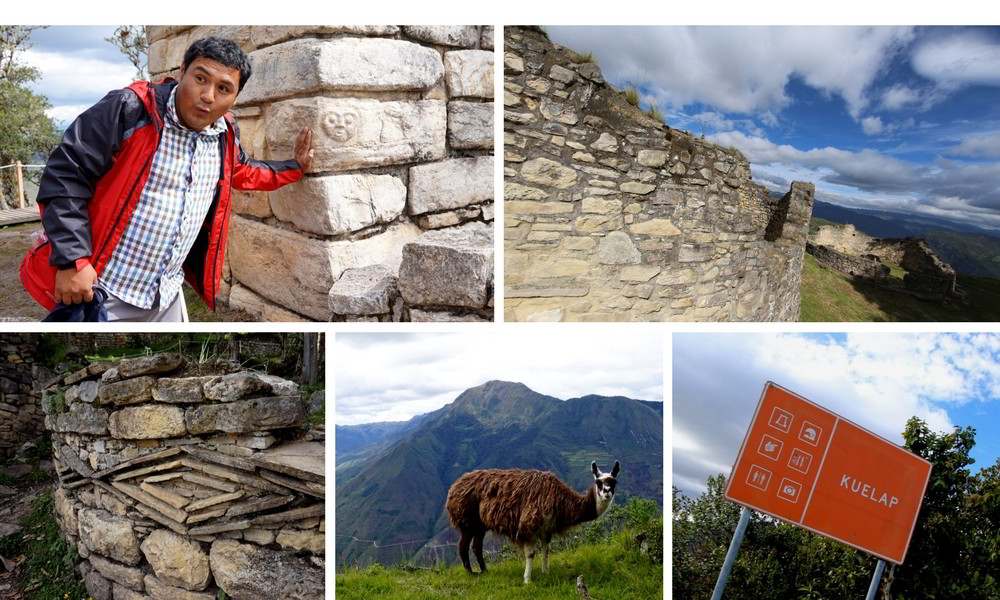 Kuelap Peru – the mystery of the Cloud People
There's a lot we don't know about Kuelap and quite a lot to speculate about. Built by the pre-Inca Chachapoya civilization, many describe it as a 'fortress' in the sky. However, the complex includes not only military structures – there are buildings that suggest religious, civil and domestic use – and it's estimated that up to 3,000 people lived here at its height. There are multiple levels within the complex and over 400 constructions, most of which are cylindrical, with some friezes and decorative patterns remaining. In 1997, the first archaeological exploration of Kuelap Peru uncovered five mausoleums replete with rock paintings, funeral bundles, quipus, and ceramics.
---
Read our itinerary Peru's Best Kept Secret
---
Guided tour of Kuelap Peru
For me, one of the best parts of our Kuelap tour was the insight from our insightful, expert Aracari guide – Julio. He really brought the place to life, pointing out small details that I would easily have overlooked, such as a human femur in a gap in the walls which serves to show that the Chachapoya used parts of the archaeological site as burial chambers to honor their dead.

How to get to Kuelap Peru
We drove to Kuelap as a day trip from Gocta Natura Cabins, taking a picnic lunch with us. The journey is about an hour to the Kuelap cable car ticket office, a scenic ride alongside the Utcubamba River. From here a 10 minute shared bus takes you to the cable car station for the ascent to the ruins. It's a comfortable ride in the spacious cable-car cabins which seat 8 people, slowly ascending (a 20-minute journey), offering beautiful views of the valley below.
Kuelap can also be visited as a day trip from the city of Chachapoyas, where there are more basic accommodation options.
Cable Car to Kuelap
A new cable car opened in 2017, improving access to the site, and offering a scenic journey with incredible views on the way up. Either way, once at the top and entrance to the site, there is an approximately 30 minute walk to the archaeological site, via a paved uphill path, with horses available for hire to ease the journey.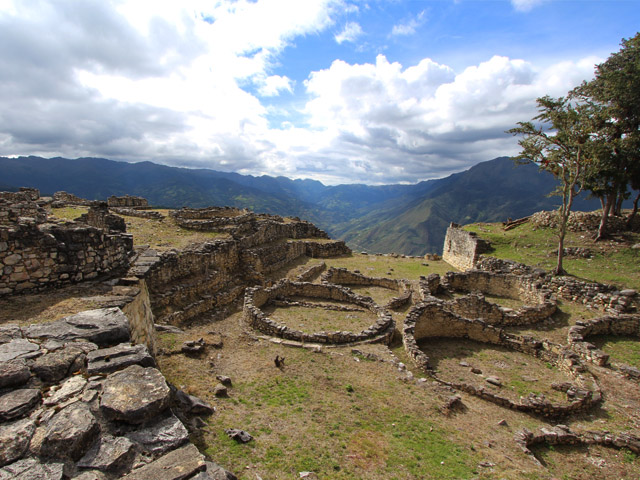 Highlights of Chachapoyas
Kuelap is one of many archaeological and natural sites to visit in Chachapoyas, this beautiful remote part of Peru, so four to six days is recommended to explore it all at a comfortable pace. For more insight into Chachapoya culture check out the Tombs of Revash, Sarcophagi at Karajía and the Leymebamba Museum. To get out and enjoy the beautiful cloud forest, enjoy hiking to the stunning Gocta Waterfall and nearby Yumbilla Falls – there's so much to explore in the region.
Book a trip to Kuelap Peru
Check out our Peru's Best Kept Secret itinerary for a suggested route. There are many possibilities and Aracari specialises in luxury, tailormade travel, so to create the perfect trip, contact us or email travel@aracai.com