The Chachapoyas people buried their important dead in high, difficult to access locations, facing the rising sun or a village, and always close to water. The sarcophagi of Karajía stand proudly on a ledge above a river gorge in the Chachapoyas region – a stunning site in a quiet, unassuming location in Chachapoyas – very easy to miss if you don't know where to find it – which is why we recommend visiting the sarcophagi of Karajía on a private tailormade Chachapoyas tour.
I visited Karajia with Yasmin, one of Aracari's travel planners, as part of an Aracari team inspection trip to Chachapoyas, and here's what we thought of the experience.
---
Aracari Travel specialises in private, tailormade trips to Peru. Visit Karajía on our 5-day Peru's Best Kept Secret with an expert guide, accommodation and private excursions included. 
---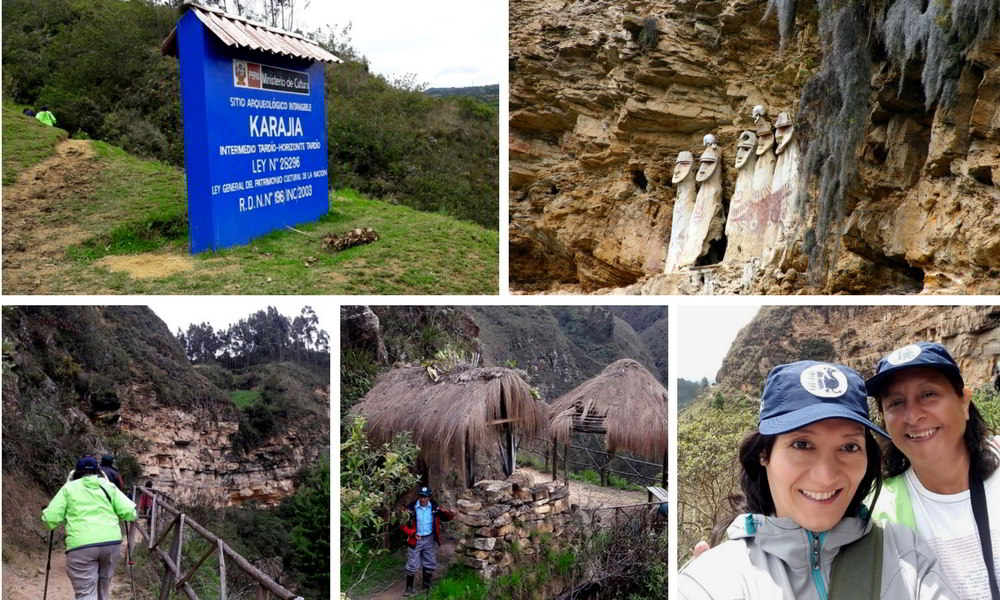 The inaccessible ravine location has protected the sarcophagi from looters over the centuries, although one of the original eight was lost in 1928 when an earthquake caused it to fall. Standing 2.5 meters tall, the figures were constructed of clay, sticks and grass, and then painted white with yellow ochre and red pigment. Showcasing one of three types of Chachapoya burial techniques, each is home to an individual mummy, arranged in the foetal position. They are unique because of the human skulls that sit atop their heads. This excursion offers the chance to get up close to the sarcophagi while enjoying the beautiful mountain scenery.
After being collected from Gocta Andes Lodge where we spent the night (next door to Aracari's favorite Gocta Natura), we enjoyed a scenic drive through the cloud forest of Chachapoyas, with much of the journey on bumpy unpaved roads until we arrived at the remote village of Shipata, where the trail to the sarcophagi begins.
After registering to visit the site, we set off on the trail with our expert Aracari guide, walking through farmland where staple crops like potatoes and corn are grown. The trail winds around the side of the hill, with impressive panoramic views down the valley. The path is generally stable, though muddy when it has rained – so pack your hiking shoes or Wellington boots! There are railings in some of the steep or narrow sections to aid with stability.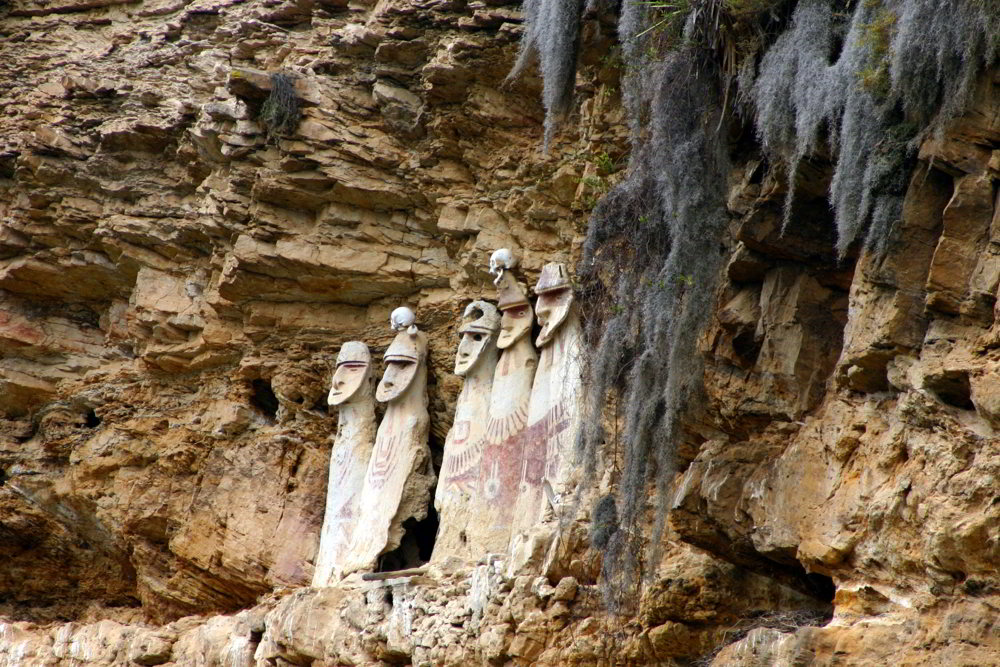 After about half an hour walking (mostly downhill) we arrived at the bottom of the cliff that's protected the sarcophagi for over 500 years. I was surprised how close we were, and could admire the designs painted on each figure. Our guide explained more about their construction and significance for the Chachapoya people, bringing their stories to life for us. To understand more about the Chachapoya civilisation, we recommend a visit to Leymebamba museum, which we visited two days later as part of our inspection trip to Chachapoyas.
After enjoying the tranquil spot, we headed back along the same path, this time a bit slower as we were walking up hill. We stopped to eat our packed lunch at a little rest area, and then returned to the village where our car and driver was waiting for us.
If you would like to visit the sarcoghagi of Karajía, have a look at our sample itinerary Peru's Best Kept Secret, which can be completely tailormade and takes in all the highlights of Chachapoyas. To start planning your adventure to Chachapoyas, contact us or email travel@aracari.com