As part of our 20th anniversary celebrations, we catch up with Aracari specialist guide Luis Villacorta who talks about making the historic centre of Lima fun for kids and being star-struck by British nobility!
Luis Villacorta – a passion for his hometown Lima
With a lifelong passion for his home city, particularly the architecture in the historic centre of Lima and the relationship between the modern city and pre-Colonial times, it is an absolute pleasure to hear Luis talk about Lima and experience his expert guiding in Lima.
Luis Villacorta, a professor of architecture, affectionately known to all as Lucho, met Aracari's founder Marisol through a mutual acquaintance back in the mid-1990s. Marisol had recently founded Aracari and was on the lookout for people with special knowledge and interest in Lima to show guests the city from unique perspectives. Lucho, with his academic credentials and charisma, immediately fit the bill, and is one of Aracari's top Peru specialists in Lima.
Top Peru Specialists: A Renaissance man in Lima
With an impressive academic background in Renaissance Architecture, Lucho has been invited to lecture and speak at universities in Spain, Italy and the United States and has published many articles on Spanish colonial religious and secular architecture in Peru and pre-Colonial architecture. His knowledge and insight on the subjects is astounding.
Lucho is an expert on comparisons and perspectives. Having lived, studied and lectured in many different countries, he draws parallels between Lima and other places travellers have often visited, putting Lima into a much broader historical and social context.
Lucho describes his work for Aracari as a 'wonderful pleasure'. "It's not like a job at all – I love sharing my passion and have met the most fascinating people."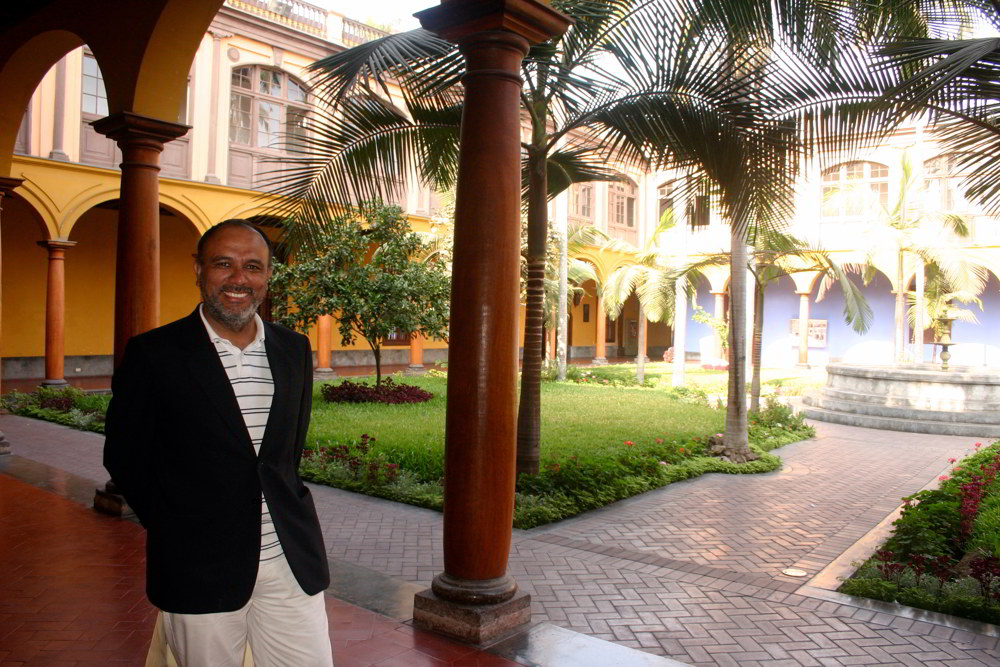 He smiles as he happily shares some of his favourite memories with Aracari guests:
Guiding British Nobility and a personal hero
At university Lucho studied 'Great Architecture of the World' a book by the Viscount of Norwich, John Julius Norwich, and was absolutely star-struck to meet him in Lima and have the honor of showing him around the city. He recalls taking the Viscount to the LARCO Museum where the owner opened up his private collection. Of course Lucho left at the end of the day proudly in possession of a signed copy of one of the Viscount's books!
Revealing the lesser known side of Lima
"I also remember a woman who is now a wealthy designer, but had grown up in poverty and wanted to see and understand some of the poorer parts of Lima. She wanted to understand the struggles of underprivileged Limeños, not just the finery of the colonial buildings. It was not your typical tour of Lima, but she learned a lot about the struggles facing ordinary Limeños, and I learned about her experience and perspective on similar problems in other parts of the world."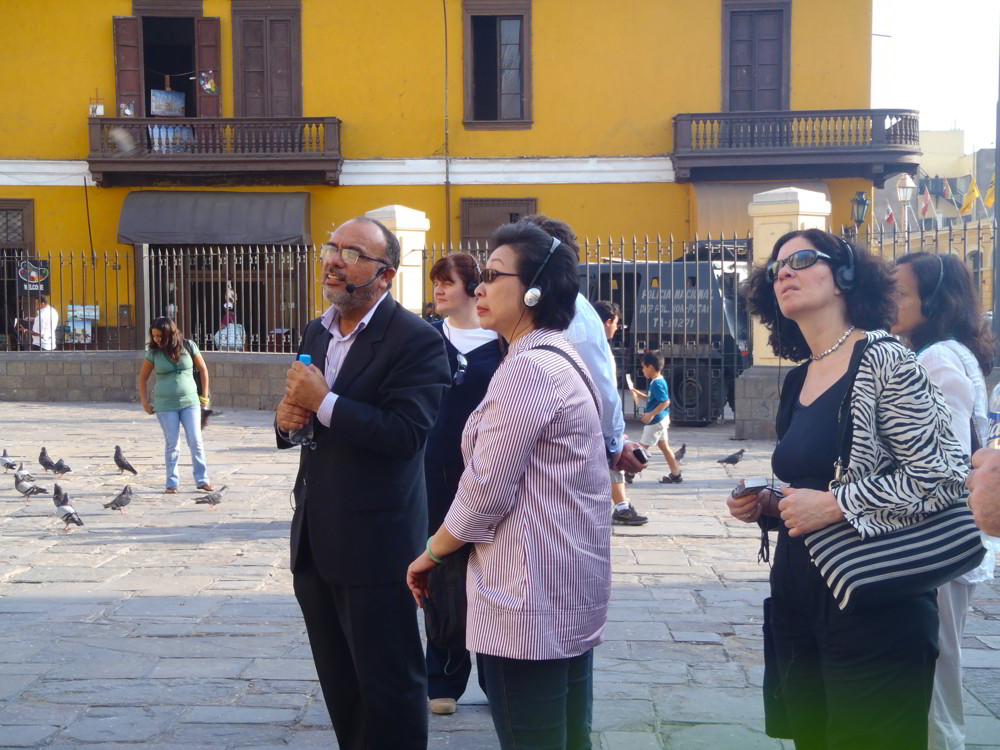 A tough crowd: Making the historic centre of Lima fun for children
''Describing a visit to the Convent of San Francisco in Lima with a family with a young boy, he recalls pointing out the different animals in the tiles and telling him Andean stories about them, while keeping his parents interested with more intellectual conversation. "I love interacting with children – tailoring where we visit and what I show them to keep them interested and spark their imaginations".
Lucho says he is extremely grateful for the opportunity to meet and learn from people all over the world, and has thoroughly enjoyed working with Aracari over the years.
Lucho offers expert guiding in the historic centre of Lima, exclusively through Aracari. But he's far from a regular 'guide'- he's a locally-based expert, a leader in his academic field, a friend and an important part of the Aracari family.
If you're interested in architecture, history, or enjoy meeting and engaging with locals with interesting and stimulating perspectives on your destination, whether you're nobility or not we can get you in touch with him to make your trip to Peru really memorable!
Journalist David Annand recently wrote about his fascinating conversations with Lucho, on a tour of the historic centre of Lima in a feature for Condé Nast Traveller. 
If you're interested in meeting Lucho in Lima for expert guiding in Lima then contact us or email travel@aracari.com