Dear Aracari friends,
I would like to request that you sign the petition below. The petition is an honest hope to shed light on — and hopefully to stop — the building of an international airport in the small village of Chinchero, in the heart of the Sacred Valley of the Incas. Chinchero is in what should be a protected area due to its cultural and natural value to the heritage of Peru. The area is already suffering from the strain of over tourism, and an airport there will only make matters worse.
Aracari was founded nearly 23 years ago with the mission of "Promoting Peru's Cultural and natural attractions sustainably through high quality low impact tourism.» And I am proud to say that we are true to our mission to this day. But we cannot continue fulfilling our mission if our heritage is destroyed.
It breaks my heart to see one of the most monumental and gorgeous landscapes in the Andes being defaced in the name of «progress.» We want the best for Peru, so we have brought many visitors, created many jobs, and supported many families through the years – and we continue to do so. Our guests spread the word far and wide about the real cultural and natural riches of Peru, bringing more visitors who want authentic experiences. We want to make our guests' stay as comfortable as possible. But not at the cost of destroying our attractions. This is inevitably going to happen if an international airport occupying approximately 400 hectares is built in the heart of Peru's Sacred Valley of the Incas.
I cannot see this happen in front of my eyes and not share it with you. You have experienced (or are about to experience) the beauty, magic, and solitude of this bit of paradise and I know that you also want it preserved. Maybe we will not achieve anything, but at least we will know that we were aware and we tried to do something about it, so that maybe 20 years from now your children and grandchildren can come back and see what they saw when they came to Peru with you as kids. It is Aracari's mission to inspire, celebrate, and connect you to our region. This is why we need to share this with you.
For the most updated information on the subject please watch this excellent video.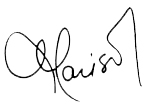 Marisol Mosquera