Whether you're looking for a one-day hike or multi-day camping adventure, there are an array of Peru luxury trekking options to choose from. Founded in 1996 in Peru, Aracari's years of specialist destination expertise ensure we deliver an unrivalled trekking experience, using state-of-the art equipment and expertly trained guides. All of our Peru luxury trekking options are available on a private basis only, giving you upmost flexibility, arranged as part of any tailormade trip to Peru.
---

10 Days / 9 Nights –  View Itinerary
---
Peru Luxury Trekking Routes
Aracari specializes in Peru luxury trekking for the discerning traveler, including the Inca trail, alternative routes, multi-day camping treks, lodge-to-lodge treks and day treks.
Private Inca Trail Luxury Trekking
Tracing the footsteps of the Inca civilization, the Inca trail is perhps the most famous trek in South America. We offer Machu Picchu luxury trips and can arrange the multi-day Inca trail or one day Inca trail.
Camping treks in Peru
There are a myriad of alternative treks to the Inca trail, to satisfy all ability levels and time-frames in the Cusco region and beyond. Salkantay, Choquequirao, Lares and  are popular routes. Further options include Huchuy Qosqo and Ausangate.
Lodge-to-Lodge Treks
An alternative to camping the Salkantay route, you can stay in local lodges on the Salkantay lodge-to-lodge route. We also highly recommend Ausangate lodge-to-lodge treks, with routes of different durations starting with one night.
Day Treks in Peru
Whether taking in key sites of the Sacred Valley, hiking to Moray and Moras, or exploring little-visited ruins off-the-beaten path with treks to the likes of Tipon and Pumamarca, we have options for every ability level and for acclimatizing for longer treks.
---
---
Peru Luxury Trekking with Aracari
Aracari offers all our treks on a private basis. For campers, we provide the choice between two levels of comfort: Luxury Exploration Camping and the upgrade to Luxury VIP Trekking. We also arrange lodge-to-lodge treks and day treks.
Luxury Exploration Camping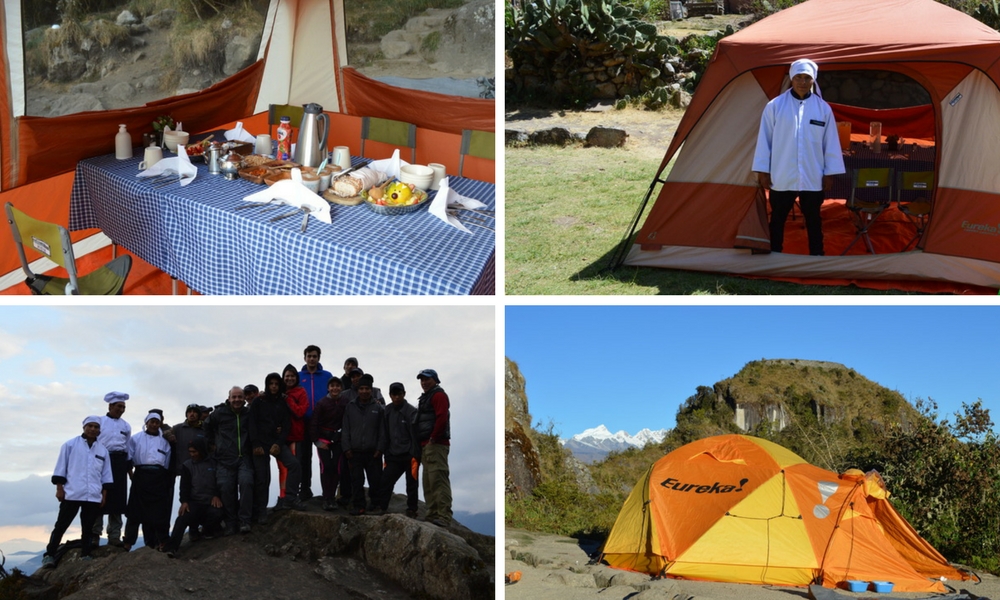 We strive to offer appropriate luxury for a personalized, authentic experience that is suitably comfortable to the natural environment you're in.
We take our social responsibility seriously and treat all our porters fairly and pay above the legal requirements – Positive Luxury awarded us the prestigious Butterfly Award in recognition of our responsible travel initiatives
We take care of the practicalities by providing duffle bags you can put your clothes in for porters to carry, and all the gear like 4-season tents, tested at over 5,000m, and sleeping bags (in two sizes)
We ensure you'll be comfortable, by using 3-person tents for 2, for extra space and inflatable mattresses (not foam)
We provide a private ecological toilet tent, and for all routes bar the Inca trail can offer a shower tent
You'll have all the fuel you need for your hike with a dedicated cook who rustles up freshly prepared meals, served with carefully-chosen wine and quality organic Peruvian coffee in your portable dining tent with properly cutlery (glassware, not plastic!)
We pay attention to the details: the presentation of your camp set up, lanterns lit in your tent for bed time
We provide a recommended packing list so you'll know exactly what to bring for your chosen trek
Upgrade to Luxury VIP Trekking
The most luxurious way to camp in Peru, with a private massage tent and masseusse
State-of-the-art tents designed for 6, used for 2-3
Chef's meals – we even bring our own oven with us for freshly baked bread
Warm showers on all routes, including the Inca trail
Extra luggage allowance
These are very few words to describe this trek. The Trek itself, the patience of the porters, the chef's better dishes than all the 5-Stars Restaurants, the birthday cake baked at altitude !! I would go on... Then there is Miguel, he put his heart and soul into making this trek special for us without him I would not have got to the top. His enthusiasm for his country the people and its history is incredible. Miguel is so much more than a guide he truly cares, nothing is too much trouble.

- Mr. and Mrs. Bottomley: in 2004
Contact us now for more information and a tailormade quote for peru luxury trekking.