Callao Monumental – Urban art project in Lima
There's always something new to discover in Lima's exciting and ever-evolving contemporary art scene. I'd heard a lot about the art project in Callao, showcasing some of the country's best street art, contemporary galleries and artists. So I went along to check out the new space, learn about the area, and experience first hand how contemporary Limeño artists are expressing themselves in this historic neighbourhood in a lesser-known part of the city. It was quick to see that the project Monumental is a fascinating hidden side to Lima that few travellers know about, and well worth visiting during a stay in Lima.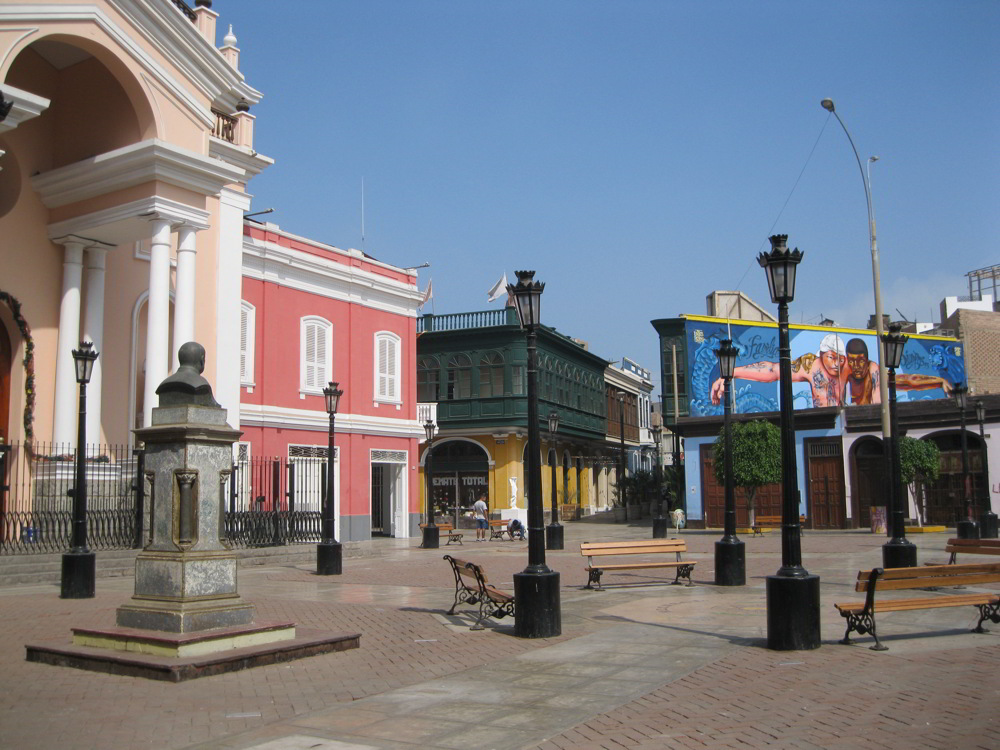 From Boom to Bust: The story of Callao
The port district of Callao was founded in 1537 by Spanish colonists and quickly became the principle port for Spanish commerce in the Pacific. At the height of the Spanish Viceroyalty, almost all goods from Peru, Argentina and Bolivia bound for Spain passed through Callao, and then on to Panama before the Atlantic crossing.
From an era of economic boom and the affluence that comes with it, Callao then suffered progressive economic decline in the ensuing years. But now, projects like Callao Monumental are bringing regeneration and visitors to the area, so it's a great time to visit the fresh and edgy district as part of any tailormade trip Peru.
Callao Monumental – a hive of creativity
The Callao Monumental project showcases contemporary urban art, champions local artists and engages with the community through its outreach and regeneration work. The heart of the project is located in the historic Ronald Building, a covered market built by a British engineer, and renovated specifically for this project. It consists of six floors of independent restaurants, artesanal fabric boutiques, galleries and studio spaces for resident artists.
On the ground floor, you walk through an impressive arcade of galleries and boutiques. The high vaulted stained glass roof allows light to pour in and reflect off the white marble floors. Wondering up through the maze of hidden staircases and corridors you discover exhibitions of paintings, photography and installation art. On a busy Saturday I came across resident artists at work, chatted with them about their work, and also looked in on a group in the middle of a workshop.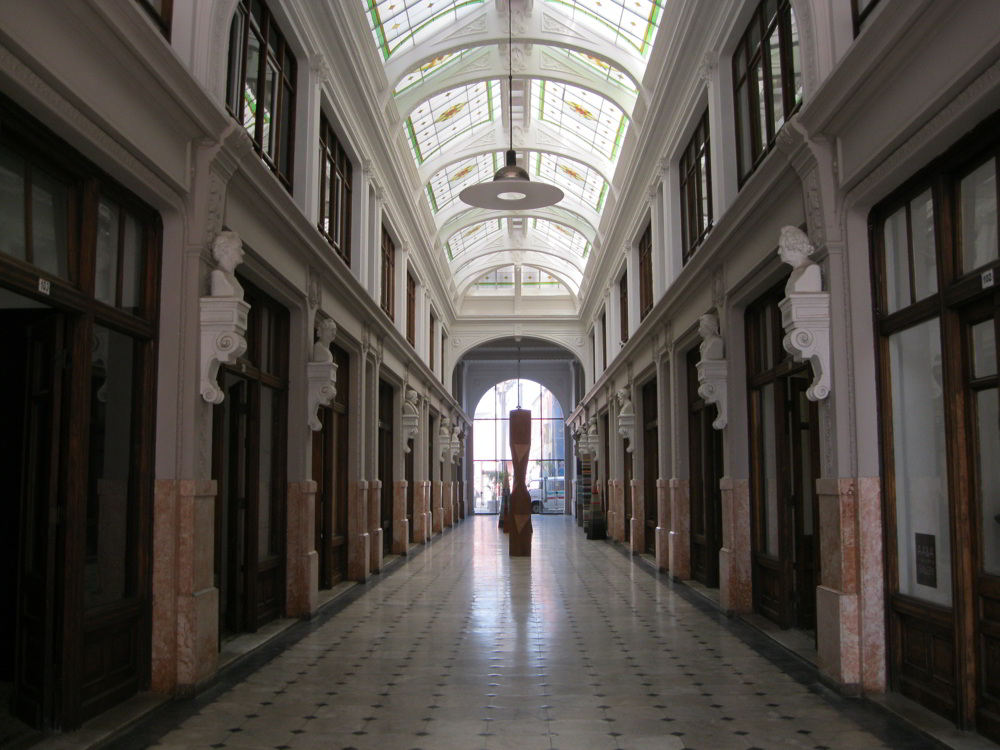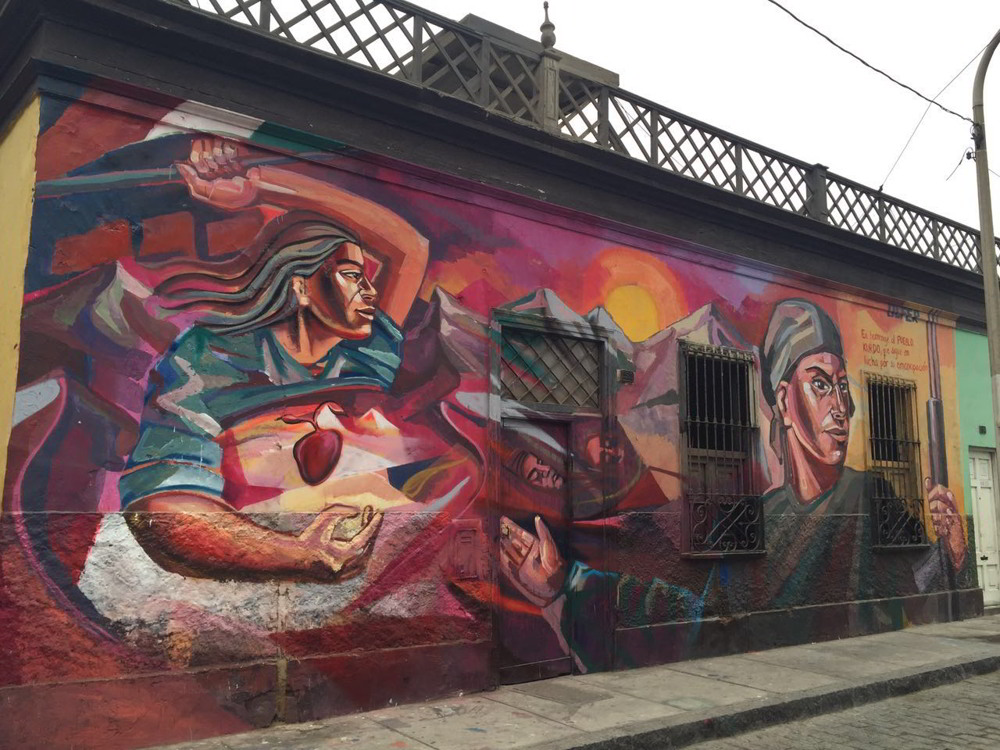 You'll also get to check out the rooftop terrace, well worth a stop for the spectacular view of the surrounding area, including the harbour and the modern commercial port, the naval base and the historic Real Felipe fortress. At the weekends, when the community project tends to arrange more events, there's a bar up there and sometimes live music – a great spot for a sun downer, taking in the view.
Callao Monumental featured in the Guardian
Journalist Sarah Gilbert recently visited Callao Monumental with Aracari, and spent the morning browsing through the art galleries and studio spaces and enjoyed a tour of the street art on the blocks surrounding the Ronald Building. She wrote about her morning for the Guardian in an article entitled Art and artists revive Lima's most notorious barrio.
Visiting Callao Monumental with Aracari
A visit to Callao Monumental as part of a private Lima tour with Aracari takes you through the historic Plaza Matriz Pisconi and includes a guided walking street art tour through Callao's backstreets, led by a leading graffiti artist. Visiting Callao Monumental with a specialist guide offers a unique perspective on contemporary Peruvian urban culture from a local's point of view. Inside the building you'll peruse the private galleries, art studio spaces and interact with artists in residence.
As an optional extra, you can grab a can of spray paint and get creative by taking part in a graffiti street art workshop. If you're hungry, stop for a bite at one of the popular lunch spots in the area, such as Ramen y Deli Callao and Pateleria Italo or enjoy a coffee in the intriguing surroundings of a former hat shop! Aracari arranges insider experiences in Peru, so we will connect you with the artists at work in their studio spaces as well as those who have their own impressive galleries on the first floor.
Private Tours in Lima: In and Around Callao Monumental
A visit to Callao Monumental can be combined with other private Lima tours on the same day, depending on your interests and time available. We recommend combining Callao Monumental with our 'Into the Past' Lima tour that takes in the key sites of downtown Lima. Read more about this Lima city tour with our history specialist, John Alfredo.
There are also several islands off Callao, including the Palominos Islands with large colonies of sea lions and sea birds. A boat trip to the islands can easily be combined with a visit to Callao Monumental.
If you're interested in exploring more of Lima's street art, we highly recommend heading over to Barranco for our 'Creative Footsteps' tour where you'll likely be able to spot some works by the same artists with street murals in Callao. In Barranco we can show you the best art galleries and exhibitions, and, thanks to our experience arranging exclusive access visits in Peru, introduce you to some of Lima's well-known contemporary artists, such as Ishmael Randall-Weeks, who you can visit at his Barranco studio.
Alternatively, if you just want a quick visit to Callao Monumental, time permitting it can be a quicker stop en route to the airport.
For the best city tours of Lima and to explore the city's art scene with Aracari Travel, including a visit to Callao Monumental, contact us or email travel@aracari.com