I recently stayed at Gocta Natura Cabins, a beautiful property in the cloud forest near the village of Cocachimba. With views of the towering 771m high Gocta waterfall in the distance, staying at Gocta Natura is really a breathtaking experience, immersed in nature, and our top accommodation recommendation for the Chachapoyas region.
Where to stay in Gocta: Gocta Natura Cabins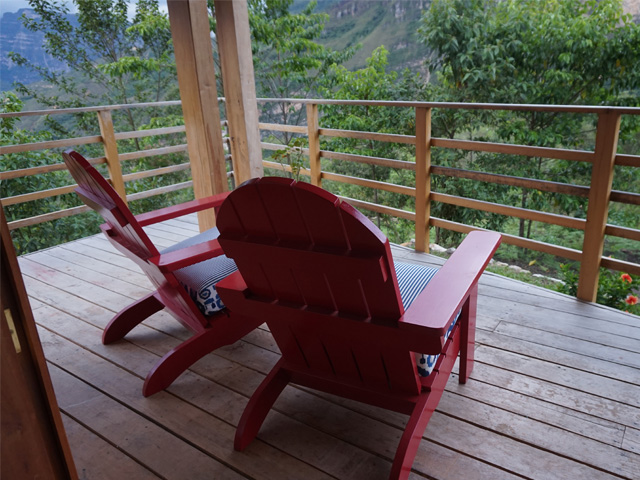 Gocta Natura – A property with social purpose
The owner Rocio Florez has set up various projects all aimed at sustainability in the Amazonas region. Her focus is working with the local community to restore the flora and fauna of the area in a sustainable way and to teach the value of preserving the environment. She has a great video about their projects on the Gocta Natura Reserve Facebook page. Rocio is warm and welcoming host and encourages guests to visit community projects that she's involved with.
On a visit to Chachapoyas eight years ago Rocio fell in love with the area and returned two months later with her husband to purchase land in Cocachimba. Soon they were visiting every few months to work on budding projects and then built a house four years ago. Commuting between Chiclayo, Lima, and Cocachimba, they continued their environmental work with the community and slowly expanded the property by building the cabins and opened to guests in December 2014. There are five individual cabins located on the property, discretely spread around the property.
Staying at Gocta Natura Cabins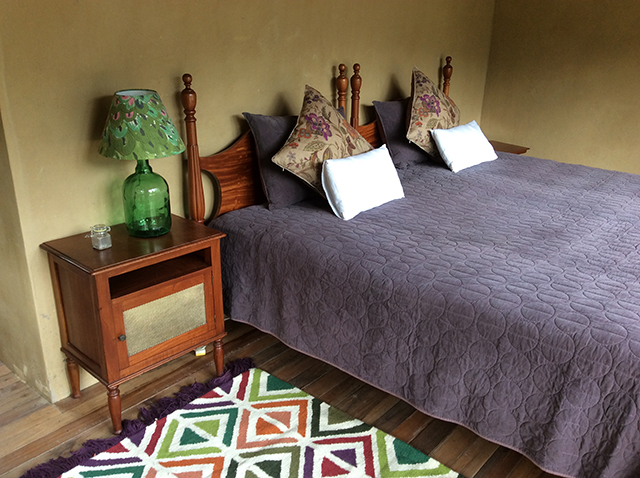 The cabins are charming, tastefully decorated, spacious, and include a deck with chairs to sit outside. Four of the five cabins can host up to three adults comfortably, and the fifth cabin is for two adults – for a maximum total of 14 guests in the property. The bathrooms are large, shower only, with a transparent divider between the shower and the rest of the bathroom. Shampoo, conditioner, soap, lotion, and bug spray are provided.
The main cabin, Rocio's house where she lives with her two dogs, is where guests eat meals and can hang out in the living room area, which is very cosy with a fireplace, books, magazines and games. Most of the cabins, including the main cabin, have a spectacular view of Gocta waterfall except for the one where I stayed which had an equally impressive sunset view.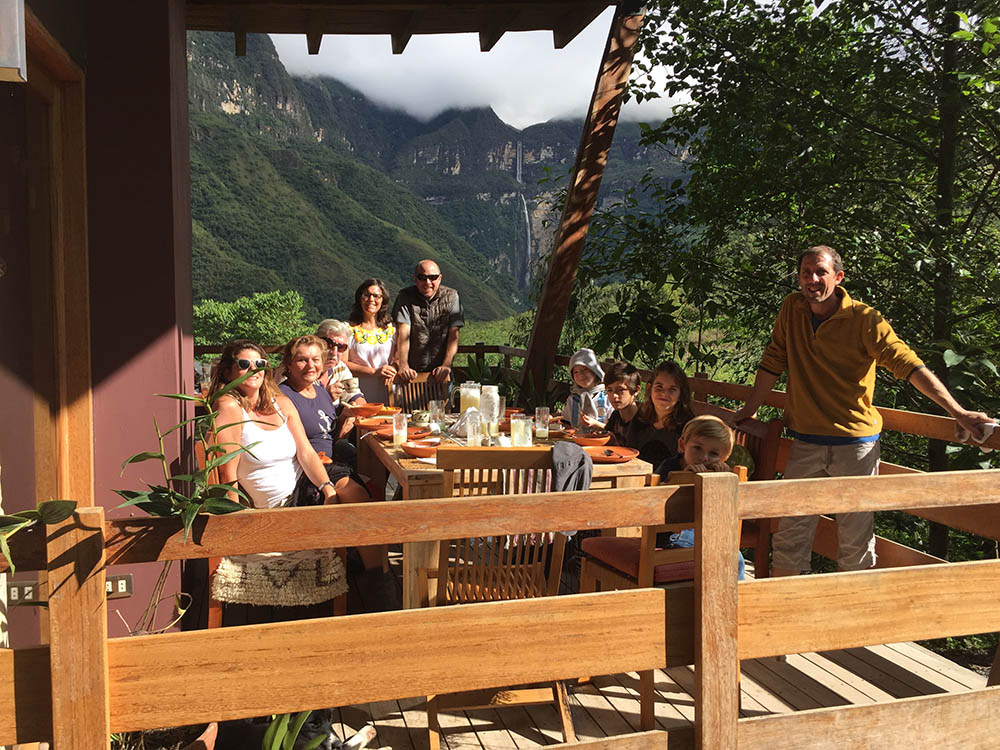 A small plunge pool is currently being built for guests to take a dip in, the size of a Jacuzzi, for when it's really hot outside, as it was during my stay. After the sun goes down, it can get a bit chilly, but it's very relaxing to sit outside and take in the sky full of stars. There are lanterns provided in each cabin in order to follow the path to the main cabin after dark.
There is no wifi on the property and scarce mobile reception. A stay at Gocta Natura is really to immerse oneself in the natural beauty of the area and interact with the local community. For those that want to use the internet, Rocio lends guests her router or sometimes her personal computer.
Home Cooking at Gocta Natura
Three meals a day are included in the stay and they can provide lunch boxes for tours to Kuelap or the Leymebamba Museum. The breakfast included a large variety of food including yogurt, granola, fruit salad, bread with butter and jam, banana bread and eggs on request. During my stay, dinner was pasta with vegetables and apple pie for dessert and lunch was lomo, quiche, yuca, potatoes and sorbet for dessert. The meals include a beer or glass of wine. All meals are served outside as long as it is not raining, breakfast and dinner on a deck with a waterfall view and lunch down below the cabin on a large shared picnic bench, also with a gorgeous view.
Gocta Waterfall and Excursions
Gocta Natura is the perfect place to set off on a hike to Gocta waterfalls. The walk is along a wide path with many ups and downs and takes about two hours to get to the falls and two hours back. Horses are also available at an extra cost for part of the journey if you'd rather not walk the whole way.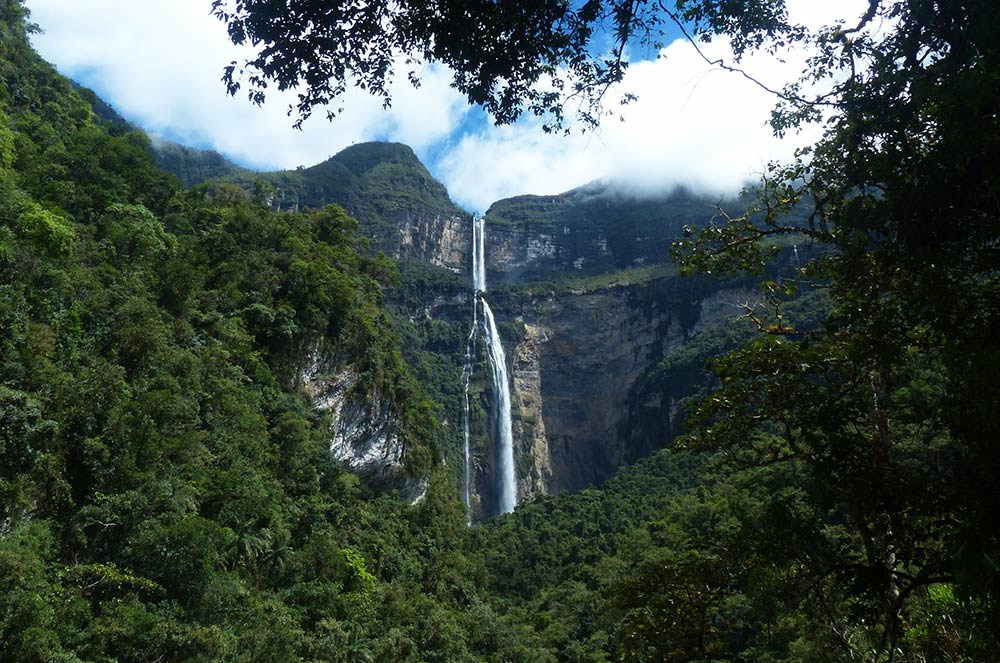 There are a variety of activities at an additional cost that are available for guests to get involved with the local community, which is the focus of Rocio's work in the area. You can participate in a textile workshop where you can learn to weave from a local weaver, using wool or cotton and natural dyes, as well as purchase local products. There is also an opportunity to visit a sugarcane field with the owner, learn how different sugar products are produced, such as panela, chancada, and aguardiente – local alcoholic brews.
Gocta Natura is a great base to explore other attractions in the area, such as the Kuelap archaeological site, the main attraction in the area which is about 3 hours drive away (and soon to be home to a new cable car which will significantly cut down the travel time), the Sarcophagi of Karajia, about an hour away, and mausoleums of Revash, and the Leymebamba Museum, about 3.5 hours away.
Gocta Natura Suggested Itinerary
Day 1 – Fly Lima to Jaen. Drive to Gocta (approx 2.5hrs). Overnight Gocta Natura Cabins.
Day 2 – Gocta Waterfall Hike. Overnight Gocta Natura Cabins.
Day 3 – Day trip to Kuelap (approx 2.5 hours away). Overnight Gocta Natura Cabins.
Day 4 – Drive Gocta to Jaen. Fly Jaen to Lima.


Getting to Gocta Natura Cabins
There are direct flights from Lima to Jaen, which is about 2.5 hours to drive to Gocta.
Alternatively, Gocta Natura can also be visited as part of a longer excursion to this corner of the country, reached via overland transfer from the airports of Cajamarca, Tarapoto or Chiclayo.
Check out this 7-day itinerary, Peru's Best Kept Secret, which showcases how you can stay at Gocta Natura combined with all the highlights of Chachapoyas. This can easily be extended with the Highlights of Northern Peru to see the fascinating sites along Peru's Moche route.
Aracari specialises in tailormade, luxury travel to Peru, Bolivia and the Galapagos. If you're interested in visiting Gocta Natura as part of a tailormade trip to Peru, contact us or email travel@aracari.com