Celebrating the beauty of Chachapoyas Peru
Poised on the brink of mass exposure, Chachapoyas Peru, is a swathe of dense cloud forest in the Andes of Northeastern Peru, and holds a special place in our hearts.
In some ways, Aracari's history is intertwined with this magical place. It was here, in "Indiana Jones" country, that archaeologists made a startling find of 219 mummies on the remote shores of the beautiful Laguna de los Condores in 1997. A find so exciting that we had to endure ten hours of horseback riding from the nearest road just to see it for ourselves – on two separate occasions.
The mummified remains were of the 'cloud people', the Chachapoya, a civilisation renowned for its fearsome warriors and famed shamans who thrived in this region from 800AD to the mid-1500s. The Chachapoya were special in many ways – physically they were taller than their neighbours, with whiter skin, strong bones and teeth. While, architecturally they are famed for their round houses built of stone and often embellished with decorative stone friezes.
Chachapoyas Peru Ruins: Kuelap Fortress
Nowhere is this appreciated more than at Kuelap – a walled settlement perched 9,500ft (approximately 3,000m) up overlooking the cloud forest. Known by many as the "Machu Picchu of the North", this ancient fortress houses over 400 dwellings within its imposing 60ft (18m) high walls, some of which feature friezes and friezes on their curved stone walls.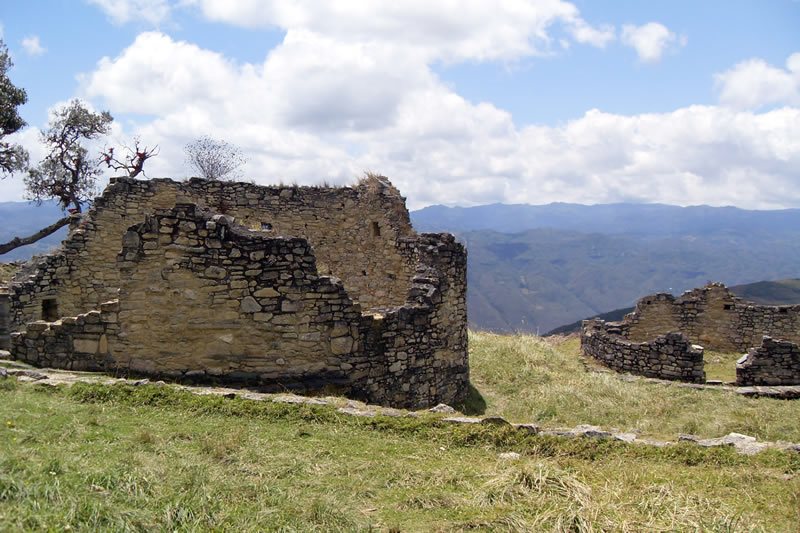 And this is just one of the many varied sites half-hidden beneath the lush vegetation of bromeliads, ferns and orchids.
Sacrophagi at Karajia
There are the funerary houses at Revash painted in red and yellow ochre or the sarcophagi at Karajia embellished with prominent sculpted heads.
Museo Leymebamba
You can gain an understanding of their significance at the state of the art Museo Leymebamba, built to house the mummies discovered by the Lake and surrounded by a wonderful garden featuring over 100 species of orchid. Such is the importance of this place that we have pledged to give $25 to the museum for each Aracari client visiting the area.
Gocta Waterfall
In fact, Chachapoyas Peru is the perfect blend of nature and man-made – still waiting to be fully discovered. The Gocta Falls, a spectacular 2,531ft (771m) waterfall is here and was only brought to international attention in 2002.
Now with road networks and infrastructure improving it is only a matter of time before this hidden gem loses its remaining secrets. But until then, only the lucky few will realise what riches this land has to offer.
Tailormade Travel Peru: Chachapoyas Peru
Aracari has built up an extensive knowledge of Chachapoyas Peru over the last 12 years, and we recommend that those with a sense of adventure need to dedicate at least five to seven days in order to explore this region properly, staying in simple but comfortable accommodation. To find out more, please contact your Aracari representative and read more in this itinerary.