Luxury between the trees – Mashpi Lodge Ecuador

Just three hours northwest of Ecuador's capital, Quito, lies a luxurious, five-star hideaway, ideal for birding and offering nature trails to hidden waterfalls. Mashpi Lodge Ecuador, set amid a 1,300-hectare private reserve, was built on land that was once part of a logging concession until it was privately purchased in 1997 and converted into the Mashpi Rainforest Biodiversity Reserve. Recognized as one of National Geographic's Unique Lodges of the World, I had the opportunity to explore this rich ecosystem and the comforts of this high-end hotel that opened in 2012, spending a night at the impressive Lodge.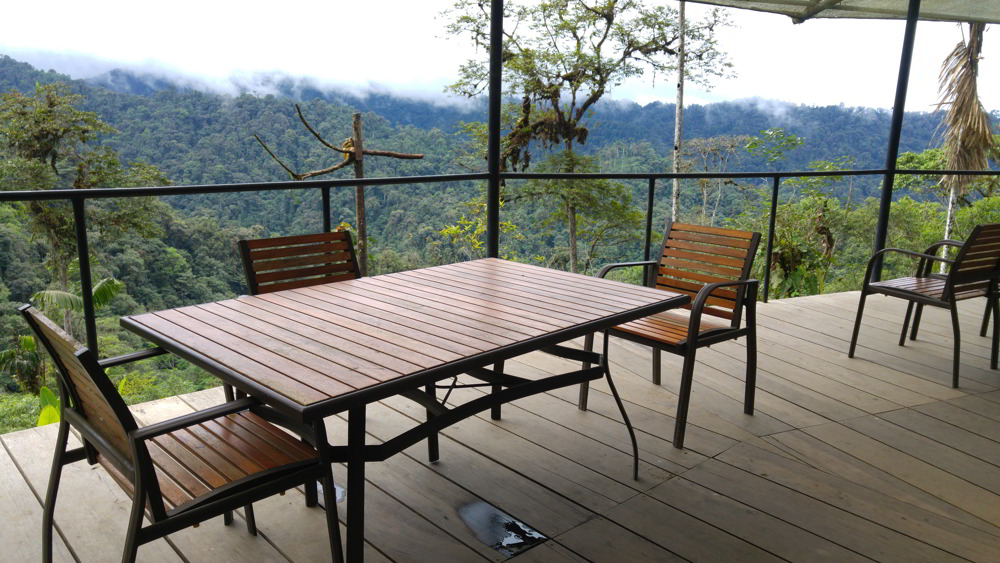 Passing the Equator to Mashpi Lodge
I left Quito for Masphi around 8.30am, accompanied by my guide. Located just 110km from the city centre as the crow flies, the journey by road winds its way to the cloudforest and rainforest on a combination of paved and unpaved roads, taking a little over three hours if driven without stops. The rapid change in altitude, from 2,800m to 1,000m sees a quick change in scenery.
We first passed the equator monument La Mitad del Mundo (Middle of the World). Our guide had an app which showed us each time, as we twisted along the hillside road, we passed the Equator line – from which Ecuador gets its name.
Tulipe Archaeological Museum
Half way to Mashpi Lodge, we then stopped at the Tuilpe Archaeological Museum. The place was officially closed on a Monday when I visited, but Masphi Lodge's guests get special access when closed, and I had the entire site to myself! There is a set of ruins belonging to the Yumbo culture, one of the last cultures to settle in Quito before the arrival of the Incas and Spanish. Here we were shown a few aerial images and recreations of how the hydrological site would have been used, before walking down to see it. The site is small so you don't need long to visit. It was only relatively recently discovered when a local family was digging in their garden – and discovered what lay beneath. Our guide then pointed out other remnants of the Yumbo culture, in the undergrowth, as we continued the drive to Mashpi Lodge.
The roads became unpaved towards the end of the ride as we reached the reserve, which forms part of the Tumbes-Chocó-Darien bio-region. The Chocó-Darien region runs along the entire Colombian Pacific coast, from Panama to Ecuador, and is one of the most biologically diverse regions in the world. Mashpi Reserve's terrain itself encompasses both cloudforest and rainforest, thanks to the variation between the Reserve's highest and lowest points in altitude.
A luxury cocoon in the clouds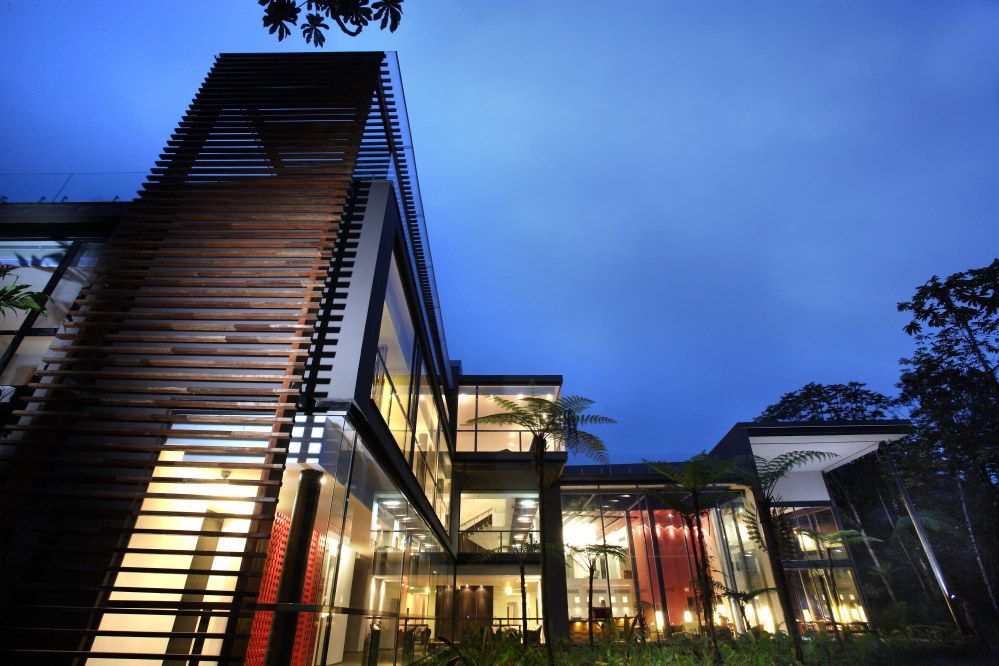 On arrival, I was warmly welcomed by the staff before being given a briefing on the hotel's activities and natural surrounds. I was then shown to my room. The 22-room property is kitted out with 3 suites and 19 rooms, each boasting floor-to-ceiling windows (see photo below). There are no televisions in the room, encouraging you to enjoy the scenery right outside. The rooms themselves are minimalist and modern, using earth tones, in keeping with the angular edges of the building's architectural style. The contemporary design is a stark juxtaposition to the natural setting right outside, but this helped make it special: all the comforts of top-level luxury in the very heart of a wild and natural environment.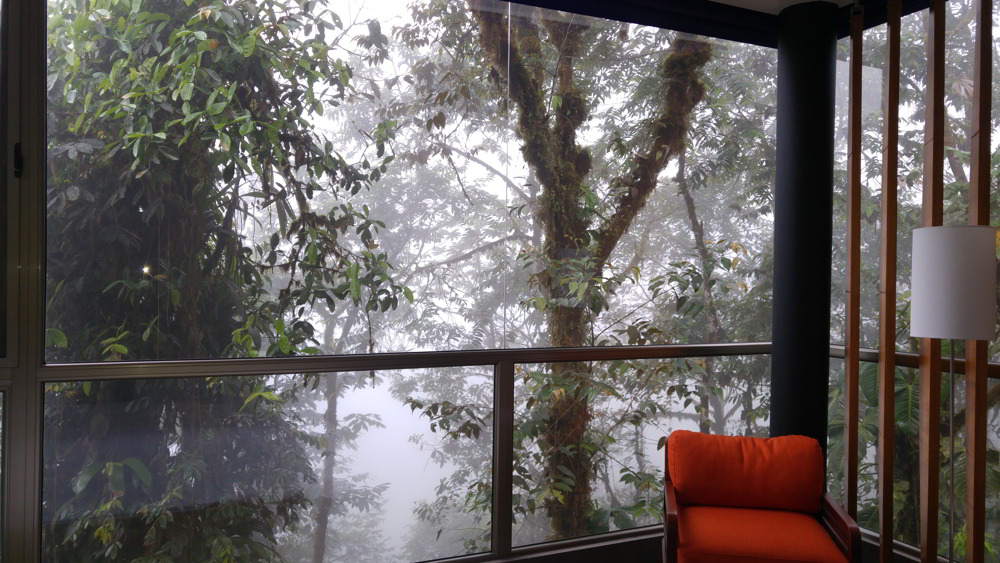 Sustainable trip Ecuador

Sustainability is at the core of this eco-retreat, so if sustainable travel is important to you, this is a great place to visit. The five-star minimalist property was constructed using pre-assembled steel walls in Quito that were transported to the site on top of a former mill, once used to fell the trees the reserve now protects, in a commitment to reducing the environmental impact of the Lodge's construction. The lodge also has a water treatment plant allowing hotel operations to have a neutral impact on the water of Mashpi River.
Gourmet Dining

I headed down to the restaurant for lunch before the first afternoon's activities. All meals are included in the rate, and lunch was á la carte with a buffet salad and dessert station, and was good quality. Dinner was a slightly more formal and elaborate affair.
Waterfalls & Nature Trails
I then met with my guide and put on Wellington boots and raincoat (provided by Masphi), with my camera in my backpack (also provided by Masphi as a gift, along with a re-usable water bottle). I headed out and joined another couple – activities are shared at mashpi – and the heavens opened. We may have been total drenched as we walked along a trail to a waterfall, of which there are many within easy reach, but our spirits weren't dampened. In other conditions, these waterfalls would be fun to swim in, but in this case I was already soaked-through.
Cycling through the Rainforest: The Sky Byke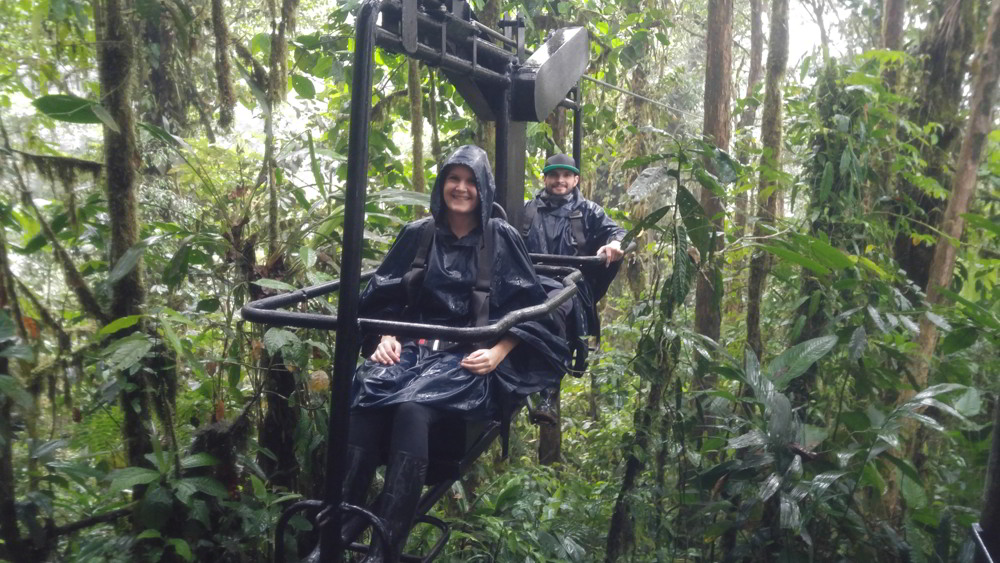 The rain continued to put the 'rain' into rainforest that afternoon, but nonetheless I managed to still test out Masphi's SkyByke. In previous travels in other parts of the world I have ziplined and walked on wooden platforms in the tree tops of rainforest, but this was a novel concept: a two-person pedal bike between two 26m high platforms at the tops of the trees. Despite the height, the proximity of the canopy meant, for me, it was not a vertiginous experience. The bikes also proved easy to pedal despite having two people one them (only one passenger pedals at a time), and was easier than riding a regular bike on the flat – so non-bikers need not be put off!
Surprises on the Night Walk
We decided to carry on with a night walk. We veered off the main path for what I assumed to be a short stroll as we waited for the darkness of night to fully envelope us, but at the end of the track appeared a large wooden table, bottles of wine and sweet and savoury treats! A staff member of Mashpi was diligently holding up a giant elephant leaf as an umbrella in a vain attempt to cover himself from the rain. This was the epitome of the Masphi experience: connecting with nature, without forgoing on any luxury comforts!
After this delightful additional stop (no doubt even more enjoyable in the dry!), our guide set about looking for critters to impress us. We had been lent flashlights by Mashpi, but to the untrained eye, in the darkness all leaves and trees looked just like that. Not to our guide, who managed to spot stick insects and bugs I'd have been entirely oblivious to otherwise. Then, he spotted a bright-coloured Masphi frog which even managed to stay still long enough for the photo below! We also saw tarantulas – though I didn't get quite so close to photograph these.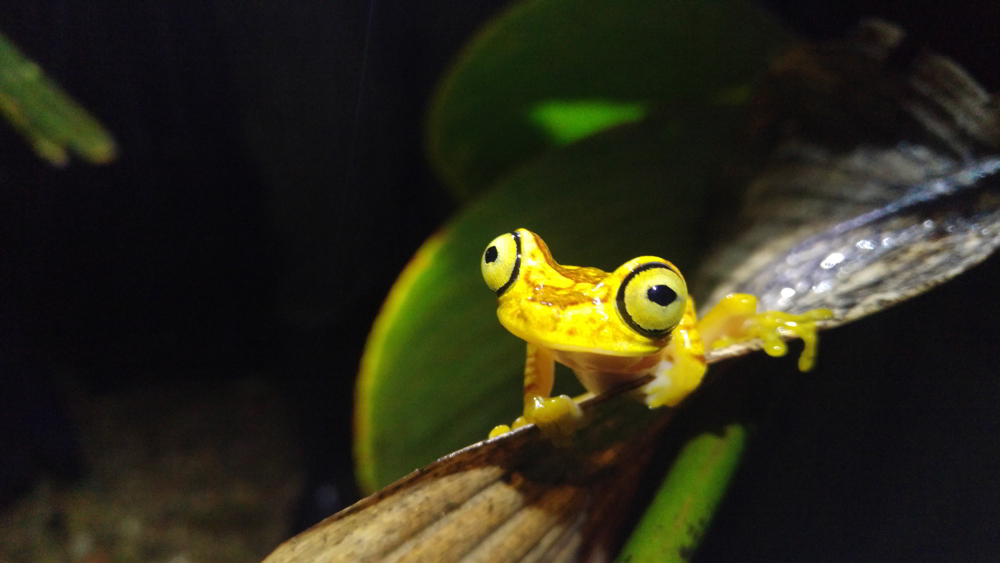 After a hearty dinner, warm shower and much-needed use of the free-drying service, I had an excellent night's sleep to rise early the next day. Optional sunrise guided birdwatching from Mashpi's terrace is offered daily. I took the chance to enjoy the view from the terrace.
Dragonfly Gondola Ride
After a cooked breakfast accompanied by fresh fruit and pastries, I set out for the morning's activities. First up was the Dragonfly, which opened in September 2016. An open four-person (plus guide) gondola, it travels 200m above the ground, between two stations. There are a total of three stations, meaning the sit-down version of seeing the forest can be combined with a more exerting hike if guests are looking for something more active. The gondola was built largely by hand, with components carried manually through the jungle – explaining why it took some 18 months to construct it, with minimal impact on the environment. Suspended over the tops of the trees the guide pointed out butterflies below.
Birding and Butterflies at Masphi Lodge Ecuador
Others in the group then went to the Hummingbird Station to photograph these birds as they flapped their wings at up to 80 beats a second. I, instead, with limited time, opted for another short walk to the Life Centre, aka Butterfly Centre. Firstly, however, the decking at the centre proved to be a great vantage point for birding. The guide put out some fruit to attract a few more birds. From here, with and without binoculars, it was easy to see a range of species – including Hummingbirds.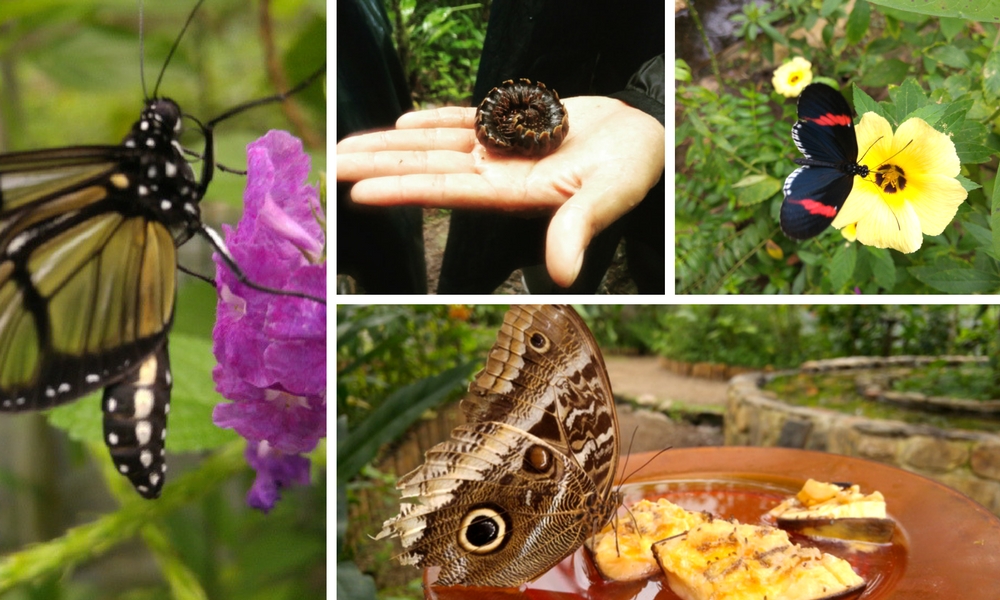 Birding is the wildlife attraction at Masphi – much more so than mammals, with the puma somewhat elusive. The forest ecosystem hosts hundreds of bird species, and perhaps thousands of orchids. Inside the Life Centre there were a myriad of varieties, with explanations on the wall about their life cycle. Mashpi is also home to science and investigation projects, with expert biologists conducting research and using camera traps to better understand the wildlife in this endangered Ecuadorian Chocó region.
Masphi Lodge Ecuador: Natural adventure for Luxury Seekers
After my final lunch and departure, it was easy to conclude this is a top-notch hotel, perfect for luxury seekers who want to experience the jungle, then retreat to their home comforts. If I'd had had more time, I would have also indulged in the Jacuzzi (included in the rate) or enjoyed a massage.
The variety of trails means this is an option for more adventurous clients, though nothing is too strenuous and the Sky Byke and Godola require minimal effort – meaning it also suits families or older clients looking for a gentle, educational adventure.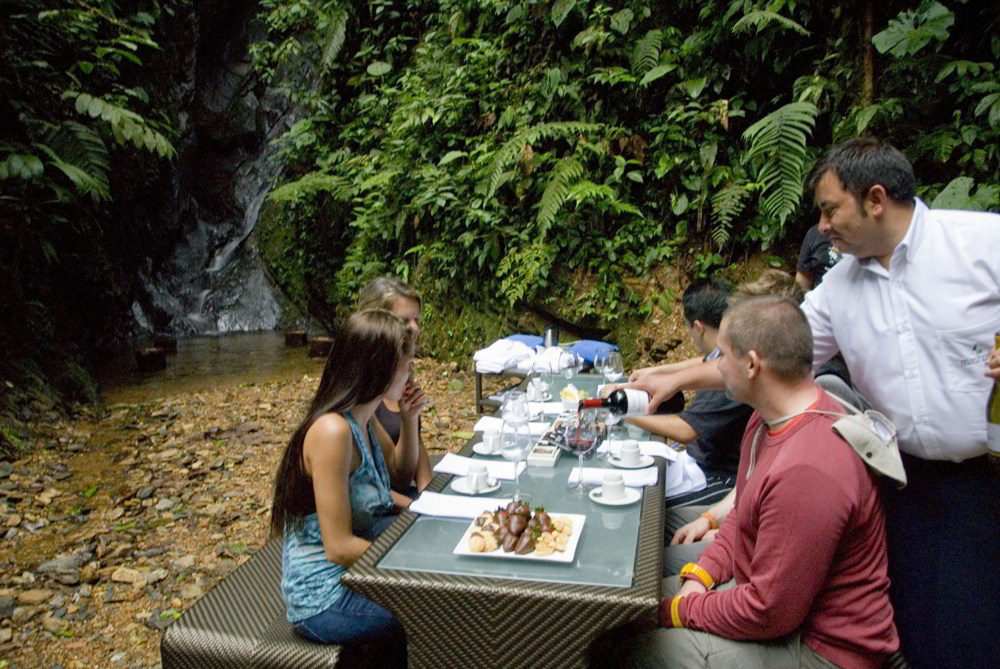 The combined experience of swimming in waterfalls, night walks, jungle trails and the unique Sky Byke and Gondola – providing a wholly different visual perspective on the landscape showing a sense of scale – means Mashpi Lodge Ecuador makes for a great all-round jungle experience, rather than a specific wildlife must-see, with the focus on birding above other flora and fauna.
The accommodation is luxurious and Mashpi Lodge Ecuador is an ideal two or three night extension to visiting Quito, and a wonderful compliment to a Galapagos cruise for a stay in Ecuador. Another option is to combine the cloud forest of Ecuador with a visit to neighbouring Peru, with Peru Culinary Travel and the spectacular Machu Picchu citadel just two of many attractions to entice you over the border.
Aracari specialises in luxury, tailormade trips to Peru, Bolivia and Ecuador, including the Galapagos. If you'd like to visit Mashpi Lodge Ecuador as an add-on to one of many luxury Galapagos cruises or a tailormade trip Peru, contact us or email travel@aracari.com.