A Taste of Classic Luxury Peru: Aracari Peru Fam Trip
From admiring Machu Picchu on a perfectly clear day, to partaking in a traditional shaman ceremony in the countryside in the heart of the Sacred Valley, an eager group of travel agents had the chance to see the key highlights of Peru, the Aracari way, on our 2016 FAM trip to Peru.
Joining us from around the world – India, Switzerland, Sweden, the UK and USA all represented – this small collection of eight professional travel addicts joined us on a Peru FAM trip that followed our Classic Luxury Peru itinerary. Over eight days, we took in Lima, the Sacred Valley, Cusco and Machu Picchu, with no shortage of memorable experiences and educational opportunities.
---

Register your interest now for Aracari's Peru Fam trip for travel agents 2017

---
Check out photos and videos below and what you might expect from future Peru FAM trips for travel agents with Aracari.
Day 1 – Arrival in Lima
The adventure began in Peru's capital Lima, renowned as South America's culinary capital, which the BBC has called the most 'underrated city in South America'. Met on arrival at the airport by Raul Varela, Aracari's Guest Relations guru, everyone had the chance to settle into JW Marriott Lima for the next two nights, and enjoy the property's sea views.
Day 2 – Lima: Into the Past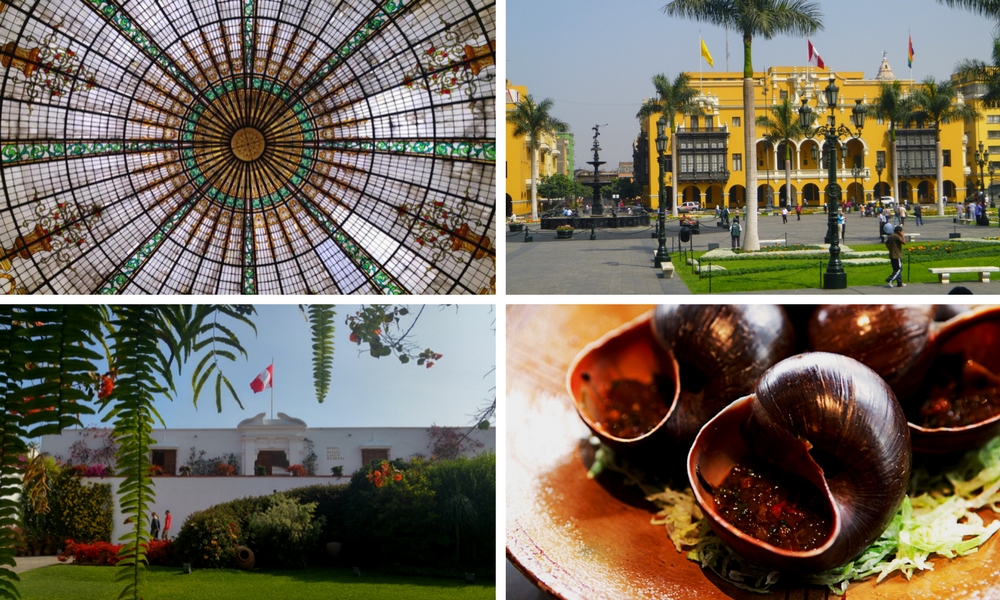 We were met at our hotel in the morning by Aracari specialist, Ronald Elward. After an extensive writing and publishing career in the Netherlands, including publishing the leading Dutch architecture magazine De Architect, Ronald moved to Lima. His research in Peru has been featured in many newspaper articles such as this piece in the Guardian, so he was the perfect companion to show us Lima's architecture and explain its history. This gave our visiting travel agents a taste of the expert guiding in Peru offered by Aracari.
We began by stopping at Huaca Pucllana, an ancient adobe pyramid in the middle of the city (a modern road cuts right through it!), which served as a reminder that the origins of the city pre-date the Spanish foundation by several millennia. Peru is not all about the Incas. From here we headed to the heart of the Spanish colonial downtown area, visiting the Convent of Santo Domingo and the Main Square. We also had the opportunity to visit Casa Aliaga, which has been in the same family for 17 generations. The salons feature beautiful décor from the 16th, 17th and 18th centuries.
Time for lunch, we drove to Café Museo Larco, where the group got their first introduction to Peru's national spirit Pisco, with a classic Pisco sour. The garden setting of the café is an oasis of green in Lima's desert city. Ronald then showed us around the museum, brimming with artifacts. Naturally the erotic pottery raised a few eyebrows!
From here we checked out new boutique property Atemporal. Housed in a revamped 1940s mansion, it boasts an eclectic sense of cool. With the sun shining our group made a beeline to the garden to enjoy a drink and sandwiches and made ourselves quickly feel at home.
On we went to Belmond Miraflores Park, to check out its style of classic modern luxury. As the sun began to set, it was hard to resist snapping photos of the ocean views.
At night time we ventured to the Amazon without leaving Lima, dining at amaZ restaurant. Exotic ingredients, fruits with un-translatable names and giant snails were all on the menu. With satisfied stomachs, we got rest at JW Marriott Lima before our early morning flight to Cusco.
Day 3 – Lima –Sacred Valley: Pisac ruins and Hacienda Huayoccari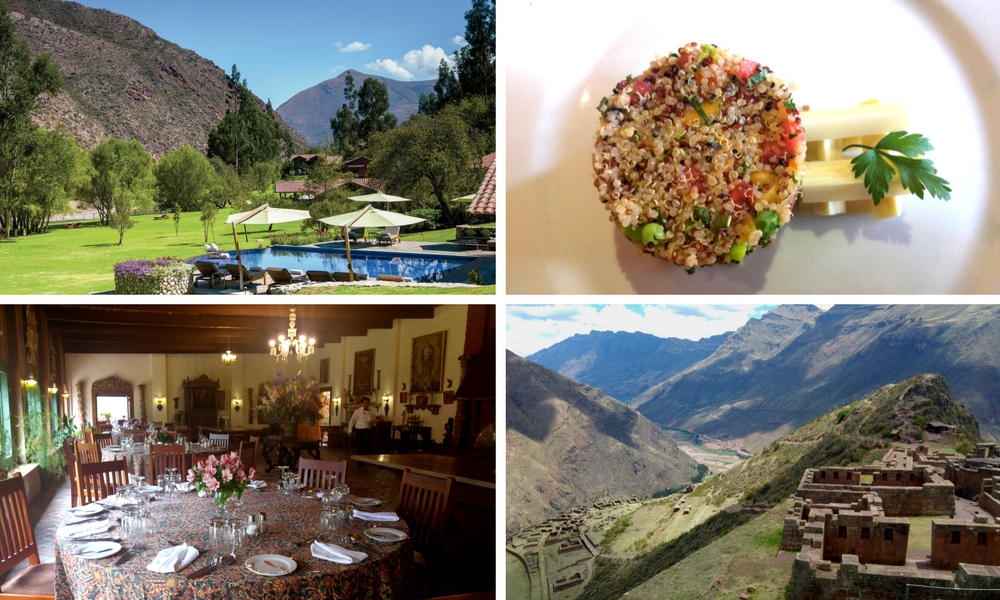 Landing in Cusco we were greeted with a coca tea to help with the altitude. In order to best acclimatize, accompanied by our guide Fernando and meticulous driver Wilfredo, we drove straight to the Sacred Valley which at 2,900m is better for acclimatising to altitude than Cusco at 3,400m.
On the hour and a half drive we passed Awanacancha, home to many camelids, for our first lesson in identifying the difference between a Llama and Alpaca.
We then had our first taste of Inca ruins at Pisac. The former chartered-surveyor of the group (shout-out to Simon!) was particularly pleased with seeing the impressive Incan masonry up-close. While many guests just take a short stroll, our group was up for more exercise as we walked gently for over an hour to take in the site.
From Pisac we drove on through the valley, passing fields of giant corn (choclo) and quinoa, arriving at Hacienda Huayoccari for a late lunch of three courses – a Cusqueña beer was well-earned!
In the afternoon we inspected Inkaterra Hacienda Urubamba with its valley setting. The hotel pool and spa area was under construction, set for completion for 2017. We also checked out Tambo del Inka, a 128-room five-star property on the banks of the mighty Urubamba River.
We concluded our day at the luxurious Belmond Rio Sagrado, where we dined and stayed the night.
Day 4 – Sacred Valley: Ollantaytambo and Pachamanca Lunch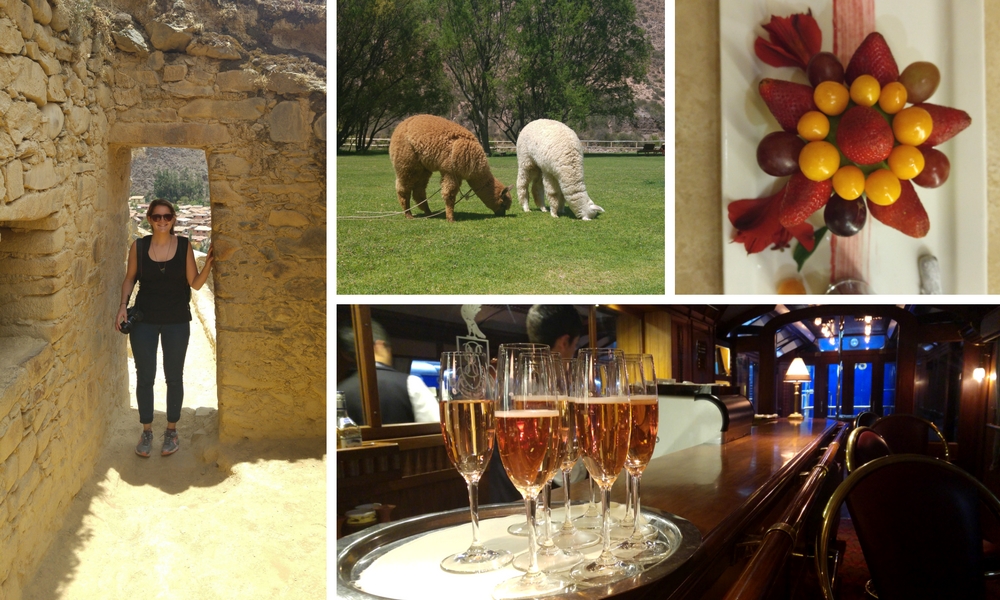 With a leisurely start at 10am the morning afforded the opportunity to enjoy the gorgeous property. Waking to the sound of the river, the early risers of the group had fed the hotel's resident llamas.
Our guide for the next couple of days, Renato, then met with us as we ventured to nearby ruins Ollantaytambo. The acrophobics of the group braved the lofty heights of the ruins, some of us using it as a warm-up to scale Huayna Picchu peak at Machu Picchu the following day.
Our efforts were rewarded afterwards with a delightful pachamanca lunch at an organic farm owned by charming lodge El Albergue, witnessing the traditional cooking method of meats, potatoes and vegetables cooked under the earth.  Check out our recent Khipu blog detailing the experience. We also visited the on-site artisanal cañazo distillery and coffee-roasting facilities.
We strolled through the organic farm down to the train station to board Peru Rail's Vistadome train service to Aguas Calientes. Our arrival was perfectly timed to inspect the impressive Hiram Bingham train. Before the passengers boarded we had time for a quick glass of bubbly, which gave a sense of service on this first-class train.
A ten minute walk took us to Sumaq Hotel. Having undergone extensive renovations, it now firmly sits as a top five-star option for guests visiting Machu Picchu. We were treated to an elaborate six-course tasting menu in a private dining room: the food is a real highlight of this luxury hotel.
Day 5 – Machu Picchu and Huayna Picchu Hike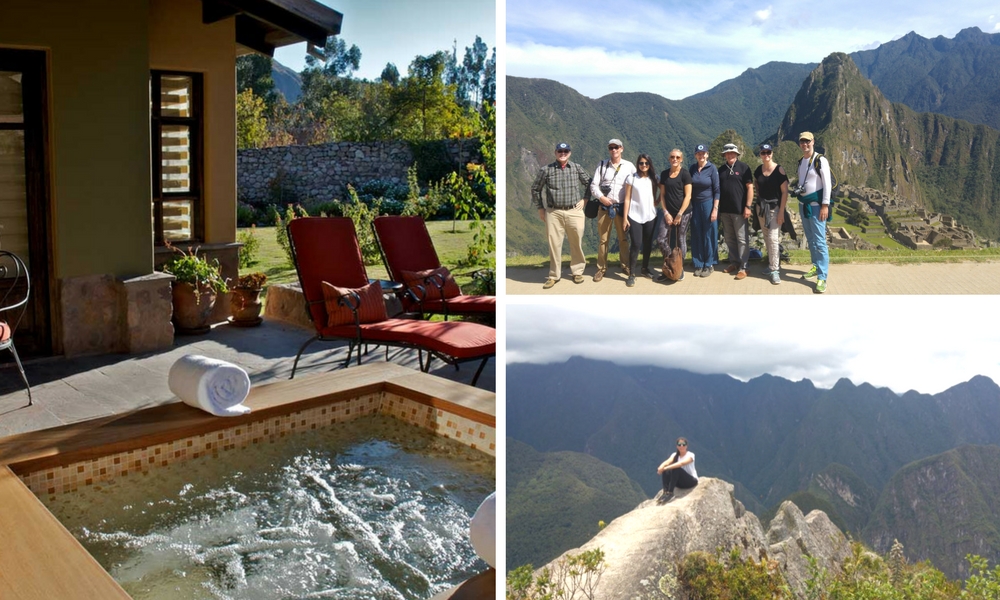 Rising early, we took the bus up to Machu Picchu. The half-hour journey winds up the mountainside to the ticket entrance. Renato then gave us an expertly guided tour, even if one participant (shout-out to Bob!) will forever have the question: ''but how was it built?!'' Having taking heaps of instagramable photos (check out our Instagram feed!), we explored the citadel. This is a bucket-list site for a reason, and did not disappoint.
From here the group split to take advantage of different hikes. A couple ventured up to the Sun Gate, the point that Inca Trail trekkers enter the ruins. Others – myself, Taruna, Louise and Cecilia – stretched our legs up Huayna Picchu. A rigorous climb, the views back over the citadel made it well worth it. Descending like mountain goats, we quickly arrived back at the main ruins.
Right outside the gates of Machu Picchu sits Belmond Sanctuary Lodge. Our hotel inspection here demonstrated its prime location. Taking the bus back down to the town of Aguas Calientes, we then inspected Inkaterra Machu Picchu Pueblo. A sublime natural setting, its more rustic feel had a true sense of place.
The Vistadome train delivered us back to the Sacred Valley, with excellent cuisine service up at Wayra restaurant at Sol y Luna where we spent the night. A fantastic bath tub was enjoyed to relax after the day's hike.
Day 6 – The Sacred Valley: Maras and Moray
Exploring more of the Sacred Valley accompanied by our guide Jose Angel, we went to the unusual Salinas of Maras. The salt pans here are formed of terraces that have been in use since pre-Colombian times. The salt on sale was snapped up by the group as souvenirs. Nearby we also visited Moray, a unique site used by the Inca for agricultural experimentation.
A pop-up picnic lunch by Aracari followed, which exemplified how luxury meets authenticity, Aracari-style. With a stunning mountain backdrop, Andean musicians played traditional music as a Shaman – Andean priest – and his wife welcomed us with a Shamanic Ceremony offering a true insider experience to remember.
The buffet picnic lunch of mushroom quinoto, quiches and salads in this quiet corner of the Sacred Valley was a memorable setting.
Leaving the valley behind, we stopped in the weaving-town of Chinchero to visit the Centre for Traditional Textiles. Colourful fabrics and weaving demonstrations were a feast for the eyes.
Arriving in Cusco we checked into JW Marriott Cusco El Convento where we spent the next couple of nights. With some downtime, everyone kicked back or took a dip in the hotel pool.
Come nightfall we walked two blocks to Belmond Palacio Nazaernas and Belmond Monasterio, showcasing the range of luxury hotels in Peru offered by Aracari. With its entry-level room category a suite with butler, lavish Nazarenas impressed the luxury seekers among us. This was followed by a visit of Monasterio, a hotel that is also one of the most important colonial buildings in Cusco and a National Heritage Site.
At Belmond Monasterio we were accompanied at dinner by Aracari specialist guide, Lisy Kuon, a charismatic and knowledgeable anthropologist and humanitarian, with expertise in Peruvian history, art and society. Lisy exclusively guides tours for guests travelling through Aracari.
Day 7 – Cusco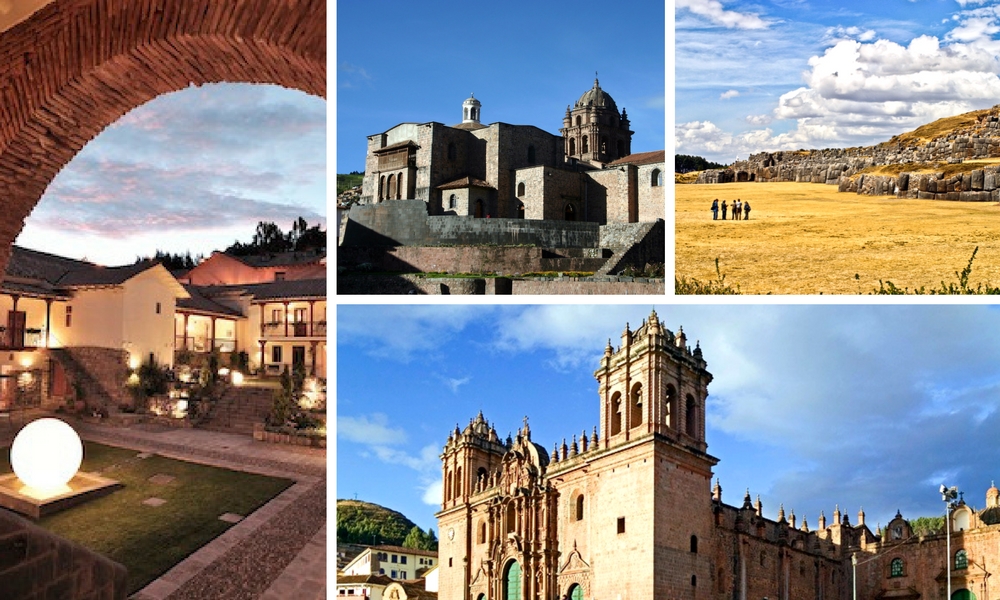 This morning the group was guided by passionate guide Abelardo, who accompanied the group to Koricancha (Inca sun temple) and the Cathedral on the Plaza de Armas. Walking the cobbled streets gave the opportunity to appreciate one of the most beautiful cities in South America.
After some free time, the group headed up to a view point overlooking Sacsayhuaman ruins (pronounced not far off 'Sexy Woman!'), with an impressive BBQ feast, including Alpaca, at the beautiful five-room Palacio Manco Capac Hotel, atop an ancient Inca wall.
After lunch came more hotel inspections, of beautiful Inkaterra La Casona, as well as the luxurious Palacio del Inka.
Dinner was held at boutique hotel Casa Cartagena, which blends Inca-style and minimalist Italian-inspired minimalist contemporary décor. Joining us in the restaurant La Bodega de La Chola was Aracari specialist Dr. Jean-Jacques Decoster, a leading anthropologist. He is currently Professor of Anthropology and Ethnohistory at the Universidad National San Antonio Abad del Cusco, where he teaches courses in Inca History and Andean Ethnography. From 2012 to 2014, he was director of that institution's Casa Concha Museum, and during his tenure was responsible for receiving the Hiram Bingham / Machu Picchu collection from the Yale Peabody Museum.
Day 8 – Culinary discovery in Lima
Flying back in to Lima we were met once more by Raul's welcoming smile to assist with luggage. He was joined by our specialist for the day, professional chef Penelope, a Lima native, to show us around some local eateries on Aracari's Urban Eats food tour. Penelope previously taught Peruvian cooking in San Francisco and ran a chain of restaurants in Lima. Penelope's passion for sharing her love of Peruvian food is apparent. First she led us to a weekend farmer's market in Barranco, where guests bought red and black quinoa, then on to La Preferida for fresh seafood tapas-style, before ending with hearty portions of criollo food at Isolina, number 41 in the Latin America's 50 Best Restaurants list.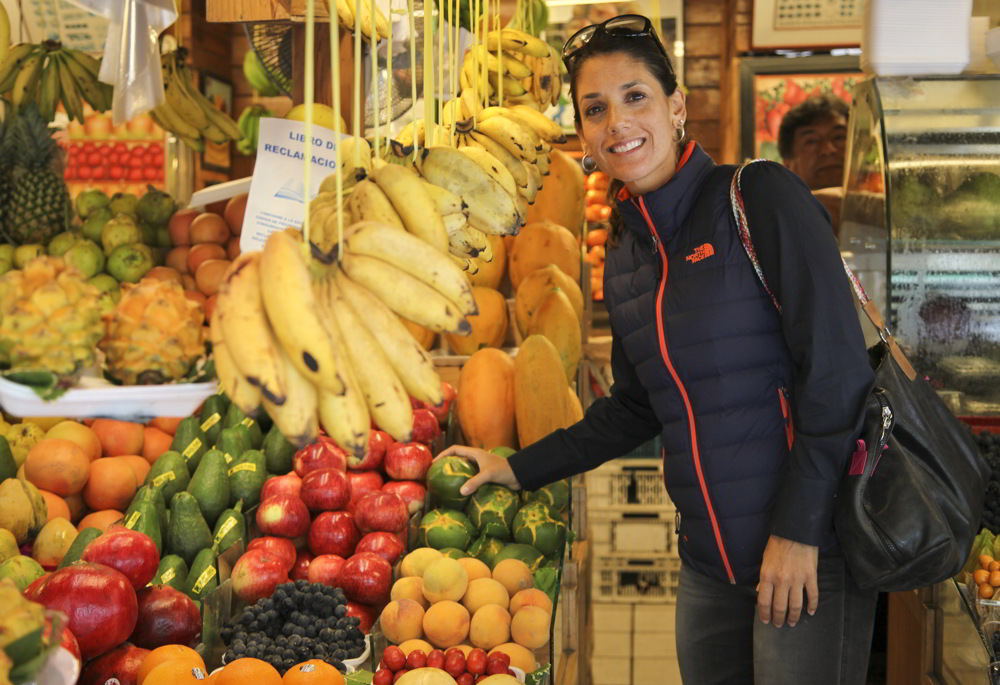 After a busy but fun-filled eight days, the Fam trip to Peru concluded at Hotel B, a trendy arts hotel in Lima's Baranco district, where we said our goodbyes. Guests then either began the journey home or continued on our optional extension to the Amazon on board the Delfin I.
---
Join us on our next Fam!
Register your interest now if you're a travel agent interested in joining us for Aracari's next Peru FAM trip.
Travel to Peru with Aracari
If you'd like to experience a luxury trip to Peru similar to this trip, have a look at our Classic Luxury Peru itinerary.
Destination Inspiration 
To explore more of Peru's incredible destinations, have a look at our Peru destination page.
Questions or queries? We'd love to hear from you. Contact us or email travel@aracari.com