One of the most fascinating aspects of visiting Peru is getting to know the country's many unique herbs. Peru has a wealth of endemic crops and herbs, many of which make tasty additions to meals or have helpful medicinal uses.
Muña: A Favorite Among Peruvian Herbs
One of the Peruvian herbs you'll most love is muña, a mint-like Peruvian medicinal plant that makes for excellent tea. Once you first spot muña, you'll start to see it everywhere around Peru – on restaurant menus, in teas, and at herbal shops. So what makes muña so special?
What Is Muña?
Muña, also sometimes called Andean mint, is a bright green plant that grows in the Andes highlands near cities like Cusco and Puno. This woody shrub is known for its ability to stay such a vibrant color even during the bitter cold months of dry season, and for its lovely small white flowers.
You'll notice muña's minty scent right away, and if you pass it in the wild, you probably won't be able to resist inhaling its crisp aroma. Many communities have relied on muña for centuries, as it's been used for all kinds of remedies over the years.
Some locals in the region will gather muña to sell at local markets. They'll often bunch muña with other Peruvian herbs like cilantro and black mint, which you can buy for a refreshing pick-me-up.
One of the most common ways to enjoy muña is in tea. Its refreshing flavor is reminiscent of peppermint tea, but with its own unique flavor profile. You'll also find muña in many sauces, soups, and chupe stews. The herb is also a key component in traditional condiments used by shepherds in the Aymara community. Muña has even been enjoyed as candy and as a liqueur!
Benefits Of Muña
Muña is high in calcium, iron, and phosphorus, making it beneficial for strong bones and teeth. It is said to be good for digestion, so you'll often encounter Peruvians sipping a cup of muña tea after a big dinner. The herb is also believed to help ease altitude symptoms, especially if you experience stomach pain at high altitudes.
In Andean communities, muña has also traditionally been used in Peruvian plant medicine to boost the immune system. It's also been used as a remedy for health ailments like arthritis, pain, and flu, though people are advised to use it in moderation. The Inca were even believed to drink muña tea to ease sore throats, so it's been used as a Peruvian medicinal plant for quite a long time.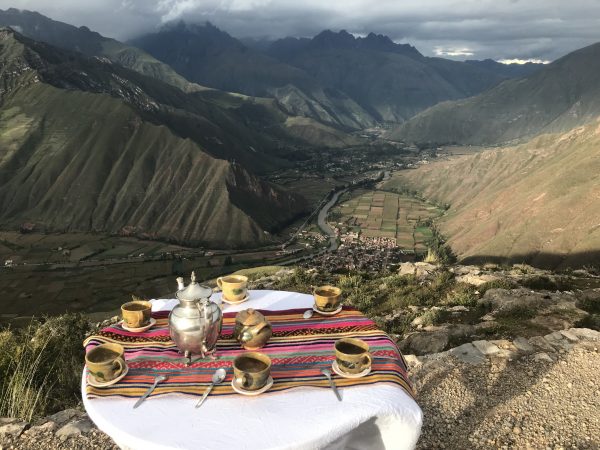 One of Aracari's exclusive experiences, our pop-up mountain tea break in the Sacred Valley, allows you to get up close and personal with the herb. You'll be invited to pick fresh muña to boil in water for a fresh cup of tea. Then, you can sip on your freshly-picked cuppa while gazing out on the sweeping mountain vistas of the Sacred Valley. We'll drink to that!
If you're looking for things to do in Peru,  browse Aracari's Peru itineraries to learn about the history, traditions and cuisine of Peru.