Setting travel resolutions and dreaming about where you'll explore in 2018? As the year draws close, we've put together a rundown of one-of-a-kind inspiring experiences in Peru, Bolivia, and the Galapagos we think should make your 2018 travel bucket list.
2018 Travel Bucket List Inspiration
1. Travel on South America's First Luxury Sleeper Train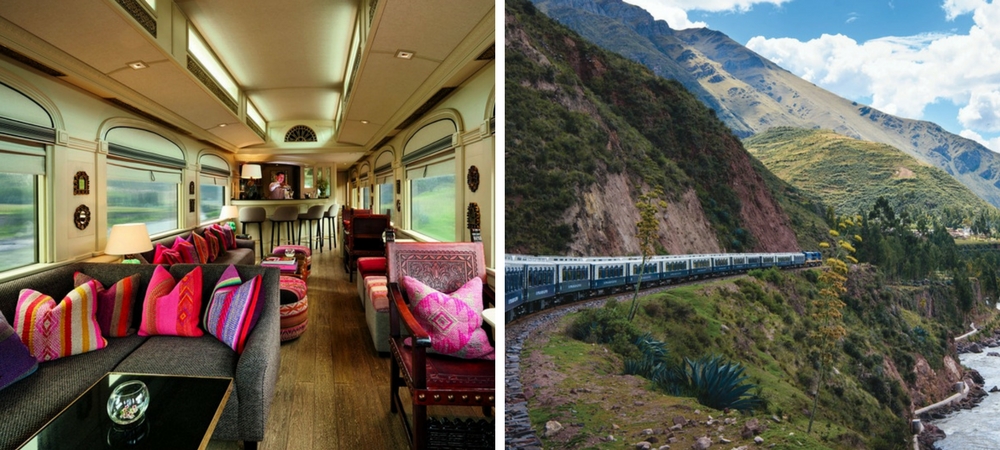 Hop aboard the Belmond Andean Explorer, South America's first luxury sleeper train. Of their four routes, we particularly recommend the 3 day / 2 night trip from Cusco, the capital of the Inca empire, to Puno, on the shores of Lake Titicaca, and onwards to 'The White City' of Arequipa. Launched mid-2017, our team tested out the first class service and came back raving that it was one of the most attentive and accommodating services available in Peru. If you're interested in train travel, check out this Luxury Peru by Rail itinerary.
2. Discover a New Specie in the Amazon Jungle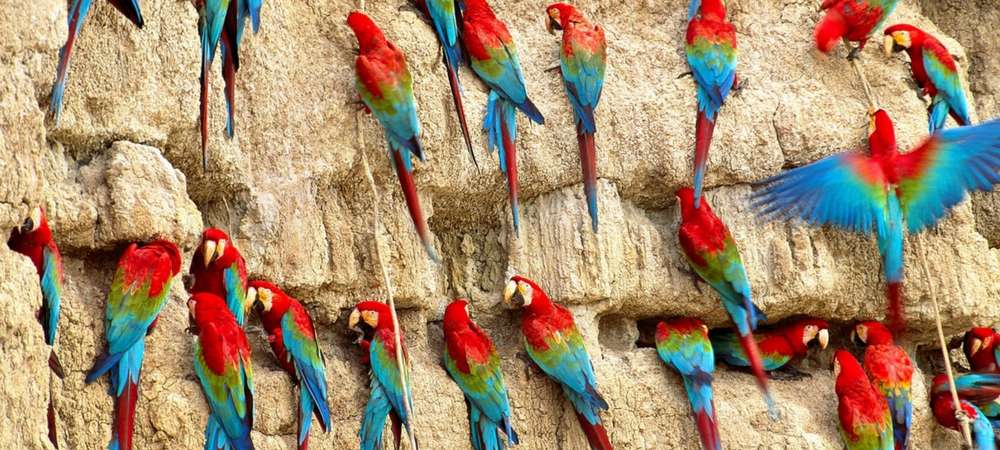 Venture into the heart of one of the richest and most bio-diverse regions on the planet, the Tambopata National Reserve. Here you can stay at the most remote Amazon Lodge in Peru,  Tambopata Research Center, and participate in the incredible conservation initiative Wired Amazon. This citizen's science project allows you to tiptoe through the Amazon Jungle with professional scientists, collecting insects and identifying new species. The project discovers about one new species per month, and the traveler who discovers it, gets to name it too!
3. Stargaze on the Salar de Uyuni Salt Flats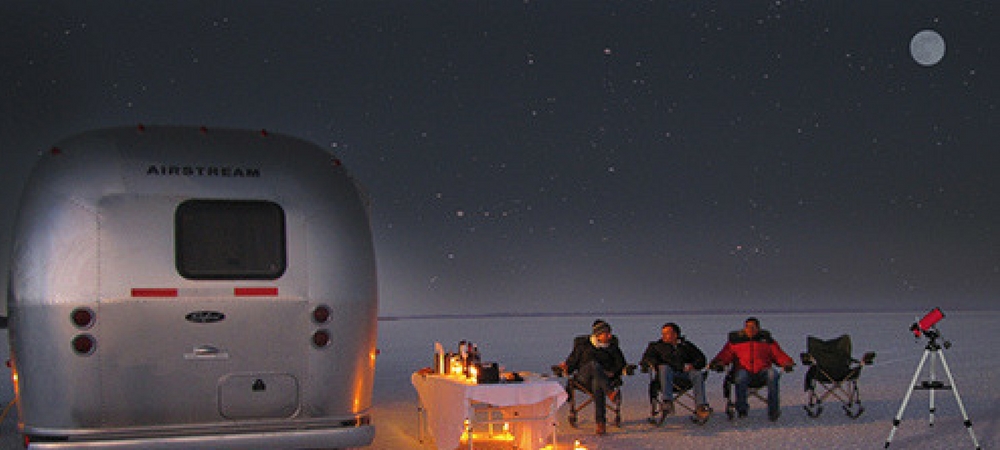 Located at altitude and almost no light pollution thanks to a sparse population, the Salar de Uyuni salt flat in Bolivia is one of the best places to stargaze in South America. Head out onto the Salar come nightfall with an expert astronomer who will point out planets and the likes of constellations of the southern hemisphere and distant galaxies, seen both with the naked-eye and through a telescope. For more travel inspiration on Bolivia and visiting the surreal Salar salt flats, check out our Highlights of Bolivia itinerary.
4. Hike the One-Day Inca Trail to Machu Picchu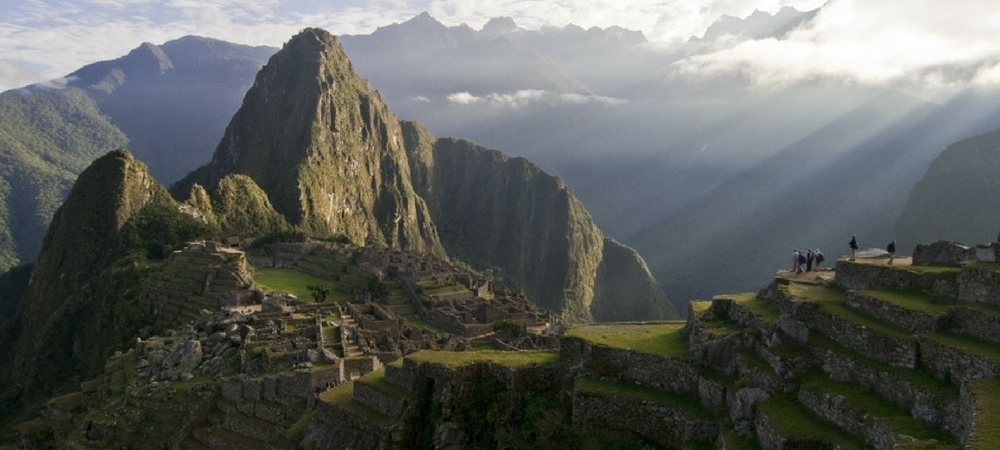 Named by the New York Times as one of the New Seven Wonders of the World, Machu Picchu is a must for any travel bucket list. And, there is no better way to get there than the same way the Incas themselves did – walking through the iconic Sun Gate after a trek on the Inca Trail. For those without enough time to hike the multi-day camping trek to Machu Picchu, or simply not looking to camp, the one day Inca trail to Machu Picchu is a fantastic alternative (and you don't need to book it as far in advance!). Aracari offers the trek on a private basis with expert guiding.
5. Let World-Renowned Chef Pedro Miguel Cook You Dinner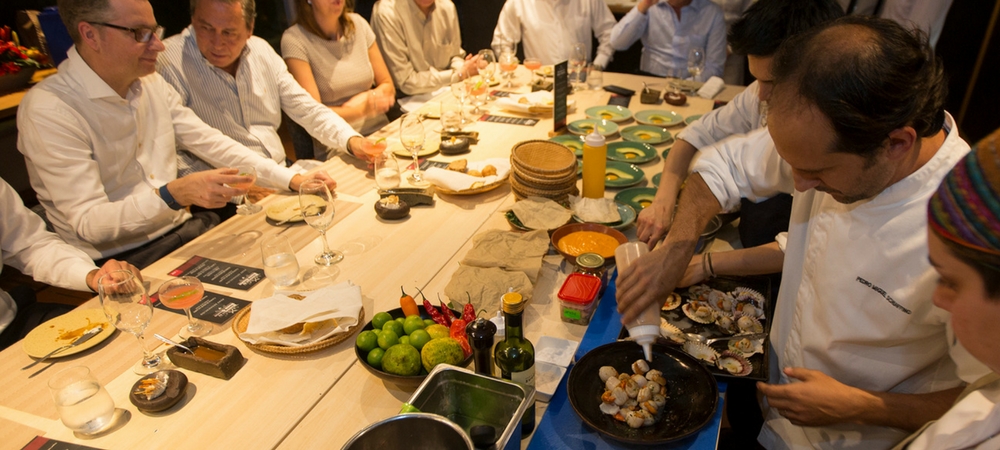 Peru is the food mecca of South America, winning the title of best culinary destination on earth for 6 years running, and proudly laying claim to a selection of the best restaurants in the world. This gold gastronomic status is largely thanks to the innovative chefs pioneering the culinary scene. One of these chefs is Pedro Miguel Schiaffino of MALABAR and Amaz restaurants, both on the 2017 list of Best Restaurants in Latin America. Specializing in championing the flavors and ingredients of the Amazon, chef Pedro will cook you a 5-course tasting menu sharing anecdotes as he whips up delicious and beautiful plates. Foodies can check out more culinary themed experiences in Peru.
6. Spot Blue-Footed Booby Birds in the Galapagos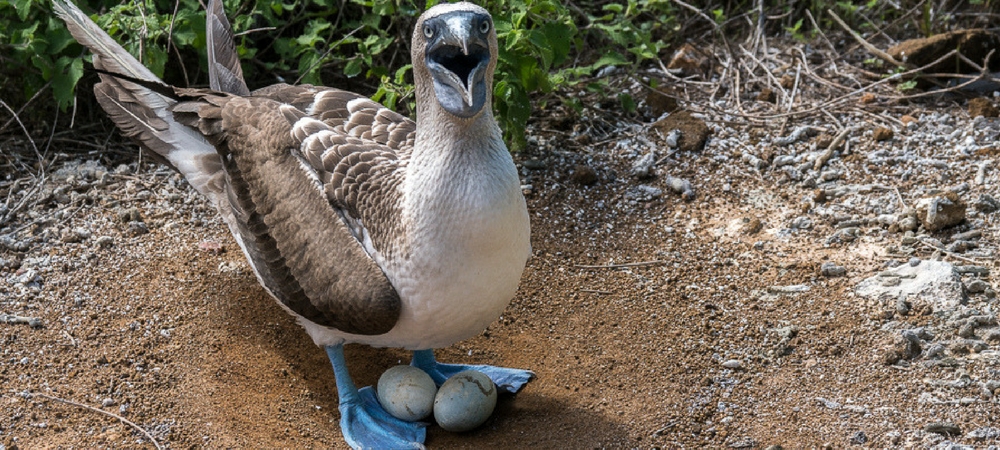 Sail into 2018 on a luxury naturalist cruise in the Galapagos, home to an astonishing array of unique wildlife that helped inspire Darwin's Theory of Evolution. Island hop to spot iconic species including blue and red-footed boobies, the flightless cormorant, land iguanas and Magnificent frigatebirds. Expect to swim with sea lions, get close to giant tortoises and snorkel in crystal waters dotted with marine life, before spending the evening relaxing in your luxurious cabin – where you might even spot the shadow of sharks from your balcony! The best luxury cruise options can be compared on our luxury Galapagos cruise page.
7. Challenge Yourself with the Multi-Day Ausangate Trek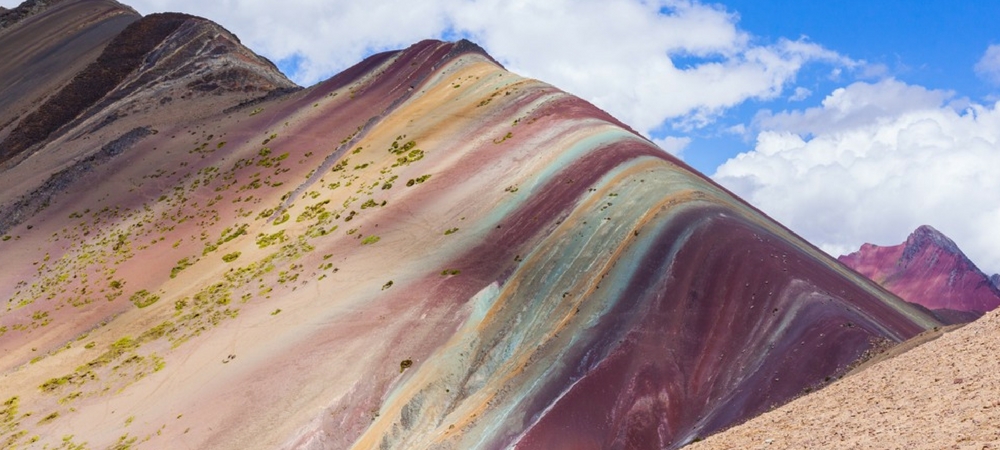 The Ausangate trek rounds the highest sacred mountain in Cusco, Apu Ausangate, and passes by majestic rainbow mountains along the way. Include an adventure challenge on your 2018 travel bucket list, and spend 5 days trekking lodge-to-lodge in the gorgeous Andes mountains, accompanied by llamas and horses. Aracari can also arrange private camping treks according to the time you have available and fitness level – explore our Peru treks or contact us for more information.
8. Dance in the Streets of Oruro During Carnival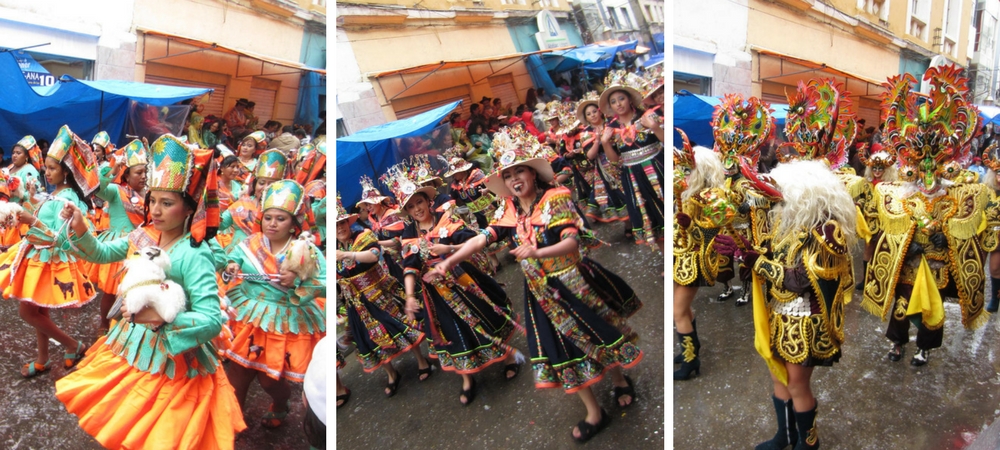 Everyone has seen pictures of the vibrant costumes, colorful dances, and lively celebrations that take place during South America's carnival festivities, the week before lent. Make it the year to see it all in person! One of the best places to witness the spectacle is in Oruro, Bolivia, where the celebration is so fantastic and culturally significant that it has been declared one a UNESCO Masterpiece of the Oral and Intangible Heritage of Humanuty. Check out our handy 2018 festival calendars for Peru and Bolivia to help plan your trip to take in the region's cultural highlights.
9. Meet the Most Important Living Bolivian Artist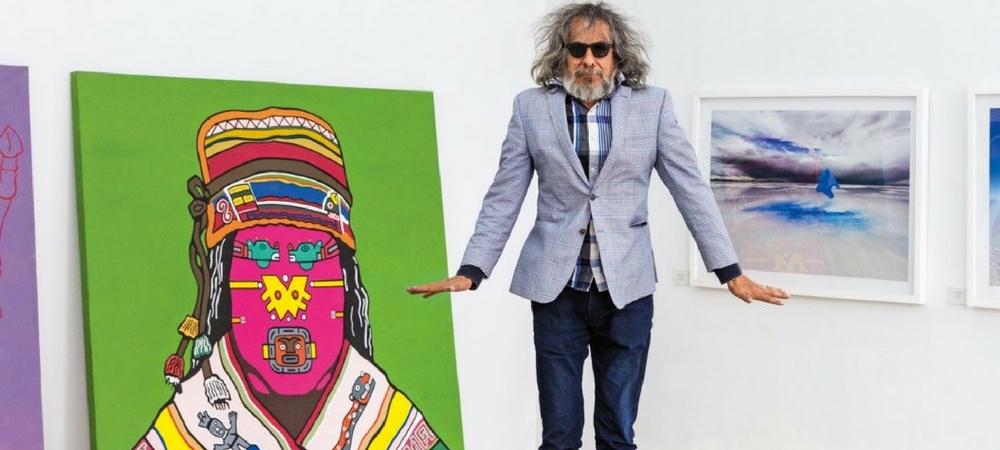 Longtime friend of Marisol Mosquera, Founder of Aracari, Gastón Ugalde, is Bolivia's most celebrated living artist and a visual arts leader in the region. With a career spanning half a century, Ugalde is known by critics as the 'Andean Warhol' and is considered a video-art pioneer in Latin America. Gastón is one of Aracari's many specialist guides, and we can arrange for you to visit his gallery in La Paz, Salar Galeria, for a chat and private tour with the artist himself.
10. Visit Peru's Best Kept Secret: Chachapoyas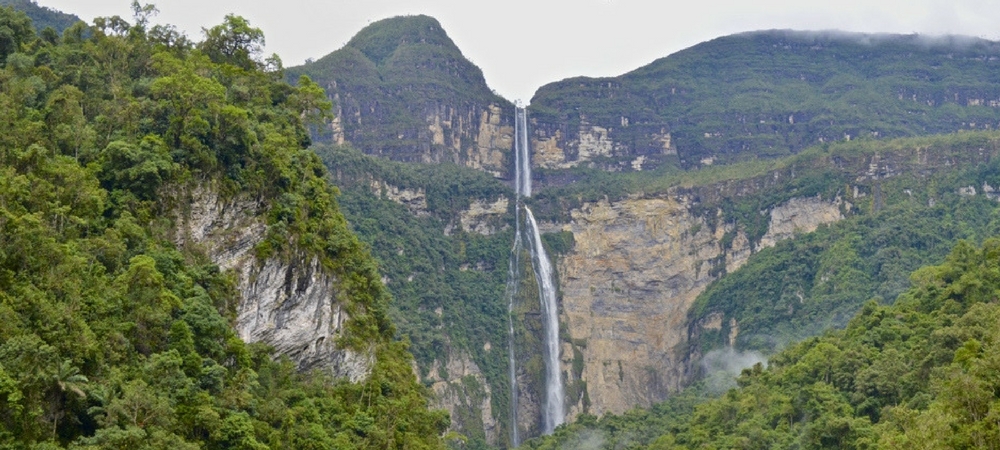 With mountainous terrain, striking hidden waterfalls and archaeology of tremendous cultural significance hidden amid the undergrowth – Chachapoyas is truly 'Indiana Jones' territory. A junction of the Amazon Rainforest, the Andes mountain range and the coast, Chachapoyas sits off-the-beaten path but 2017 made access easier with the opening of a new cable car to the pre-Incan ruins of Kuelap and direct flights from the capital Lima to the region (Jaen) for the first time: go before everyone else does. Check out our Peru's Best Kept Secret itinerary.
---
Ready to start checking things off your 2018 travel bucket list? Contact us for expert trip planning advice, for your tailormade trip Peru.