Why choose a Peru Honeymoon?
A vacation to Peru is described by many as a once in a lifetime trip, full of incredible experiences that create lasting memories – surely that's the perfect recipe for a honeymoon trip? Whether you need relaxing post-wedding down time or are geared up for a big adventure together, Peru is a fantastic choice as a unique honeymoon destination.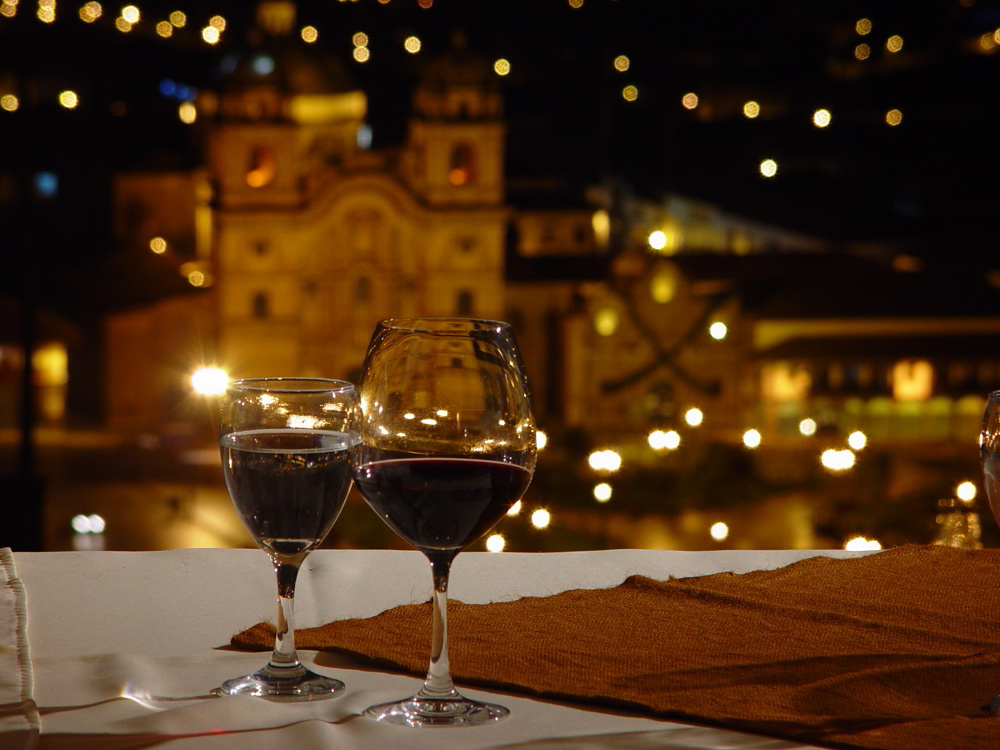 Aracari Travel specialises in tailormade luxury trips to Peru, so we can put together the perfect Peru honeymoon that ticks all your boxes, whatever they may be.
Idyllic beach retreat? Hiking boots and adventure? Just lots of champagne and spa treats? The first step is to decide what style of honeymoon you both want. Here's some inspiration for a special romantic honeymoon in Peru with Aracari.
Stylish Explorers: A Shared Adventure
Inca Trail & Luxury Trekking in the Andes of Peru
If you'd like to take on an adventure that offers a shared sense of accomplishment and the ultimate honeymoon bragging rights, this is perfect!
Trekking in Peru is one of the best ways to discover the country's magnificent natural beauty – taking in stunning glacier-clad mountain passes, traditional Andean villages, rare wildlife and of course the ancient archaeological sites. There are many options to choose from, including the famous Inca Trail to Machu Picchu, the iconic lost city of the Incas, high on many people's bucket list.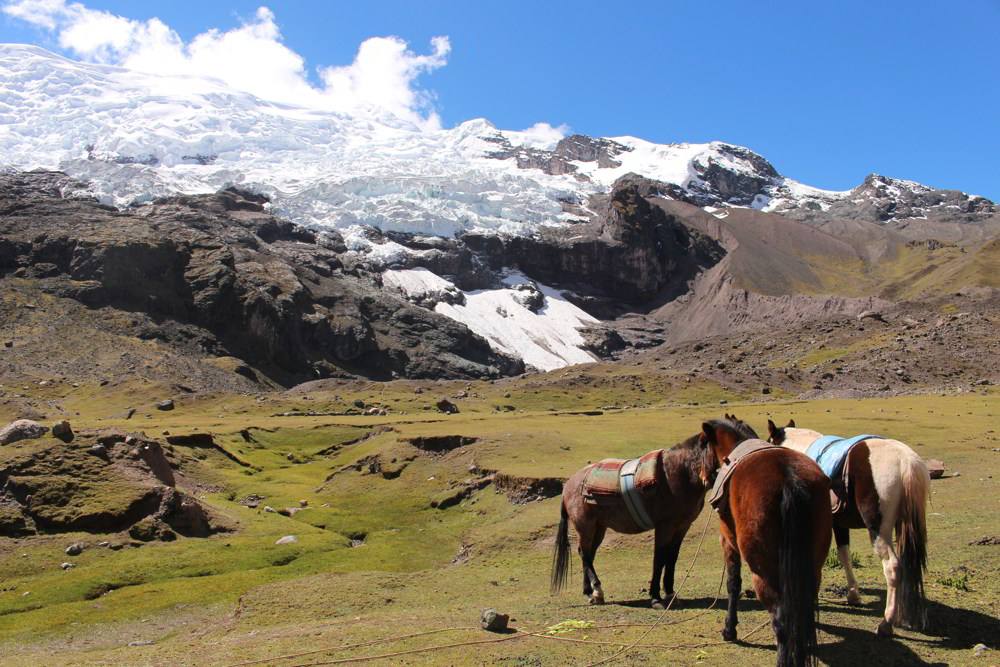 Trekking doesn't mean roughing it! For the perfect honeymoon hiking experience, have a look at our luxury trekking options. Our Lodge to Lodge treks, Ausangate or Salkantay, mean you have a comfortable bed awaiting you each night. And for our camping options, we offer luxury private treks with dedicated personal chefs, top-of-the-line camping equipment and more.
Horseback Riding in Colca Canyon & Eco-Spa
Another fantastic destination for a memorable honeymoon trip is Colca Canyon, one of Peru's most dramatic and spectacular natural landscapes, said to be the deepest canyon in the world, and source of the Amazon river.
We recommend Colca Lodge as an accommodation base, which includes an inviting eco-spa and natural hot springs, which is perfect for a relaxing and pampering, whether or not you venture out on excursions!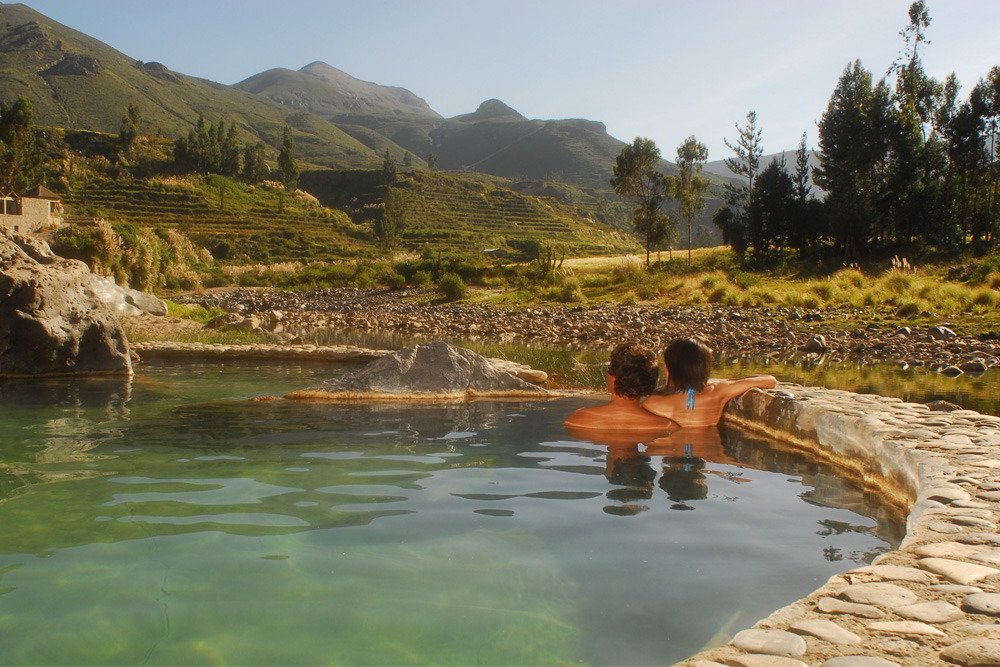 From here, you can explore the breath-taking beauty of the canyon on foot or horseback. Known for its unique geology and wildlife you're likely to spot wild vicuñas, and condors soaring overhead.
Explore the Rainforest from an Amazon Lodge
For a true off-the-beaten-track exotic adventure in Peru, and to connect with nature in the heart of the country, consider a honeymoon trip to one of our carefully selected Amazon Lodges in the Tambopata National Reserve. Deep in the Amazon rainforest you'll have the chance to explore the region on canoes, canopy walks and even night hikes, immersed in the beauty and tranquillity of the most biodiverse region in the world.
One of our favorites is Inkaterra Reserva Amazonica which offers a spa, private villas with plunge pools and butler service and gourmet cuisine. For a Peru honeymoon wow factor, there's the chance to sleep in a tree house and enjoy a sunset cruise with canapés and cocktails.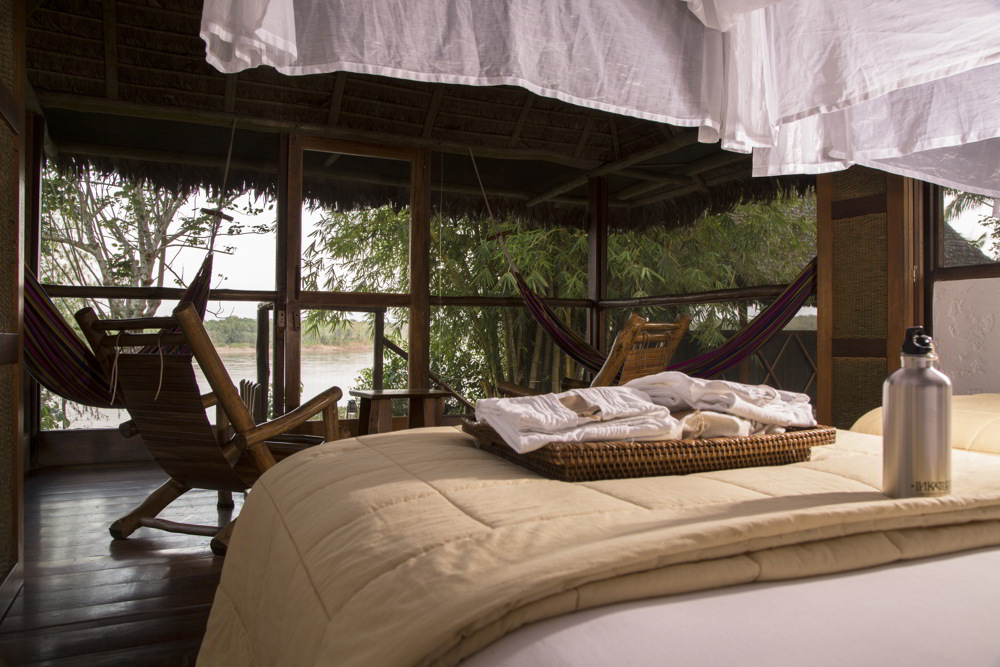 Luxury Seekers: Pure Decadence and Bliss
If you want your honeymoon to be a truly luxurious experience with 5-star luxury all the way, we can take it up a level, and give you the best of Peru, pulling out all the stops. A luxury Peru honeymoon with Aracari will be a truly unforgettable experience.
Dine at the Number 1 Restaurant in Latin America
Peru is the gastronomic capital of Latin America boasting many top restaurants, so it's fitting that Lima is home to the top restaurant in Latin America's 50 Best Restaurants list (number 4 in the world!) – Central.
We'll arrange a reservation for their lavish 16-course Altura Mater tasting menu, a tour de force of Peru's diverse produce and flavors.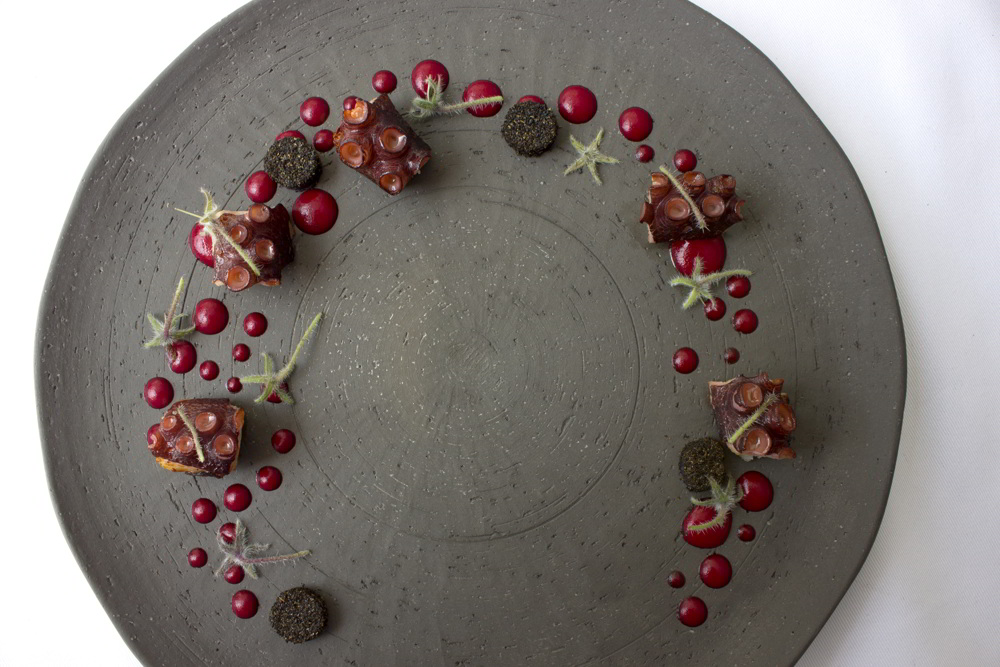 Relax on Peru's Sunny Northern Beaches
If a palm-studded, beach-resort honeymoon is what you're after, then Peru's 1300 miles of coastline, particularly on the tropical Northern Beaches, is an excellent choice with year-round sunshine, and away from tropical storms that threaten other beach destinations. The northern beaches offer newlyweds a range of luxury hotels in Peru including five-star resort Arennas and our favourite chic beach getaway KiChic.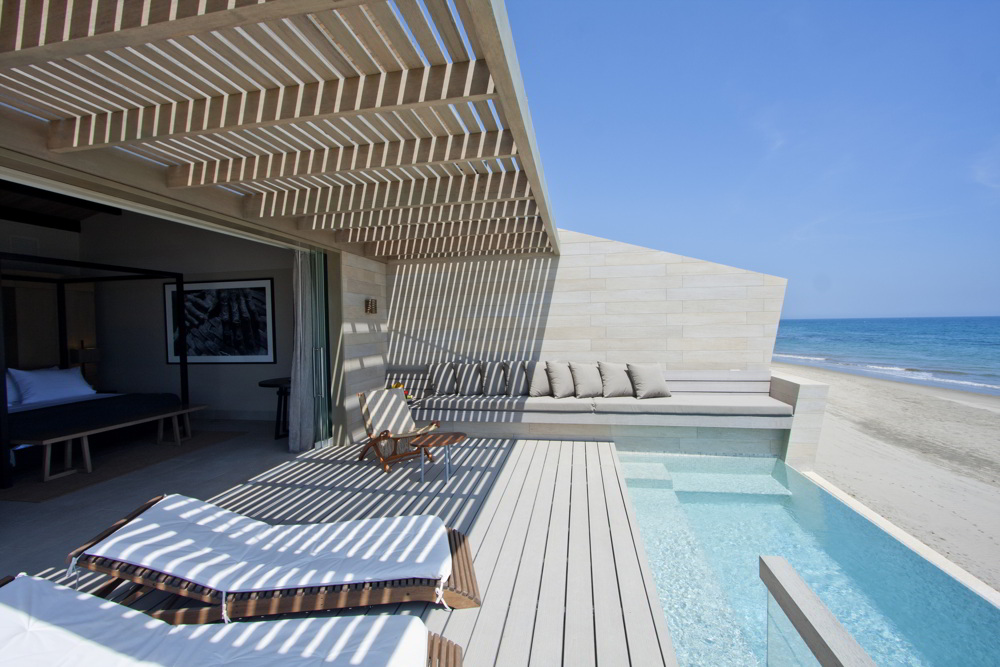 Whether you want to spend all of your Peru honeymoon relaxing with your toes in the sand, or save this for some post-adventure down time, the beach is a great honeymoon choice.
Travel to Machu Picchu on the Luxury Belmond Hiram Bingham Train
The ultimate luxury arrival to Machu Picchu is about the Belmond Hiram Bingham. You'll be treated to a gourmet four-course meal, an open bar including champagne and live Andean musicians. The observation car is the perfect spot to enjoy the scenic journey through the Sacred Valley.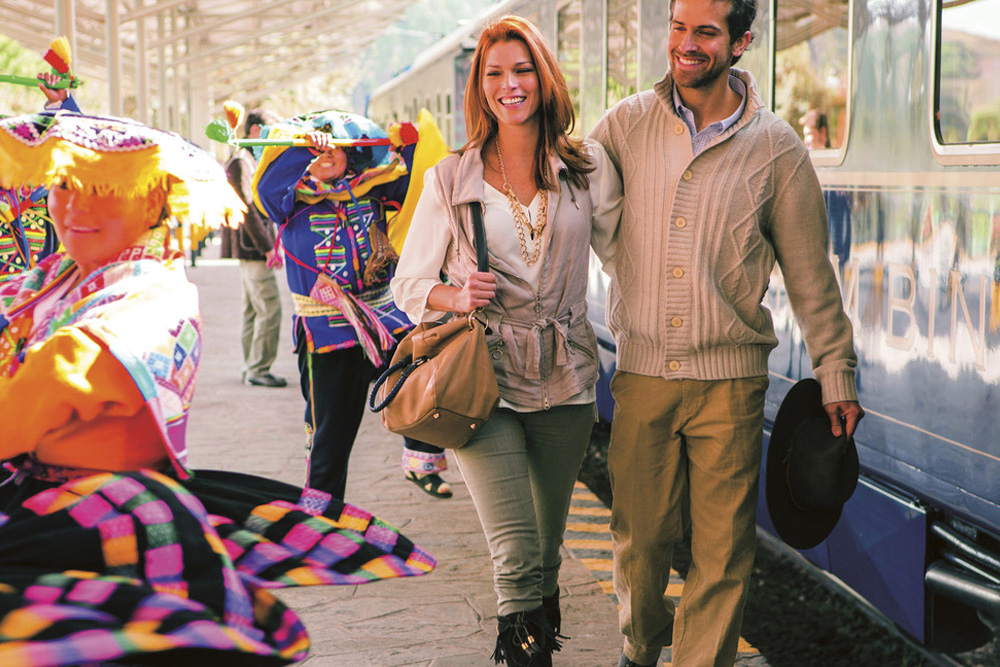 Cruise through the Amazon in Luxury and Style
A once in a lifetime experience is the chance to venture into the Amazon rainforest, the most bio-diverse place on the planet. Aboard one of our carefully selected Luxury Amazon Cruises, you can experience the wonder of the Amazon without compromising on luxury and style.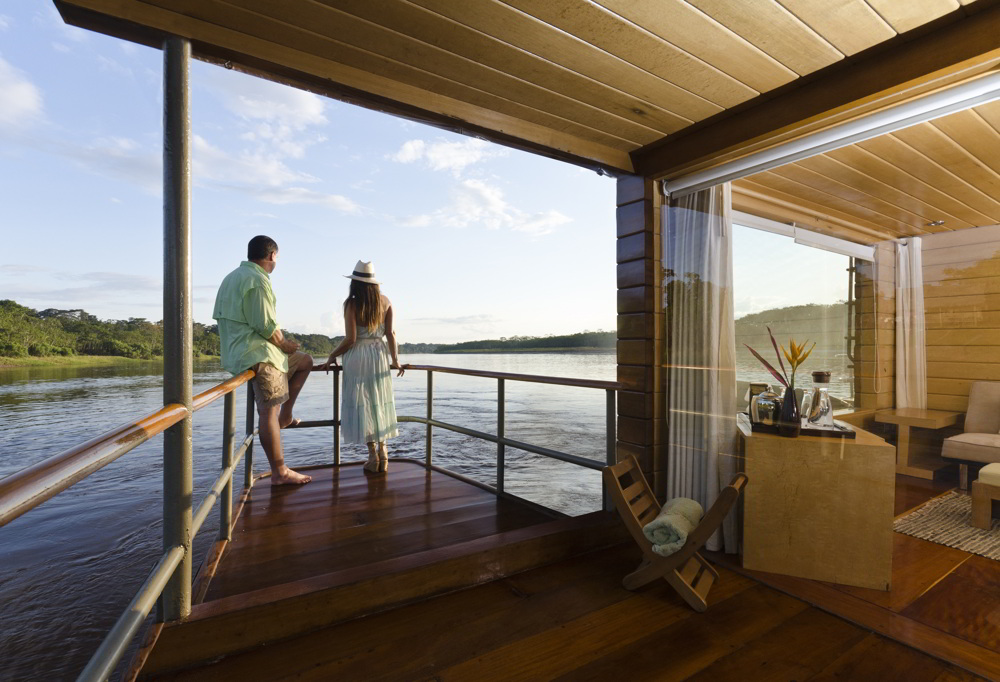 Escape to the middle of Lake Titicaca
The highest navigable lake in the world, Lake Titicaca is known as the birthplace of the Inca gods. On a quiet corner of Anantaní island, lies Amantica Lodge, a luxurious private villa escape on the water's edge – the perfect romantic hideaway for a honeymoon.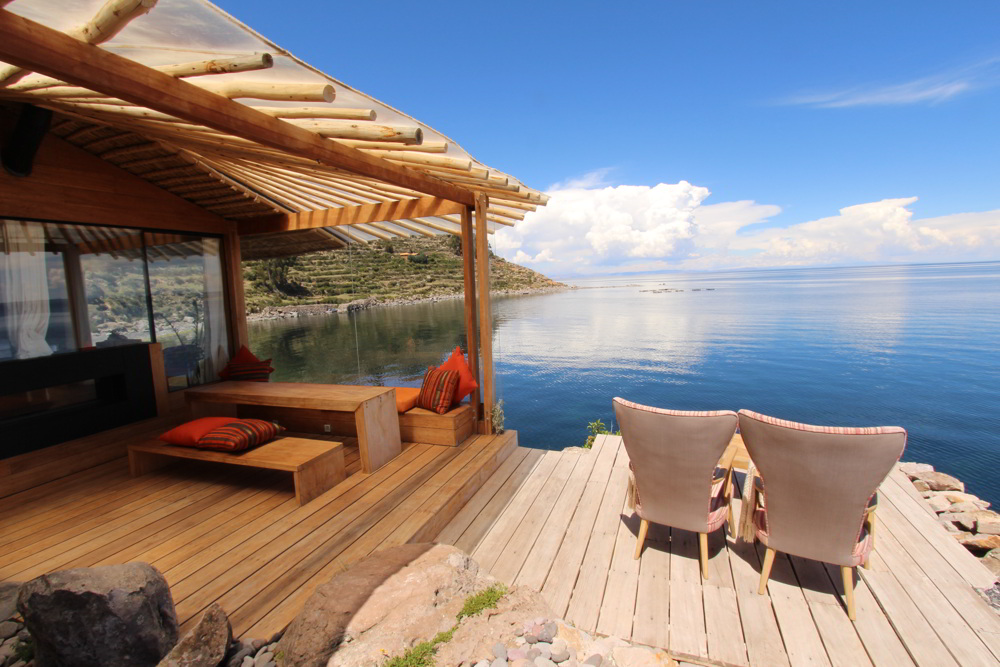 Make it Memorable with Aracari Special Touches
Regardless of what type of trip you choose for your honeymoon, you want it to be special and memorable. At Aracari we're experts in tailormade, luxury travel, so we're ready to help you add those special romantic touches that will enhance your Peru honeymoon experience. There's no limit to what we can do, but here are a few examples of what we can arrange:
Chilled champagne. Everyone loves a bit of bubbly for a special moment. Imagine surprising your loved one with a chilled bottle of your favourite vintage in the most unusual and unexpected location – like on the desert dunes in Paracas at sunset.
Pop up gourmet picnic for two. We'll arrange for a gourmet meal to be prepared by a private chef and set up for you at a secluded spot, such as in our secret location overlooking Sacsayhuaman ruins on the edge of Cusco.
Professional Photography. A honeymoon is a trip to remember. If you'd like a professional to help create lasting memories, we can arrange for a photographer to capture the moment, like arriving at Machu Picchu, or a fun newly-wed photoshoot in the Sacred Valley.
Spa & Pampering. Honeymoons are about spoiling yourselves together. Whether you're in a 5-star hotel, or camping on a luxury trek, we can arrange indulgent couples' massages and other treatments.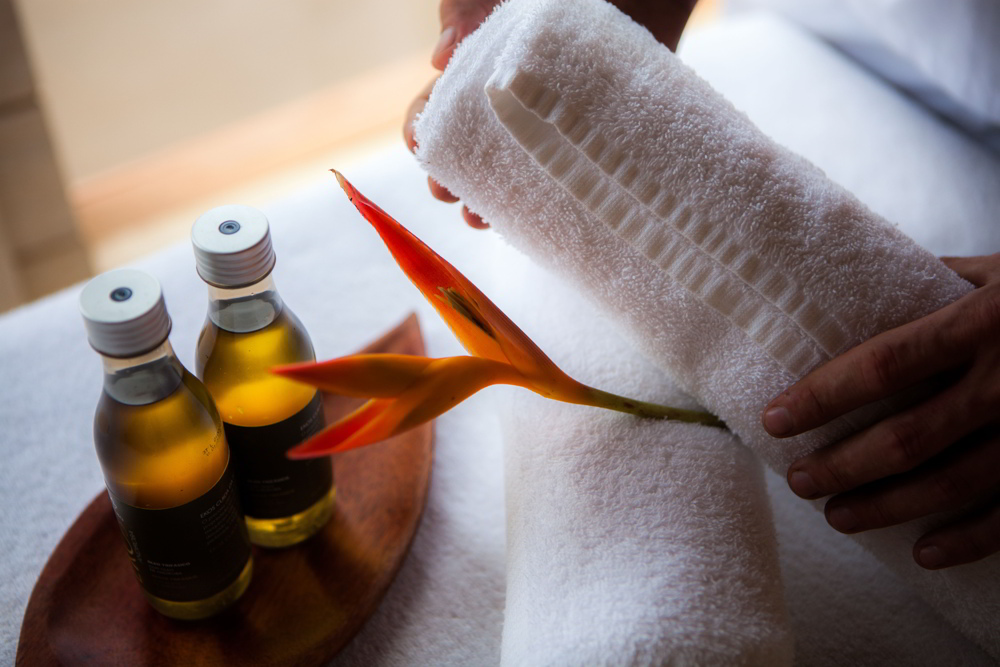 Want More Ideas or Ready to Book?
For a memorable journey to Peru for your honeymoon, have a look at our Classic Luxury Peru itinerary which takes in the classic sites that Peru has to offer.
As a destination, Peru works well for a short mini-moon break with many easily accessible destinations, as well as longer multi-destination honeymoon trip including more remote hideaways. So whether you want a quick escape or a lengthy adventure, in Peru we've got you covered.
Aracari specialises in luxury tailormade trips to Peru, Bolivia and the Galapagos, so the possibilities are endless and we're ready to create the perfect bespoke trip for you and your loved one. If you can imagine it, we can make it happen. As experts on Peru, we will use our connections to secure special romantic extras, upgrades and surprises where we can!
To start planning your unforgettable honeymoon to Peru, contact us or email travel@aracari.com