Bolivia is a mesmerizing and thrilling destination for adventure travelers. It boasts some of the most beautiful and diverse scenery in the world. Travelers can experience soaring mountain peaks, pristine rainforest, extraordinary salt flats and sweeping savannahs, all in one land-locked country.
In today's blog post we're sharing five of our favourite itinerary stops. Be sure to consider these for your next Bolivian adventure:
Uyuni Salt Flats
Bolivia's expansive salt flats (Salar de Uyuni) draw curious travelers from all over the world. The largest salt flat in the world is also one of South America's greatest natural wonders. As you travel across these pristine plains, you'll happen upon colorful lagoons, rock gardens, geyser fields and cactus forests. It's an otherworldly experience you'll never forget.
Aracari can arrange a private excursion to the salt flats as part of your Bolivian itinerary. This intimate tour is led by expert guides who will take you to the most exhilarating spots.
The salt flats are located in southwest Bolivia, near the crest of the Andes. You can fly to Uyuni from La Paz in less than an hour, which makes it very accessible as part of a wider itinerary.
Eduardo de Avaroa National Park
Eduardo de Avaroa National Park is another extremely remote but utterly breathtaking location in southwest Bolivia. In fact, the ethereal scenery of the park pairs perfectly with a trip to the salt flats.
Eduardo de Avaroa National Park boasts a diverse and complex array of landscapes in just 7,147sq km (2,760 square miles). Mountains, high desert plains, active volcanoes, hot springs, fumaroles and a mysterious red lake are just some of the things you can expect to see. There is also a huge amount of wildlife in the park, including three types of rare flamingo, 10 species of lizard, pumas, Andean foxes and vicuñas.
Lake Titicaca
The Bolivian side of Lake Titicaca is widely believed to be more beautiful than the Peruvian side. South America's largest lake is situated just 72 kilometers (45 miles) from La Paz and sits at 3,812 meters (12,506 feet) above sea level. It's rich in culture, history and nature, making it ideal for families, couples and adventure seekers alike.
We recommend spending a few days exploring the Lake. An unmissable visit is the mythical birthplace of the Inca empire: the Isla del Sol, the largest inhabited island on the lake. Views from the island onto the Cordillera Real are breath taking and hiking along the Inca road and visiting archaeological sites that scatter the island are definite musts. Other Highlights include the exploring islands of Suriki where the Uro people still make totora (reed) boats, and the tiny but historically significant island of Pariti, an ancestral pilgrimage site. The lake side town of Copacabana, whose Cathedral dedicated to Virgen de la Candelaria, is home of the most important pilgrimage in South America is the take off point for trips Lake excursions.
Moon Valley
Travel just 10 kilometers (6 miles) from downtown La Paz and you'll find an incredible geological formation known as Moon Valley or Valle de la Luna. Here, a mountain has been worn down by years of erosion, leaving behind a maze of spires and canyons.
There are two circular walking routes at moon valley, providing spectacular views of this remarkable landscape. The longest route takes about 45 minutes to complete but rewards walkers with the best views. The second route takes only 15 minutes, but the paths can be narrow and difficult.
Travelers will be surprised to see an array of colours in the rock (from beige to dark red and purple) created by the varying mineral content of the mountain. As for flora and fauna, not much lives here beyond a few species of cactus and hardy lizards.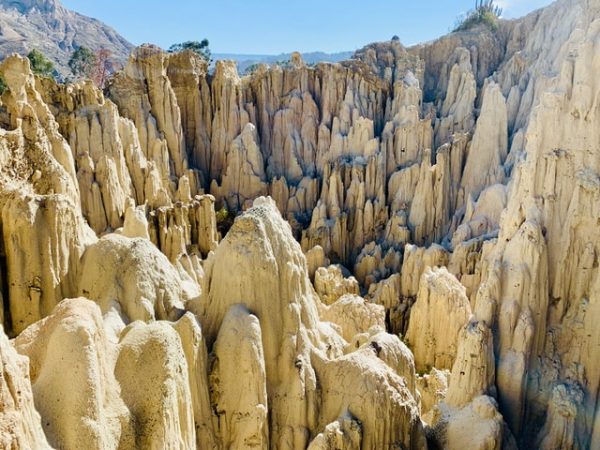 City of Sucre
Sucre is Bolivia's constitutional capital. It is Bolivia's most beautiful and historically important city. It's a UNESCO world heritage site full of colonial architecture, looming towers and rich culture. There is much to see in and around Sucre, so allow a few days to take in all the sites. Our highlights include:
– La Recoleta, a colonial-era church and convent high up on a hill that offers panoramic views of the city.
– Casa de Libertad (Freedom House), where the Bolivian declaration of independence was signed in 1825.
– Tarabuco Market, an authentic and vibrant indigenous market known for high-quality arts and crafts.
If you're feeling inspired to visit Bolivia and want to build a custom itinerary taking in some – or all – of these sites, get in touch with an Aracari travel consultant today.