Visiting the Galapagos islands is one of the most coveted, once-in-a-lifetime trips in the world. So when you finally get to tick if off your bucket list, you want to do so knowing that you experienced it the best way possible.
That's certainly how I felt after an incredible six-day cruise aboard the Galapagos Sea Star Journey, one of Aracari's top Galapagos cruise recommendations. Up-close encounters with other-worldly landscapes and creatures that inspired Darwin's Theory of Evolution surpassed all expectations, coupled with first-class service and excellent guiding.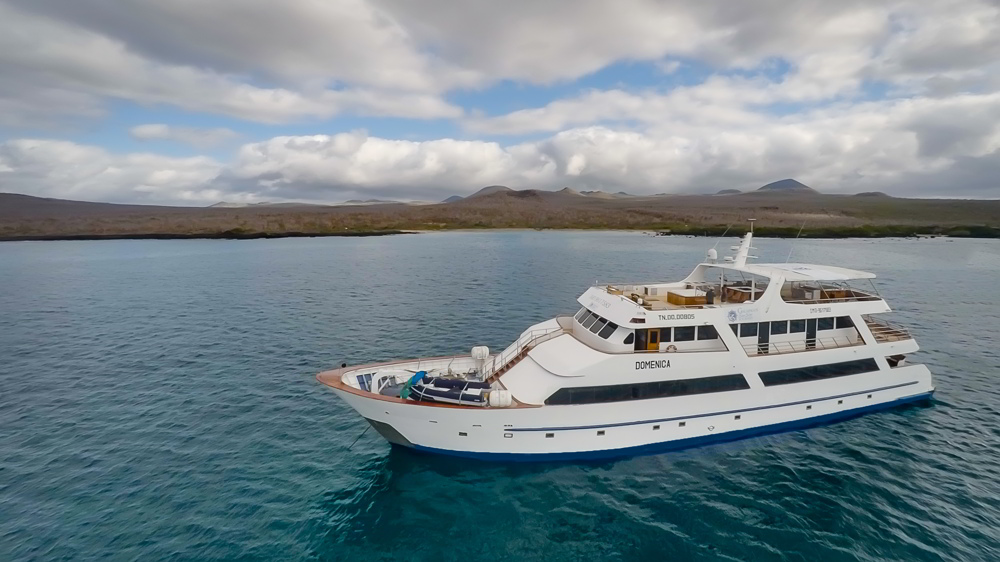 ---
Contact Aracari or email travel@aracari.com to speak to one of our expert travel planners – we'll discuss your needs, travel style and budget before putting together the perfect tailormade Galapagos itinerary just for you.
---
Welcome aboard the Galapagos Sea Star Journey
Stepping aboard the Galapagos Sea Star Journey, we were warmly welcomed by the cruise manager Mirielle, who showed us to our cabin and let us know that lunch would be served in a few minutes. There we met our fellow travellers, including a family of four from Boston, a multi-generational family of eight from California, and a retired couple from Germany. We were on our honeymoon (and in our early 30s), and it was clear that this type of cruise appeals to, and is suitable for, all ages and occasions!
The Galapagos Sea Star Journey is a small vessel with only eight cabins – all spacious and tastefully decorated. In our standard double cabin on the main deck, we had a huge king-sized bed, wardrobe, writing desk and a couch under the large window. The bathroom was also spacious with a large shower. Both were bright with lots of natural light coming through the windows, although there was no balcony, which some other cruises offer, such as the Ocean Spray.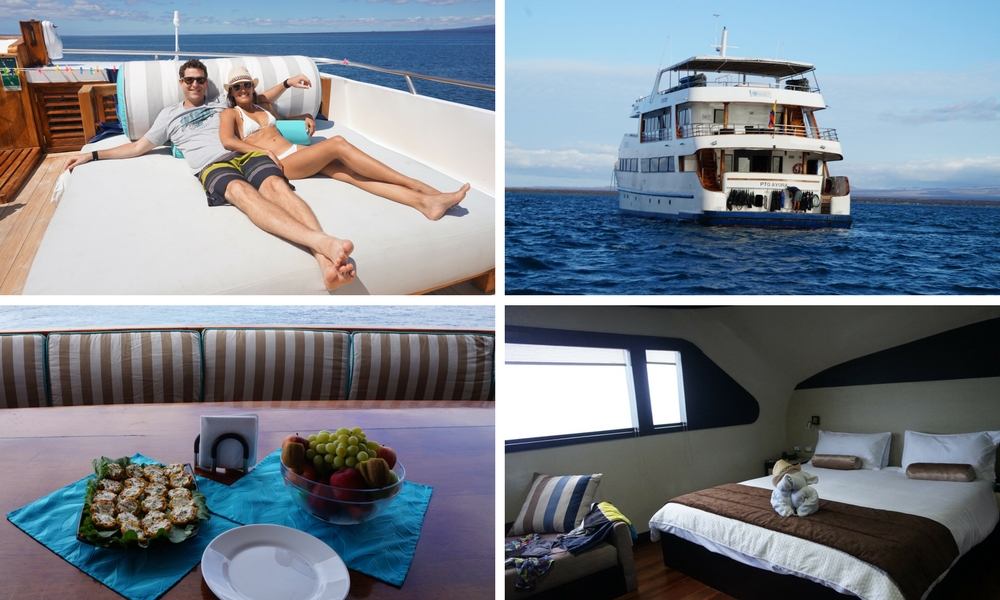 Galapagos Sea Star Journey also offers cabins with twin configuration, and most rooms can be converted into a triple using the pull-out sofa. Their impressive Sea Star suite is on the upper deck and feels like you have your own floating apartment with a large sitting area and panoramic windows.
The main dining area and lounge is cosy, though a bit dark, with three communal dining tables to accommodate the 16 guests on a shared basis, and a lounge seating area with board games and interesting books about the Galapagos.
My favorite part of the boat was the open-air top deck – partially shaded and partially in the sun, with sun loungers and two heated Jacuzzis to relax in. In between excursions this was the perfect spot to relax with a cocktail and a good book!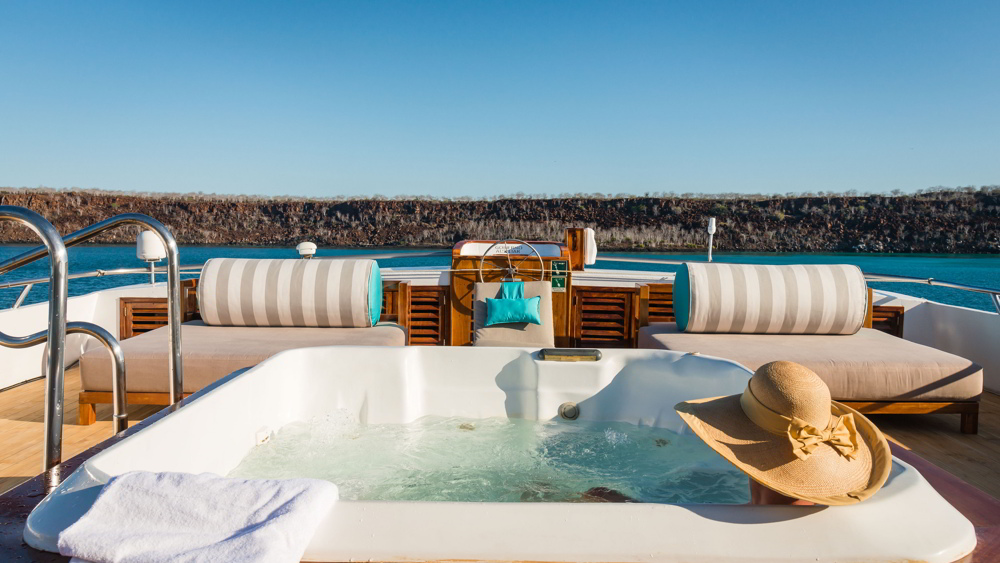 Itinerary and excursions from the Galapagos Sea Star Journey
When planning a trip to the Galapagos islands, you first have to decide whether to go for a cruise or land-based itinerary, then consider factors like which islands you want to cover, and what wildlife or excursions are a priority for you. There are so many options to choose from and elements to consider it's best to get expert help early on!
When comparing cruises, you of course want to look at the vessel, cabins, and amenities on offer. But as important is the itinerary, which follows strict rules set by the Galapagos National Park authorities to help mitigate the impact of tourism on this fragile ecosystem.
---
Contact Aracari and let your expert travel planner know if any islands, excursions or animals are priorities for you, and we'll offer suggestions of the best Galapagos cruise that meets your requirements.
---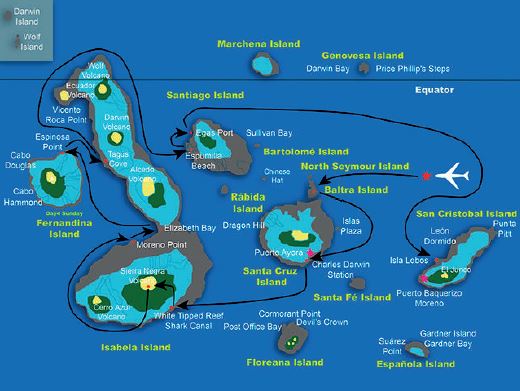 I opted for Galapagos Sea Star Journey's six day / five night Itinerary C for 2017, which covers a lot of ground, focusing on the Western Islands.
We visited Santa Cruz, Isabela, Fernandina, Santiago and San Cristobal islands. Here are some of my highlights:
Sierra Negro Volcano Hike. On our second day we went ashore at Puerto Villamil on Isabela island for a hike to Sierra Negro Volcano. It was an hour-long steep hike, but completely worth it for the incredible view looking down into the volcanic crater. Isabela is one of the younger islands, with several active volcanoes, and you really get a sense of the dramatic and ever-changing geology of the archipelago still in formation, by peering down at the lava fields within the crater.
Snorkelling with marine iguanas. Throughout our excursions we saw a lot of marine iguanas at almost every place we visited. But the most special was snorkelling with the amphibious creatures, and watching them swim gracefully through the currents and feed on the seabed.
Baby sea lions on the beach. Every month of the year offers a different highlight in the Galapagos. We visited in June and were lucky to see lots of baby sea lions, some only 2 weeks old, tentatively considering their first swim in the sea, all under the watchful eye of their protective mothers. It's incredible how close you can get to the animals, while respectfully keeping the recommended 2 meters' distance.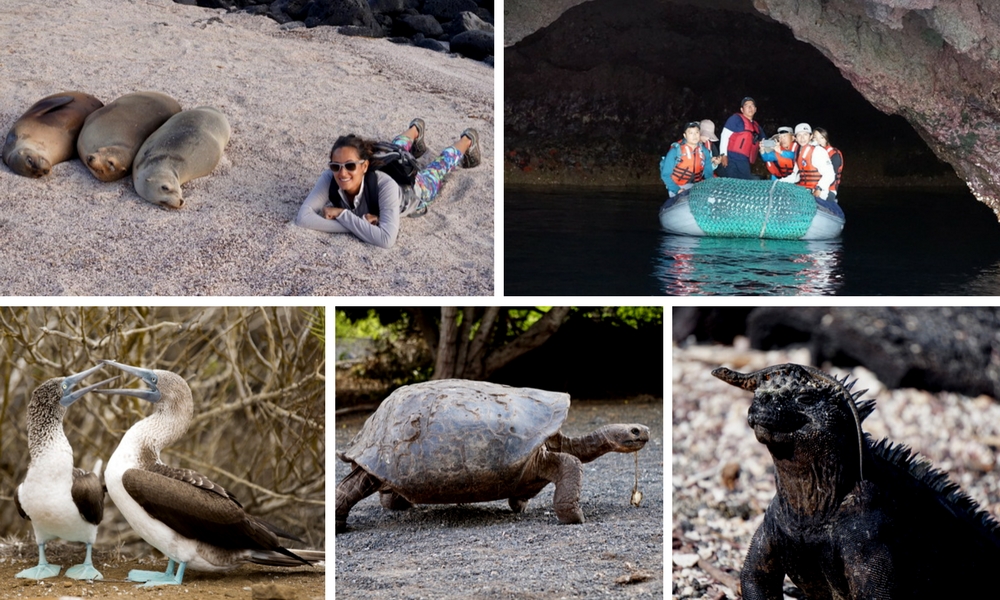 On all of our excursions we enjoyed excellent guiding from Christopher, our Galapagos National Park Guide, a native Galapagueño, from Santa Cruz island. Check out this feature on Christopher in the Telegraph! He was very knowledgeable about the flora and fauna of the islands, and had a clear passion for conservation and the need to protect his home.
Food and service aboard the Sea Star Journey
The highlight of the trip was the experience with the animals and the landscapes of the Galapagos. But we were also impressed on board. At the end of our cruise I realised I had forgotten what it felt like to be hungry! We were so well-fed with delicious spreads for breakfast, lunch and dinner, in addition to snacks waiting for us when we returned from excursions in the mornings and afternoons.
I particularly enjoyed the live omelette station each morning, the al fresco lunches at the large dining table at the stern of the boat, and the special BBQ dinner we enjoyed one night. We were introduced to delicious Ecuadorian dishes like ceviche (great to compare to the Peruvian version!), hornado, a spit-roasted pork joint, and bolon de verde, balls of mashed plantain, filled with cheese and served for breakfast – all very delicious! There was also a great selection of international fare, and enough variety to keep all palates happy.
As a celiac traveller following a gluten free diet, the staff were excellent at catering to my dietary needs. Whenever there was something I could not eat, they prepared an inventive alternative, such as yucca pancakes for breakfast, and as a result I never felt left out!
The Verdict: Galapagos Sea Star Journey vs other vessels
Overall, Galapagos Sea Star Journey offers a comfortable first class option for an unforgettable trip to the Galapagos. Choosing a small vessel means an intimate cruise and personal service. I really appreciated this on our excursions – at many landing sites our small group of 16 were the only humans in sight.
On the other hand, a small cruise means that on board amenities are limited. A larger vessel such as the Santa Cruz II offers more services such as a gym, gift shop, on board doctor, and generally more communal space, which might suit families with children. It also offers more opportunity to interact with other travellers, and can be a more cost effective option. You can read Caroline's review of the Santa Cruz II, if you're weighing up a small vessel over a large, as an example.
And if you're looking for a top-of-the-line luxury Galapagos trip, we'd recommend Origin and Ocean Spray or you can check out our full list of recommended Luxury Galapagos Cruises.
Galapagos Sea Star Journey is a motorised mono hull – while it's less rocky than a sailing vessel, you may want to go for a mega-catamaran if you're concerned about getting sea sick. And if you're really not confident about you sea legs, Aracari offers some superb land-based options, such as the luxurious Pikaia Lodge on Santa Cruz Island.
With many choices to consider, the expert travel planning team at Aracari are ready to craft a personalised and tailormade Galapagos experience for you based on your interests and travel style. Contact us or email travel@aracari.com to start planning your luxury trip to the Galapagos.