Santa Cruz II Review: Best Large Galapagos Cruise
A land of active volcanoes brimming with unbeatable diversity in wildlife, the Galapagos Islands is perhaps the ultimate bucket-list destination for nature lovers. The birthplace of Charles Darwin's theory of evolution, this unique archipelago located off the coast of mainland Ecuador boasts many endemic species that can be found nowhere else on the planet. From swimming with sea lions to with giant tortoises, I excitedly packed my bags to visit this living natural history museum on board the Santa Cruz II, which proved to be an excellent cruise option in the Galapagos.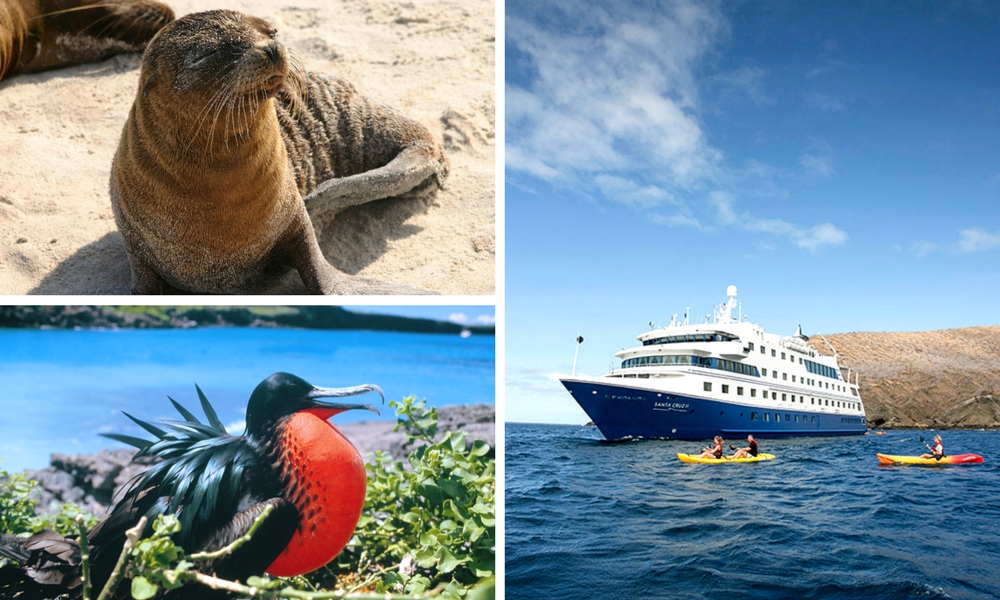 Getting to the Galapagos Islands
My journey began by flying from Quito to Baltra airport – one of two airports in the Galapagos – via Guayaquil. The reason the Galapagos enjoys such hype was immediately apparent. Stepping off the bus from the airport to board the panga (inflatable boat) to the ship, we had to be careful not to trip over a sea lion enjoying the sun-kissed stone slabs where we queued up!
The Santa Cruz II vessel
Welcomed aboard the Santa Cruz II, I set off on the 6 Day / 5 Night naturalist cruise. The vessel, operated by Metropolitan Touring, has a maximum capacity of 90, making it one of the 'large' cruise vessels in the Galapagos: National Park requirements cap the limit at 100. However, relative to cruise liners around the world which can hold up to 3,000-6,000+, the Santa Cruz II is very modest in comparison. As a first-time cruiser with doubts over how a large cruise can maintain any intimacy, I found the size very manageable, didn't find it overwhelming and felt the space meant passengers could distribute well across the ship so it never felt too busy.
Santa Cruz II review: The rooms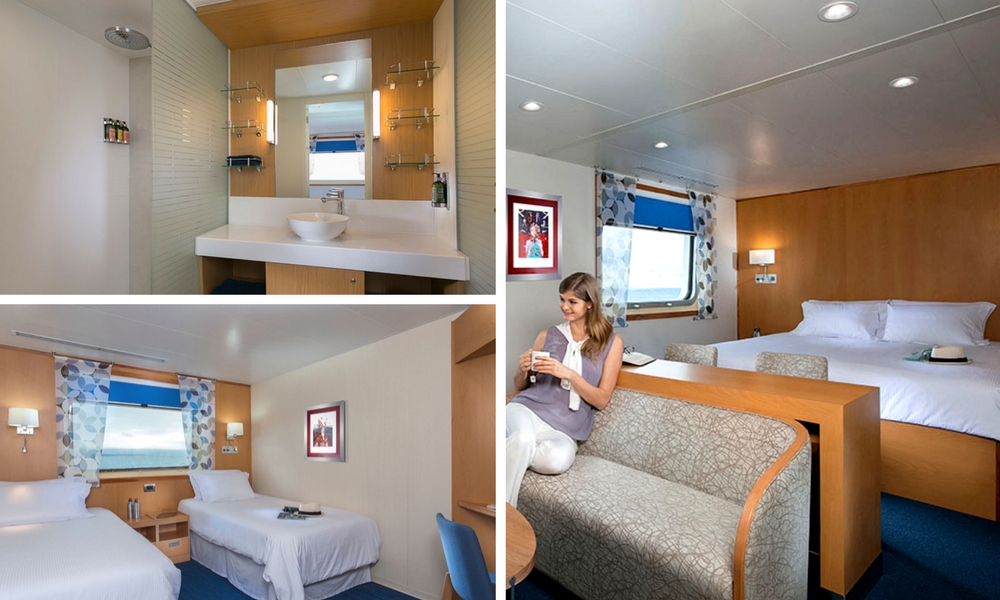 On arrival I headed to my twin room on the Horizon deck – one of five decks. It came with very reasonable storage space, safety deposit box and a compact bathroom with amenities like hair dryer, bath and beach towels. The décor was contemporary and neutral; a clean and polished finish having been renovated only a year or so before I travelled. This entry level room category had a good-sized window (there are no balconies in any of the room types on the Santa Cruz II). One morning I woke up to watch through the window what seemed to be rather a lot of shark fins passing by – which transpired to be Mola Mola (sun fish).
There are three Darwin Suites on board with double windows and the beds on the top deck are doubles (as opposed to lower categories comprised of two singles put together). Across a total of 50 cabins, 36 are interconnecting which is great for families. Rooms were cleaned every day while we were out exploring, with sweet treats as part of the turndown service at night.
Santa Cruz II review: The facilities
Thanks to its size, the ship is kitted out with generous public spaces – indoors and out. The two hot tubs came in handy after cold-water snorkelling trips to warm up. Despite the Galapagos being an 'adventure' destination for its wildlife appeal, activities were very gentle during the itinerary for a 20-something, so it was quite handy to also have a small gym on board to use. Nonetheless, I still enjoyed time relaxing and hanging out on the sun deck – which proved to be a great location to watch frigate birds up close as they flew alongside the boat.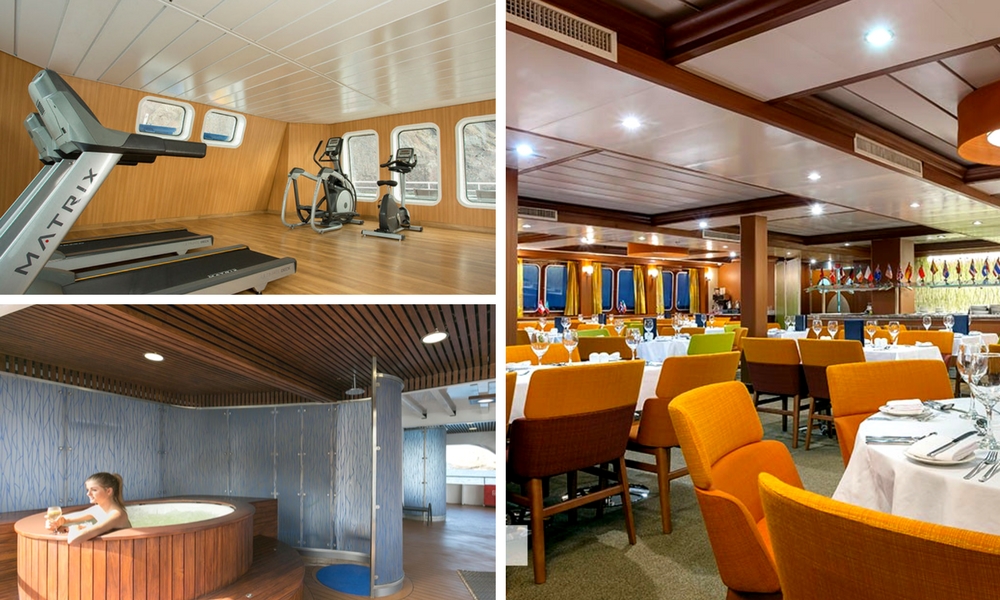 There was a happy hour in the bar every day and complimentary snacks, timed to be given out before each night's briefing. The main outdoor deck – located adjacent to the bar – was largely unused, with the exception of one evening where BBQ snacks were enjoyed pre-briefing. Since there were a couple of families on board, the generous public spaces also dispersed the younger clientele for the benefit of non-families on board and gave them more room to roam.
At night time, the lights of the boat attracted flying fish, which in turn attracted sea lions and sharks, so the outdoor area was a great vantage point to watch the wildlife in action.
The itinerary – 6D/5N Western Islands
At six days / five nights, my itinerary took in a range of islands, scenery and iconic Galapagos wildlife. I was happy with the length of the trip, although the final day, as is often the case with Galapagos cruises, was just a departure from the boat without any activities. Four days and three nights (excluding travel time to the islands) is the minimum you'd want to visit the islands – eight days / seven nights would be ideal, but I didn't feel shortchanged with the length of my experience.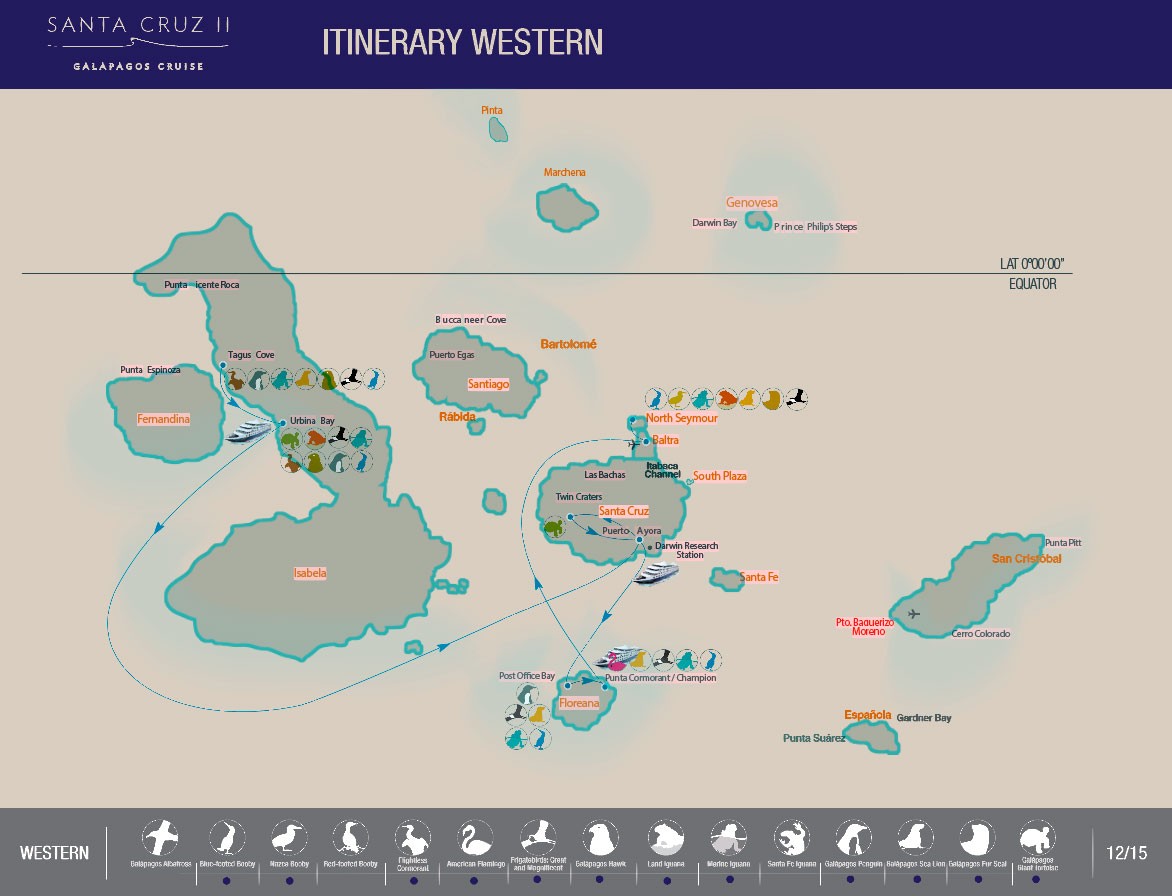 There is no single answer to what makes for the 'best' itinerary when visiting the Galapagos as there are variables – the time of year you visit, how long you have available to visit. The longer the cruise the more you see! One thing I appreciated better by visiting was how populated some islands are – Santa Cruz, home to the Darwin Centre, is a fully fledged town.
Expert guiding in the Galapagos
My guide for my itinerary of the Western islands was affable Eddy, whose enthusiasm and sense of humour knew no bounds. The passengers on the ship were split up into group sizes of maximum 16 and had the same designated guide throughout. Each group was given a name after iconic Galapagos wildlife – my group delighted in hearing 'Boobies' being beckoned over the tannoy every day, named after the bird species.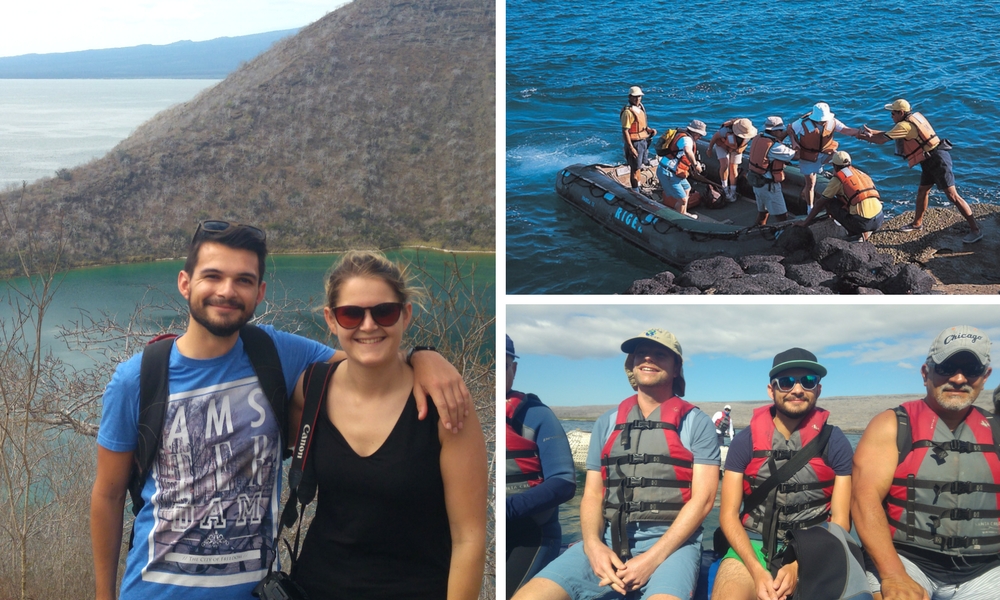 We were given a briefing each evening about the following day's activities to know what to expect and what we needed to bring. Passengers seemed to enjoy this, though it is worth keeping in mind that timed briefings, along with early wake-up calls, are some of the elements of 'structure' you find on cruises as opposed to land-based trips (i.e. basing yourself at a Galapagos hotel or lodge and taking day trips), so you're conscious on any cruise that you're following a carefully planned itinerary as opposed to forgetting the time of day on holiday!
While the wildlife I saw was by and large was too quick to capture on camera underwater, I saw sharks, rays, penguins, fish and sea lions – even though I don't have the photos to prove it! Here are some images from above the surface that highlight what my itinerary covered.
Day 1
AM: Fly Quito-Baltra (via Guayaquil) – sea lions at the departure pier
PM: North Seymour Island – frigate birds, sea lions, land iguanas and blue-footed boobies
Day 2
AM: Punta Vicente Roca on Isabela island – mola mola sun fish, sea turtles
PM: Punta Espinoza on Fernandina Island – flightless cormorant, marine iguanas, sea lions
Day 3
AM: Tagus Cove on Isabela Island – penguins
PM: Urbina Bay on Isabela Island – sharks, sea turtles
Day 4
AM: Charles Darwin Research Station on Santa Cruz – Galapagos Giant Tortoise
PM: Tortoise Reserve – Galapagos Giant Tortoise
Day 5
AM: Post Office Bay on Floreana Island – penguins, sea lions
PM: Champion Islet & Punta Cormorant – American flamingo, rays
Day 6
AM: Baltra Airport & Depart
My tips and observations for visiting the Galapagos
My conclusion is that the Santa Cruz II is the best of the larger vessels for visiting the Galapagos. The service provided, attention to detail and expert guiding make it an excellent choice.
Cruising is one of the main ways to visit the islands and cover as much ground as possible. The alternative is to base yourself in a hotel or lodge on one of the main islands and take day trips (or island-hop across multiple islands). This works well for people who are prone to seasickness, or want more flexibility with their itinerary. Aracari offers a selection of handpicked luxury Galapagos hotels.
Don't expect a tropical paradise – the landscape is extremely diverse, many islands consist of hard lava formations, unusual terrain and devoid of any vegetation.
The Galapagos is not just for wildlife enthusiasts! There's so much to offer a diverse range of people from the wildlife, to scuba diving and more.
Note that there are restrictions on where you can visit and how long for, imposed by the national park to protect this vulnerable and special natural world heritage site, meaning that all operators must adhere to carefully structured itineraries.
The Galapagos is a year-round destination, with seasonal variation in weather and wildlife activity. I visited in early December. December to May are the warmer months and I found you could soak up the rays in the daytime but needed an extra layer at night. The water is also slightly warmer in these months, though I found it necessary to use a short wet suit for most snorkelling excursions.
A Galapagos cruise is a once-in-a-lifetime experience, that you will never forget. The Santa Cruz II is a great option, and one of several luxury Galapagos cruises offered by Aracari. If you'd like to talk to one of our expert travel planners about your own Galapagos adventure, contact us or email travel@aracari.com.