With their breathtaking natural beauty and unique wildlife, the Galápagos Islands are a destination high on the to-do list of curious globetrotters. But when choosing the best way to explore the islands on a luxury travel Galapagos adventure, travelers are often baffled by the wide range of cruise options. Here I share one of my top picks, with my first-hand Galapagos Ocean Spray review on the cruise after testing it out personally.
Ocean Spray Review
During my recent visit to the islands, I had the opportunity to cruise on board the luxury catamaran Ocean Spray and experience the services on offer first hand. A perfect blend of style, comfort, education and adventure make a cruise like this the ideal way in which to experience all that this unique destination has to offer.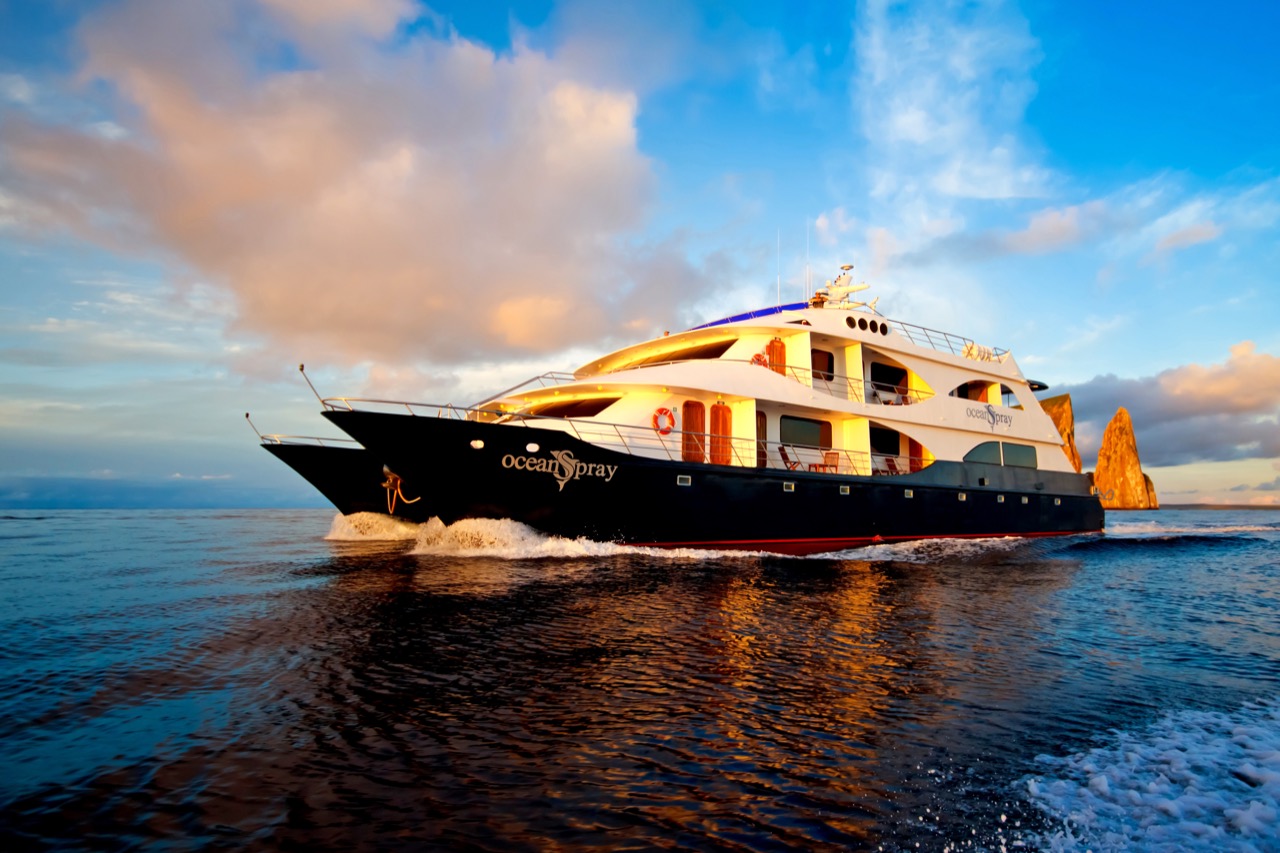 The Ocean Spray is a sleek 113-foot-long catamaran with space for up to 16 guests in 8 balconied cabins. Public areas onboard include a sun deck fitted with loungers and Jacuzzi; an outdoor dining and bar area; a communal lounge and library used for daily itinerary briefings; and the main restaurant. As a first time visitor to the Galápagos, cruising the islands onboard the Ocean Spray was everything I could have hoped for.
My journey began at Quito airport, where an Ocean Spray representative was waiting to assist me with check in for the morning flight to Baltra airport, the Galápagos Islands' main hub. Upon arrival in Balta, I collected my luggage and was greeted in the arrivals hall by another Ocean Spray representative, just as friendly as the first. He ushered me and my fellow passengers to the docks to board a panga, a mid-sized motorboat that would take us to the main vessel.
Expert guiding
The friendly and efficient 12-man crew ran a tight ship, offering guests a welcoming smile and providing top-notch services. Cruise director Alexandra, and Naturalist guide Javier, both stood out as the stars of the show, each ensuring that we were all well looked after and taking time and care to answer all of our questions (including a humorous but firm denial to speculation among the guests that they might be romantically involved). While the Ocean Spray is undoubtedly a luxury vessel, in order to ensure maximum comfort all guests were encouraged to kick off their shoes, relax and make themselves at home while onboard, which comes naturally given the spacious cabins and ample public spaces available.
On-board dining
Food onboard was served buffet style, featuring an ample selection of delicious dishes made with quality ingredients. Breakfast offerings included homemade eggs with a wide range of fresh fruits and juices. Lunch was lighter fare with chicken, fish, salads, cheese and fruits. Dinner consisted of appetizers and wonderful soups, (including a traditional Ecuadorean potato soup that warmed my body and soul), a choice of mains and desserts. Twice during the voyage we were able to dine on the outside deck, with simmering fresh fish, shrimp & filet mignon cooked on the BBQ.
Ocean Spray Cruise itinerary
Our cruise itinerary took us to the Eastern islands of Santa Fe, Española, San Cristobal and Floreana before finishing up back off Santa Cruz for the return to Balta Airport.  We were accompanied on all excursions by Javier, our expert Naturalist Guide, a Galapagos native whose knowledge and passion for all things flora and fauna related really shone through. The daily excursions were, of course, the reason why we were all on the trip, and offered opportunity to experience the islands and the fascination wildlife up close and personal. All cruise routes are pre-determined by the Galapagos National Park in order to prevent vessels from landing at the same islands at the same time. In our case, we were fortunate enough to have most sites completely to ourselves.  On the Ocean Spray voyage, we were able to hike at various sites around San Cristóbal, Santa Cruz and Floreana. We snorkeled several times with sea lions, turtles and sharks (!) at Kicker Rock, Cormorant Point and Gardner Bay. I even mailed a postcard home to England from the "post office" at Floreana and met the famous giant Galapagos Tortoises at the Galapaguera Interpretation Centre on San Cristobal!
The 6 day / 5 night program was an ideal amount of time. I could have happily stuck around for a further 1 or 2 nights, but less than 5 days would have been insufficient to truly experience the islands. Ocean Spray made the entire journey comfortable, engaging, and memorable for all those on board. When I returned home and slept in my own bed, I missed the gentle rocking of the Pacific Ocean, the elegant comfort of my cabin, and the exciting prospect of the next day's adventures.
How to choose a Galapagos Cruise
The Ocean Spray is ideal for anyone looking for to visit the islands in the utmost luxury and comfort. We also highly reccommended the Ocean Spray's sister ships, Cormorant and Petrel. There are many luxury galapagos cruises to choose from. Picking between them will depend on budget and the level of luxury you prefer, whether you're looking for a family departure, duration and preference between a small or large vessel.
Contact us today to speak to an expert travel advisor for more information on the options and how to choose between them.