Education doesn't have to happen in a classroom — family travel with young children can be formative to developing a global perspective and broadening the scope of cultural understanding. That's why we're so impressed by the adventure one of our guests undertook when she and her husband took their four kids (a 13 year old, 12 year old, and two 10 year olds) out of school for a yearlong journey around the globe, to 31 countries on all 7 continents.
Family Travel Peru with Dana White
Dana White – blogger and family travel planner extraordinaire – wanted to teach her four kids to view their privilege as an opportunity to make a difference in the world beyond themselves. Dana chronicled their family's adventure in her popular blog, 6explorers. During their time abroad, Dana and her family explored Peru with the help of Aracari, hopping from highlights like Machu Picchu to hidden gems like Apu Ausangate. After their incredible journey, Dana wanted to help other families plan such formative experiences using what she learned on the road to smoothen the process. Dana's company Lead Explorers builds itineraries with families planning their own trips around the world, to maximize learning experiences and family bonding. In an interview with Aracari, Dana White shared her story, and her expert tips for traveling with a family.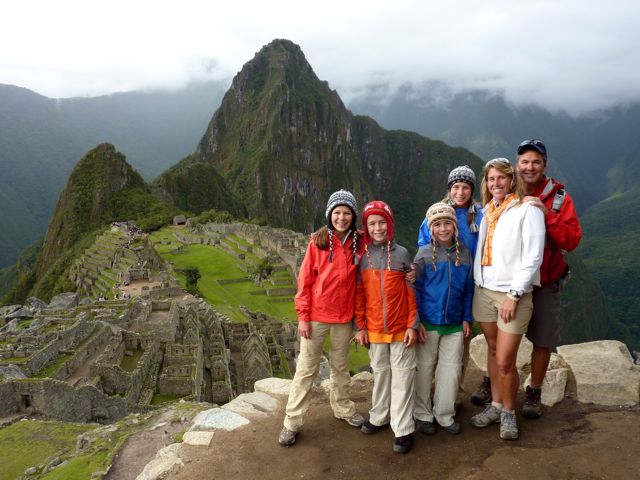 ARACARI: How did you end up going away for a year in the first place?
DANA WHITE: Oh, it was unbelievable! We had been talking about it for 10 years, so it was something that was a defining moment in our family. We really wanted to help our children become global citizens and see the world while we still can. I think that we are very fortunate and we wanted to make sure that our children knew that the way they were growing up was a privilege, and that they really understood more about the world and how it works.
A: How did you start planning this journey?
DW: We actually worked with someone who helped us, just like I now help other families in the same. Because it is very daunting. There are obviously so many wonderful places in the world you want to see. So you start making of list of things you'd like to see, as well as times of the year you want to see them. Then it's like a big puzzle, and you start putting the pieces together.
A: How rigid or structured are the trips? How do you keep itineraries open for changes in plans or whims?
DW: That is a great question. Realistically with a family, you have to plan things. It's not like when I travelled by myself after college, when i could show up in a town and say, "Where do I want to stay tonight?" When you are travelling with kids, you have to plan more than you might as an individual. But you also try to plan as much flexibility as you can into the schedules.
A: What are the most important considerations when traveling with a family?
DW: Number 1 is pace — how fast are you moving, and what are you doing.You just have to really think about what can handle in a day. Part of it is getting to know your clients beforehand. I have questionnaires, I have meeting with them, and I try to get a sense of what kind of pace do they really want, are they the kind of family that wants to sleep in every day, or do they want to be more rigid in their homework?
A: How do you address safety concerns about going to all these places with children? Is it something you find that families bring up a lot?
DW: Actually, no. (laughs) We don't talk about it a lot. I think that there are certain parts of the world that you probably avoid, especially with younger kids, but it's like traveling anywhere. If you want them to be aware of their surroundings, you have to be smart about how you travel. I think people who choose to be adventurous travellers already come with a certain level of comfort.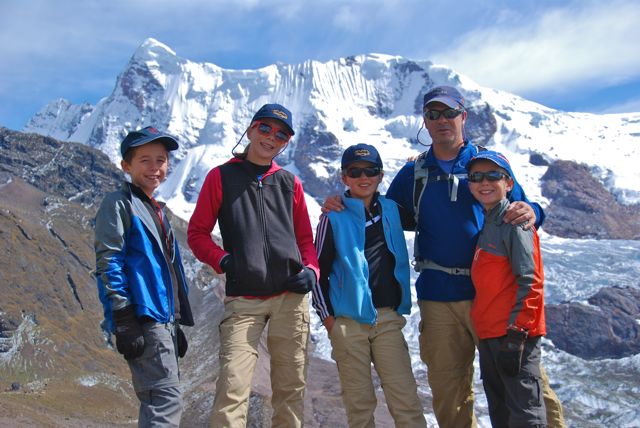 A: And what about packing? How do you pack for such a long-term trip?
DW: Well, that's that beauty of following the sun: you usually don't need too many layers. But what's funny is when you travel extendedly, you really just need one or two of everything. And what you find is that when you probably pack for year the same way you'd pack for a three week holiday. I do provide packing lists, and there are certain bags that work better than others, so there certainly are tricks to that. But when we were in Peru, for example, we went from Iquitos in the Amazon to up to 17,000 feet and we had the same things — layers, and one of everything.
A: Speaking of Peru, we noticed that Peru was one of your Top 3 Favorite Countries, and made the Top 5 for everyone in your family! What do you think made Peru so special?
DW: First of all, I think Machu Picchu is one of the World Wonders that really does deliver. You show up and it is impressive. That is such a great anchor experience in Peru. I think that the experiences that we did that complemented that, like the tambo-to-tambo hike and playing soccer with the Quechua schoolchildren in Patacancha, are the kinds of connections to the country and its people that make an experience unique.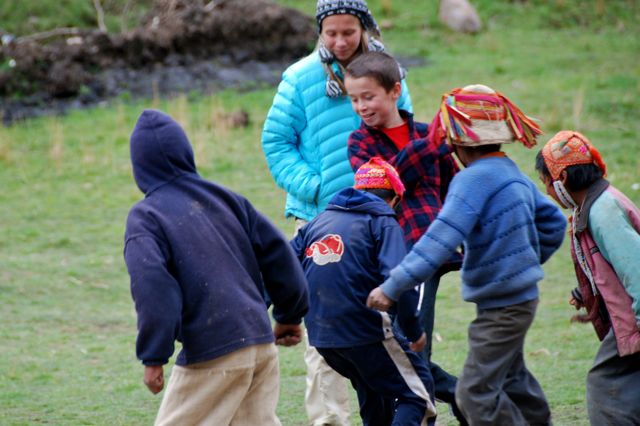 A: If you were to do your whole trip again, would you do anything differently?
DW: No. (laughs) What's really tough, though, is that you have to make a decision early on whether you want to do a lot of breadth and not a lot of depth, or the other way around. We knew there were many places in the world where we wished we could stay longer, and Peru was definitely one of them, but we knew we could always go back. Even if we were sad to be leaving one country, we knew we were going on to the next cool adventure.
A: Having done such an epic long trip and seeing so many things in a year, how has it changed your vacation patterns? Does it mean that everything else is a disappointment because it will never be a year long?
DW: (laughs) Well, the best thing about traveling is your traveling group. For us, the best part of that trip was having the six of us be together for that long. Any time we get to travel just the six of us, that spirit is still there. And we have done some really cool trips since then. This past summer we went up to the Arctic, which is not your standard holiday destination, but we really wanted to see polar bears in their natural habitat. Like I said, we try to travel to places while we still can, places that are changing ecologically or culturally. As we talked about our experiences in Peru, getting out to places where people still live the way they lived for centuries is an incredible education.
A: It's amazing how you make everything seem so seamless!
DW: It really is the travel partners. I have a global network of location partners, like Aracari, who are experts in their country. So much of this is about the guides, and their ability to connect the traveler with your country. Even though I've been to Peru, there's no way that I could deliver this kind of itinerary entirely on my own. It's the partnerships with people like Aracari and in other locations around the world that makes the experience worthwhile for my family and now my clients.
We at Aracari loved planning Dana's Peru trip because we value luxury family travel as a way of turning vacations into an unforgettable experiences. Aracari continues to work with Dana and Lead Explorers to help build immersive experiences for families traveling to Peru. For families itching to travel, Dana's story is an inspiration. Hopefully through her experience and expertise, more people will be able to take journeys like hers.