For almost 25 years, Aracari has coordinated tailormade itineraries to the Galapagos Islands. This quarter century worth of experience makes Marisol and her team some of the leading experts when it comes to traveling the world-famous archipelago.
Trips built from experience
Situated 1,000km off the coast of Ecuador, these far-flung Islands are a travel destination that requires careful planning. Thankfully, our founder Marisol Mosquera is no stranger to her own adventures in the Galapagos. Having first visited the Islands around the same time she founded Aracari in 1996, Marisol has since gone on to have two subsequent ventures to the Galapagos, both of these times with her son – when he was aged six and 10 years later, aged sixteen.
Marisol is well versed on the different decisions needed to make the Galapagos Islands an age-appropriate vacation destination, and it's this knowledge she has imparted with her team. Aracari is now one of the most trusted luxury travel operators to the Galapagos.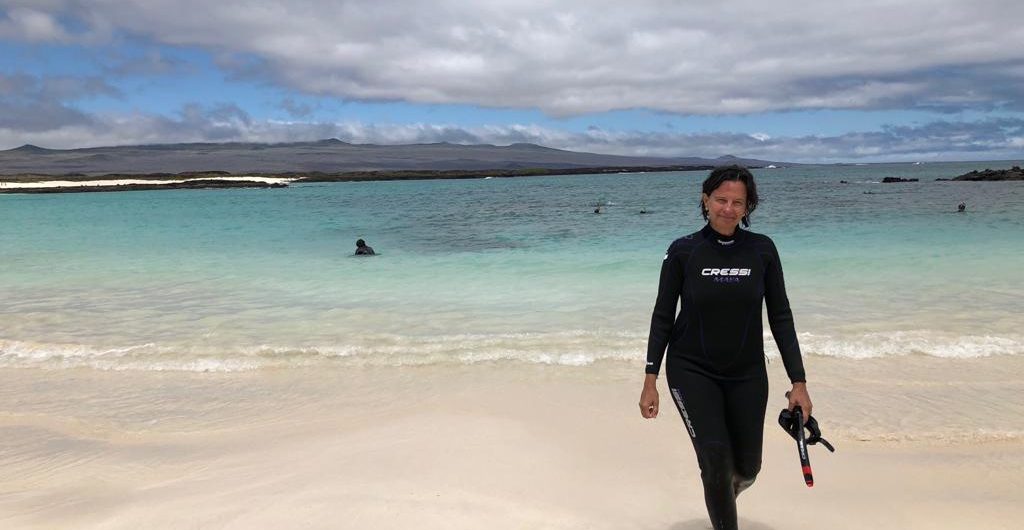 Planning post-pandemic adventures
As the world re-emerges from COVID-19 travel restrictions, we believe the remote location and unrivalled wildlife of the archipelago will put the Galapagos firmly at the top of bucket list adventures.
So that you can begin planning for your tailormade journey with us ahead of then, we are sharing some of Marisol's insider knowledge, knowledge very few people know about.
Choosing to cruise the Galapagos Islands
Each of Marisol's three visits to the Galapagos Islands has been via cruise, and thus this is her most recommended option for Aracari travelers. By opting to travel by cruise, guests are able to visit more of the archipelago since the boats travel through the night to the next secluded cove or lesser-frequented shoreline.
In Marisol's experience – a cruise that lasts at least six to eight days is advised. Shorter cruises don't explore lesser-visited islands such as Fernandina, Santiago and Genovesa, a remote region that has proved a favorite amongst Aracari guests for its rare species of wildlife.
In her most recent visit, Marisol travelled on Endemic, a sleek 8-cabin yacht and one of the best small boats in the Galapagos. Aracari has a range of yachts and catamarans, varying in size, budget and luxury amenities designed to suit the different wishes of each traveler.
Whether Aracari guests choose to travel on a private catamaran journey through the Galapagos or aboard a yacht in a small group, each luxury vessel has its own expert guide. And in Galapagos, the guides are often working researchers and specialists in the naturalist field.
Choosing to stay on land in the Galapagos Islands
At one time, there were no hotels on the Galapagos Islands. Things have changed since then and there's now a range of luxury options for guests who prefer to stay mainly on dry land during their visit.
Four of the inhabited islands – San Cristobal, Santa Cruz, Isabela and Floreana – offer overnight accommodation and daytrips to neighbouring islands by day. On her most recent visit in 2019, Marisol stayed at three different hotels on Santa Cruz Islands: Finch Bay, Galapagos Safari Camp and Pikaia Lodge Galapagos.
Although these hotels offer elegant luxury in a one-of-a-kind landscape, Marisol's expert advice is twofold. Firstly remember even if you stay on an island, you will still need to spend a lot of your time on boats and it can be several hours journey from one island to the next. Secondly, because the Galapagos are so spread out, you will only be able to visit the islands nearest to where you are staying. These islands tend to be more heavily visited, which has a big impact on wildlife and scenery.
Aracari has crafted many bespoke itineraries that create the ideal balance of land and sea.
Choosing when to visit the Galapagos Islands
The Galapagos is truly a year-round destination, it's close to the equator and experiences two seasons; warm from December to May, cool from June to November.
As for wildlife, there's a different spectacle to take in every month, from the hatching of giant tortoises to the mating ritual of flamingos. Aracari's experts are able to advise on even the most specific of seasonal details in order to determine when's best for guests to visit.
Since the Galapagos Islands are an extremely popular travel destination, Marisol advises booking a trip at least one year in advance.
Choosing experiences in the Galapagos Islands
Guests will also need to choose the kind of activities they want to focus on whilst visiting the Galapagos Islands. There are three key cruise types catering to different traveler types; naturalist cruises, diving cruises and family cruises.
Determining which of these most suits your style will be the cornerstone to the itinerary of your trip. From the strong wildlife focus of the naturalist cruises to luxury diving cruises with excursions underwater, to the child-friendly cruises with age-appropriate experiences and activities, Aracari will build a trip to the Galapagos around you.
However you intend to visit the Galapagos Islands, you can trust that Aracari's specialist knowledge of this unique destination will help to create a trip like no other. Start planning your trip, chat with Marisol and her team today.