Review of Chalalan Madidi Ecolodge
Few places on Earth still harbour pristine wilderness, dense tropical vegetation and a cornucopia of biodiversity. In July I was lucky to have the opportunity to travel to just one such place, the northern Bolivian rainforest, where I joined Marisol on the Madidi National Park leg of her journey through Chile, Bolivia and Peru to stay at Chalalan Madidi Ecolodge in the Madidi National Park.
This is an ideal exploration only for intrepid, patient, well-seasoned travelers who are looking for an adventure and accept basic infrastructure when the reward is getting off-the-beaten-path in a remote jungle location.
Getting to Chalalan Madidi Ecolodge from La Paz
Departing from the concrete jungle of Lima, I firstly flew to Juliaca near Lake Titicaca, before crossing the Peru / Bolivia frontier and travelling on to La Paz, an overland journey taking around 8 hours in total. Here I stayed El Consulado hotel, a charming hotel with a traditional feel not far from the city centre. The next morning, after meeting with Marisol and Nico, we set off for La Paz airport, to board a micro plane to take us to the town of Rurrenebaque. The flight was spectacular; we were hoisted over the Andes and into the jungle, with a birds-eye view of this dramatic transformation of landscape.
Spectacular plane views
The twin engine plane was tiny, just two columns of seats, each one seat wide. It was also a bumpy ride! The dramatic change in altitude from over 4,000 metres in La Paz to a mere 250m in Rurrenabaque was partly responsible … we chuckled from the back seat watching couples holding hands across the aisle, just in case …
A night in Rurrenebaque at Hotel Safari
On arrival at the one-terminal airport at Rurre – which was adorably tiny and laid back – we were taken by bus to the offices of Chalalan Eco Lodge, our eventual destination. After the briefing we were taken to our hotel, Hotel Safari, a basic affair beside the river with clean rooms, a swimming pool and a small restaurant. Not being the most exciting of towns, we decided we would have preferred to have skipped Rurrenabaque and headed directly to the lodge.
Boat ride to Chalalan
The next day we were exposed to Bolivia's somewhat basic tourism infrastructure at its finest. Not one hour into our 6 hour journey upstream to Chalalan, the motor on our boat broke down and we had to turn back! No radios to call for help here, nor such luxury as a spare motor. As a passing local boat towed us back, we were left frustrated not only by the time we lost by having to return to Rurre, but the complete absence of a backup plan.
Chalalan Madidi Ecolodge's remote location
Later in the day, we finally arrived at the Chalalan lodge. To reach the lodge you need to walk along a trail from the river 15 minutes to the oxbow lake aside which the lodge stands, a privileged location in the heart of some of the world's most pristine virgin rainforest.
Madidi National Park
Madidi National Park is part of a tract of preserved National Parks across the Peruvian and Bolivian frontier, the Vilcabamba-Amboró Conservation Corridor as it is often called. Together with Manu and Tambopata, Heath and other preserved areas, Madidi constitutes the most bio-diverse areas of the planet: over 1,000 species of bird; 44% of all of the mammal species indigenous to the New World; and as much as 38% of all neo-tropical amphibians.
Wildlife watching
What we discovered was that the Chalalan ecolodge is a remarkable way to sample this vast density of wildlife. Over the 3 days that we spent here, we saw an acrobatic troop of squirrel and capuchin monkeys parading above our heads; we caught a glimpse of Pecaries grunting their way across the forest floor (for me provoking images of Asterix and Obelix hunting wild boar); we saw all manner of toucans and parrots, red and green macaws, blue and yellow macaws, piping guans, a tiger heron, butterflies…
Night Walks in the Jungle
After dark, we had the chance to go on a night walk. Darkness brings out the life in the forest, and we went in search of frogs, insects . It turned out to be a little too much for Nico, who opted not to join us … I don't blame him; the Tarantulas we found were as big as a dinner plate!
Caiman spotting
That evening we took the boats out to go Caiman spotting, a riveting affair where you shine your flashlight on to the water looking for the amphibians, a relative of the Alligator. The trick is to hold the light forwards from in between your eyes, that way it shines directly into the Caimans eyes and gives you a direct line of sight at the creatures. They floated silently in the water as we approached them, using oars in order not to startle them with the noise of the motor.
The Lodge Accommodation
The lodge itself surprised me with its comfort. The 30 bedrooms had polished wooden floors and mosquito nets on the windows and beds, and were very comfortable; there were rooms of all different sizes, some cabins with 3 or 4 beds for people sharing. My own cabin had a personal hammock outside, while the bathrooms were clean and well adorned. No hot water here, though to be honest hot water was the last thing I was looking for in the sweltering heat.
Meals at the Lodge
Meals were hosted in a grand dining room, and all of the guests at the lodge got together here at mealtimes. The fare was rather straightforward, chicken, beef and pork based dishes with vegetables, fruit and breads at breakfast. The coffee unfortunately left a lot to be desired, with nescafe being the only option on the morning that they had forgotten the café pasado.
The location of the lodge was perhaps is best asset. Just metres away from the oxbow lake. Swimming here was definitely too great a temptation, and much warmer than previous swims with Aracari.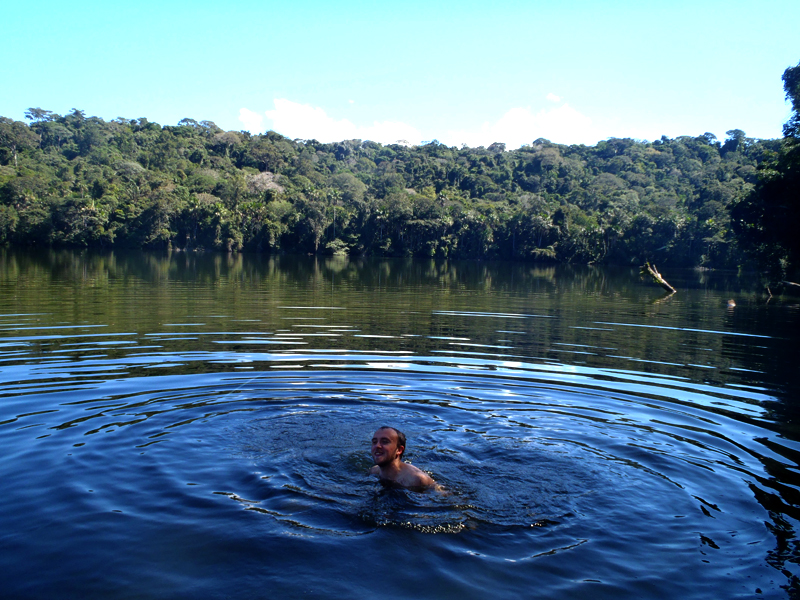 Expert jungle guiding
Our guide Mario was the star: hailing from the community of San Jose de Uchupiamonas (as 99% of staff at Chalalan do) he was dedicated to conveying his knowledge about his local forest. Somewhat shy to begin with, he quickly came in to his own as we began to explore the 40km of trails at Chalalan. He was alert to the monkeys overhead, he could name plants in Spanish, English and Latin alike, and he masterfully explained to us the different layers of the rainforest, from the forest floor to the canopy and emergent trees. He was also very good with Marisol's kid, filling us with confidence about the suitability of this experience for families.
Oxbow Lake Excursion
Late on the second day, we had ventured around the lake to a lookout point, which gave us a spectacular vantage over the oxbow lake. Here, Mario talked about the fascinating history of Madidi, which at 2m hectares covers a remarkable 17% of Bolivia. He told us how Conservation International had originally helped to initiate the Chalalan lodge 17 years ago, but how they had opted out in 2001 due to operational reasons. From here, the community had taken the project forward themselves, with little assistance from the outside world. For Mario, most importantly, Chalalan was a way for him to stay working in his local community, where many others his age had been tempted to leave for La Paz. We could tell that he was very proud to be guiding us, and this made what was a fabulous experience in its own right all the more rewarding.
After 2 days and 2 nights exploring the jungle we weren't really ready to return. We still had a lot of trails to cover and I was eager to increase my chances of spotting the ever elusive jaguar (I'll find him one day). There are programs up to 6 days 5 nights for those who want to explore the 40km of trails around the lodge, and spending more time here is highly recommended. 3 nights would have been ideal for us.
Visiting the Bolivian Jungle vs Peru's Jungle
Since I travelled to Chalalan in July 2012 I have visited Tambopata in Peru. Though I highly recommend visiting Chalalan, I would say it is best suited to those who are looking for something totally off the beaten path. Chalalan is at the top end of the spectrum of lodges in Peru and Bolivia as far as seeing fauna goes, but accommodation is basic and access relatively challenging compared to the options in Peru. Getting to the Amazon lodges in Tambopata, Peru, are far easier and quicker to reach and have a far more developed infrastructure. The most remote lodge in Peru is Tambopata Research Centre, which still offers an off the beaten path authentic jungle expereince, while Inkaterra offers a luxury lodge jungle experience just a short boat ride away from the city of Puerto Maldonado, which has regular flights to Cusco and Lima. True luxury seekers are best off visiting the Amazon on a five-stay luxury amazon cruise.
Leaving the lodge
After our much shorter trip back downstream to Rurre we had one last chance to sample hectic Bolivian Tourism planning in its element. "You need to be at the airport in ten minutes," we were told, after having sat down in the lodge assuming that we still had plenty of time, "you'll only make it on motorbikes." Backpack slung over my shoulders, and 10 minutes of riding through the dusty streets of Rurrenabaque we were back at the "airport" (it's so cute!), and on our way back to La Paz.
Six months later, and looking at my oil pastel sketch below, I feel immensely privileged to have visited Madidi. I hope that this beautiful part of our planet can be preserved so that people can visit always.
Visiting Chalalan Madidi Ecolodge
Aracari specializes in private, tailormade travel to Bolivia and Peru. Contact us today to speak to an expert travel planner for advice and information on visiting Chalalan Madidi Ecolodge and the alternative best Amazon lodges in Peru.