Happy International Women's Day!
We would like to introduce you to these eight inspiring women. Each of them does exceptional work preserving the cultural and natural heritage of Peru and Bolivia and we are proud to collaborate with them. In these times of globalization, their work protecting the the environment, architectural heritage and arts and crafts of our region carry particular importance. During the next few months we will be featuring a story about each of them individually and highlighting their work. We hope you enjoy meeting them!
Nilda Callanaupa / Master Weaver, Chinchero, Peru

Nilda Callanaupa's story began as a young woman in Chinchero, learning to spin and weave with her friends. She recognized there was a rich history behind the art of her people, but could see that this was slowly being lost. She went on to found the Centro de Textiles Tradicionales del Cusco (Centre for Traditional Textiles of Cusco), and become an award-winning author, international speaker and expert in Cusqueñan textiles. Thanks to her work, this traditional art form has been preserved. We always visit her workshop in Chinchero when we explore this lovely village, church and ruins during our visits of the Sacred Valley of the Incas.
Ana Maria Cogorno /Researcher, Nasca Lines, Peru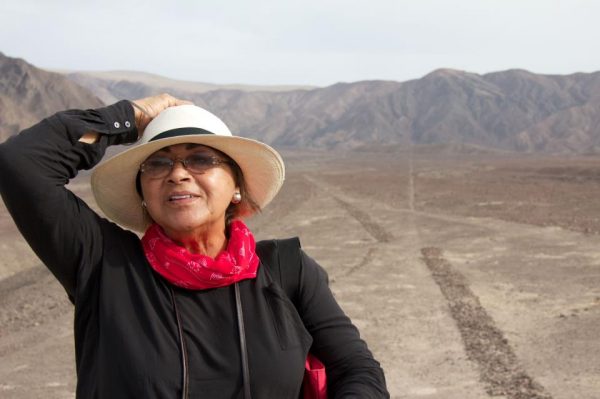 Ana Maria Cogorno spent nearly two decades studying the Nazca lines with Maria Reiche, whose research helped the lines become a UNESCO World Heritage Site. A charismatic speaker, she is particularly erudite in the Nazca and Paracas cultures, and as a result of her time with Maria Reiche, is the best source in Peru of information about the history and significance of the Nazca lines. Ana Maria is Aracari's specialist for the Nasca culture. She lives in Lima and is available to discuss the history of these enigmatic lines with our guests, present or  accompany our  guests on their exploration to the Nasca lines.
Elvira Espejo / Ethnographer and Folklore Specialist, La Paz, Bolivia

Dr. Elvira Espejo is a textile expert, poet, singer, anthropologist and proud Aymara (an indigenous community from the Andean highlands). Dr. Espejo preserves and promotes Bolivian heritage through published works, international talks and through her position as director of the Museum of Ethnography and Folklore in La Paz. Dr. Espejo provides Aracari guests with private tours of the museum's permanent and temporary exhibitions, generously sharing her knowledge and expertise.
Martha Giraldo/ Ecology of Lake Titicaca, Suasi Island, Peru 

Martha Giraldo is a Peruvian scholar who has been involved in many cultural, social and environmental initiatives to help improve the Lake Titicaca area and life for its Aymara inhabitants. In the early nineties, Martha inherited Suasi Island -the only private island on the Peruvian side of the Lake– from her grandmother and her dream was to build an ecolodge that helped preserve the ecosystem of the Altiplano. Back in 1996, when Martha showed Marisol Mosquera, Aracari's CEO the plan for her Eco lodge on Suasi  they instantly became friends, as they shared a passion for developing sustainable tourism.
Thanks to Martha's drive and perseverance, her dream became a reality.  Soon after, Aracari started sending guests her way. Martha's work on the island benefits the local ecology, gives back to local communities, and provides visitors with a lovely place to stay in and visit.
Lisy Kuon /  Colonial Art Historian, Cusco, Peru

Elizabeth (Lisy) Kuon is an anthropologist and humanitarian, with specialist knowledge of Cusquenian history, art and society. Lisy has worked extensively to promote and preserve the cultural and historical heritage of the Cusco region and has worked with many international organisations such as the World Monuments Fund in different research and restoration projects of Colonial churches and monuments. She currently works as an independent researcher and consultant for Art and History of South Andean Colonial Cusco. Lisy provides informative and engaging private visits of monasteries and churches in the region exclusively for guests of Aracari.
Ana Palza / Traditional Haute Couture La Paz, Bolivia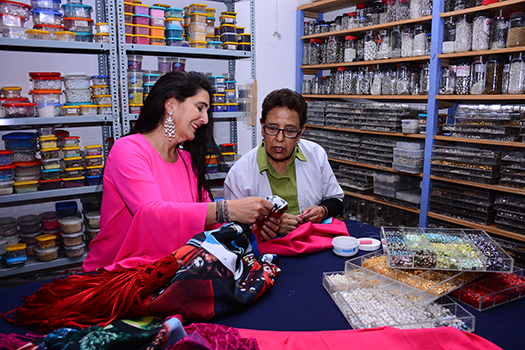 Ana Palza is a renowned Bolivian jewelry and clothing designer. She designs beautiful jewelry and traditional outfits for cholitas, Andean women who have maintained their ancestry through culture and tradition. One of Ana's recent collection of haute couture was presented by eight cholitas at the Cartier Foundation for Contemporary Art in Paris, France.
Aracari is proud to collaborate with these inspiring cholitas, organizing visits to Ana´s atelier while providing a unique and memorable experience. If you are planning a trip to Peru, Bolivia or the Galapagos, and would like to connect with these women and explore Ana's work up-close, please contact an Aracari travel advisor today.
Carmen Reategui / Peruvian Paso Horses, Lima,  Peru

Carmen Reategui is the owner of Hacienda Santa Rosa, a magnificent manor house located south of Lima. Here at the manor house, Peruvian Paso  horses have been bred and trained by Carmen and her family  for many years. The Paso horse is a symbol of Peru and Carmen and her family work hard to keep this tradition alive. Carmen and her daughter are award winning show riders in Paso Horse Competitions in Peru and South America. Guests to the hacienda are invited to ride the horses before enjoying a delicious lunch and a breathtaking Peruvian Paso horse show.
Carmen is also a recognized visual artist and has participated in many solo and collective exhibitions in Peru and internationally.
Ester Ventura / Jewelry Designer, Lima,  Peru

Ester Ventura is an award-winning jewelry designer based in Lima. Her beautiful work takes inspiration from the wonders of Peru. Combining gold and silver with seashells, seeds, weavings and pieces of pre-Colombian art, each piece is truly one-of-a-kind. Ester travels around the country sourcing antiques and natural treasures to shape her work. This means that every Ester Ventura creation becomes a small symbol of Peru. Ester works with Aracari to offer travelers a private tour and workshop at her beautiful home studio.
Aracari are proud to collaborate with these eight inspiring women, who make our guests experiences so unique and memorable. If you are planning a trip to Peru, Bolivia or the Galapagos and would like to meet these wonderful women and get to know their work up-close, then please contact an Aracari travel advisor today.