A Peruvian train journey for every type of traveler
As luxury South American travel agents, we often get asked what are the best train journeys in Peru. Yet unlike some of its continental neighbors, Peru isn't a country where train travel is the most common mode of transport. Here, the terrain maps from coastline to rigid mountains, from jungle to sweeping savannahs, and so the challenge of laying down train tracks that crisscross the entire country hasn't quite yet been realized.
However, if you're connected to those in the know – there exists a mesmerizing Peruvian train journey for every kind of traveler. At Aracari, our 25 years of experience in planning luxury vacations to Peru means we can provide you with the ultimate guide to train travel in Peru.
With our expert knowledge, we are privy to it all, from the rarest of routes stretching from Lima to Andean highlands – a schedule that runs just five times a year – to the most luxurious of private charters, carrying you in sublime comfort through the magnificent Sacred Valley to the ancient ruins of Machu Picchu…
The Five Best Train Journeys in Peru
Peru is home to one of the most magnificent train journeys in the world: a railway line that cuts through the Sacred Valley to Machu Picchu, following parts of the Inca Trail itself. Luxury trains to Machu Picchu are an unforgettable experience, passing staggeringly beautiful landscape, before ultimately arriving at the ancient wonder itself, one of the most important historical landmarks the world over. That's why, within this list, you'll find three kinds of Machu Picchu trains – each offering a very different experience for a very different traveler.
Yet train journeys in Peru extend further than Machu Picchu alone. Across this beautiful country, you can reach the remote Andean highlands by train, or head to Lake Titicaca, or the chalky, volcanic city of Arequipa.
With this ultimate guide, you'll find a train journey for everyone, from families traveling to Peru with children to adult groups celebrating a special occasion, from adventure seekers searching a path less trodden, to newlyweds looking for an ultra-special moment during a honeymoon to Peru.
So, come onboard our ultimate guide to Peru's best train journeys. And the next stop? A bespoke itinerary designed around your chosen train ride, for the perfect private vacation to Peru.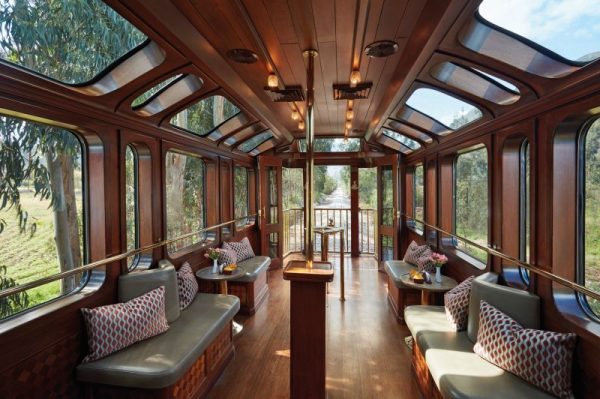 Perfect for Honeymooners: The Belmond Hiram Bingham to Machu Picchu
Poroy, Sacred Valley – Machu Picchu
Alight the luxurious Belmond Hiram Bingham train in the station of Poroy, a town just 20-minutes from the city of Cusco, and begin your journey in the executive lounge, sipping a glass of champagne whilst traditional Andean dancers perform for you and other special ticket holders.
Once on board, you'll sink into the comfortable armchairs of the glamourous 1920s-style carriages, as the train chugs out of the station into the sweeping Andean scenery towards the cloud forest of Machu Picchu, where you'll spend a day exploring the ruins with an expert guide.
During the journey, you'll be attended to by a dedicated team who will serve either gourmet brunch on your outbound journey or a fine-dining dinner on your return. With just 84 guests on board, each seated at white-clothed private tables for two, this unforgettable journey to the ancient wonder is one of the best train rides in Peru. And given it's just a one-day adventure, it makes for a marvelous romantic moment during a luxury honeymoon to Peru.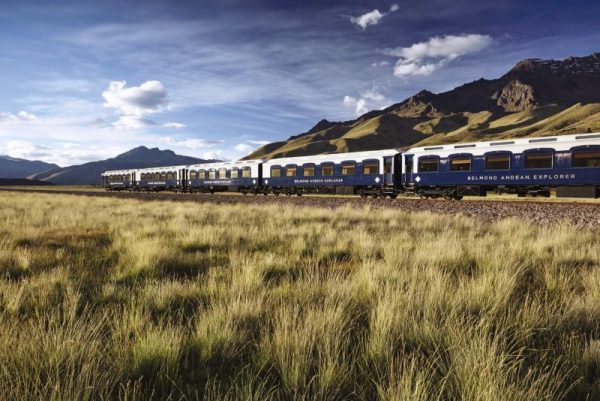 Perfect for Slow Traveling Couples: The Belmond Andean Explorer to Lake Titicaca and Arequipa
Cusco – Lake Titicaca – Arequipa (or in reverse order)
For those seeking slow travel, with plenty of time during a luxury vacation to Peru, the Belmond Andean Explorer makes for an exceptional train journey through some of the country's most staggering landscapes.
As South America's first luxury sleeper train, the Belmond Andean Explorer offers a sumptuous one or two-night stay onboard its carriages. Its journey is one of the highest train routes in the world, taking you through sweeping highland scenery from Cusco to Puno, by Lake Titicaca, with the option to continue to Arequipa as a three-day, two-night journey. The route is available in either direction too, meaning you can start or end in Cusco, helping us to arrange your luxury vacation to Peru with added flexibility.
The experience onboard is exceptional, with gourmet fine dining, a spa carriage, and an open-air observation deck where you can take in the view at a sleeper train pace. Inside your private suite, you'll find linen-covered walls, hand-woven textiles, soft alpaca bedding, timber finishes, and bathrooms tiled in local stones. In-built oxygen ensures a comfortable atmosphere whilst traveling at high altitudes, and with a lack of Wi-Fi onboard and limited phone signal, you can simply sit back and relax on your slow travel journey through the best of Peru.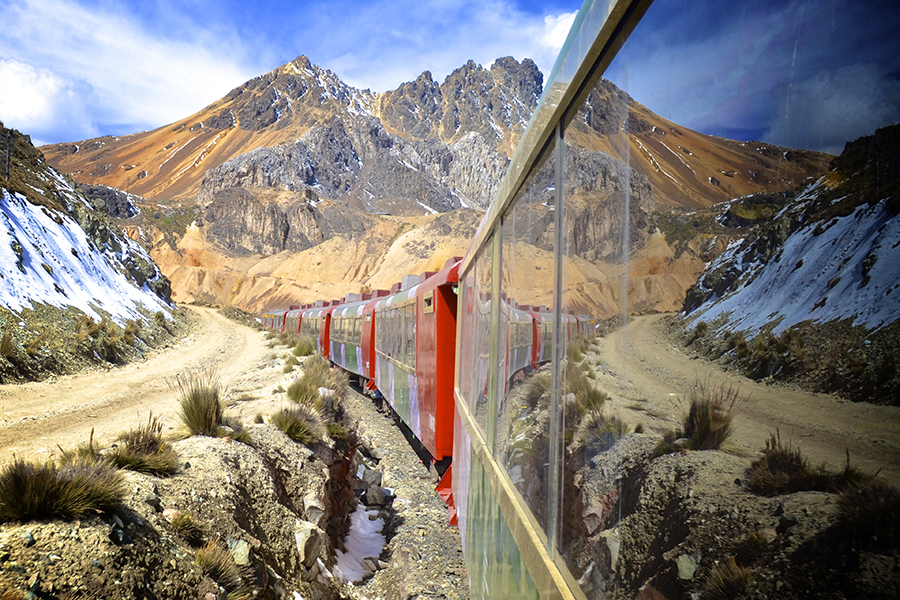 Perfect for Adventure Seekers: The Ferrocarril Central Andino to Huancayo, Central Highlands
Lima – Huancayo (this route is currently suspended, yet given its magnificence, we've included it ready for when the service resumes!)
If you're looking for a pass less trodden for your private vacation to Peru, then look no further than the Ferrocarril Central Andino – the second highest railway line in the world. Its track takes travelers from Lima to the city of Huancayo on a 12-hour route that runs through the heart of the Andes.
A trip aboard the Ferrocarril Central Andino requires some planning since its schedule runs around just five times per year between April and October. The railway is an impressive engineering feat, constructed between 1870 and 1908 and featuring 58 bridges, 69 tunnels, and 6 switchbacks.
Beginning in Lima, the train climbs 4,631m (15,193ft) in just 158km (98mi) at the highest pass in Galera at 4,781m (15,685ft) from which it descends until Huancayo at 3,261m (10,698ft). Along the way, the train stops at some incredibly rural towns, offering guests an authentic insight into Andean culture away from the tourist trail. The region itself is known for its fertile land and traditional handicrafts – and accompanied by a specialist Aracari guide, you'll gain insider knowledge into what sets this area apart from others in Peru.
Perfect for those seeking adventure during a private vacation to Peru, the train will terminate in Huancayo – a city nestled high in the central Andes. Visiting here as part of a luxury vacation to Peru with Aracari means that you'll then be collected via private vehicle, and accompanied by your guide – you'll then navigate a fascinating route in style and comfort, taking in unique and rarely visited sights such as the Santa Rosa De Ocopa convent.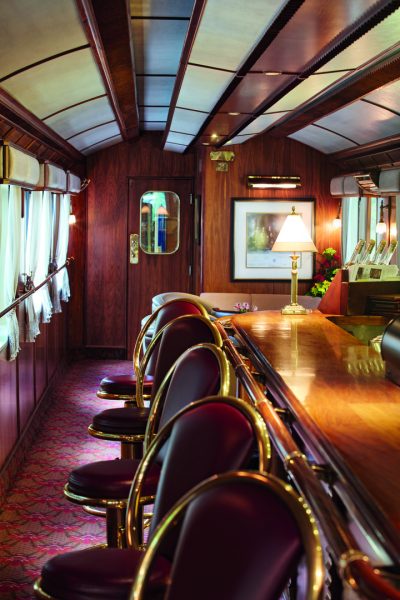 Perfect for Traveling as a Group: The Hiram Bingham Royal Charter to Machu Picchu
Poroy, Sacred Valley – Machu Picchu
The Hiram Bingham Royal Charter is a train ride through Peru quite unlike any other. Ideal for those traveling to Peru as a group of friends, this premium service offers a private party of up to twelve guests a chance to glide through the Peruvian Andes in sumptuous 1920s glamour.
The carriage can be anchored to the regular Hiram Bingham train schedule or can be arranged as a separate service whereby the private suite is attached to its own locomotive and adjoining kitchen carriage. For either option, you'll first be welcomed with a Pachamama ceremony and traditional Andean dance performance on the platform, before heading on board for your journey towards the cloud forest and a private guided tour of Machu Picchu.
Featuring its own bar, the Hiram Bingham Royal Charter is attended to by a dedicated butler who will serve unlimited drinks (alcoholic and non-alcoholic) throughout the journey. For lunch, a gourmet menu showcasing native Andean ingredients will be served in a fine-dining setting, as the carriage passes through some of the most spectacular landscapes in all of Peru. And once your party reaches the final stop, a luxury private transfer waiting will be waiting to take you from the station and up to the ancient ruins.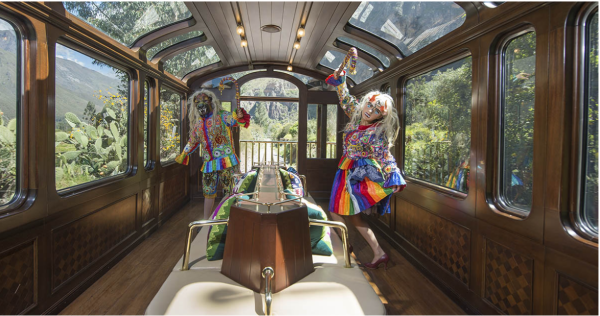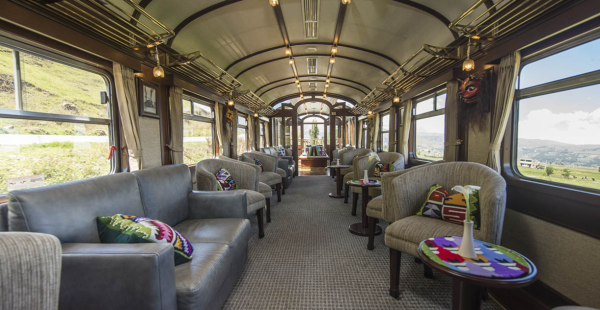 Perfect for Traveling as a Family with Children: Peru Rail Vistadome Observatory to Machu Picchu
Ollantaytambo – Machu Picchu
For those traveling to Peru with children, a ride on the Vistadome Observatory is an unmissable experience. Its route is mapped between Ollantaytambo and Machu Picchu, yet this is so much more than an A to B train service. Aboard, travelers can expect an electric atmosphere, one that aims to immerse guests in both the Andean countryside and its culture.
The panoramic windows found throughout the train's carriages, and within its unique 360-degree Observatory Car – provide unobstructed views of the passing Sacred Valley and the flowing river below which carves its way through the landscape.
But what makes this luxury Peru train especially unique – and the ideal option for a luxury family vacation to Peru – is the live performances that take place both on the platform and whilst the train is in motion. Dancers in traditional dress, with masks representing animal figures, will perform the Saqra; a traditional dance native to the highlands of Cusco. The impressive show will be set to typical music from the Andes as the train crosses the ancient land on the once-in-a-lifetime journey to Machu Picchu.
Let us design a luxury vacation to Peru for you
Of course, each of the unforgettable train journeys listed above wouldn't be complete without being part of a luxury vacation to Peru, designed by our award-winning travel team.
After a quarter-century in the business, and 14 Conde Nast Travel Specialist Awards later, we pride ourselves in connecting our clients to experiences that go beyond the standardized tourist trail. So, book an appointment with our team today and set your sights on luxury train travel in Peru along with plenty of other adventures too.