The Sacred Valley is a must-see destination in Peru and home to a wide range of sumptuous luxury five-star hotels and charming boutique retreats. In addition, private homes make a welcoming retreat to use as a base to explore the highlights of this region. Aracari has scouted out and handpicked a selection of gorgeous and welcoming Sacred Valley private villas which can be booked as part of any tailormade trip to Peru. Here we share our first-hand experience staying at one of our top pick Sacred Valley private villas.
Sacred Valley Private Villas – Aracari's Review  
Walking into the villa, I was greeted by two things simultaneously – the beautiful bright colours of the eclectic but tasteful Andean decór, and the inviting smell of my dinner simmering away from the kitchen, under the watchful eye of Berta the cook.
Private Condominium
Nestled in a private gated group of condominiums, set in lush tropical gardens, are seven beautiful and inviting Sacred Valley private villas, one of which is available for Aracari guests. With lovely configuration and character and style, it offers a high level of service, perfect for a relaxing and homely stay in the Sacred Valley.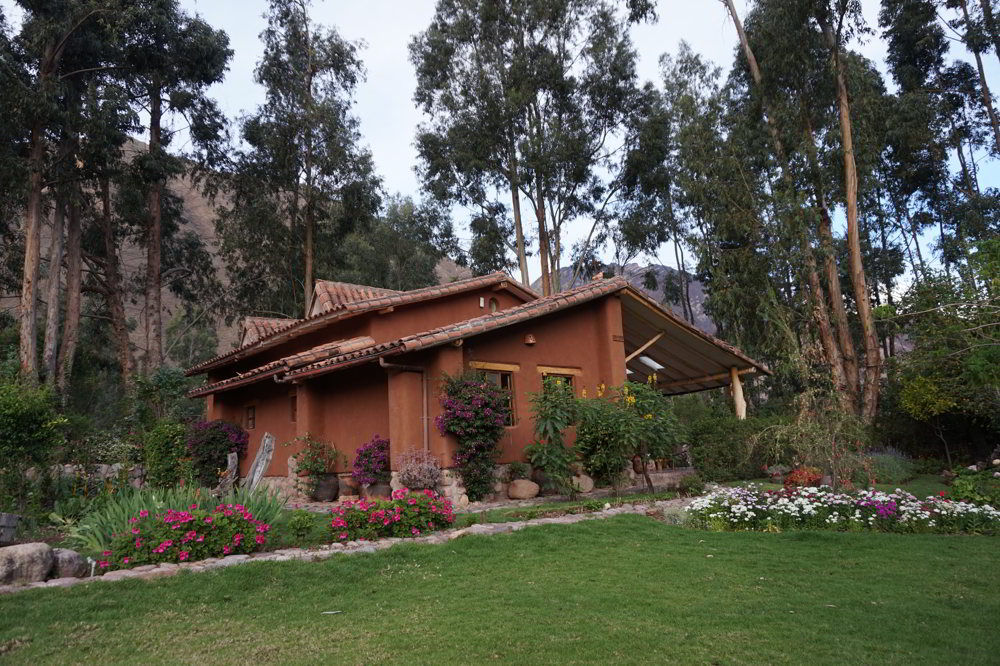 Located on the edge of the town of Urubamba, the location is perfect for exploring the highlights of the Sacred Valley and catching the train to Machu Picchu from nearby Ollantaytambo. The Sacred Valley as the ideal place to start your exploration of the area – its lower altitude means you can comfortably acclimatise before exploring Cusco which has a higher elevation.
Entering the villa feels like walking into a cosy and inviting Peruvian country home. It is tastefully decorated with an eclectic mix of Andean art, handicrafts and collectables including traditional hats from nearby communities, ornate ceramics and beautiful colourful tapestries. Everywhere you turn there are interesting features to peruse.
---
Read more about Aracari's full collection of private villas in Peru. 
---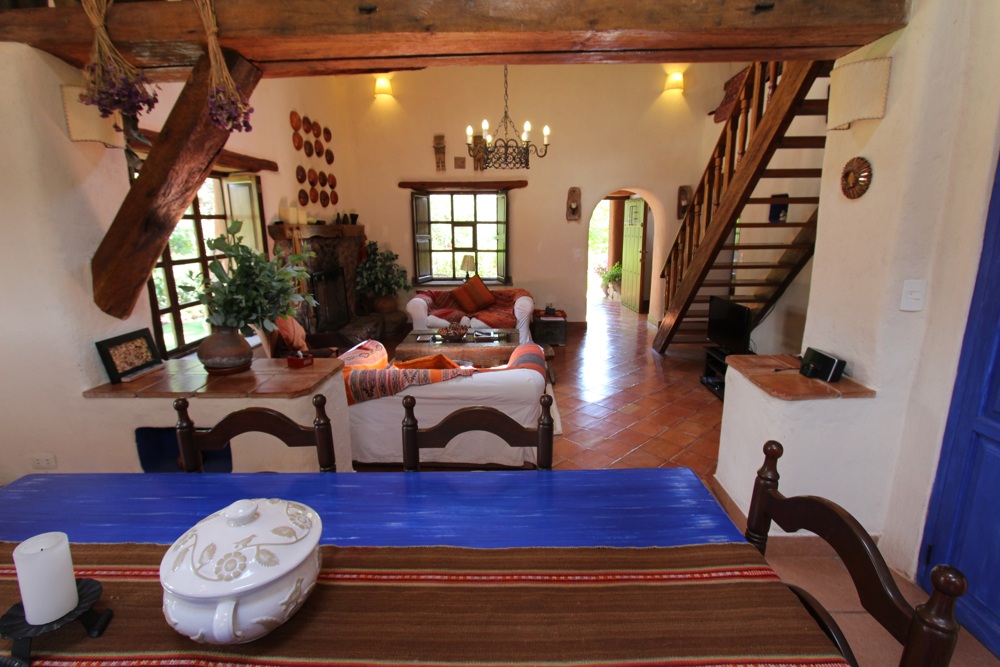 Upon arrival at the Sacred Valley private villas, I was greeted by a warm cup of coca tea, and then given a tour of the villa and gardens, by the friendly host Edna, originally from Lima, but now enjoying life in the Sacred Valley.
The master bedroom is spacious and inviting, with bright Andean fabrics on the king-sized bed, an electric heater to keep you warm, and an en-suite bathroom. Upstairs there is a second queen-sized room with en-suite facilities, leading off from an open-plan mezzanine space with an additional two single beds and a curtain for privacy, perhaps more appropriate for children.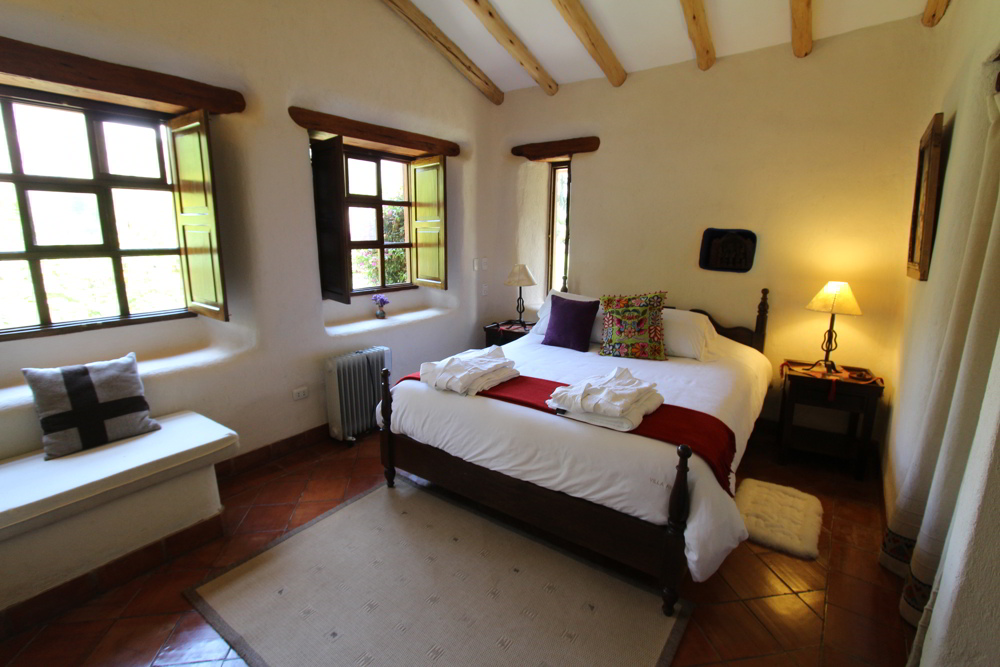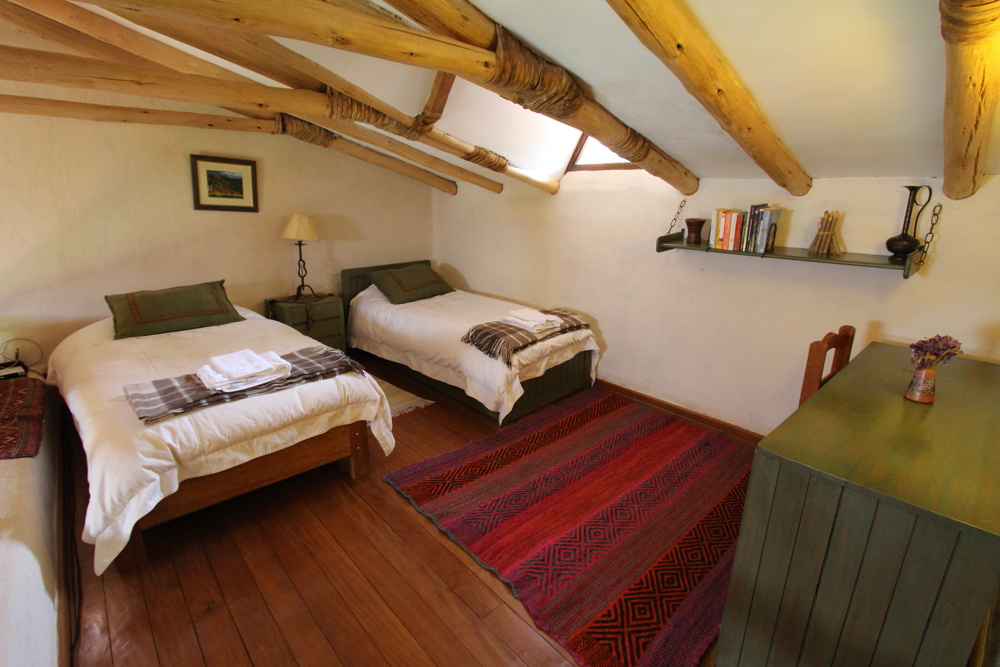 Back downstairs, the focal point of the living room is the large traditional fire place, ready to combat a typically chilly evening in the Andes. Once the fire was roaring I spent the evening curled up next to the fireplace with a deck of cards and a cup of muña tea, a type of indigenous mint.
The open-plan configuration leads to the brightly coloured kitchen and dining space, where Berta prepared my dinner and served it up at the large, farm-style dining table.
Delicious Andean home cooking
There are three menu options which can be requested in advance for lunch or dinner, showcasing local ingredients and authentic homely Peruvian cuisine.
My dinner started with a favourite local combination of Cusco corn and fresh local cheese, following by a delicious and warming homemade pumpkin soup. For the main course, fresh trout from the river was served with quinoto (quinoa risotto) flavoured with aji amarillo (a flavoursome variety of yellow chilli) and fresh herbs, with a fresh salad from the garden. Dessert (not that I had any space left at this point) was ice cream with a berry compote.
The next morning, I awoke to more inviting aromas from the kitchen. Coffee was brewing in the pot and breakfast consisted of delicious quinoa pancakes, eggs, bread and fresh fruit. The sun was out so I ate at the picnic bench in the garden, with a stunning view of the mountains – what a beautiful way to start the day in the Sacred Valley!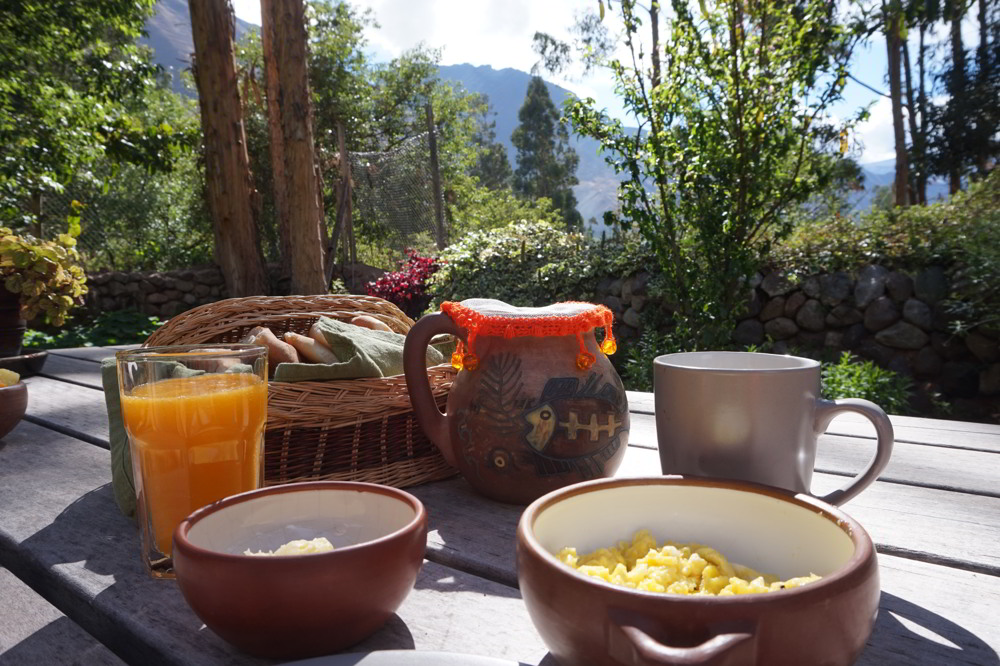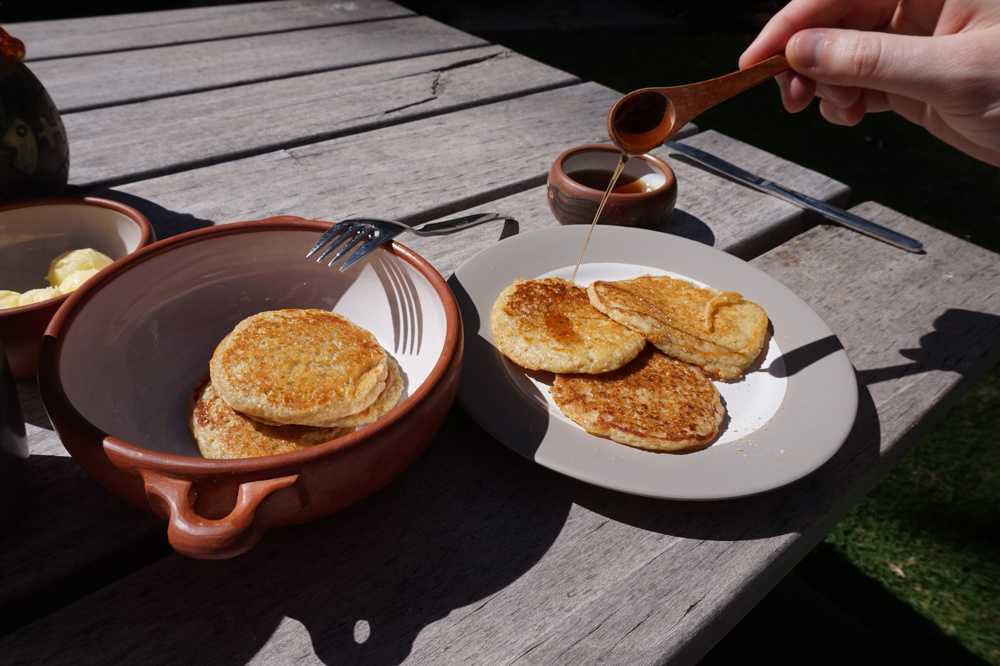 The large communal gardens are beautifully manicured, with benches, swings and a fire pit area modelled on the terraced ruins at Moray – perfect for star-gazing on a clear evening.
The Private Villa Details:
Sleeps up to 7 people
Master bedroom with king-sized bed and en-suite bathroom
Second bedroom with queen-sized bed, balcony with mountain views and en-suite bathroom
Third bedroom with a single bed
Mezzanine open-plan space with 2 x single beds
Guests are welcomed by an English-speaking guide, and staff are on-hand to prepare meals, and light the fireplace if requested. However it is not a hotel, and the level of service is not akin to one – for the most part, you're left to enjoy the peace and tranquility of this unique Andean escape.
Visit the Sacred Valley with Aracari
The best private villas in the Sacred Valley can be booked with Aracari as part of a private, tailormade trip to Peru (not on a standalone basis). Contact us for more information.
If you like having your own space, have a look at our other private villas in Peru. And for those who want a bit more luxury, check out our recommendations for the best luxury hotels in Peru.