For a truly authentic day in the Sacred Valley, I highly recommend you join Ollantaytambo based NGO, Awamaki, for a weaving experience and village visit. I had the chance to participate on a recent trip to the region with my family, and I am delighted to be able to share details of my visit and why this is such a special Sacred Valley responsible travel opportunity. A day with Awamaki can be arranged by Aracari as a part of any larger, tailormade trip to Peru – check out our Connecting with Peru itinerary for inspiration.
Sacred Valley Responsible Travel
Awamaki is an NGO based in Peru that aims to empower rural communities through responsible tourism and revitalize their culture through textiles. The responsible tourism experiences they offer range from full-day weaving village visits to four-day textile workshops. To get a taste of village life and textile culture, I recommend you opt for the full-day visit as I did. The longer immersion workshops are better suited for very niche-interest travelers.
My Experience with Awamaki
The Journey to Patacancha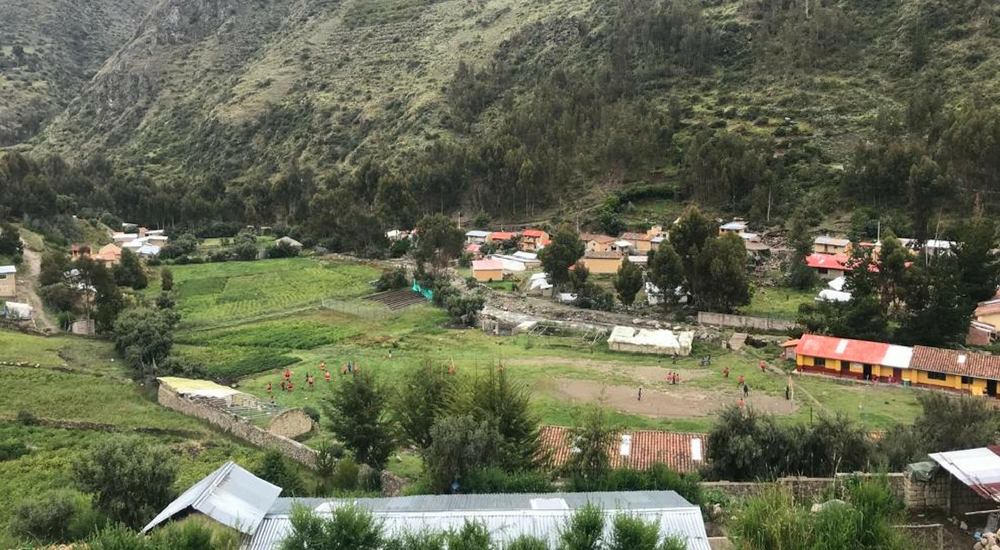 The day started with pick-up from our hotel near Urubamba and we began the one-hour drive to the quaint village of Ollantaytambo. Famous for its ruins, train station, and traditional local life, this is a must-see stop on any trip to the Sacred Valley. From here, we met our Awamaki guide, Juan, and began a 1 hour and 20 minute journey to the community of Patacancha.
Awamaki works with many weaving communities in the Patacancha Valley, so the exact location of visits vary. But no matter where you go, you will make stops along the way at little-visited ruins or small churches to take in the rich culture and heritage of the region your are visiting.
Meeting the Weavers
Upon arrival to the community, the kind-hearted and vibrantly dressed weavers welcomed us with flowers and hot tea. I could already tell this experience was a very authentic Sacred Valley responsible travel opportunity. The women were dressed in traditional clothes – but not as a show for us. We could see over at the school nearby all the local children playing in their traditional outfits as well.
We then entered the weaving hut that Awamaki built for the community. Here, not only do they host travelers, but also have social gatherings or 'weaving parties' when they have a big textile order. Awamaki promotes the fabrics of these women globally, connecting them with international designers so that their products increase in value. The organization uses the connections knowing that someone is willing to pay more for a handbag than a woven textile in raw form.
In the weaving hut, we all stood in a circle and the women introduced themselves in their native language of quechua. Juan translated for us, and then taught us a few words in the language so we could introduce ourselves as well. Though the women were shy, they made a huge effort to welcome us and thank us for our visit.
The Process of Creating Yarn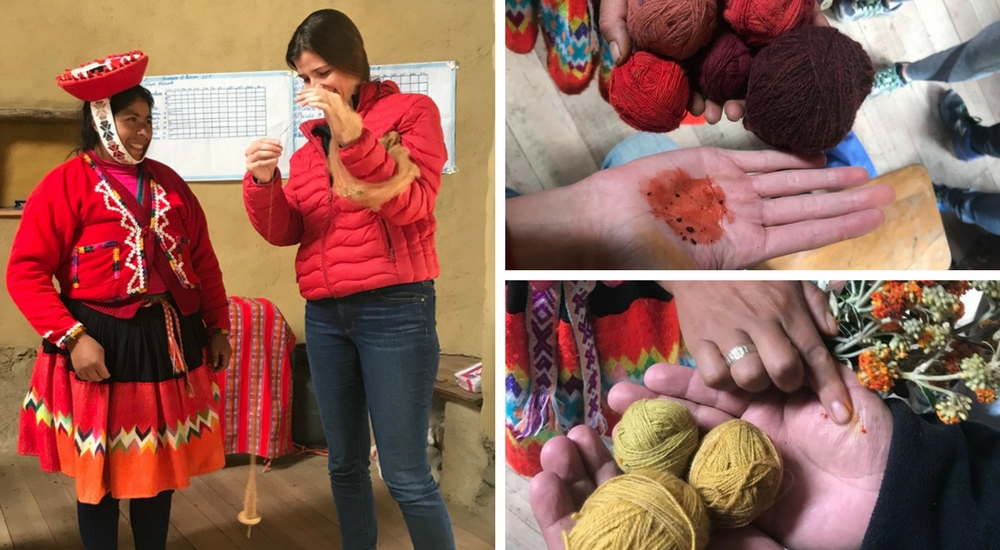 Our weaving session then began with an explanation of the different kinds of fiber used – ranging from alpacas to llamas to sheep. Juan translated all of the lesson for us and gave us the opportunity to ask questions as we felt each fiber. The weavers were then paired one-by-one with a visitor, and taught us how to spin yarn using their traditional spindle. For about 15 minutes we communicated with our weaving instructors using hand motions, laughs, and facial expressions. Eventually everyone got the hang of spinning (though not nearly as skillfully or rapidly as our teachers!).
We sat down again as Juan translated the lesson on natural dyes, and how the women create the brilliant colors in their textiles. The weavers came around, pressing small bits of flower or plant into our hands and showing us how the color transferred to our skin. Then we went outside to see how they boil those same plants with the hand-spun fibers to create beautifully dyed yarn!
Learning to Weave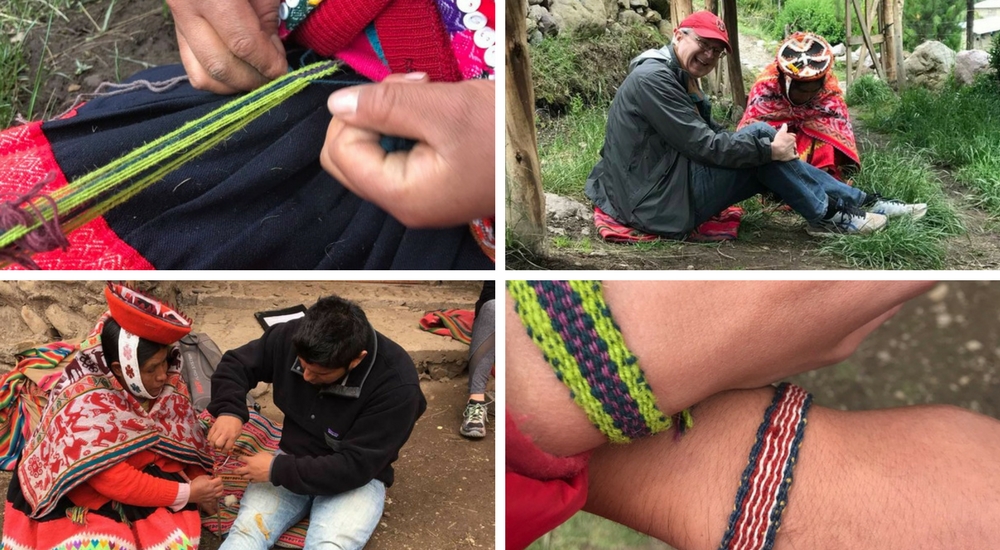 Then came the best part of the experience – we were once again paired with our expert weaving instructor, who instructed us to pick 3 colors of yarn and a pattern. She then set up the yarns and taught us how to weave our own bracelets! Counting the threads, pulling them through with just the right amount of tightness, and remembering what step was such a fascinating way to see how intricate the process really is. The bracelet (with my teachers help) also turned out as a great souvenir to take home.
When we finished the bracelet, the women brought out some of their hand woven items for purchase. There was no pressure to buy, but it is fun to see what your teacher has made and maybe purchase another little souvenir to take home with you. If you participate in the tour and are interested in purchasing textiles, I recommend you bring cash in small denominations as the women often don't have change.
Traditional or Pachamanca Lunch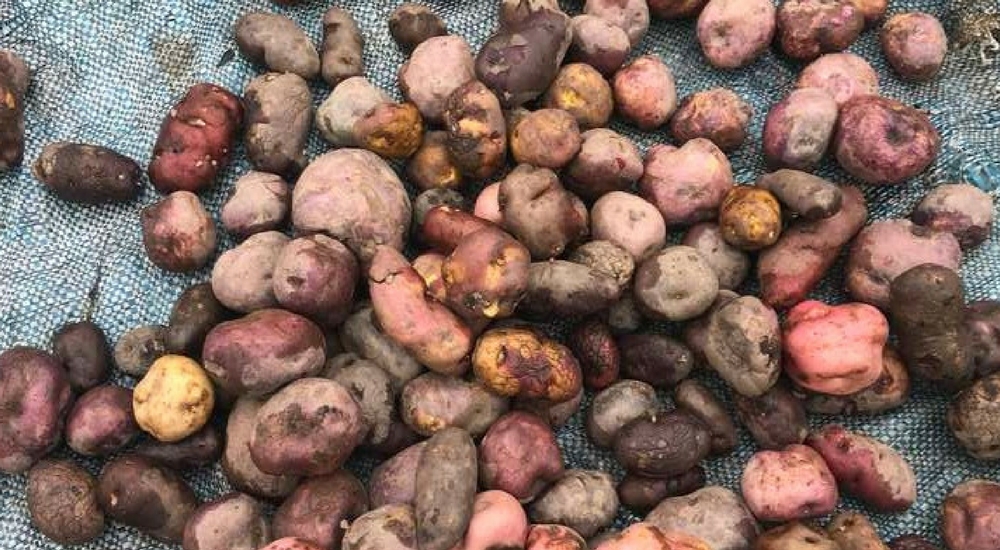 The day wrapped up with lunch. Depending on which full-day experience you choose you will either enjoy a traditional lunch in the home of one of your new friends or a pachamanca lunch cooked under the earth. The lunch is delicious, but rustic, so do expect to eat with your hands and fully embrace the rural community lifestyle.
Finally, it was time to head back to our hotel so we hugged our teachers goodbye, and began the return trip to Ollantaytambo. The full-day experience ended in Ollantaytambo around 3pm, so it was easily combined with a visit to the town and ruins. We then made our way back to the hotel feeling grateful for the chance to participate in Sacred Valley responsible travel with Awamaki.
Responsible Travel Peru with Aracari
At Aracari, we are committed to preserving the communities and environments we bring our guests to. This is why we strive to implement responsible and sustainable travel in everything we do. Along with our own initiatives like providing reusable water bottles to guests, Awamaki is one of the many wonderful organizations we work with to support the communities of Peru. Some other initiatives you may be interested in are Tierra de los Yachaqs, the Center of Traditional Textiles in Cusco, and Luquina Chico.
For more information, or to start planning a responsible trip to Peru – contact us!