On a recent trip to Peru I took a long weekend and headed 4 hours south of Lima to visit Ica, an area of vast fertile land that produces succulent grapes for Pisco (Peru's national drink). I am thrilled to share my experience which was centered around my stay at Hacienda La Caravedo, one of the top accommodations in the area that also delivers the best of fine Peruvian spirits.
Pisco & Paso Horses at Hacienda La Caravedo Ica
I began my journey to Hacienda La Caravedo around 9am when my private car picked me up in Lima. I was already looking forward to my weekend away, but the anticipation only grew as coastal desert sprawled out my window. I passed through several local towns before arriving to the green vineyard oasis of the traditional Hacienda and distillery.
Set on 48 hectares of gorgeous green vineyards in the middle of Peru's coastal desert, this traditional hacienda is more than just a place to stay – it is a true experience. La Caravedo is known for being the oldest working distillery in the Americas and was founded in 1684 to produce Peru's national spirit of Pisco. Guests of the hacienda are treated to tours of the famed distillery and sampling of the award winning Pisco, in between relaxing by the pool and exploring the surrounding area. The hacienda boasts 5 air-conditioned bungalows, each of which is equipped with a private terrace and kitchenette to help guests feel right at home.

Highlights of My Stay at Hacienda La Caravedo Ica
What I liked most about La Caravedo was that it offered me the possibility of staying in first class accommodation, in complete privacy and wonderful surroundings, while I had the opportunity to immerse myself in authentic traditions from the southern coast of Peru. Apart from relaxing by the gorgeous on-site pool, and using La Caravedo as a base to explore the fascinating surroundings, such as the Nazca Lines, Paracas National Reserve and Ballestas Islands, there are many activities within the property. A few of my favorites include:
The Oldest Distillery in the Americas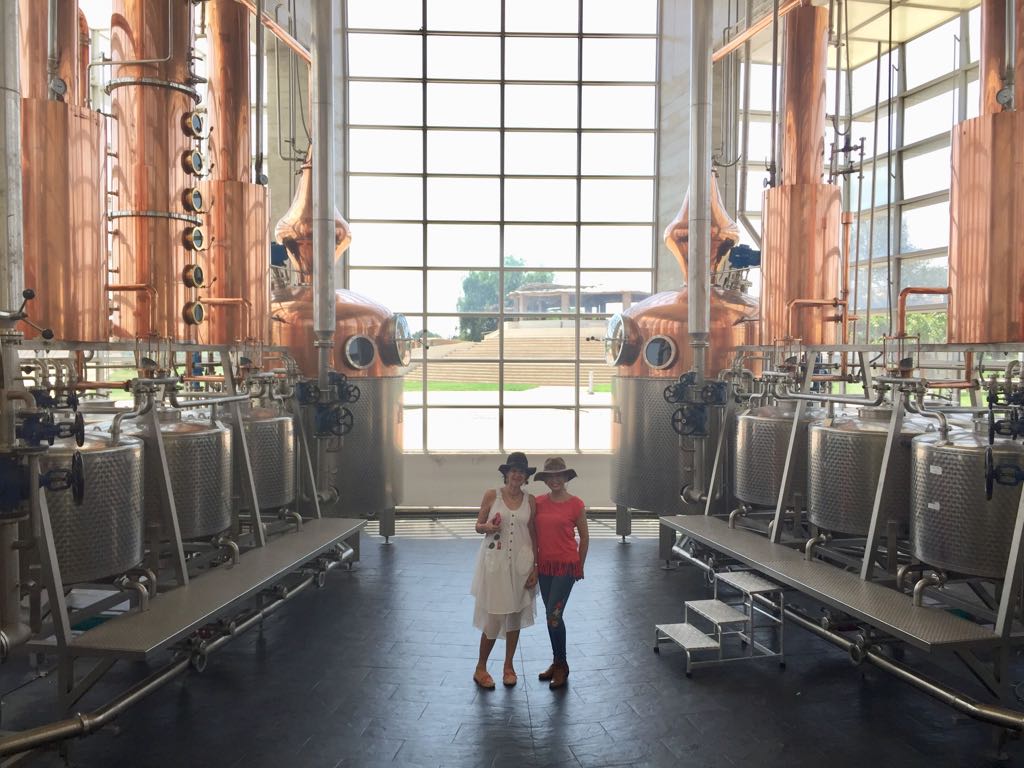 Probably the highlight of staying at the hacienda is the opportunity to visit the oldest distillery in the Americas. A private tour of La Caravedo distillery includes tastings of the incredible Piscos of the same names – La Caravedo Torontel and La Caravedo Quebranta. Developed by Master Distiller Johnny Schuler, a Pisco expert, La Caravedo has the same quality, authenticity, and heritage as the Hacienda where it is made.
Every bottle is made with eight pounds of only the finest, estate-grown, single expression grapes. The spirit is distilled to 8o proof and is unaged, unaltered, and made with no additional flavors or additives– not even water. It is rested in concrete containers for a minimum of six months to allow the flavors and aromas to reach their peak before bottling. During your tour you will learn about and witness the use of gravity-fed distillation to gently extract the flavor of the grapes, a wooden usillo to press the grapes, and a state-of-the-art facility using small batch copper pot stills dedicated to environmental stewardship. You will also be able to taste test the Pisco created here.
Peruvian Paso Horse Rides & Show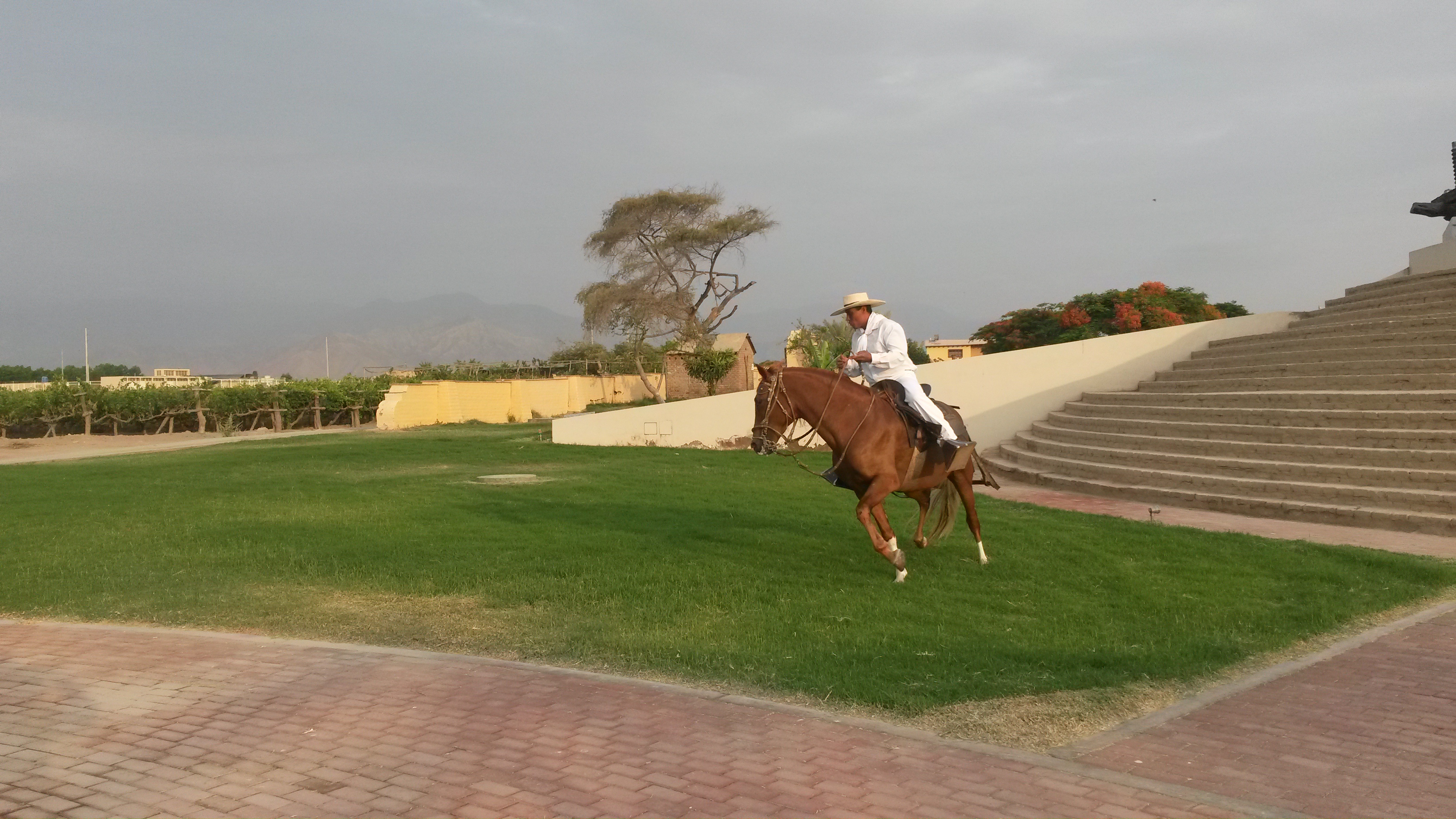 Hacienda La Caravedo has 17 beautiful horses that guests can ride around the expansive vineyards. If you don't ride, which I didn't in this instance, it is still wonderful to learn about Peruvian Paso horses and be around them. At La Caravedo they organise beautiful Paso Horse Shows. These normally take place while guests have lunch in an outdoor covered restaurant overlooking stables and fields. As you have lunch, traditional music starts playing and two or more Peruvian Paso horses appear, tacked with traditional hand made leather decorations, ridden by the "chalan," elegantly dressed in white linen with a wide brimmed straw hat and a white poncho. The show lasts between 15 and 25 minutes and it is both beautiful and authentic, showing you a genuine tradition from the coast of Peru.
Exclusive Experiences with Aracari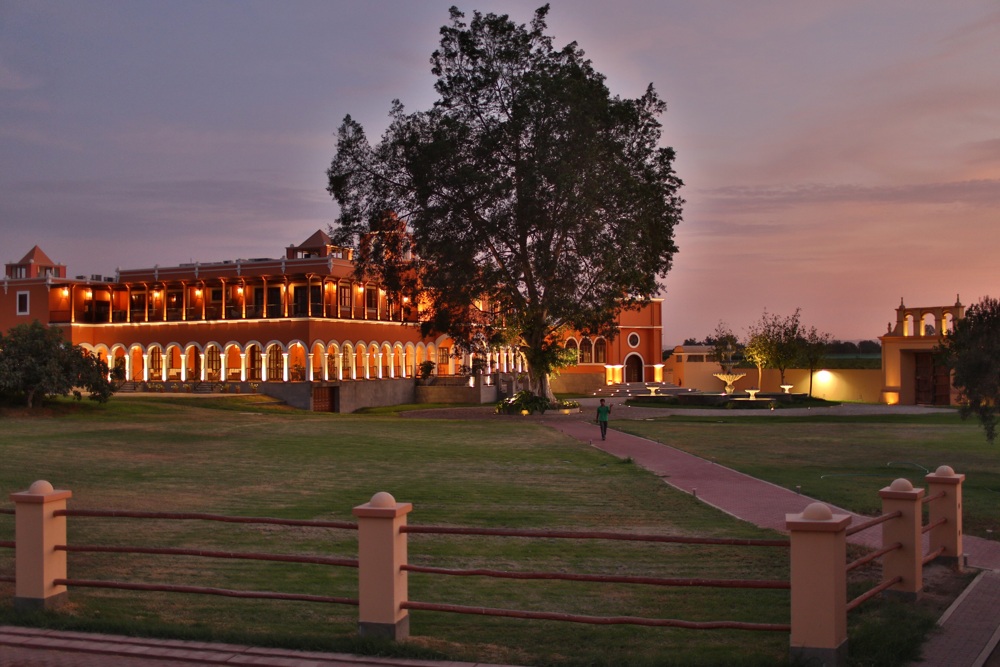 When traveling to the hacienda with Aracari, you will be able to take advantage of special experiences only offered to our guests. For example, in the evening enjoying a drink under the starlit desert sky on a private terrace only accessible to our guests was the perfect ending to a memorable stay and experience.
Visiting Hacienda La Caravedo Ica on a tailormade trip to Peru
Everything at La Caravedo – the warm hospitality, the flexibility in the activities, the blend of traditional and modern and the very luxurious surrounding – makes it a unique experience in Southern Peru that I would highly recommend. For inspiration on how to combine Hacienda La Caravedo and Ica with other key destinations in Peru, check out our Amazing Andean Adventure Itinerary. Or to start planning a tailormade trip –  contact us!