Divided by powerful rivers, home to some of the earth's last isolated indigenous tribes, and filled with 10% of the world's species, the awe-inspiring Amazon rainforest is a natural wonder unlike any other. Aracari has personally explored the planet's oldest jungle to handpick the best luxury Amazon lodges Peru, taking into account their guiding expertise, sustainability efforts, comfort and service. Read on for a round-up of our top picks, or contact us to start planning a tailormade trip Peru.
The Best Luxury Amazon Lodges Peru
BEST FOR WILDLIFE: TAMBOPATA RESEARCH CENTER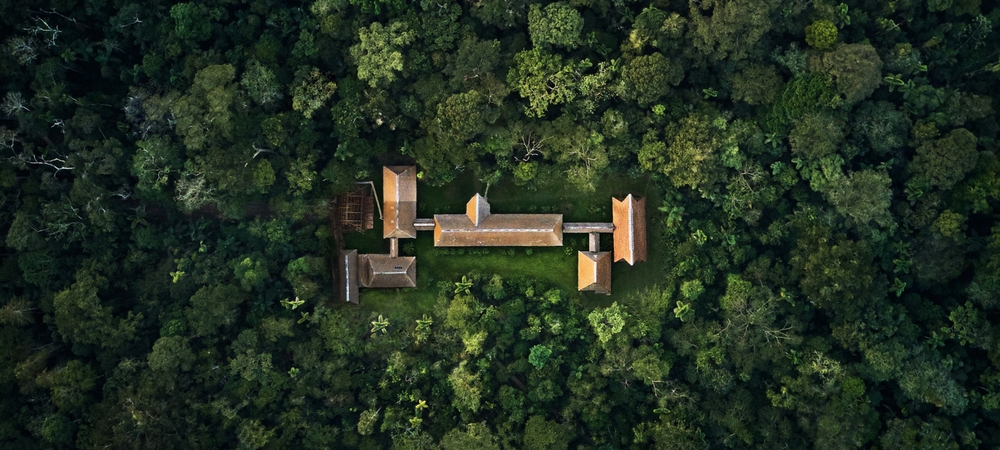 Tambopata Research Center: Located around eight hours upriver from the city of Puerto Maldonado, Tambopata Research Center (TRC) is the most remote Amazon lodge in Peru and the only lodge within Tambopata National Reserve. Its secluded location deep in the heart of the jungle provides guests unrivaled opportunity for wildlife watching evidenced by the 25% of guests that see jaguars and the colorful spectacle of Macaw clay licks located mere meters from the lodge. Highlights of a trip to Tambopata Research Center also include the chance to participate in authentic wildlife investigations through the citizen's science project Wired Amazon and rooms that offer private decks or outdoor living rooms.
Read about Marisol's (Aracari's Founder and CEO) experience at Tambopata Research Center.
BEST FOR FAMILIES: REFUGIO AMAZONAS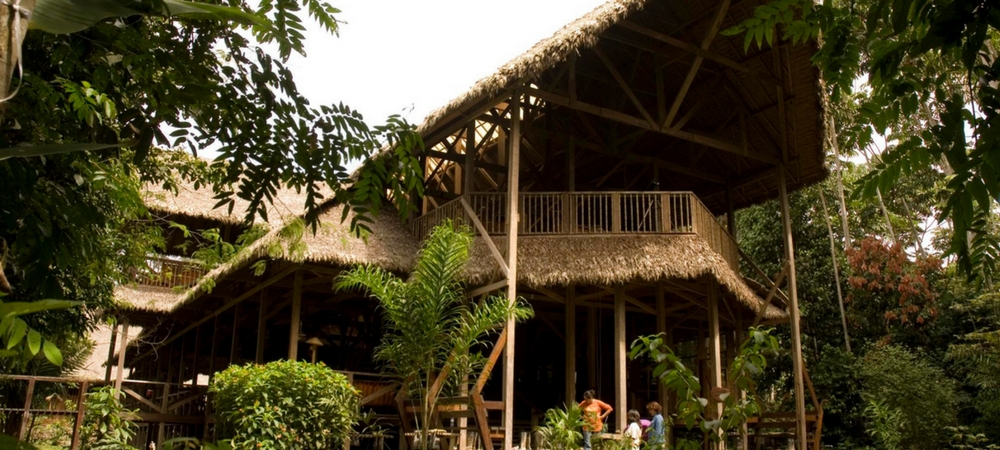 Refugio Amazonas: Our top pick for those traveling with children is Refugio Amazonas. Four hours from Puerto Maldonado, this lodge offers the only attraction especially made for kids in the Peruvian Amazon: the Children's Rainforest Trail. Along with the trail, a special program for teens and a variety of other kid-friendly adventures make Refugio Amazonas one of the best luxury Amazon lodges Peru for families.
BEST FOR PRIVACY: AMAZON VILLA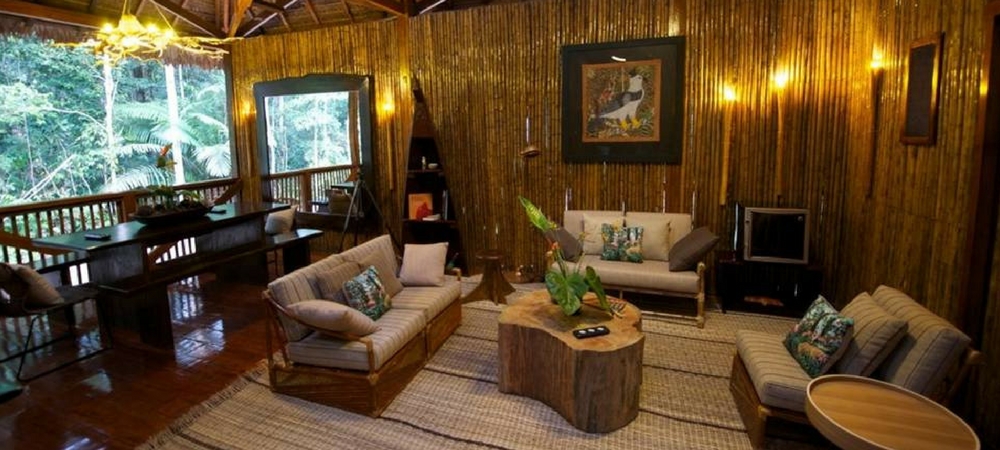 Amazon Villa: For the utmost privacy look no further than this cozy Amazon villa located 15 minutes from Refugio Amazonas. With pristine jungle as the backdrop, a garden barbeque and patio, and privately guided rainforest excursions, the Amazon villa experience is an intimate escape perfect for couples. The private villa is equipped with a king size bed, a personal work space, and an inviting bath tub among other luxuries.
MOST LUXURIOUS: INKATERRA RESERVA AMAZONICA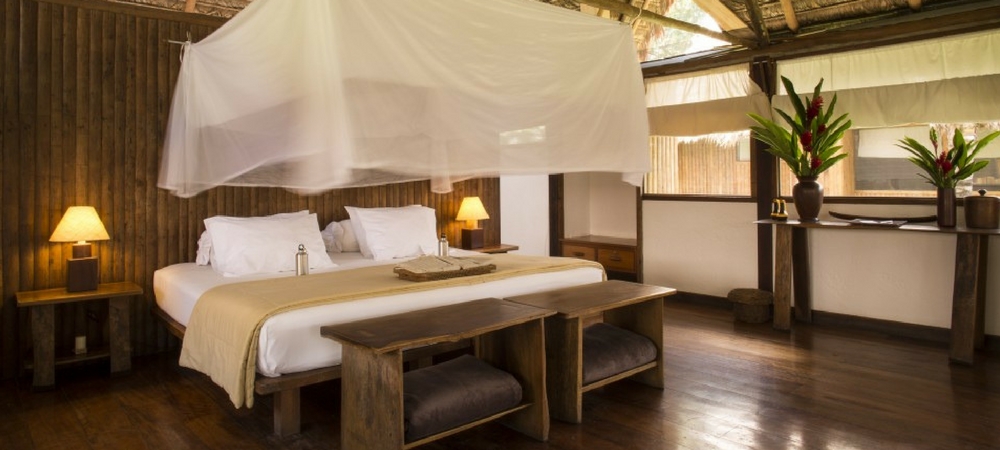 Inkaterra Reserva Amazonica: This lodge offers the most plush accommodation and facilities in the Manu and Tambopata region of Peru's rainforest, only a 45 minute motorboat ride from the city of Puerto Maldonado. Visitors to Inkaterra Reserva Amazonica weigh the ease of access and creature comforts of the lodge against limited wildlife viewings. There are a la carte experiences and meals, allowing guests to treat themselves to rustic elegance in the jungle.
EASIEST TO GET TO: INKATERRA HACIENDA CONCEPCIÓN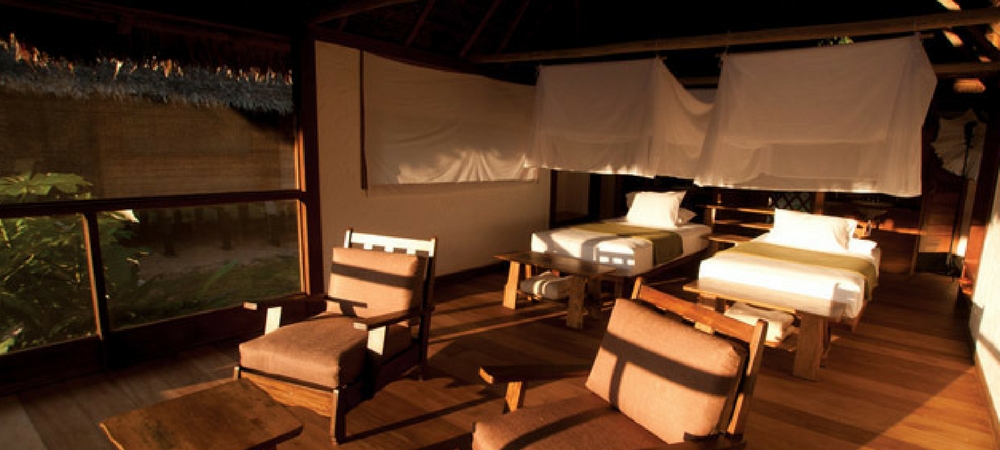 Inkaterra Hacienda Concepción: A sister property of Inkaterra Reserva Amazonica, Hacienda Concepción offers a similar level of comfort and eco-luxury making it the best lodge for travelers looking to get a taste of the Amazon without traveling too deep into the jungle. It is built on land that was once a cacao and rubber plantation and is only a 20 minute boat ride from Puerto Maldonado. Hacienda Concepción offers a fixed schedule of activities vs the a la carte excursions at Reserva Amazonica, and the lodge itself feels more naturally integrated into its jungle surroundings.
BEST FOR CONNECTING WITH THE LOCALS: POSADA AMAZONAS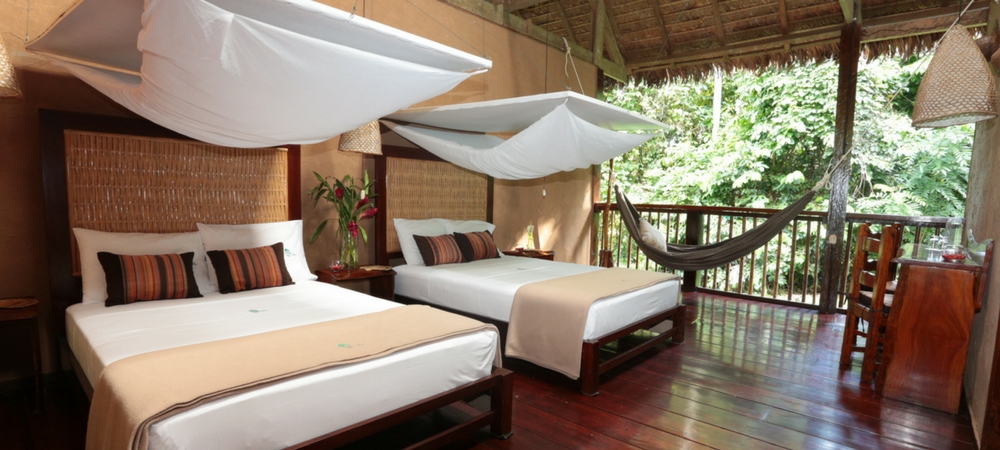 Posada Amazonas: Owned by a local company and the native community of Infierno, Posada Amazonas is well connected with the locals. This lodge is only about 2 hours from Puerto Maldonado, and is the ideal place to support and learn about the fascinating communities of the jungle.
The Alternative to a Lodge: Luxury Amazon Cruises
Guests looking for five-star accommodation during their jungle experience should also consider luxury Amazon cruises. The best luxury Amazon cruises are Delfin I, Delfin II, Delfin III and the Aria Amazon all of which embark from Iquitos – only a short flight from Peru's capital, Lima. Contact us now for expert, honest travel advice for choosing the best luxury Amazon lodges and cruises.
Visiting the Amazon with Aracari
At Aracari, we have tried and tested all of the best luxury Amazon lodges Peru and our recommended jungle experiences so that we can give you personalized, tailormade insight on a trip to the region. Our expert travel planners are locally based and well traveled, giving them first-hand knowledge of important factors like seasonal wildlife watching, weather, and travel time to lean on when crafting your bespoke itinerary.
Contact travel@aracari.com to start planning a tailormade trip Peru to the Amazon with Aracari.