Pisco is Peru's national spirit and has been an integral element to Peruvian life and culture for more than 400 years. Outside the city of Arequipa, in Southern Peru, lies a scarcely-visited fertile, green grape-growing region that produces this popular liquor, alongside Peruvian wines. Comprised of around 17 vineyards, Arequipa's Pisco Route – launched as such in 2017 – is reachable as a day trip from Arequipa. I recently had the opportunity to visit a couple of the local bodegas on this route, following the entire production process right through to extensive sampling! It was a non-touristy experience, as I was the only visitor at both wineries I visited.
A Day on Arequipa's Pisco Route
Crossing swathes of desert driving 2.5-3 hours towards the coast with my guide, I headed to Mages Valley – one of a few valleys that comprise Arequipa's Pisco Route. The (relatively long) road journey eventually led us alongside the meandering River Mages, which flows through this oasis valley, before descending to visit Majes Tradicion and Cepas del Loro bodegas in the disctrict of La Casitlla.
During the course of the day I was given a crash-course introduction to Pisco and wine-making. There are 8 types of pisco-producing grape and Arequipa grows all of these. Technically, they can't claim to make Pisco with the 'uvina' variety, as only the regions of Ica and Pisco can, much like the word 'champagne' is reserved for a specific region of France.
---
Contact us if you're interested in a private, tailormade trip to Arequipa & Peru
---
The First Stop: Majes Tradición
In Arequipa, my first stop was at Majes Tradicion, which characterizes itself as a 'techno-artisanal' bodega, i.e. uses some modern machinery and techniques, but still a relatively small scale in terms of production and industrialization. The winery is also known as Viñas del Ocho, with the Pisco brand lending the name Majes Tradición.
When we pulled up the place was empty – a testament to the fact that Arequipa's pisco route is new to the tourist map, so very little visited. Currently the bodegas in Mages Valley welcome visitors around only three times a month.
Touring the Vineyards
Americo, the manager, appeared a few minutes later and gave me a tour around. This started out by strolling through the rows of grapes growing in their 8-hectare plot, pointing out the differences between types of grapes, which can be identified through characteristics such as varying leaf sizes and shapes. The irrigation process was also explained. In the case of Majes Tradicion, they emphasize operating as a green winery: solar panels instead of electricity, and reincorporating pips and skins of grapes into the growing process to reduce their waste.
Standing amidst green vines under Arequipa's strong sunlight, Americo explained that grapes for eating as fruit are covered from the sun when growing to offer protection; the sun can remove the colour you'd hope to see in plump, juicy grapes. Conversely with wine, the grapes aren't covered as it's almost a case of the more sun the better – the colour plays no bearing on the wine production process as the grape is not being sold to eat in its fruit-form!
A mini-metrological station was situated in the middle of the vineyard, to measure things like the speed of wind (as pollination is carried out by the wind), sun/UV measurement, a rain gauge, a  hydrometer to measure humidity  (to take measures against fungus) and thermometers for temperature— to know whether to add more or less water.
The Production Process at Majes Tradición
From here we headed up to the main building to follow the next production steps. The place was very quiet during my visit as only 8 people work at the vineyard outside of harvest time which takes place in February annually, when the vineyard is comparatively lively.
At Majes Tradición, manual foot presses have been replaced by machines. So the production process I saw was relatively industrial, which starts out with the separation of grapes. This step is important for differentiating between white and red wine: white wine will use a different grape to begin with for the process, but you also have to split the skin and pip immediately from each other before fermentation.
To produce wine or pisco, the process starts out the same either way, with pre-fermentation. The key difference is that pisco has an additional step after the wine has been produced, where you can optionally employ an evaporation process to distill it into pisco. Pisco, unlike drinks such as whisky, is distilled only once.
After the grapes are separated in the first step, the 'mosto' that is produced is put into giant cylinders to regulate the temperature, for pre-fermentation to take place. This usually takes around 15 days during which time the liquid acquires a red color. Fermentation follows, as the liquid is moved from the cylinders to storage vats to ferment. The exact time will vary, partly depending on the sugar levels – lower sugar levels see a rise in the alcohol level. When the sugar levels are reduced, the result is a dry wine. For a semi-dry wine, I learned you just need to stop this process sooner.
Sampling the Pisco at Majes Tradicion
After taking me through the technical process, it was time to sample both wines and pisco. The sweet wine (made using the italia grape variety) I took with me up a narrow, winding staircase to the watch tower that afforded views over the countryside, showing the stark contrast between the patchwork of green fields, encircled by desert hills.
The Second Stop: Cepas del Loro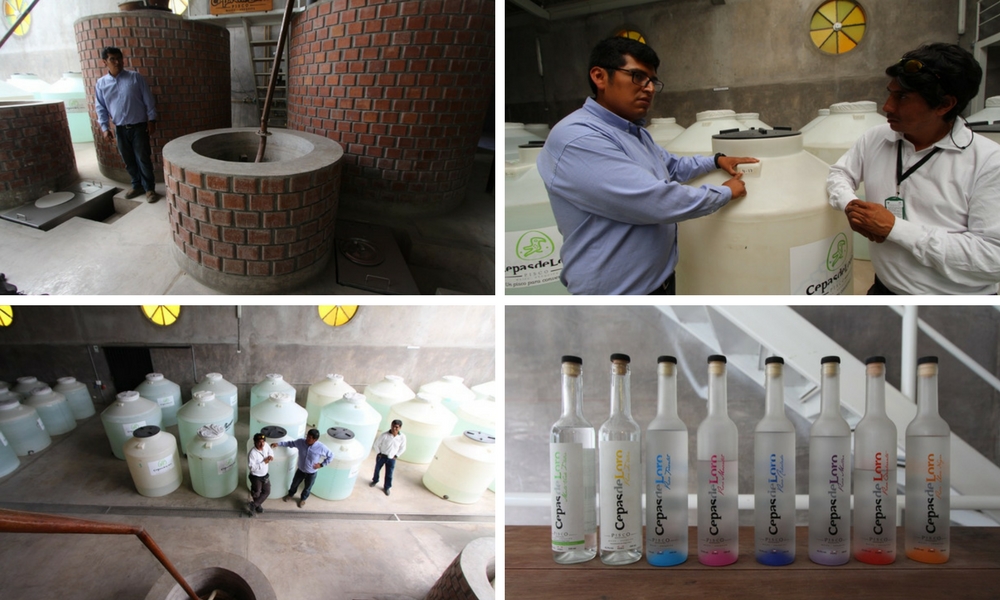 I then left Majes Tradición behind for the fifteen minute drive to our second stop, Cepas del Loro. This produced far more Pisco than wine than Majes Tradicion – approximately 90% Pisco and 10% wine. While the 10th generation family owns Majes Tradicion, Cepas del Loro is only 15 years old.
As in Majes Tradición, I was similarly talked through the pre-fermentation and fermentation process, before pulling up a chair and sampling numerous Piscos. The wine-maker, Anthony Palacios, who led the tour, was working for the owner of Cepas del Loro, and had studied oenology (the study of wine) for three years in Italy, travelling and working around grape-growing regions in Europe and New Zealand before returning to his native Arequipa. As such, the tour here was conducted in English without the translation of my guide. He believed he was likely Peru's first ever qualified oenologist!
In the first instance I was shown the artisanal methods (no longer used) whereby the soil was used a natural temperature controller. Pre-fermented wine use to have to be manually carried to fermenting storage units. Nowadays workmen carry crates of grapes and thereafter the process uses more machines – from splitting the grapes from their stalks, to fermenting.
Distilling Pisco
At Cepas del Loro more of the distillery process was demonstrated to understand how wine passes to Pisco using evaporation which ultimately converts back from steam resulting in pisco. Pisco has three parts: the head, body and tail. Only the master distiller knows when pisco is ready to cut, as you only want to extract the body.
After the evaporation exercise, the pisco is moved into plastic containers in the warmer part of the winery. The fact that the days are warm and nights cool helps to 'eliminate' the bad part of the alcohol. Anthony opened the lids of various containers and could instantly sense which were the younger piscos from their aroma – my own senses were not as refined!
Cepas del Loro prides itself on producing a high quality pisco. While Peruvian law requires 3 months of maturity, at Cepas del Loro the minimum standard is one year. I got to sample multiple varieties. Anthony explained there are two types of pisco: aromatic and non-aromatic. Non-aromatic are used for mixing drinks, like Peru's classic chilcanos or Pisco sours. Aromatic is used for sipping pure, as we did. Though, Anthony also pointed out he isn't a true believer in such a binary division, arguing that even the non-aromatic aromas have some aroma! Anthony guided me through steps of how to step following visuals, smells and then taste.
After the visit I stopped for lunch at a very local restaurant – the region is little developed for tourism, so Aracari can also arrange gourmet picnic box lunches, which helps save time, considering the driving distance to reach Mages Valley.
Arequipa's Pisco Route vs Tacama in Ica
Arequipa's pisco route sits in Peru's wider wine-growing region, which runs from Lima down to Tacna thanks to the dry climate. It was a fascinating day out, though there better developed and easier to access wineries in the Ica region, 4-5hrs south of Lima. Ica sees far more visitors than Arequipa's Pisco route (though is far from being overly touristy), due to its relative proximity to Lima and the nearby attractions of Paracas National Reserve, the Ballesta Islands and the Nazca Lines, which combined make for a great extension from Lima. For travellers to Peru, I would strongly recommend visiting Hacienda Tacama in Ica, South America's oldest winery. But for those with a particular interest in focusing their trip to Peru specifically around wine and Pisco, the number of wineries clustered around Arequipa's pisco route merits exploring.
Contact us if you're interested in including a pisco tour on a private, tailormade trip to Peru.