In these socially distant times, there looks set to be a boom in demand for booking private vacation rentals and small boutique accommodation. The trend is driven by many travelers' desperation for some rest and relaxation at the end of 2020, but also an increasing awareness of the need to travel safely.
If only you know where to look, Peru offers an array of exclusive villas, beach houses, rainforest lodges, and private condos – in all corners of the country – that provide travelers with that new definition of luxury, which concerns privacy, comfort, and first-class amenities. With this in mind, we've compiled a comprehensive list of the best small hotels and private vacation rentals across Peru and shared with you a little about what to expect.
In addition to the private accommodation, many of the smaller hotels listed here, also allow guests to book their entire property, individual floors, or even a wing of the building, for added assurances. This opens the door to safe travel with larger groups of friends and family, often at a superb value. 
Finally, we should not fail to mention that all our hotel partners are making individual efforts to keep their guests and staff safe by introducing such features as; requiring masks in public areas, the taking of regular temperature checks, pre-booking of common facilities, and installation of sanitizer stations. Anyway without further ado, here is our list of the best small hotels and private vacation rentals in Peru: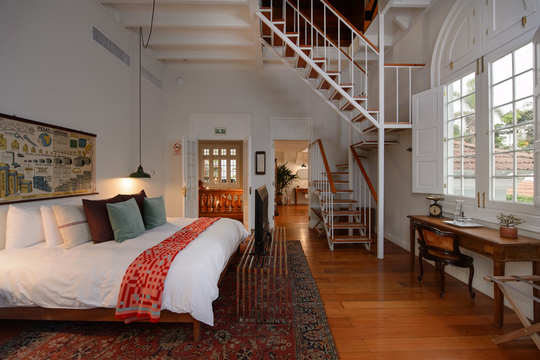 Best Vacation Rentals In Lima
A stately 9-bedroom republican home in the heart of Lima's bohemian district, Villa Barranco is one of our favorite places to stay in Peru's capital. Few travelers realize that's it's possible to rent this home away from home. Beyond the chic decoration of the property, you'll relish the pacific ocean views from the property's rooftop veranda.
Another 9-bedroom restored mansion, but this time in the chic neighborhood of Miraflores is the hotel Atemporal. The entire property can be privately rented to individuals or groups and with a 24/7 concierge and catering service at your disposal, offering made-to-measure assistance with your every need, you may not want to leave the house. If you do, you'll be only a short stroll away from Lima's finest restaurants, fashion boutiques, and one of Lima's most important archaeological sites, Huaca Pucllana.
If you're looking for a slightly smaller property to rent in Lima, then look no further than Attalea Hotel. The 5-bedroom republican home in Miraflores has been exquisitely decorated with contemporary and modern art across all its spaces. 

Best Private Accommodation In Cusco
Imagine staying in a grand 16th-century colonial manor that's had an array of illustrious guests going back to the time of the Spanish Conquistadors. In the heart of Cusco, the 11-bedroom Inkaterra La Casona has been luxuriously restored with traditional textiles and antiques from across the centuries. The property has its own concierge and catering services, which will satisfy even the most discerning travelers.

Best Private Accommodation In Lake Titicaca
Perched on a quiet edge of Amantanti Island on Lake Titicaca, sits the idyllic 2-bedroom retreat that is Amantica Lodge. A stylish villa like no other in the region, it's perfect for romantic getaways or family relaxation. The shabby chic decor blends materials from the surrounding natural beauty with contemporary European style. On hand will be a private chef, who will prepare refined dishes from a New Andean menu, giving you the very best taste of this blissful location's wild ingredients. Here, you'll feel truly isolated from the stresses of the world.

Best Private Accommodation In Amazon
The mighty rivers of the Amazon are yours to explore when you charter the Delfin 1 cruise vessel all to yourself. This luxury yacht features four kingsized bedroom suites, making it perfect for a family or small group of friends. The luxuries onboard include a fully stocked bar, media room, dining room, and a library filled with books on the Amazon and Peru. Did we forget to mention, there's an observation deck and outdoor hot-tub, which is spectacular at night to sit and watch the stars. Unquestionably this voyage is the most comfortable way to absorb all the sounds and sights of the Amazonian jungle.

Best Private Accommodation In Mancora
A favorite among honeymooners, the 5-Star Kichic Hotel, sits on the sandy shores of Peru's prestigious Mancora beach. A small, intimate, and perfectly formed holiday hideaway, with 9 uniquely decorated rooms, each of them separated from the rest. This means each room has it's own entrance/exit, minimizing the amount of contact you'll experience with other guests. Four of the beachside suites, even come with a private pool and decking area for maximum privacy and beachside indulgence.

Best Private Accommodation In Cordillera Blanca 
Serving as a perfect base for active couples and families, few realize the 7-suite Cuesta Serena boutique hotel on the edge of the Cordillera Blanca mountain range, also features a hidden luxury bungalow inside. This little house, features a kitchenette, private living room, and bathroom. There's enough room for a couple and two children aged 5-12 years. From here, there are numerous mountain adventures to begin, including the famous Laguna 69, Llanganuco Lakes, the Honda Valley, the ruins of Wilcahuain, and the ruins at Chavin de Huantar.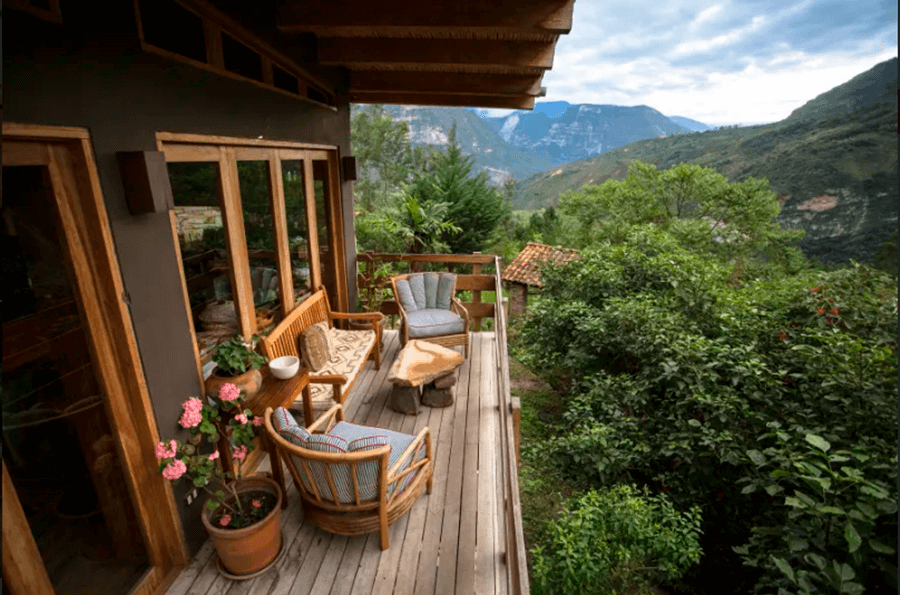 Best Private Accommodation In Chachapoyas
If you intend to venture in to Peru's cloud forests then we highly recommend staying at Gocta Natura Cabins. Each cabin can accommodate up to 3 adults and features a private deck that has spectacular views overlooking Gocta Nature Reserve and the incredible Gocta Waterfall, which you can hike or ride horseback to. Designed with privacy and comfort in mind, it's the perfect place to detach from society and reconnect with the world. The cloud forests of Peru are unquestionably some of the most biodiverse areas on the earth, and by choosing to stay here you'll be helping to fund projects that help protect the Gocta Nature Reserve.
Drive about two and half hours south and you'll end up at another of our favorites in the region, the Hummingbird Inn at Kentitambo. Originally a lodge for observing hummingbirds, the property has been converted by renowned archaeologist, Adriana von Hagan, into three separate bungalows. The accommodation's construction is entirely from building materials sourced from the surrounding forests and continues to attract a vast array of attractive birdlife to its grounds, thanks to impeccably managed gardens and environmental philosophy, the property is managed. From here, you can drive to Kuelap and Revash, or take hikes and horseback rides to local ruins. One not to be missed!
—
If you would like some help finding the perfect accommodation for your trip to Peru, please get in touch with one of our travel experts (travel@aracari.com).